How to know if you should use a water bath canner or a pressure canner.
In this episode, Kathy discusses everything you need to know about when to water bath can and when to pressure can and talks about how to use a pressure canner.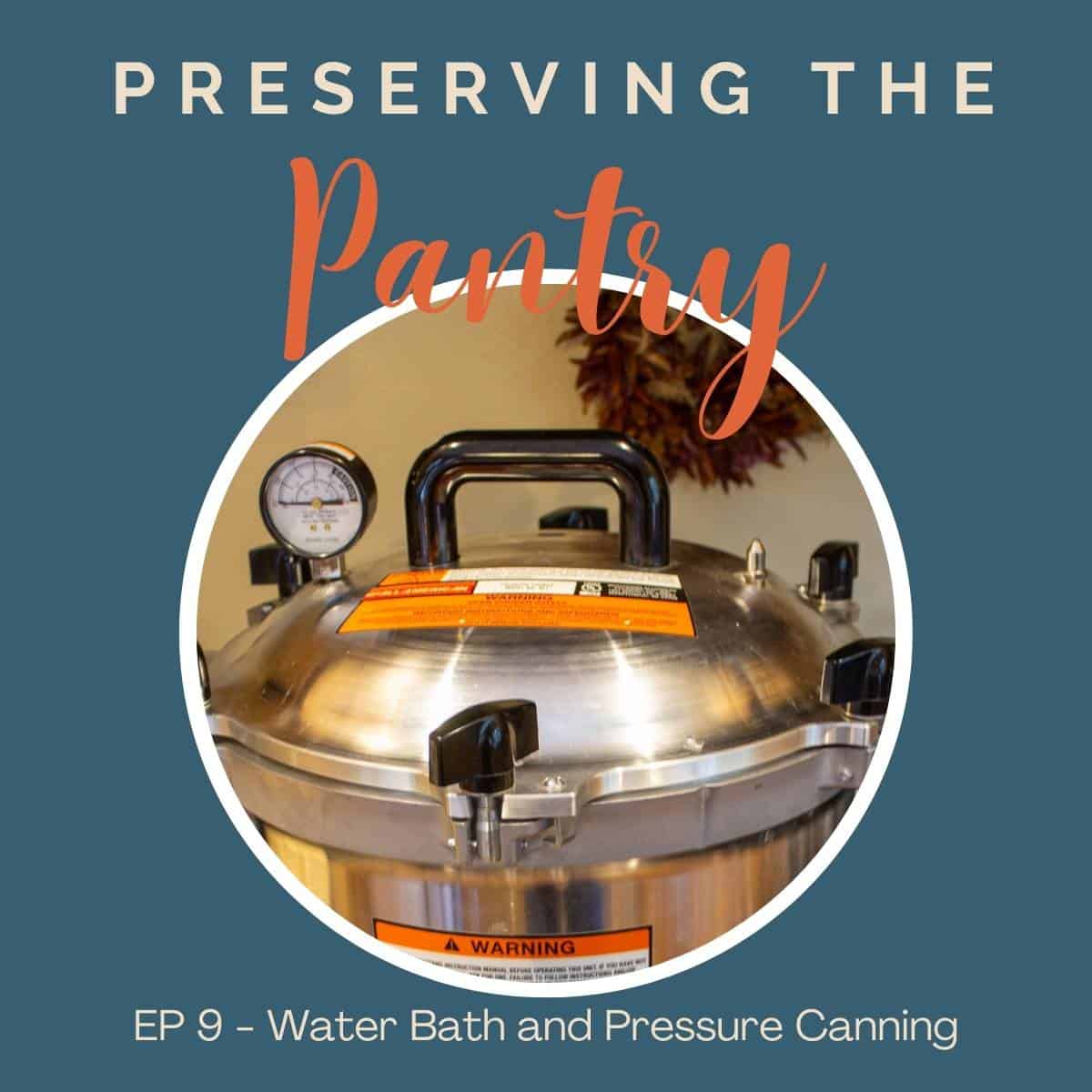 Play the episode
Recipes
Find the complete articles for Water Bath Canning and Pressure Canning.
Recipes mentioned in this podcast:
In this episode you'll learn:
What recipes can be water bath canned
What recipes need to be pressure canned
Why do pH levels matter
How to prevent dangerous bacteria in home canned food
Why you need to adjust time or psi levels when canning based on your elevation
Steps to use a pressure canner
Why venting steam is important when pressure canning
Pressure canning psi adjustments
Altitude Feet
Pounds of Pressure
1,001- 2,000
2,001- 3,000
3,001- 6,000
6,001 - 8,000
8,001-10,000
11 pounds
12 pounds
13 pounds
14 pounds
15 pounds
Water bath canning time adjustments
Altitude Feet
Increase Processing Time
1,001- 3,000
3,001- 6,000
6,001- 8,000
8,001-10,000
5 minutes
10 minutes
15 minutes
20 minutes
Safe canned food
Improperly home canned food can carry the risk of causing botulism. If eaten, this can cause a serious form of food poisoning that can lead to paralysis or death. Please follow safety procedures and inspect your food before consuming.
Always inspect your home canned food before eating
If in doubt, throw it out!!! The FDA recommends throwing out the food and the jar.
Do not taste if in doubt!
Throw it out if -

the can is bulging, leaking or swollen
the container looks damaged or abnormal
the container spurts liquid or foam when opened
the food is moldy, discolored or smells bad
the seal is no longer intact when you examine the food
Type of pressure canner
My pressure canner is an All American 921 canner.
Affiliate Link - Use coupon code BEYOND10 at All American for free shipping! (I receive a small commission from All American, but this does not affect the cost you pay!)
Where to listen to the podcast
Listen to this episode on iTunes, Spotify, Amazon Podcast, or your favorite podcast player. Or scroll down to read a full transcript.
Canning recipes
Be sure to check out all my canning recipes!
If you love this podcast, I'd love to hear about it! Leave a comment below and hop over and leave a comment on Instagram @preservingthepantry!
Transcript
Hi everyone. And welcome back to the Pantry today. We are going to be talking about the different methods used for home canning. There are three main methods for home canning. You can process your jars in a water bath canner an atmospheric steam canner or a pressure canner. Knowing which method to use for which type of foods is crucial.
Canning is essentially heating food and jars to a level that destroys microorganisms that could be a health hazard or cause the food to spoil. Botulism is the most commonly associated foodborne illness with home canning and botulism can con can cause severe sickness or even death. If you are following research based recipes and following the correct method and processing times, you'll nearly eliminate that risk.
Another last thing you'll want to do is always inspect your food before consuming.
Knowing what kind of method to use for each food is really important. So foods that are high in acid can be water, bath or steam, canned. Foods that are low in acid need to be pressure canned.
You need to know the acidity level in your food. It is a pH level. So the lower, the pH the higher the acidity level. The higher the pH the lower, the acidity level. In order to be safe for water bath canning, you need to have a 4.6 pH level or lower to do water bath canning. Anything above that needs to be pressure canned. So when we look at tomatoes, tomatoes have a range of acidity level from 4.3 to 4.9.
So it really falls right there in the middle of if it's safe to water bath can or do I need to pressure can it. The reason there's a range with tomatoes is it really depends on the variety of the tomato, the conditions the tomatoes were grown in and the soil that those tomatoes were grown in. One way to make certain that the acidity level for tomatoes is low enough is by adding lemon juice or citric acid to the tomatoes.
When you're canning, that ensures that your tomatoes are in the safe zone for water bath.
Foods that are naturally high in acid or low on the pH scale are some items like most fruits, strawberries, raspberries, plums, pineapple, pears, peaches, oranges, nectarines grapes, blueberries, cherries, blackberries. Those are all high in acid. Having a high acidity level and are safe for water bath.
Foods like pickles and relishes that have added vinegar to them are also safe for water bath canning. Foods that are higher in a pH level are lower in the acid level are most vegetables, fish, meat. So some of the vegetables would be green beans, beets, broccoli, garlic. Bell peppers, potatoes, pumpkins, yams, turnip creams.
Those are all have very low acidity levels. And so they need to be pressure canned.
Foods that are low on the pH scale or high with acid levels still need to be processed in a water bath can to destroy the bacteria that exist in the foods. Water bath canning is submerging jars in hot water and covering those jars by at least one to two inches of water and boiling that water for a recommended amount of time.
Now because the temperature of water boils at different degrees, depending on your elevation. So you need to adjust your time based on your actual elevation. Depending on your elevation, you will be adding additional time to the recommended boiling time.
For me, I am at about 2000 feet of above sea level. So I usually have to add anywhere from five to 10 minutes of boiling time, when I'm water, bath, caning, there are charts that are available that explain exactly how many minutes you need to add for each item that you were process. This will vary, depending if you are processing pint jars or cork size jars, I do have a chart on my website that explains all of this.
Steam canning is a method that I am not familiar with. I have never used a steam Canner. They are fairly new out. The main thing with steam canning is that you are following the directions specifically. It is only good for items that are high in acid. So the same items that can be water bath can, can also be steam can.
Making certain that you have enough water in there creating the steam and maintaining that temperature for a given amount of time. You'll need, if that's a method that you're going to be using, you'll want to read up a little bit more on that.
The last method is pressure canning. Now pressure canning is the only safe method of canning low acid foods.
Those with a higher pH level of four of 4.6 or higher for the pH level, these include all the vegetables, meats, poultry, and seafood. Because of the danger of botulism, these foods must be canned in a pressure canner.
Now I've had some people ask is an instant pot or a pressure cooker the same as a pressure canner and no, it is not.
Pressure cookers are not an approved safe methods for pressure canning foods. A pressure canner allows the temperature in the environment there to reach 240 degrees Fahrenheit. That is a high enough temperature that will kill the bacteria that can cause botulism now.
Just like water, bath canning. We need to adjust for our elevation.
We also need to adjust for our elevation when we are pressure canning with pressure canning, we don't increase the time, but we actually increase the pressure that we are going to be cooking our food at so many recipes recommend that you pressure can. Uh, PSI of 10 and depending on your elevation, you will increase that pressure.
So again, I am at about 2000 feet above elevation and for me, I have to increase my pressure to 12 PSI.
Whatever you are going to be canning and the method that you'll be using, you want to make certain that you read through the recipe thoroughly, make certain you have all of the items, the ingredients, as well as the equipment on hand and ready.
And if you are new to a technique like pressure canning, make certain that you read through instructions. Exactly the steps that you're going to need to pressure.
So for example, for pressure canning, you're going to put anywhere between two to four inches of water in your pressure canner.
You'll make your recipe and pack your jars according to the directions and the recipe, put your lids on and then put your jars into the pressure canner.
Now, one thing, when you're putting your rings on your jars, you don't want to over tighten, you just tighten so that they're snug. And one of the reasons for this is that during the process, During the time what these jars are processing the air that remains at the top of the jars is being forced out of the jars.
That's part of the way that the food is being preserved. If you put those jar, those rings on so super tight, you have a couple of issues. One is the air might not actually be able to escape. And two, you could cause the jars to crack while it's being processed. So just put them on nice and snug, but don't over tighten your jar.
Once your jars are in the pressure canner, you're going to put the lid on and lock it into place. And then you turn your heat up. You leave the vent cover uncovered. During this first phase, it is crucial that all of the air that is in the pressure canner is allowed to escape. Before you start to build the pressure that will help ensure that the correct temperature is met within the canner.
Once your steam vents begins to steam. You will time that for 10 minutes and allow that steam to just rush through there for 10 minutes, then you'll put the cover on and you'll start to build your pressure. You'll want to watch your pressure very carefully. At this time, once you reach the appropriate temperature, you'll lower your heat, but monitor that pressure gauge.
There are two different ways actually to monitor a pressure canner. One is by a dial gauge and the other is by a weighted gauge. The pressure canner that I use now uses both. Some canners, just have one or the other. They'll have a pressure gauge. Or the weighted gauge and some have both. I prefer to use the dial gauge.
One of the reasons is that the weighted gauge has three different ways that you can measure the pressure that it's at. You have a five. PSI 10 and 15. I need to be at 12 when I am pressure canning where I am at. So in order to get that, I'd actually have to put it on the 15 PSI for the weighted gauge.
So it'd be canning at a higher level than what I need, which is okay. But you do risk a little bit of the quality of your food suffering when you go to too high of a pressure.
How a weighted gauge works is when it reaches pressure, the gauge starts to jiggle and it makes this jiggly noise back and forth.
I prefer to use the dial gauge. The only thing with the dial gauge is you do need to keep an eye on it because it will slowly change either up or down. And you want to make certain that it does not dip down below your required pressure. So again, mine is 12. I make certain it does not go below the 12 PSI. If it does. I have to start my time all over again.
And I do not want do that. So I keep it right there at 12 or just a hair above, but I do not let it go down. Pressure canning, once you get it in there, your work is mostly done, but you don't want to just leave it and abandon everything you want to make certain your food is safe. So keep an eye on it. I usually bring a book into the kitchen and I sit in front of the stove or I'll play a game on my phone or do some emails, anything so that I'm still right there so that all I need to do is take a quick peek to see what my pressure is.
One advantage of using the weighted gauge is you can hear that rocking back and forth continuously. So I guess there, there are points. There are, there are pluses for both sides. I.
Part of the processing time for a pressure canner is also after the time is up.
So when your time is done for processing, you turn off the heat on your stove and you just let your canner sit. You don't take the steam gauge off you. Don't try to open your pressure canner, which would be extremely dangerous. It's under pressure. Do not even try that. Let the pressure drop all the way back to zero and then let it just sit.
Then you can remove the steam vent cover, and then carefully unlock and open your pressure canner. When you are taking that lid off, always tilt the lid away from your face. There could still be some slight pressure built up in there. It is still very hot and steam will come out. You wanna make certain that if it does that, it's not coming towards you, that it's going away from you towards the wall or something that's on the other side of you.
Home canning is so rewarding, but you want to make certain that it's also safe. Following the correct methods and recipes are really important.
I hope this information helps, you know, what type of canner to use when. I have two full posts on my website, describing water, bath, canning and pressure canning as well as several recipes that use both methods.
If you have any questions at all, feel free to shoot me an email and I'll try to answer to the best I can or get the information for you until next week. I'll see you in the pantry.
Thanks for listening. And be sure to tune in again next week for more episodes of Preserving the Pantry.