In episode 36, Kathy shares ideas for using frozen peaches. She also shares a recipe for Blackberry Peach Cobbler which uses frozen peaches and frozen blackberries.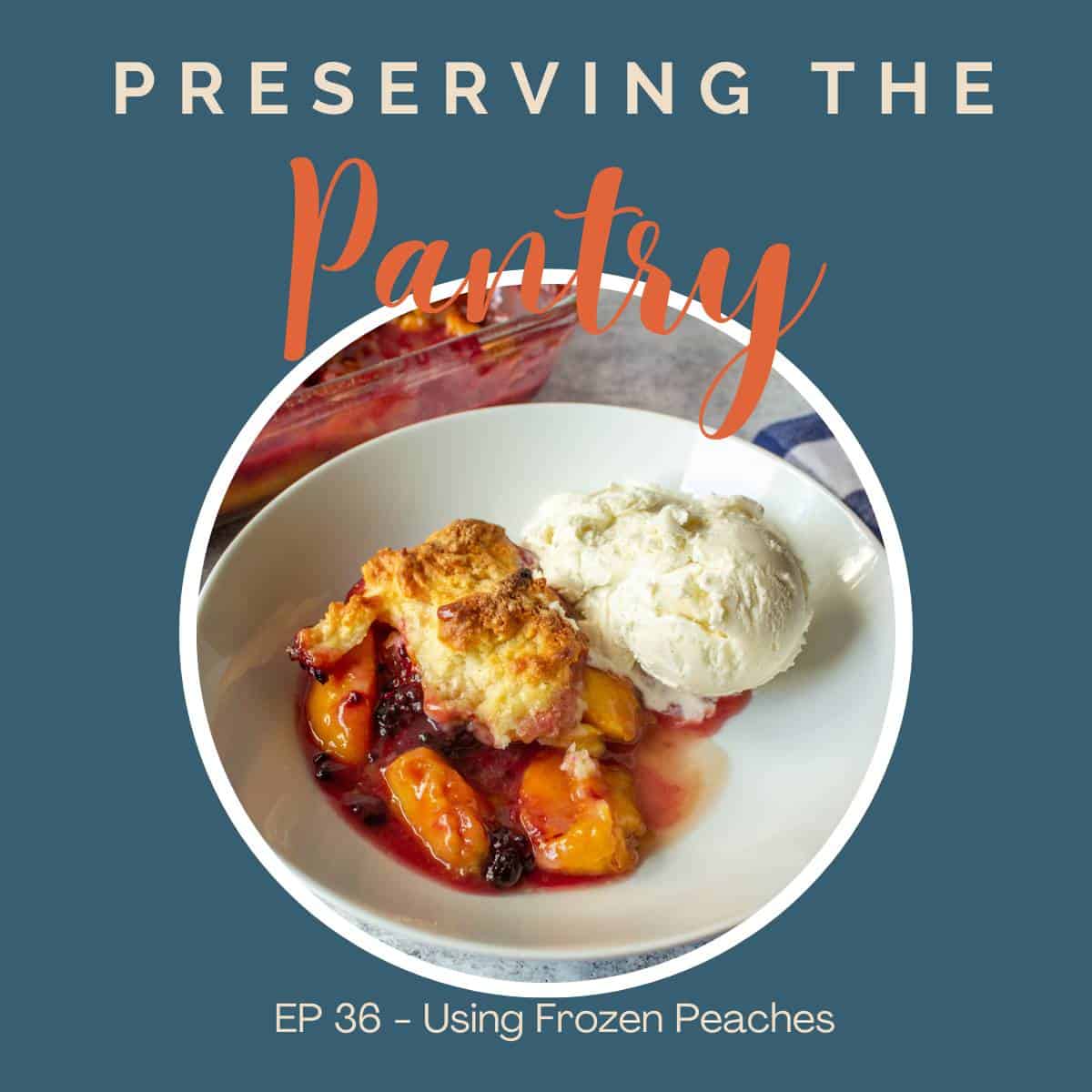 Play the episode
Recipes
Find the complete recipe for Blackberry Peach Cobbler
Recipes mentioned in this podcast:
In this episode you'll learn:
Ways to use frozen peaches
A recipe for making blackberry peach cobbler
Be certain to listen to Episode 3 where I discuss how to freeze peaches.
Where to listen to the podcast
Listen to this episode on iTunes, Spotify, Amazon Podcast, or your favorite podcast player. Or scroll down to read a full transcript.
If you love this podcast, I'd love to hear about it! Leave a comment below and hop over and leave a comment on Instagram @preservingthepantry!
Transcript
Hi everyone. Welcome back to the Pantry. Do you remember back in episode three, I talked about my method for freezing peaches? This was in the middle of summer when peaches were ripe and at their peak of season and delicious, and I froze a bunch of those peaches. Well, guess what? I still have a bunch of those peaches in my freezer, and today I'm going to share with you a recipe of how I use those peaches as well as some other ideas.
There's nothing better than digging into that freezer and finding those peaches or any fruit that you froze during the summertime. Some things you can do with those frozen peaches is we like to pull them out and just put some into a bowl, let them semi thaw so that they're still a little bit frozen, but a little bit thawed, and we just eat them like a snack that way.
We also like to add them to our fruit and veggie smoothie. We add a handful of different types of frozen fruit as along with fresh spinach, carrots, yogurt, and we just puree it all together and we have a delicious, healthy smoothie. And then we make several different recipes with the peaches. I have a regular plain peach cobbler, a blackberry peach cobbler, which is the recipe I'm going to share with you today.
And some peach ice cream and peach mango popsicles. They are all amazing, so you want to check them out.
Now let's talk about that blackberry peach cobbler. Not only have I used my frozen peaches for this recipe, but I used my frozen blackberries. If you don't already have those two ingredients in your freezer, you're in luck because you can also find these readily available in your freezer at the grocery store.
They'll sell bags of frozen blackberries and frozen peaches. You can also make this with fresh peaches and fresh blackberries. But one of the beauties of this recipe is that it is perfect to make any time of year and when you're using frozen fruit, it really makes it easy to, to just grab it and throw it together.
Another great thing about this recipe is you don't have to wait for that fruit to thaw. We're going to be mixing it together, frozen, adding it into our casserole dish, adding the topping, and it turns out perfectly every time.
So for this recipe, you'll need six cups of sliced peaches and they should be frozen.You'll need two cups of frozen blackberries, one cup of granulated sugar. A quarter cup of flour, a teaspoon of ground cinnamon, a teaspoon of freshly squeezed lemon juice, and a teaspoon of freshly grated lemon zest. So that's for the filling.
For the topping, you will need one and a half cups of flour, two tablespoons of granulated.Two teaspoons of baking powder, a quarter teaspoon of salt, six tablespoons of butter, and I use salted butter and three quarters of a cup of milk. Now don't worry if you didn't write all that down. I will include a link directly to this recipe so you can go there and just get it straight from the blog.
The first thing you're going to do is place your peaches and blackberries in a large bowl, and then add your sugar, your flour, the quarter cup of flour, the cinnamon, the lemon juice, and the zest, and you just toss it. Also, that it's well coated and then you put it in a lightly greased baking dish. I usually use a seven by 11 or an eight by 11 size baking dish, but you can use what you have available.
Then to make the topping, this is super easy. You put the remaining flour, the sugar, the baking powder and salt together and just mix it so that that's mixed together. Then you add your butter and you cut your butter into the flour using your hands. So you just take your fingertips and you just mush that butter right into the flour.
Or you can use a pastry blender. It should resemble coarse crumbs. Once you are done with that, then you're going to add your milk and you just stir it lightly or kind of fold it together until it's combined. And you just plop spoonfuls right on top of the fruit mixture. So I take two big spoons and I take a big scoop full of it, and I use the other spoon to scrape it off, and it just lays right on top of the fruit.
You're going to bake this in a preheated 375 degree oven for 55 to 60 minutes until it's all bubbly. And the cobbler topping is nice and golden. I like to let the cobbler cool. But you can still serve it while it's warmer or even at room temperature. This is a great dessert, and you can top it with whipped cream or a scoop of vanilla ice cream, or just eat it plain.
I hope that you give this a try, and I'll see you next week in the pantry. Bye.
Thanks for listening, and be sure to tune in again next week for more episodes of Preserving the Pantry.