In episode 003, Kathy discusses how to preserve peaches by freezing them.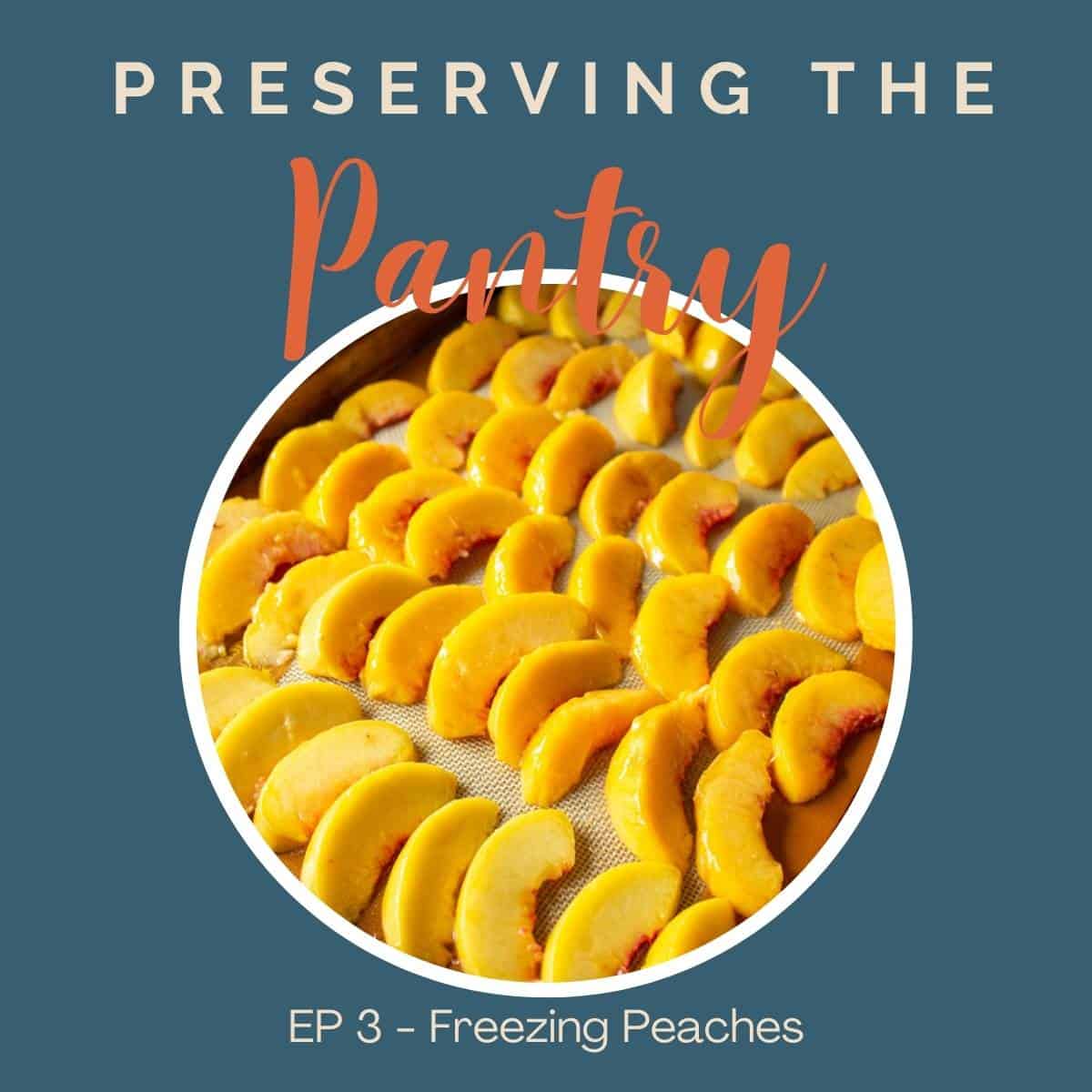 Play the episode
Find the complete recipe for freezing peaches here!
Recipes using frozen peaches include:
In this episode, you'll learn:
Difference between cling and freestone peaches
How to prepare peaches for freezing
How to store frozen peaches
Ways to use frozen peaches
Where to listen to the podcast
Listen to this episode on iTunes, Spotify, Amazon Podcast, or your favorite podcast player. Or scroll down to read a full transcript.
Transcript
Hi, welcome back to Preserving the Pantry. This is episode three, and today we are going to be talking about freezing peaches. I know it's summertime and peaches are coming in the season.
We don't typically get our peaches until mid to end of August. We actually have a peach tree that we just got this year, and I'm hoping that it will survive our cold winters.
I'm looking forward to the day when we can pick our own peaches, but now we wait until the peach man comes to our area. He comes from central Washington and he comes every week and brings us fresh produce from the central Washington area.
We get the most amazing peaches when they are in season. I like to do a couple of different things with fresh peaches that we get from the peach man.
We freeze peaches. I can peaches, we eat peaches and I bake with peaches. I try to get as many as I can and preserve them so that we can use them year round. I like to freeze peaches because they really it's a great way to lock in that fresh peach flavor. And it's so simple to do.
We use our frozen peaches in so many ways. We will plop a couple into a smoothie, add them to ice cream, or I will use them to bake with.
There are a couple of main types of peaches that you can get there. First is a free stone peach. And that means that the pit is not stuck to the flesh of the peach. And then there are cling peaches and that pit, it really does cling to the flesh of the peach, make it really difficult to get that peach off of the pit.
I'm going to be talking about Freestone peaches today, but both will work for this process. First you want to make certain that your peaches are really ripe. If it's a perfect peach to eat, it will be a perfect peach to freeze. Sometimes the peaches are ripe enough and that peel will just slide right off with just the help of a paring knife.
Most often, I need to blanch the peaches. You're going to have a pot of boiling water. Slip three to four peaches into the water for 30 seconds to a minute, and then put them into an ice water bath. Then the skin should just slide right off.
You're going to remove the peel, slice the peach in half, and then cut into wedges.
I put my peaches on a cookie sheet lined with a silicone mat. You can also use parchment paper. If you don't have a silicone mat, you don't wanna just have a plain cookie sheet though. There's so much water in a peach that the peaches will freeze right to that cookie tray and make it difficult to get them off.
Once I have my cookie tray filled. I want to make sure that the peaches peach wedges are not touching each other. I will put that into a deep freezer until the peaches are frozen solid. I then remove them. I can just easily slip 'em off of that tray.
I place them in freezer bags or vacuum seal bags. Now, one good thing to have in mind is think about how you're going to be using those peaches. So for smoothies, I put them in a gallon size, zip, top bag, and then we just reach in and grab a couple of peaches out. Every time we are gonna add 'em into a smoothie for baked goods, I like to have them pre-measured out.
So I will measure for my peach cobbler. I need about six cups of sliced peaches. So I will measure those. Put them in a vacuum sealed bag and then label them with peach sliced peaches and put that there are six cups of peaches in the bag. Super easy to pull out. I let them thaw. And then I make my peach cobbler.
Once your peaches are frozen and placed into a freezer, safe bag, your peaches should be used up within a year. Some years, we go through a ton of peaches and that's not a problem at all. And other years we find, we just haven't used as many, the peaches don't go bad. You might find you get some frost or, uh, some frost, some ice on your peaches, but the quality is still good.
So don't just throw those peaches out. Find a way to use them up, make a cobbler, make a Blackberry peach cobbler. Lots of different ways that you can use those peaches. So hopefully you have access to some great peaches that you can freeze and enjoy all year long. Thank you for joining me. If you enjoyed this episode, be sure to subscribe.
We'll see you next time in the pantry.
Thanks for listening. And be sure to tune in again next week for more episodes of Preserving the Pantry.
If you love this podcast, I'd love to hear about it! Leave a comment below and hop over and leave a comment on Instagram @preservingthepantry!