Dark Chocolate Oat Cookies
You are going to love these cookies, because they have dark chocolate, walnuts, and old fashioned oatmeal. They are a basic cookie with no secret cooking method involved. Just a basic cookie with amazing ingredients. We eat a lot of homemade cookies around here.
My kids love to bake them at any opportunity they can find. However, we are pretty traditional with our cookies. We usually make Toll House Chocolate Chip Cookies, Oatmeal cookies without raisins, and the occasional sugar cookies pops in from time to time.
During the Christmas holidays, I bake a big variety of cookies, but the rest of the year, just the basics. I decided it was time to change things up around here. While at the grocery store the other day, I paused to look at the chocolate choices. Whoa....when did all those varieties arrive?
I know, they've probably been there for years, but as I said, I'm just a regular chocolate chip gal. In fact, I usually just buy the HUGE bag at Costco and never buy them in the small grocery store size so I have managed to miss any new trends in the chocolate chip area.
Going out on a limb, I selected two different varieties; dark chocolate morsels (they are just slightly larger than regular chips) and cinnamon chips!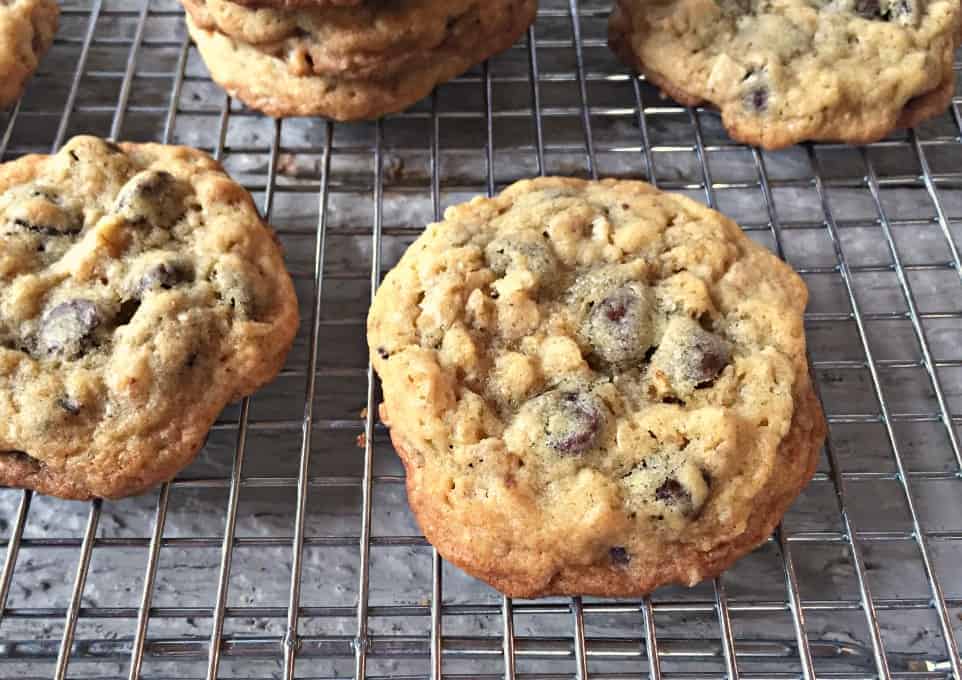 The kids and I tried both kinds of chips and declared both were yummy. We then had to come up with a slightly different version of cookie to use them. We decided to start with the dark chocolate. This recipe is a combination of all our "regular" cookies that we make. We've decided to save the cinnamon chips for another adventure!
We used oatmeal, walnuts, and played with the rest of the basics needed for a great cookie! I think we landed on a good one. This is one that will now be on our regular cookie rotation!
These cookies are perfectly crisp with just a slightly chewy center. The dark chocolate adds just an extra touch of elegance and the walnuts add a perfect crunch. We debated whether pecans might be better, but since we didn't have any on hand, we only tried the walnuts. I might give the pecans a try in the future.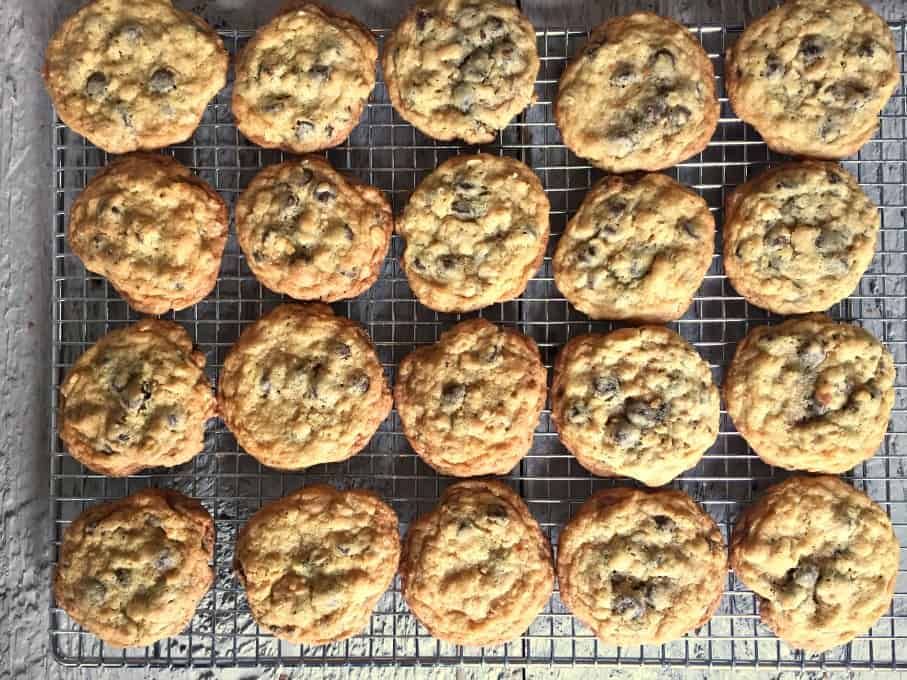 Other delicious cookies: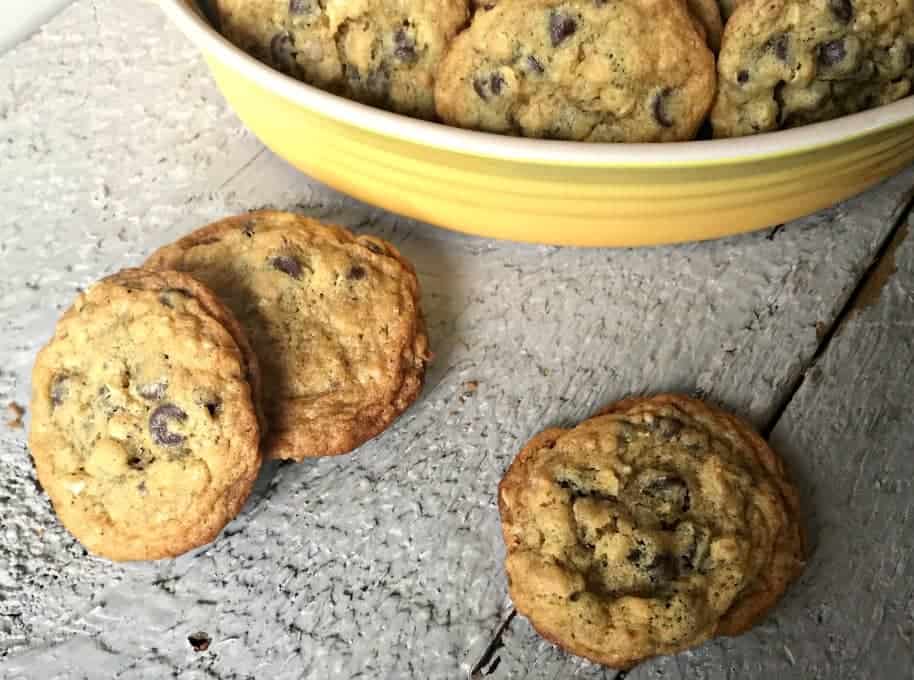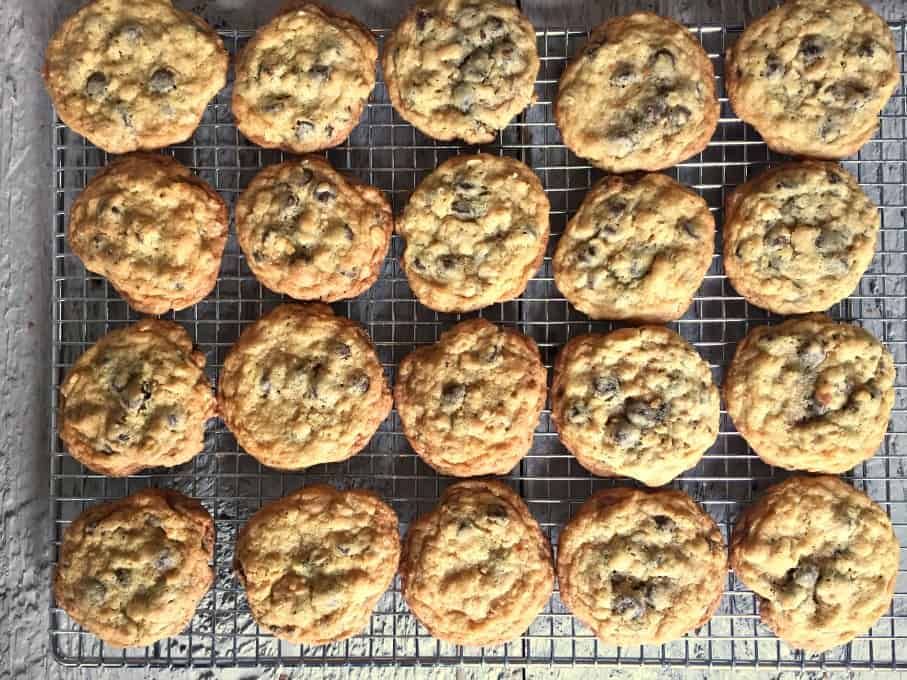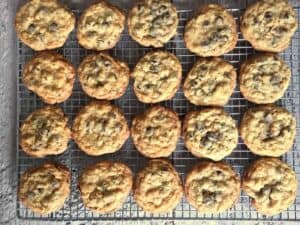 Dark Chocolate Oat Cookies
Dark Chocolate Morsels are combined with oats and walnuts.
Instructions
Mix dry ingredients together.

In separate bowl, mix butter and sugars until light and fluffy.

Add eggs and vanilla

Mix in Flour mixture.

Fold in walnuts and chocolate

Place small scoops on ungreased baking sheets. Bake at 375 for 10-12 minutes.
Nutrition
Calories:
172
kcal
Carbohydrates:
19
g
Protein:
2
g
Fat:
9
g
Saturated Fat:
5
g
Cholesterol:
13
mg
Sodium:
117
mg
Potassium:
81
mg
Sugar:
11
g
Vitamin A:
160
IU
Vitamin C:
0.1
mg
Calcium:
33
mg
Iron:
0.6
mg