Homemade Buttermilk Biscuits baked in a pan - a shortcut method to making light and flaky biscuits. No need to roll out your dough. Everything goes into one pan and out comes delicious fluffy biscuits.

Homemade buttermilk biscuits are perfect for breakfast, lunch or dinner! I often like to eat my biscuits plain, but they are also delicious topped with a pat of butter and a drizzle of honey.
Easy buttermilk biscuits
I have to admit a little secret when it comes to baking biscuits, I am lazy. No really, I am! Making homemade biscuits is something I love, but I just don't like to take the time to roll out the dough and cut out the biscuits. Drop biscuits are a good option and are one of my favorites, but Rod says they just aren't the same.
One of our favorite local restaurants makes the most amazing biscuits. And they aren't rolled out or dropped. Nope, they are baked in a large baking dish and then sliced up like a cake. I have been trying for quite some time to make biscuits in this manner, but I just didn't have any success at all.....until now!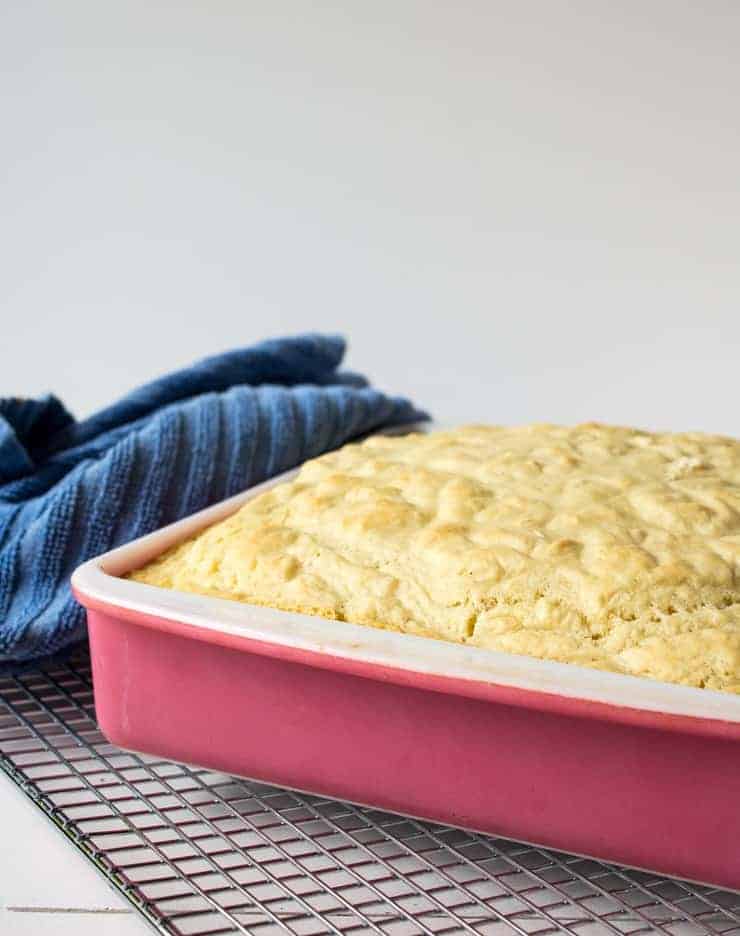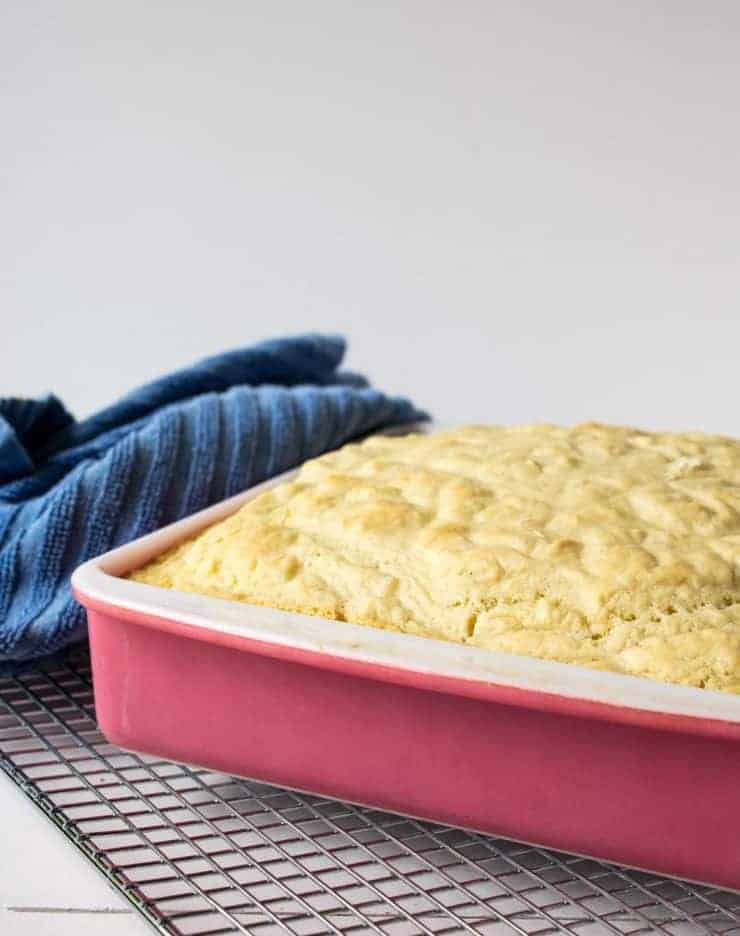 No sugar added
My problem was finally solved. I was trying to use the same recipe for cut biscuits as I was for pan biscuits. I was adding cold butter and baking at a high temperature. It just didn't work.
Then I found a recipe from Two Peas and Their Pod. I quickly made them and they were good, but I needed to make a few changes to suit my tastes.
The original recipe had sugar. The first time I made these I had reduced the original recipe to just one tablespoon, but it was still too sweet (and this is coming from a sweet lover!) To me, buttermilk biscuits need the tang from the buttermilk and the tang from the baking powder. No sweetness. I made these biscuits again with no sugar....PERFECTION!!!
These are the biscuits I use when making biscuits and gravy. We often eat these for breakfast or for dinner and can be served fresh out of the oven or at room temperature. We also like to eat these biscuits with a homemade honey butter!
How do I make these easy biscuits?
Mix dry ingredients together
Mix buttermilk, egg and melted butter together
Add buttermilk mixture to flour mixture
Put biscuit dough in a greased baking dish
Bake
How do I know when the biscuits are done?
Be certain to set your timer and use the correct oven temperature
The biscuits will be golden brown with cracks on the surface
The biscuits will pull away slightly from the edges of the pan
Use a toothpick in the center of the pan. There should not be any wet dough on the toothpick. A few moist crumbs are okay and means it's done.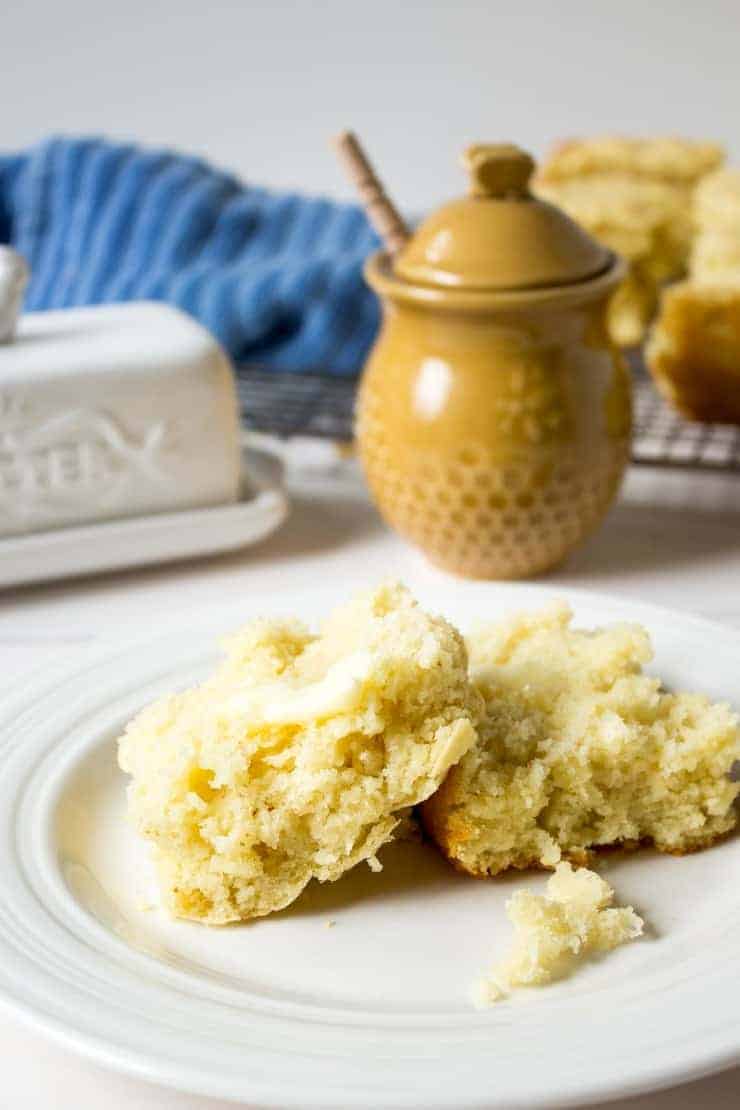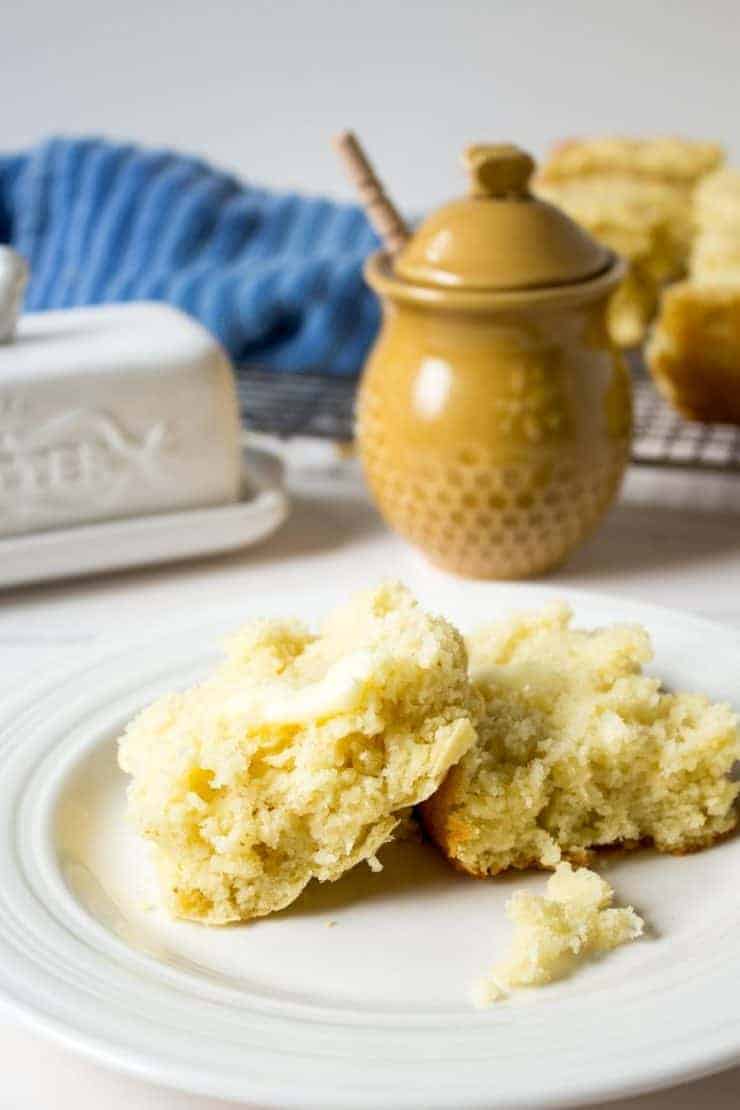 When I'm hungry for biscuits, two of my other favorite biscuit recipes include Ham and Cheese Biscuits and Cheddar Chive Biscuits.
I also love homemade English Muffins and Sourdough English Muffins.
Don't forget to PIN for later!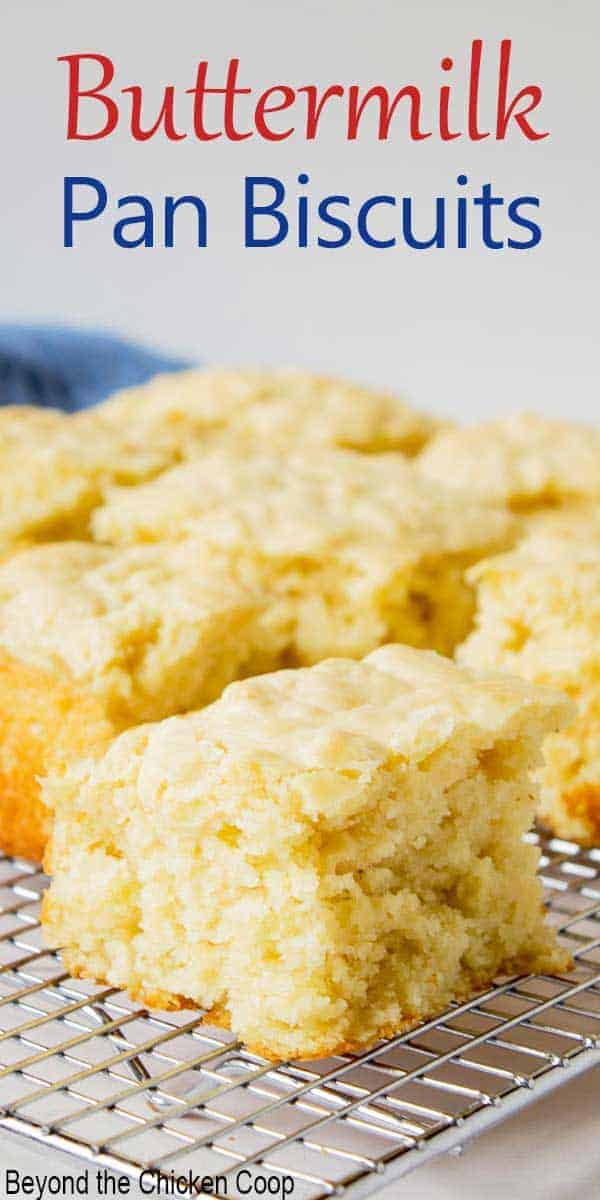 If you make this recipe, I'd love to hear about it! Leave a comment below or snap a picture and tag me on Instagram @beyondthechickencoop
Check out all my baking recipes!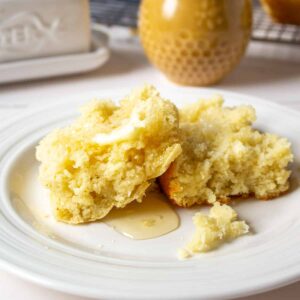 Buttermilk Biscuits Baked in a Pan
Biscuits made in a baking dish and sliced up like a cake.
Ingredients
3 ½

cups

flour

1

tablespoon

baking powder

1

teaspoon

baking soda

1

teaspoon

salt

2 ¼

cups

buttermilk

1

egg

(lightly beaten)

¼

cup

butter

(melted)
Instructions
Mix flour, baking powder, baking soda and salt together

In another bowl mix buttermilk, egg, and butter

Mix liquid ingredients in with dry ingredients

Lightly grease a 2 quart baking dish (mine is about 10" x 6")

Bake in a preheated 325 degree oven for 35-40 minutes
Nutrition
Calories:
195
kcal
Carbohydrates:
30
g
Protein:
5
g
Fat:
5
g
Saturated Fat:
3
g
Cholesterol:
15
mg
Sodium:
367
mg
Potassium:
200
mg
Fiber:
1
g
Sugar:
2
g
Vitamin A:
190
IU
Calcium:
102
mg
Iron:
1.8
mg
This recipe was originally posted in February of 2016. The text has been updated.