What to do when you're making a recipe and realize you're out of buttermilk? Make your own!
Everything you need to know about How to Make Buttermilk and a comparison of different types of buttermilk.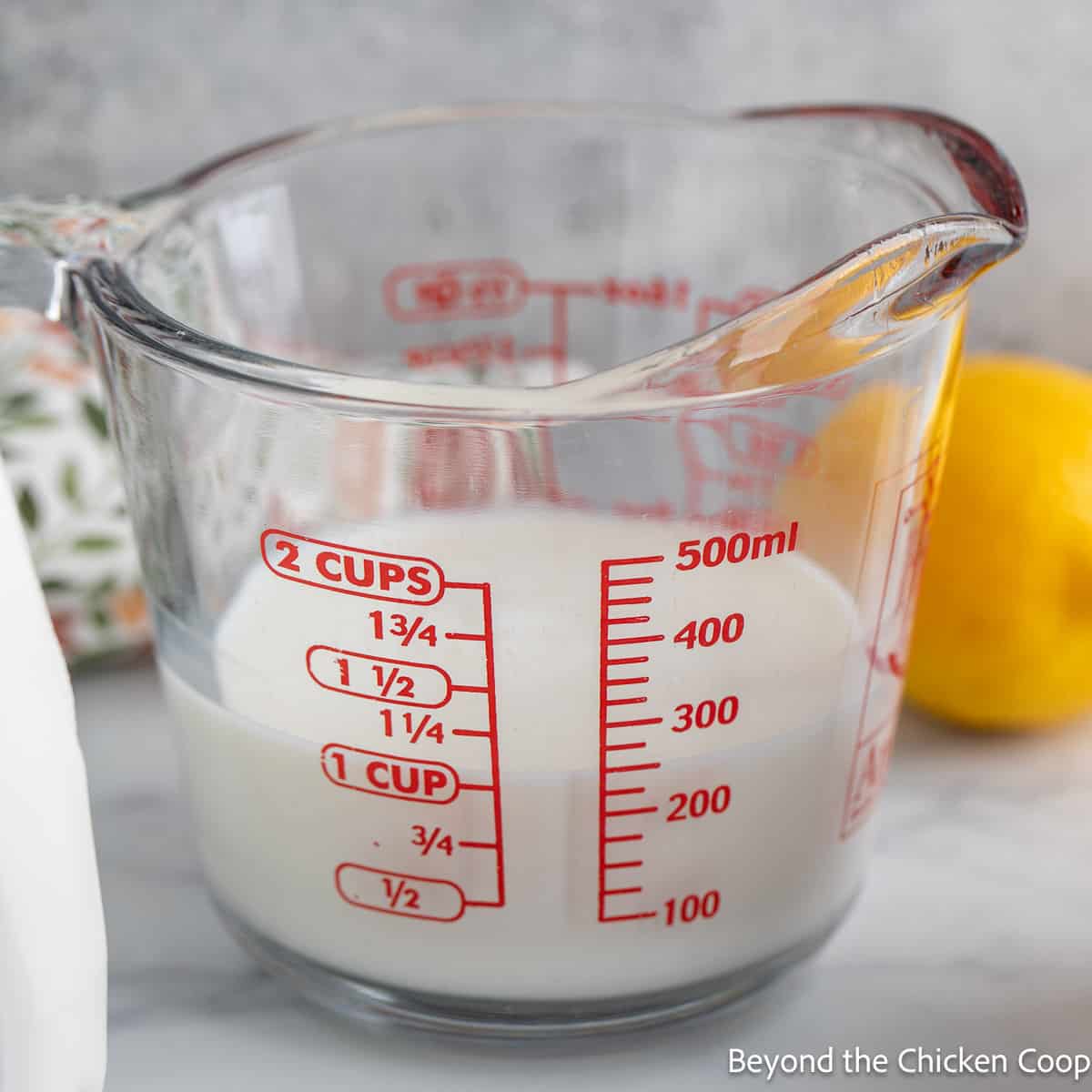 Buttermilk
Buttermilk is a versatile ingredient that is used in a variety of recipes. It is often used in baking to help leaven baked goods like pancakes, biscuits, and cakes. Its acidic properties also help to tenderize meat, making it a popular ingredient in marinades and brines.
Buttermilk has a tangy, slightly sour taste due to its high acidity. The flavor is one reason people enjoy using it in baked goods. The buttermilk adds just a bit of tang that's delicious.
There are a few different types of buttermilk available at most grocery stores. Regular cultured buttermilk, sometimes called Bulgarian buttermilk, contains about 4% fat. It is just slightly thicker than regular milk.
Low-fat buttermilk contains just 1% fat. It's slightly thinner in texture than regular buttermilk. Powdered buttermilk is also a popular choice. It's usually found in the baking section of your grocery store. The benefit of powdered buttermilk is its extended shelf life. Although the brand I purchased does recommend refrigerating after opening.
Another alternative is making your own homemade buttermilk.
Homemade buttermilk
Homemade buttermilk, or sour milk, is simply taking regular milk and acidifying it with either fresh lemon juice or white distilled vinegar. You can use just about any type of milk. I prefer to use whole milk, but 2%, skim, half-and-half, or even heavy cream can be used. Nondairy milk, like almond milk, can also be used.
To make homemade buttermilk:
Take a glass measuring cup and add 1 tablespoon of freshly squeezed lemon juice or 1 tablespoon of white vinegar.
Then fill the measuring cup with the milk until it reaches the one-cup mark.
Give everything a stir and let it set for 10 minutes. The milk may slightly curdle, but this is okay!
Use in any recipe calling for buttermilk
Keep in mind that this substitute will not have the same tangy flavor as real buttermilk, but it will still provide the necessary acidity to activate baking powder or soda in your recipe.
What is the best type of buttermilk to use?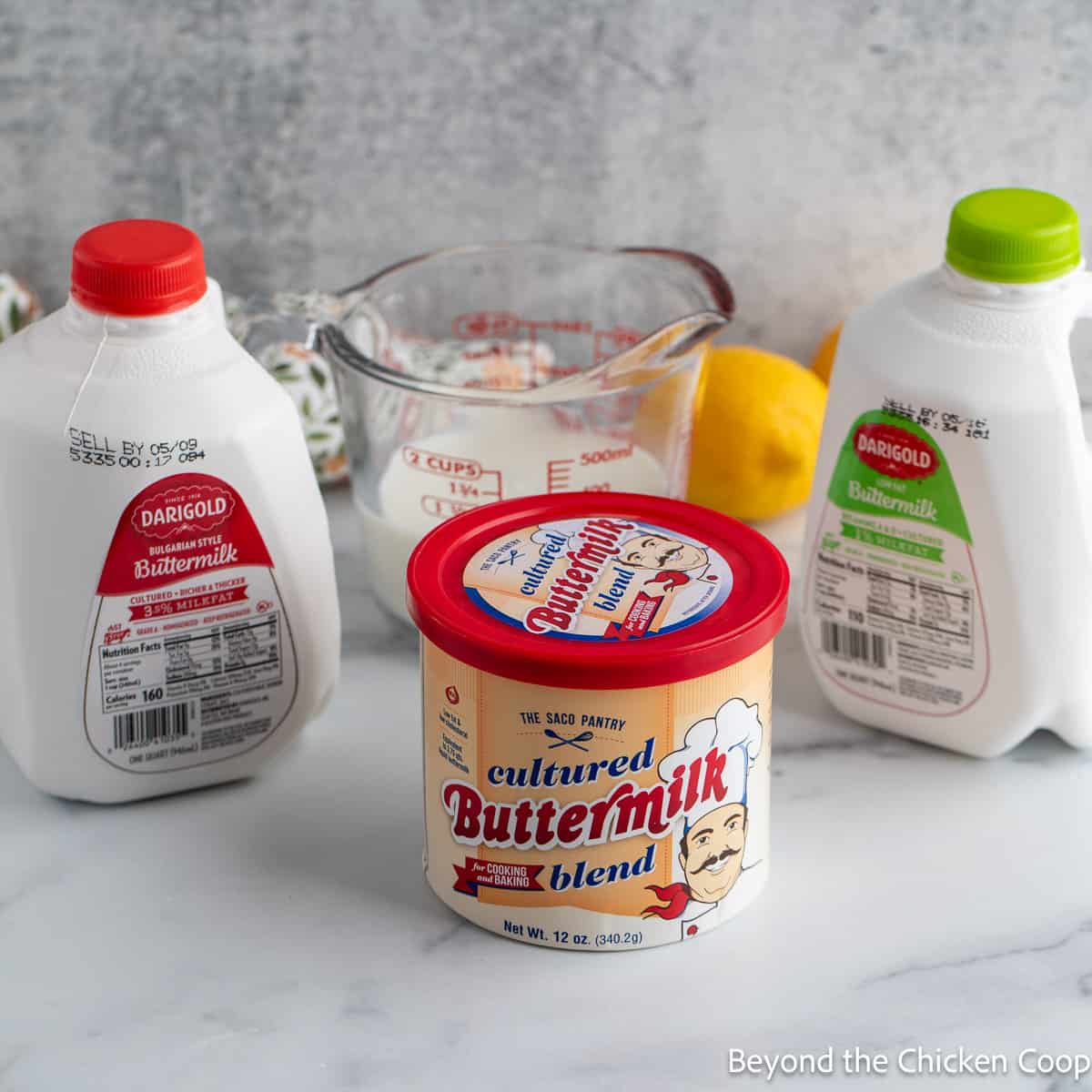 The best type of buttermilk to use is really a personal preference. All buttermilk should give the same results in baking and when used as a brine or in a dressing.
The difference may be in the taste. According to PJ Hamel from King Arthur Baking, "The shorter a recipe's ingredient list, the less successful a buttermilk substitute will be." If buttermilk is the featured ingredient, you might want to purchase buttermilk for maximum flavor.
Sometimes the best buttermilk may simply be whatever you have on hand!
Buttermilk baking test
I have used different types of buttermilk in many different recipes. However, I recently did a test making buttermilk biscuits using regular buttermilk, low-fat buttermilk, powdered buttermilk, and homemade buttermilk with whole milk and lemon juice.
I made four batches of buttermilk biscuits all on the same day, one right after the other to test out any difference. I used the exact same recipe and the exact same technique each time. The only change was the type of buttermilk used.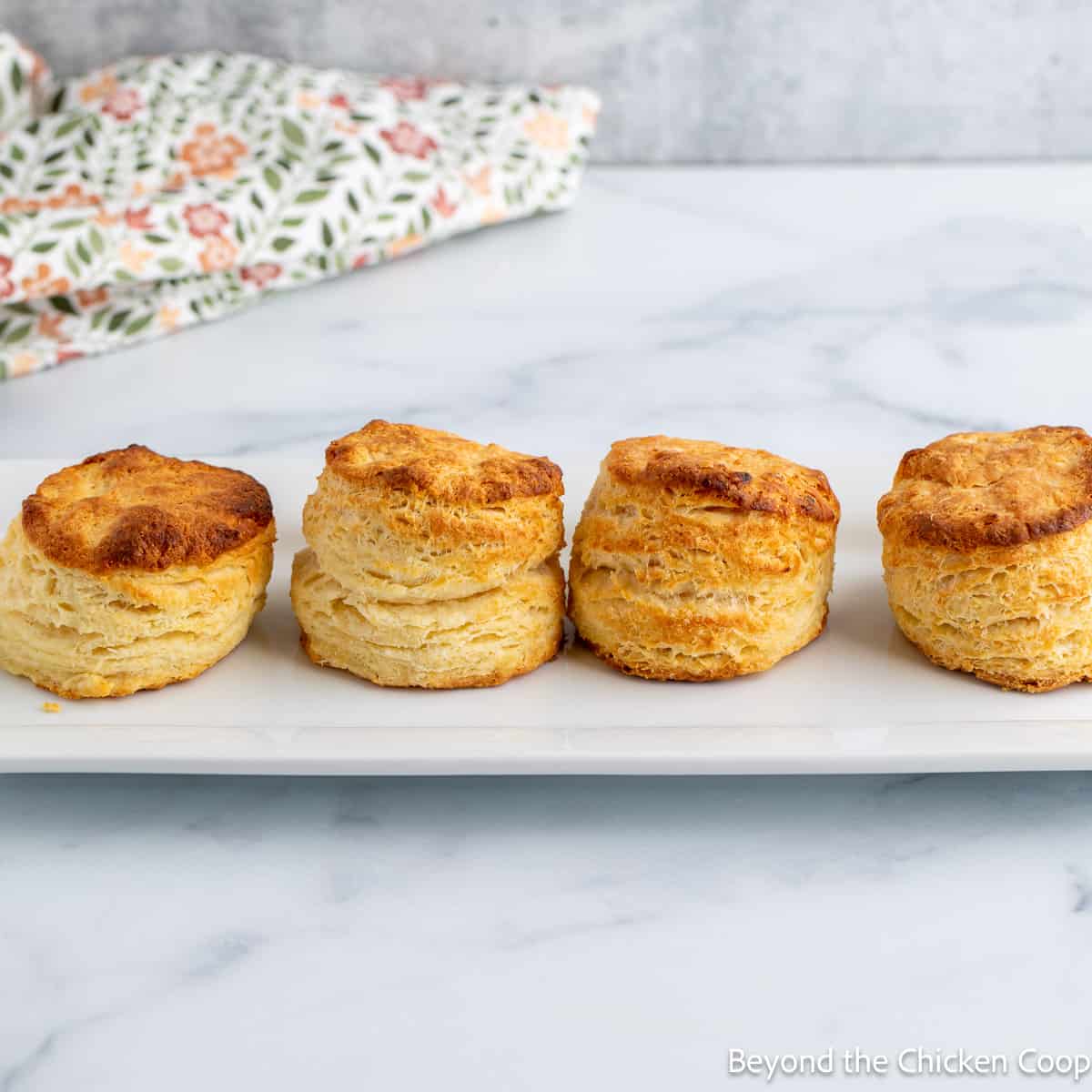 The biscuits turned out very similar. In fact, once I mixed the biscuits all together, I could not tell which was which. During the testing, I kept them separated.
The powdered buttermilk did produce a slightly stickier dough, but I believe it was due to adding regular-temperature tap water to the powder, instead of chilled water. When making biscuits, you want everything well chilled. The powdered buttermilk biscuit is on the far left in the image above. It still has all the flaky layers, but it is just a tad bit shorter than the other three biscuits.
My husband was my official blind taste tester. He ranked the biscuits based on his taste preference. He ranked the powdered buttermilk in first place, then the regular buttermilk. In third place was the homemade buttermilk and he put the low-fat buttermilk in last place.
I also ranked my preferences, but mine was not a blind taste test (someone had to keep track of the order of the biscuits!) I preferred the regular buttermilk, then the powdered, and the last two were about equal to me.
I have also tested regular buttermilk and homemade buttermilk with white vinegar in my Buttermilk Chocolate Cake. Both cakes turned out the same in quality and in taste.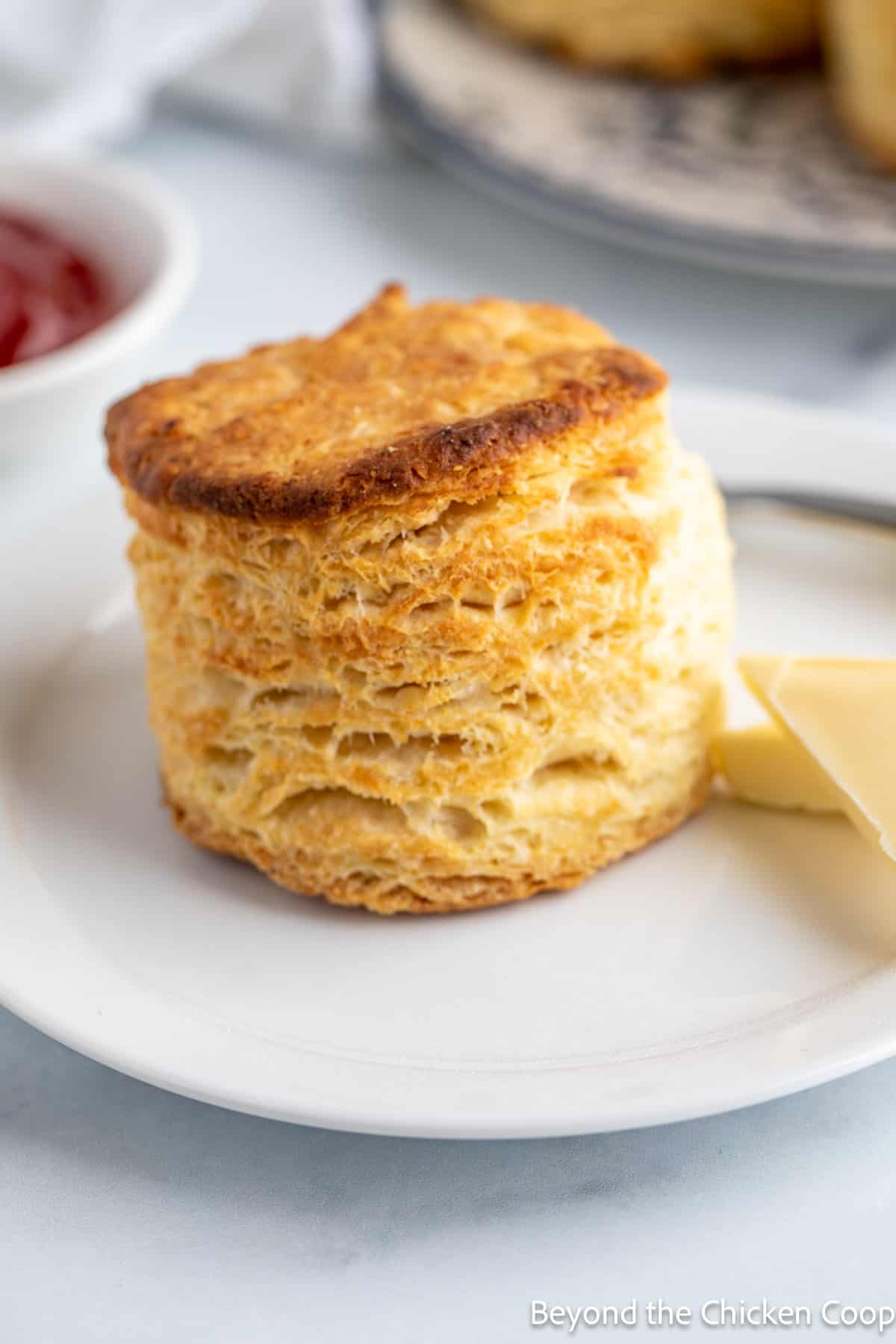 Recipes using buttermilk
Frequently asked questions
Can I freeze buttermilk?
Yes, you can freeze buttermilk, but it may change in texture and consistency once thawed. When frozen, the liquid may separate and become grainy, so it's best to give it a good shake or stir before using it. You can freeze buttermilk in its original container, or pour it into a freezer-safe bag or container.

To freeze buttermilk, make sure it is fresh and hasn't expired. Then, pour the buttermilk into a container, leaving some headspace for expansion during freezing. Label the container with the date and freeze it for up to three months.

When you're ready to use the buttermilk, thaw it in the refrigerator overnight. Do not try to speed up the thawing process by using a microwave or hot water, as this can cause the buttermilk to separate even more. Once thawed, give the buttermilk a good stir or shake before using it in your recipe. It may not have the same texture as fresh buttermilk, but it should still work fine in most recipes.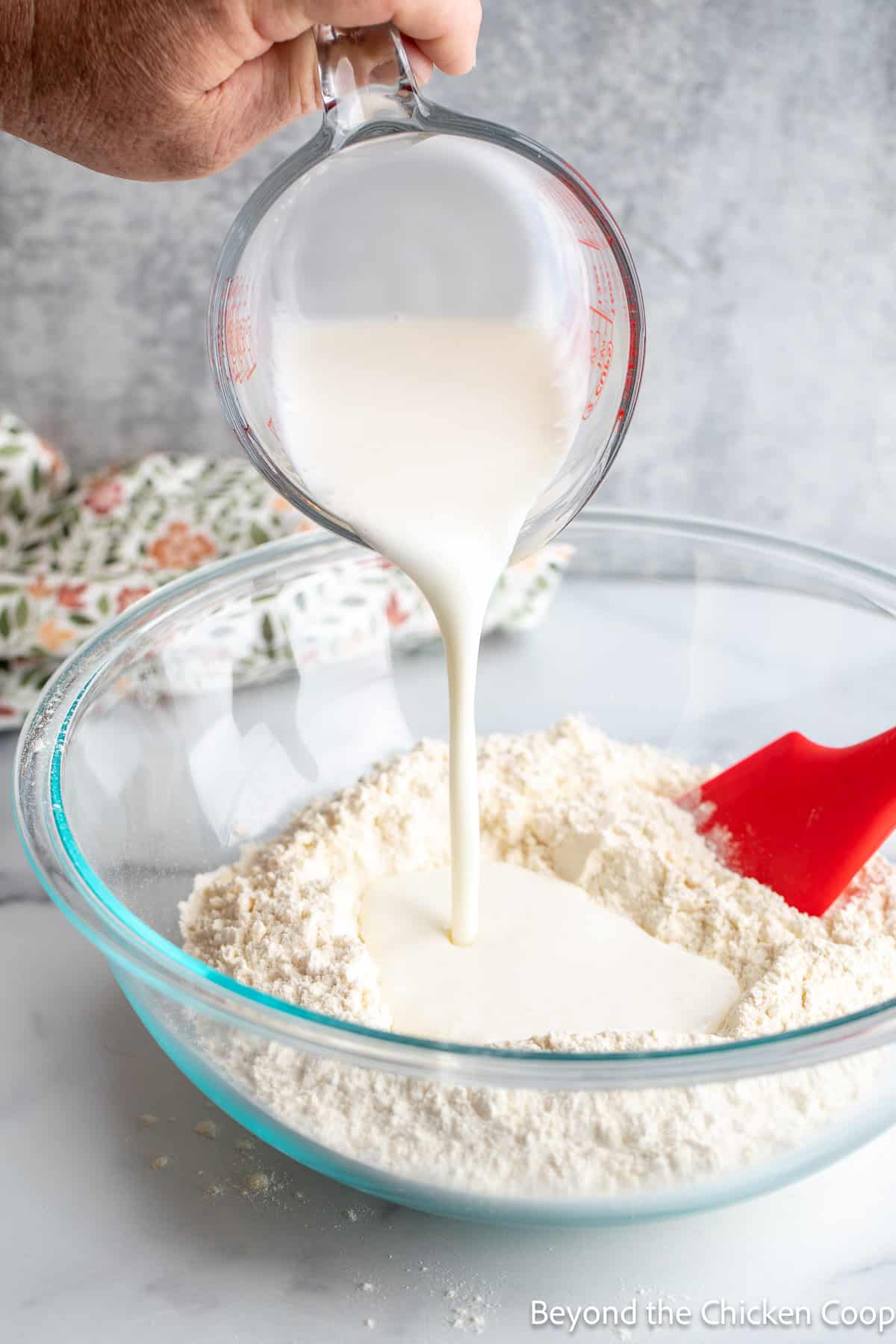 If you make this recipe, I'd love to hear about it! Leave a comment below and snap a picture and tag me on Instagram @beyondthechickencoop
Check out all my delicious recipes!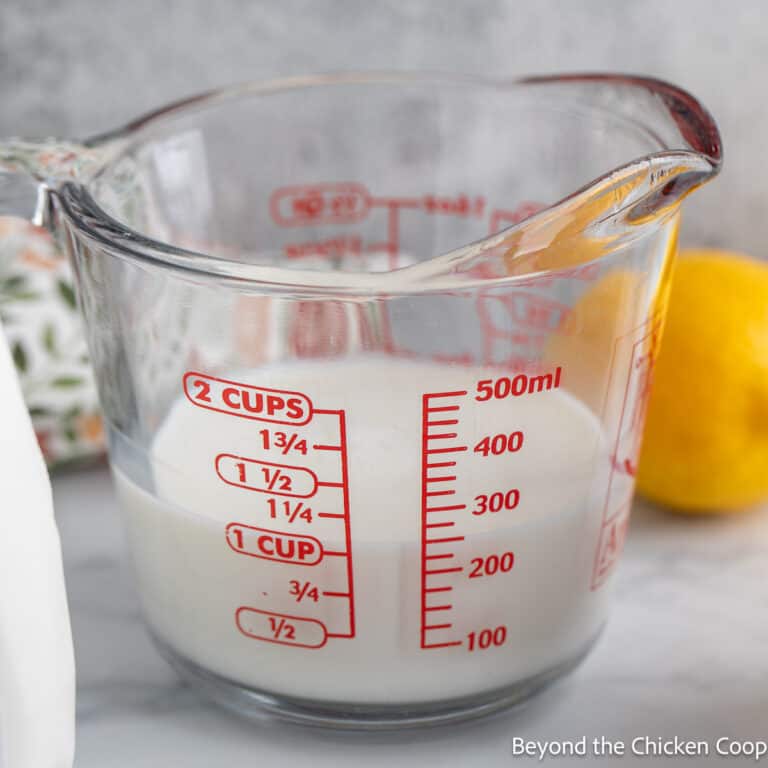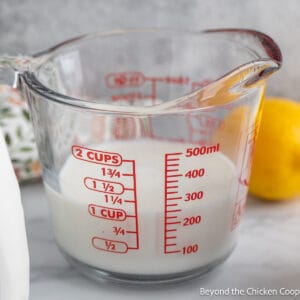 How to Make Buttermilk
Easy to make homemade buttermilk is a perfect replacement for storebought buttermilk.
Ingredients
1

tablespoon

lemon juice or white vinegar

(use either lemon juice or vinegar)

1

cup

milk

(minus one tablespoon)
Instructions
Place one tablespoon of lemon juice (or vinegar) in a glass measuring cup.

Fill with milk until it reaches the one cup mark. Stir and let sit for 10 minutes.

Use in any recipe calling for buttermilk
Notes
Use either freshly squeezed lemon juice or white distilled vinegar. Bottled lemon juice has a slightly off taste that will effect the taste of your buttermilk. 
Nutritional Disclaimer:
Nutritional information is provided as a courtesy and should only be construed as an estimate rather than a guarantee. To obtain the most precise nutritional information in a provided recipe, you should calculate the nutritional information with the exact ingredients you are using when preparing the recipe using your preferred nutrition calculator.
Nutrition
Serving:
1
cup
Calories:
150
kcal
Carbohydrates:
12
g
Protein:
8
g
Fat:
8
g
Saturated Fat:
5
g
Polyunsaturated Fat:
0.3
g
Monounsaturated Fat:
2
g
Cholesterol:
29
mg
Sodium:
93
mg
Potassium:
381
mg
Fiber:
0.1
g
Sugar:
12
g
Vitamin A:
396
IU
Vitamin C:
6
mg
Calcium:
301
mg
Iron:
0.01
mg