Homemade Sauerkraut - Making your own sauerkraut is possible to do at home.
Sometimes I truly surprise myself....making this sauerkraut is a complete and total surprise.
Don't get me wrong. This didn't happen accidentally. I knew I was making homemade sauerkraut. I even planned it out. The complete and total surprise comes from the fact that I've never liked sauerkraut.
In fact I always made horrible faces whenever someone would simply mention the word sauerkraut.
My mom is a sauerkraut fan and buys it from the grocery store from time to time. My husband also loves sauerkraut! I didn't like it. I wouldn't touch it. I wouldn't even buy it for my dear sweet husband!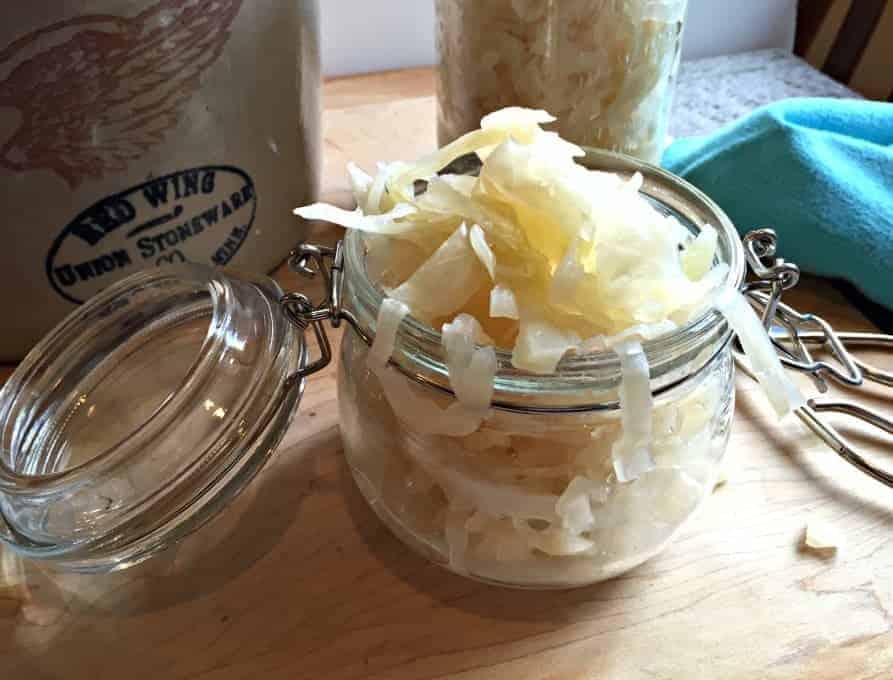 Then slooooowly things started to change. My brother made the first batch of homemade sauerkraut. He stated it was quite good and unlike anything you could buy in the store. I was not convinced.
Then we were given a couple of old ceramic crocks from Rod's grandmother, along with her recipe for sauerkraut! No way was I going to use it, but the crocks looked great in our living room! Finally my sister decided to make it! What was going on here?
I decided to get on the band wagon and start reading up on this strange fermented cabbage. I became intrigued....but still wasn't going to be a fan! No Way!!!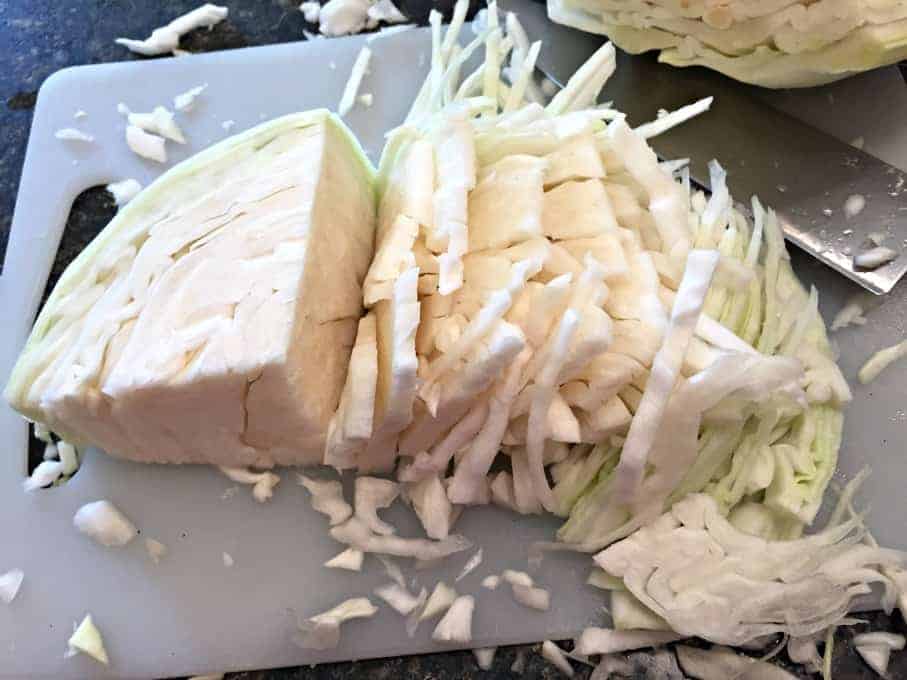 For this batch, I used a huge cabbage. It weighed 3 pounds. You can use any size cabbage you want. You are only limited to the size of your container.
I used one of the old sauerkraut crocks that came from my grandparents. You can find new crocks here.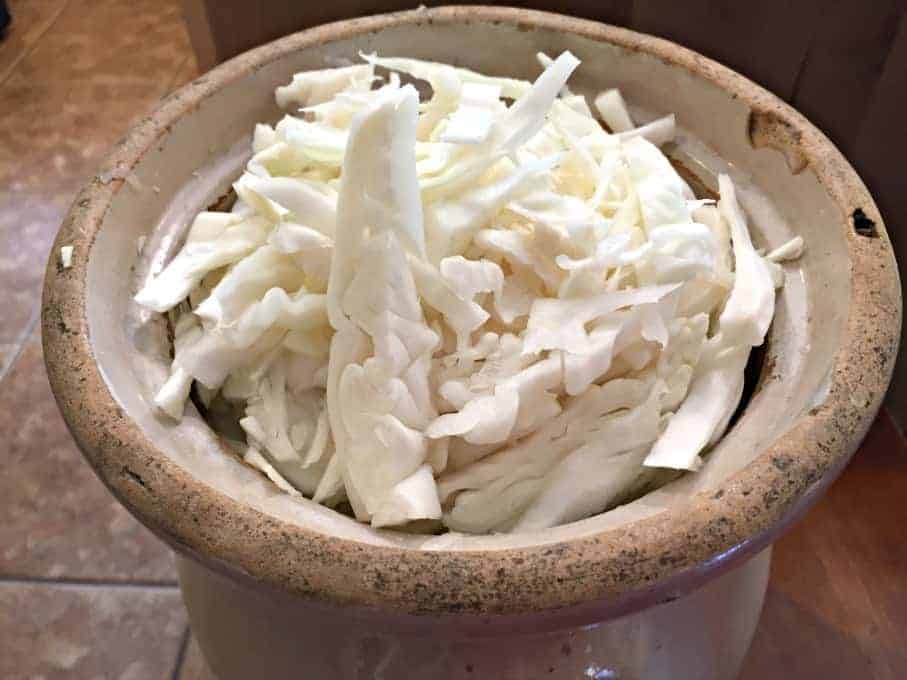 How do I make sauerkraut?
You start by cutting up all your cabbage.
Once your cabbage is cut, you begin layering it into your crock. Between each layer, you sprinkle salt. I used canning salt because it doesn't have any additives like a non-caking ingredient or iodine.
The absolute hardest part was getting all the cabbage into my crock. The picture above shows just half the cabbage. I had read that a 3 pound cabbage could fit into my crock, but it was full at just half way! The trick, pushing it down. I had to use my fist and push, and push, and push..... you get the idea. Finally I was actually able to get all the cabbage into the crock. Then the waiting begins.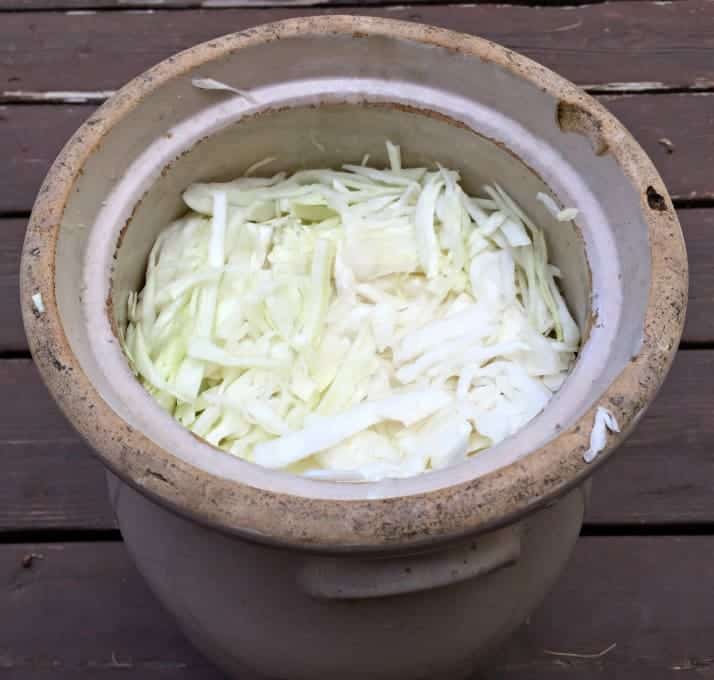 Check your cabbage every couple of days. Slowly the liquid will start to be released from the cabbage. You want your cabbage covered with this liquid after two to three days days. If it hasn't you will need to create a brine (water and salt) to cover the top.
My cabbage had drastically decreased in size after two days, but it took three days for the liquid to reach the top. I then added a weight to keep the cabbage from floating up. I used a glass dish with a quart jar filled with water to give it some weight. The entire top of the crock was kept covered with a clean dish towel.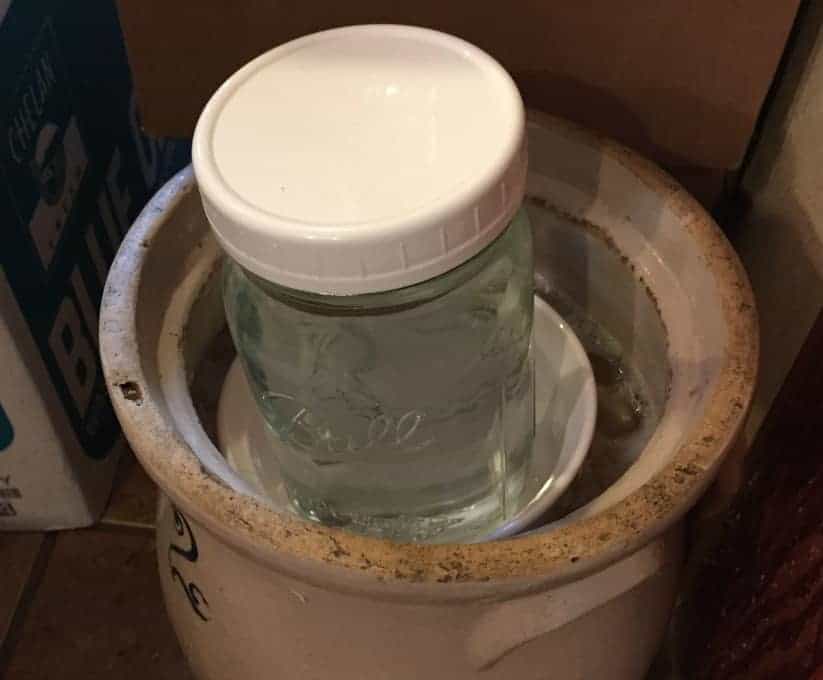 At the beginning you do need to check your crock every couple of days and remove any scum that may appear. You can see in the pictures some whitish bubbles. I removed those bubbles each time I saw them.
You also want to check for mold or discoloration. Mine did not have an issue with mold or discoloration. Wild Fermentation states it isn't a problem and can simply be removed.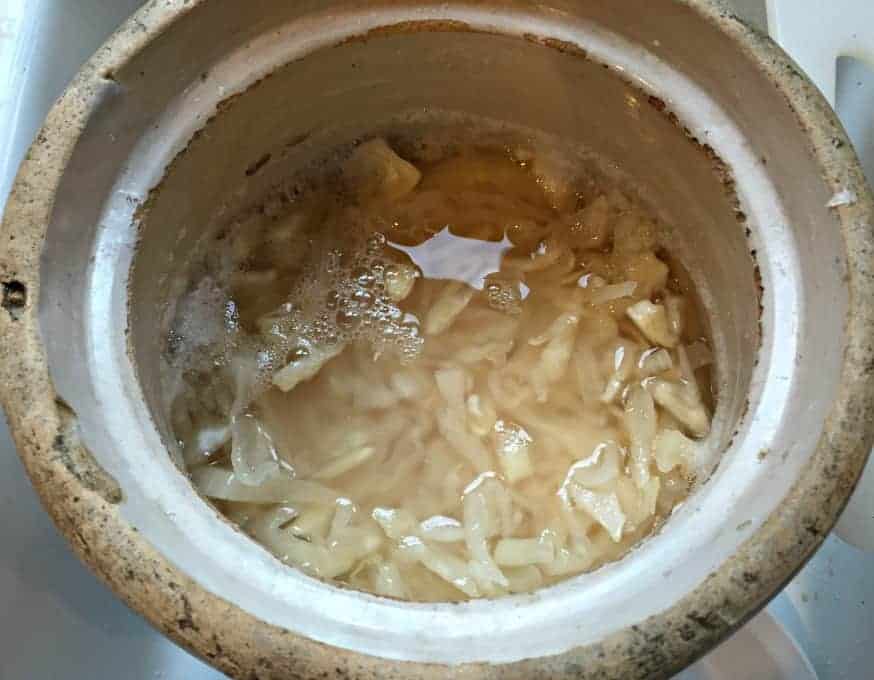 Your sauerkraut is ready whenever you think it tastes good. The longer it keeps, the stronger the taste. I kept mine going for 4 weeks.
Once done, I simply transferred the kraut into clean quart canning jars and put into the fridge. I decided not to seal the kraut in jars. You can, and it will keep for a long time in your pantry, but heating it kills all the probiotics that naturally occur in homemade sauerkraut.
The only problem...I have 8 quarts of sauerkraut in my fridge! I'm not certain how quickly we can eat all that kraut!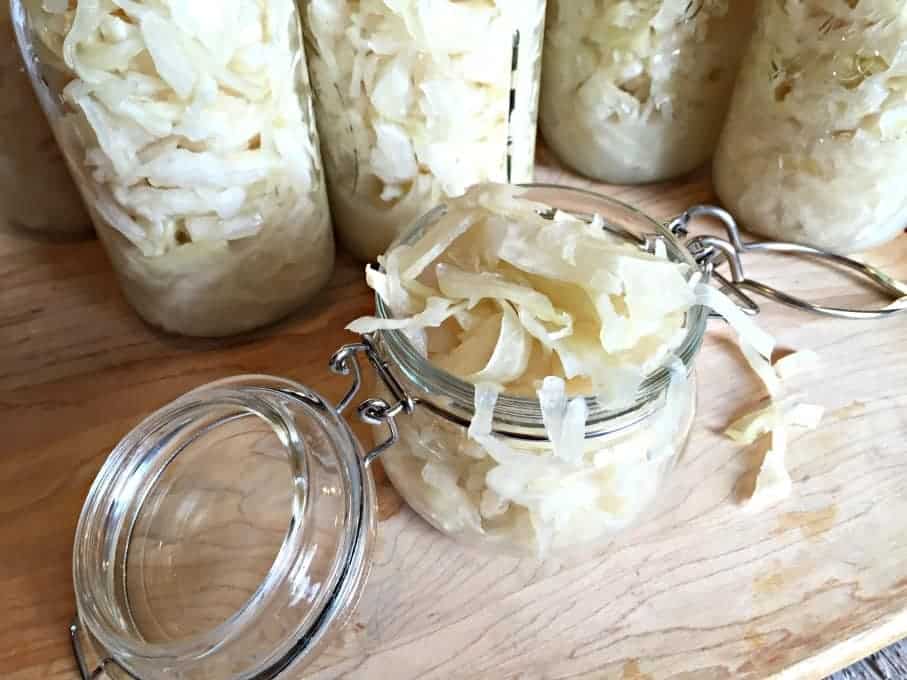 My husband says the sauerkraut is great. And I must admit, I do like it! There is a nice crunch to the cabbage still and a tang from the fermentation.
I eat it as a small side salad. I'm still not certain I could slather a hot dog with sauerkraut, but I definitely don't make faces at this delicious homemade sauerkraut!
So tell me.....Do you love sauerkraut?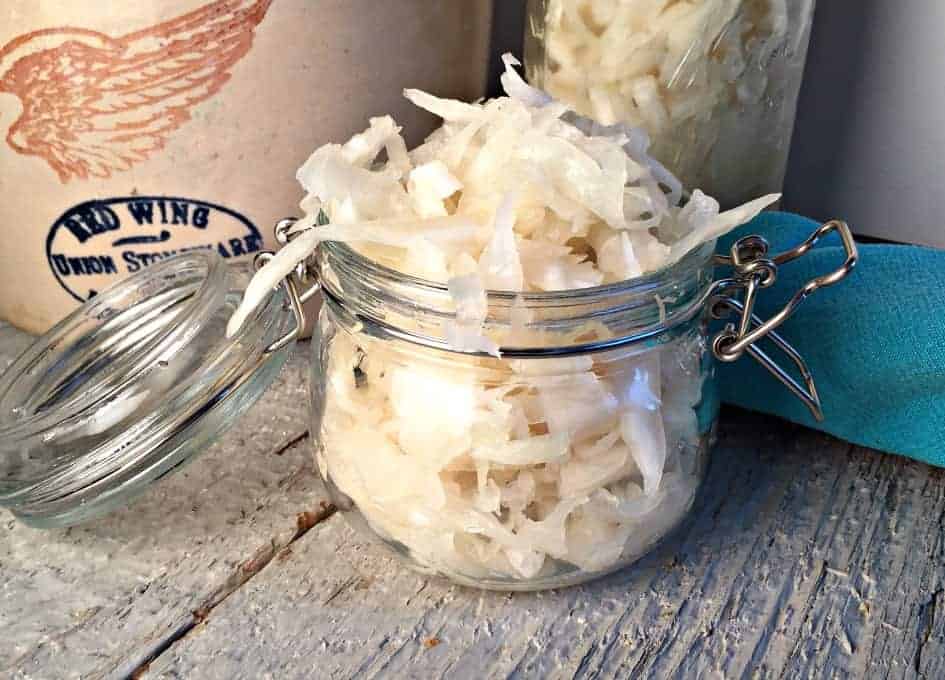 Other Food Preservation Recipes
Don't forget to PIN for later!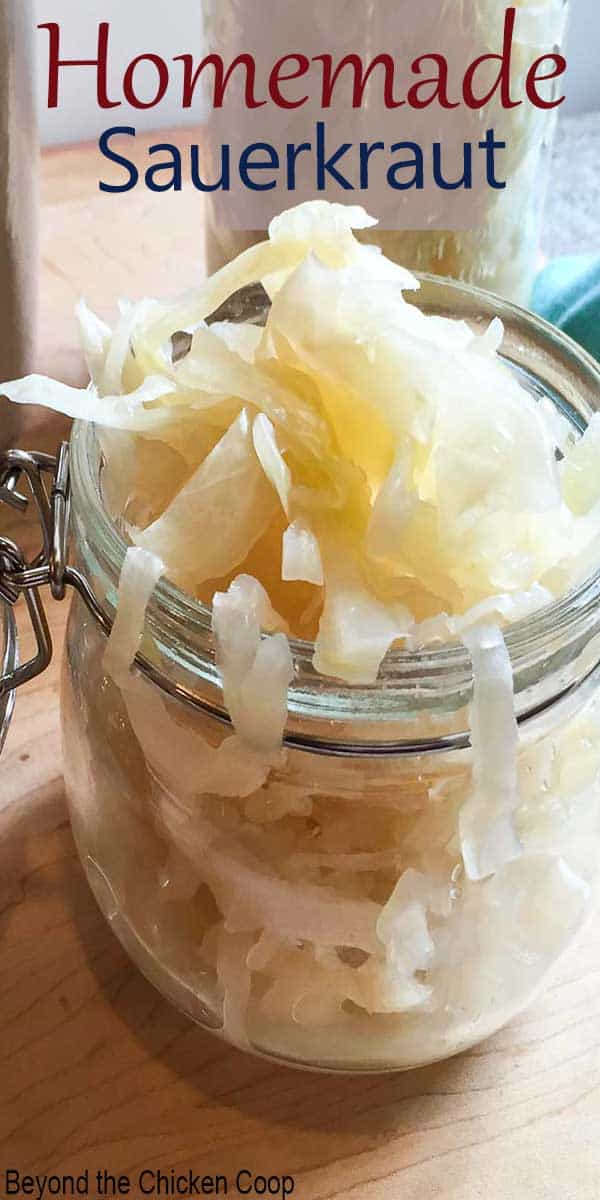 If you make this recipe, I'd love to hear about it! Leave a comment below and snap a picture and tag me on Instagram @beyondthechickencoop
If you loved this recipe you'll LOVE all the others in this category. Check out all my canning recipes here!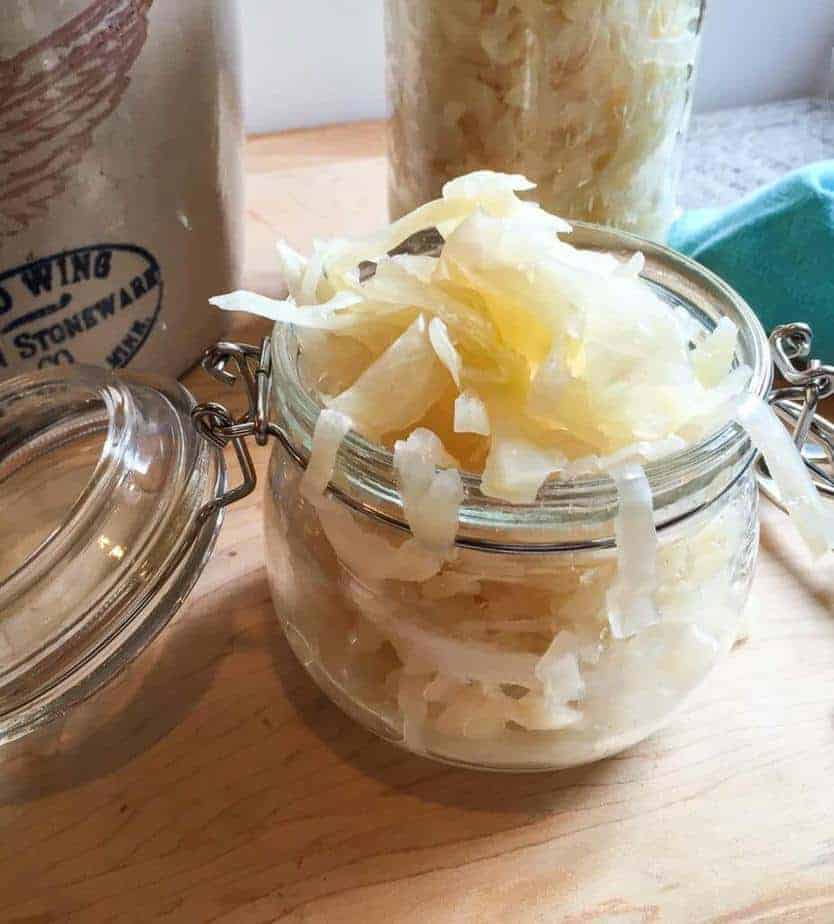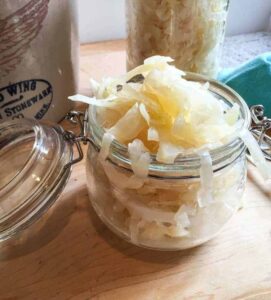 Homemade Sauerkraut
Homemade sauerkraut.
Ingredients
3

pound

Cabbage

2

Tablespoons

salt

(non-iodized)
Instructions
Chop up cabbage

Layer into a ceramic crock or other food grade container.

Sprinkle salt between layers.

Push each layer down so the cabbage is compacted.

Cover with a clean cloth, check daily to make certain liquid starts to cover all cabbage.

Place a clean weight on top. Keep covered with cloth.

Check every few days to remove and scum or mold.

You can begin tasting kraut after a week. The longer it keeps, the stronger it gets.
Notes
My sauerkraut took about 4 weeks to ferment. Store in glass jars in the refrigerator. This recipe can be adjusted using a smaller cabbage or a much larger one. 
Nutritional Disclaimer:
Nutritional information is provided as a courtesy and should only be construed as an estimate rather than a guarantee. To obtain the most precise nutritional information in a provided recipe, you should calculate the nutritional information with the exact ingredients you are using when preparing the recipe using your preferred nutrition calculator.
Nutrition
Serving:
0.25
cup
Calories:
3
kcal
Carbohydrates:
1
g
Protein:
1
g
Fat:
1
g
Saturated Fat:
1
g
Sodium:
111
mg
Potassium:
18
mg
Fiber:
1
g
Sugar:
1
g
Vitamin A:
10
IU
Vitamin C:
4
mg
Calcium:
4
mg
Iron:
1
mg