Fried eggs with the yolk cooked through. These over hard eggs are delicious for breakfast and are just right for adding to an egg sandwich!
Over hard eggs cook up in just a few quick minutes.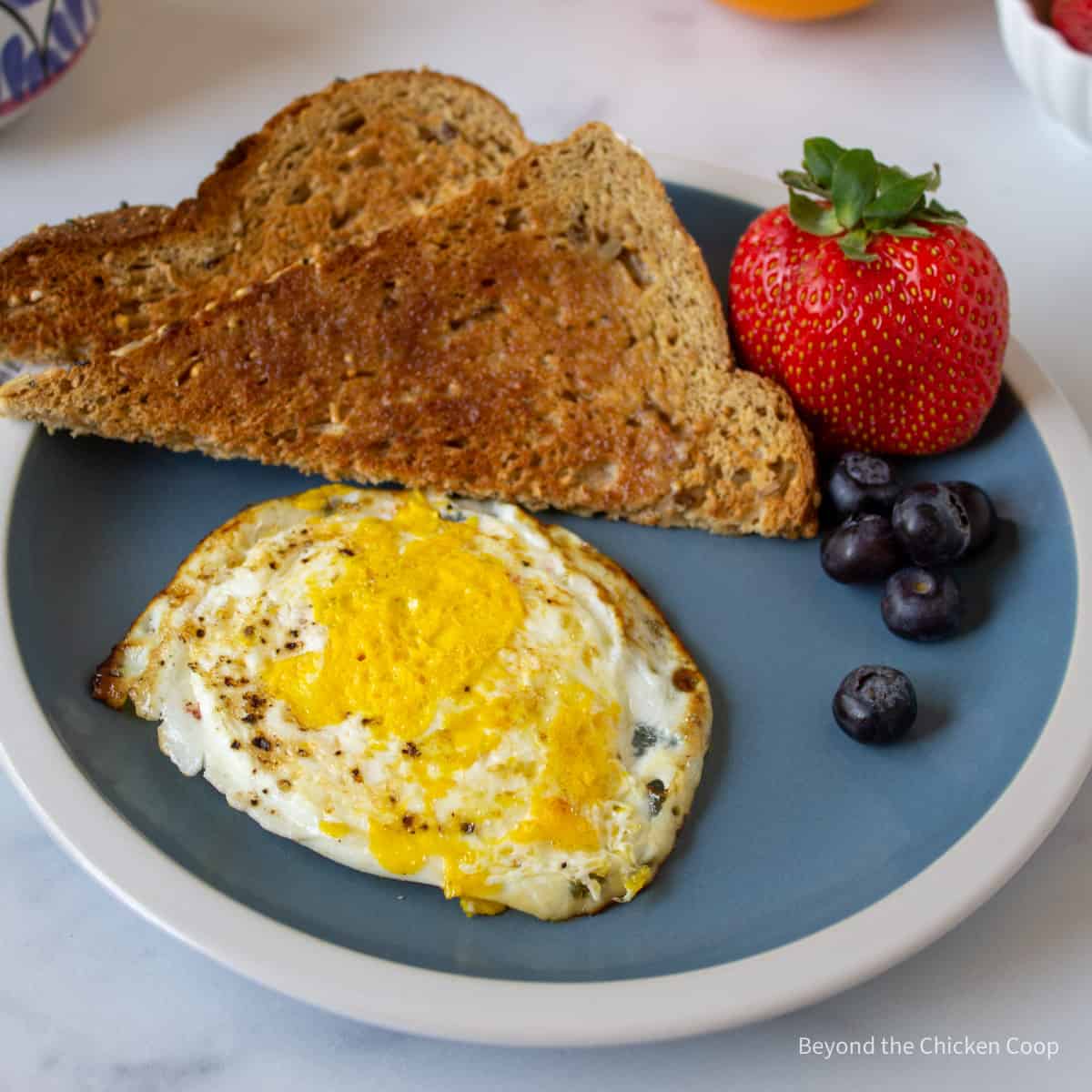 Different Types of Fried Eggs
A fried egg is such a perfect and simple food, but knowing exactly how to fry an egg to your liking can sometimes be a bit tricky.
There are four main types of fried eggs; sunny side up, over easy, over medium and over hard. Everyone seems to have their favorite type of fried egg.
A sunny side up egg is an egg that isn't flipped. It's only cooked from the bottom side up. The top looks like a beautiful little sun that's facing upward!
Over easy is my favorite way to eat fried eggs! They are cooked first on one side, then flipped and cooked lightly and flipped back again. The egg white is fully cooked, but the yolk is nice and runny.
Over medium is cooked much the same way as over easy eggs, but they are cooked a bit longer. The yolk is mostly cooked through, but is still a bit runny in the center.
Over hard eggs means there is no runny yolk. You can still have a bit of just slightly undercooked firm yolk or you can make certain every bit of the yolk is fully cooked through.
The yolk in an over hard egg is usually broken to make certain the yolk is cooked through.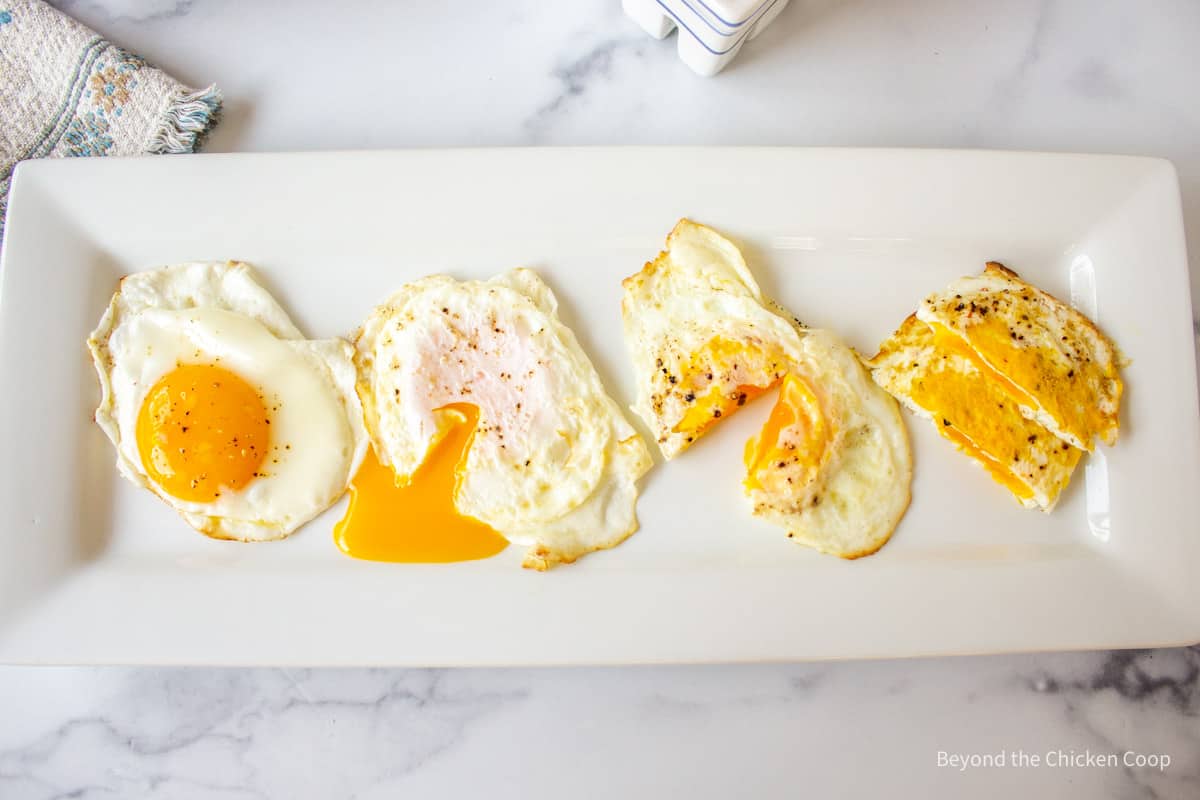 Ingredients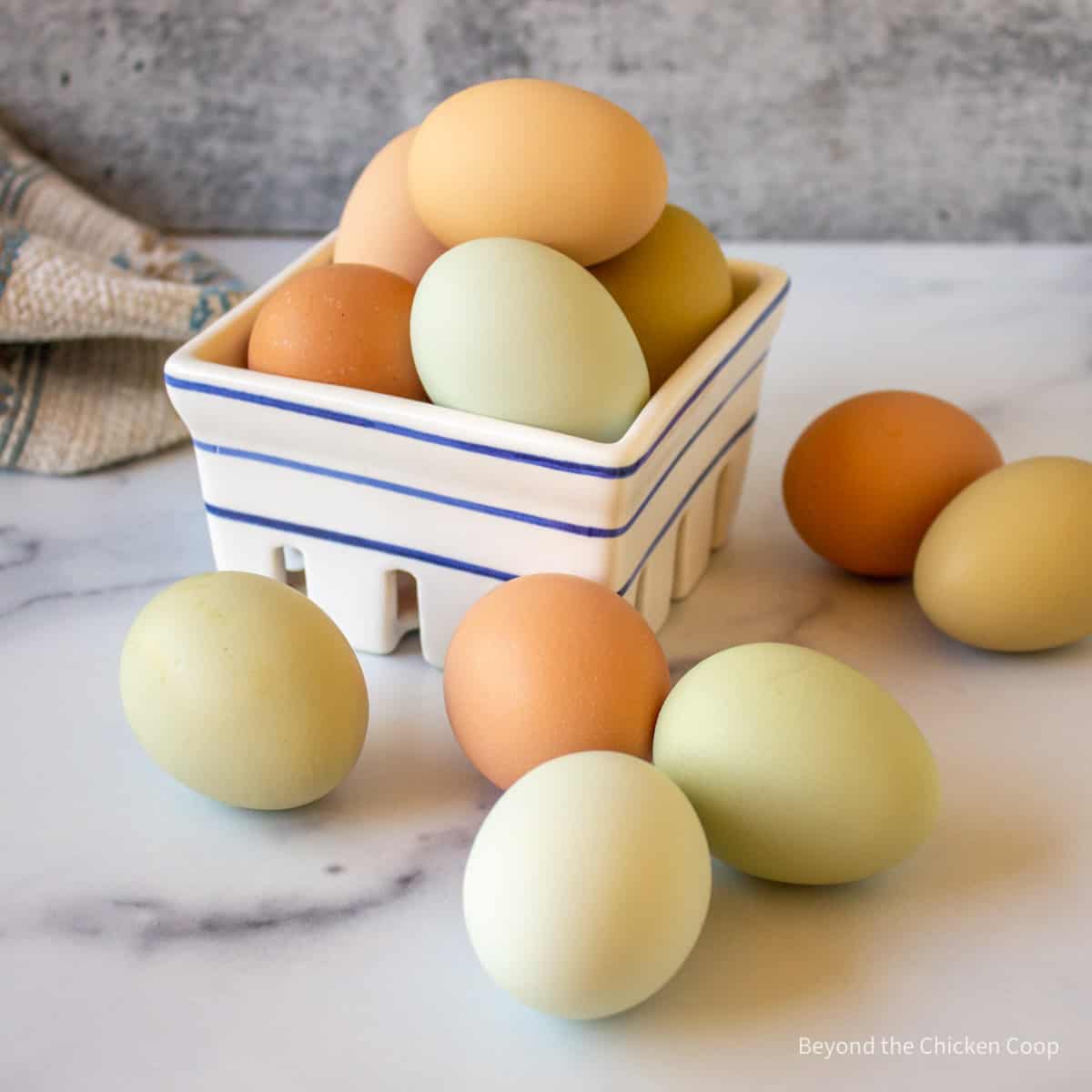 Fresh eggs are the best eggs to use for fried eggs. The egg is taking center stage here, so the better the egg, the better the fried egg!
I use my farm fresh eggs from my chickens. Purchased eggs are fine too, just try to find the freshest ones possible.
Step by step directions
Heat a pan over low heat
When pan is warm, add a ½ tablespoon of butter. Allow butter to melt and get bubbly.
Crack egg into pan over melted butter
Sprinkle with a bit of salt and pepper
Cook over low heat until most of the white has set
Carefully flip egg over and cook for 1-2 minutes
Flatten egg down with the spatula so the yolk breaks. You could also puncture the yolk with the corner of the spatula.
Flip egg back to original side up and press down again on the yolk and continue cooking for 1-2 minutes more or until yolk is fully cooked to your liking
Remove egg from pan and place on plate
Recipe tips
Heat pan over low heat. This creates a more even heat in the pan.
Use butter or olive oil or rendered bacon grease
Cook over low heat. If the heat is too high, the white of the egg will overcook before the yolk has a chance to cook.
Be certain to pierce the yolk so it fully cooks. You can pierce the yolk at any time during the cooking process.

If you pierce as soon as you add the egg, the yolk tends to run into the pan and expands over the sides of the egg.
If you pierce after the first flip, the yolk tends to stay more in place.

Use a thin spatula to slide under the egg
The yolk can be cooked until it's not runny or until it's fully cooked all the way through
Cook just one or two eggs at a time. Don't overcrowd the pan.
Wipe out pan between each batch of eggs if cooking multiple batches
More delicious breakfast recipes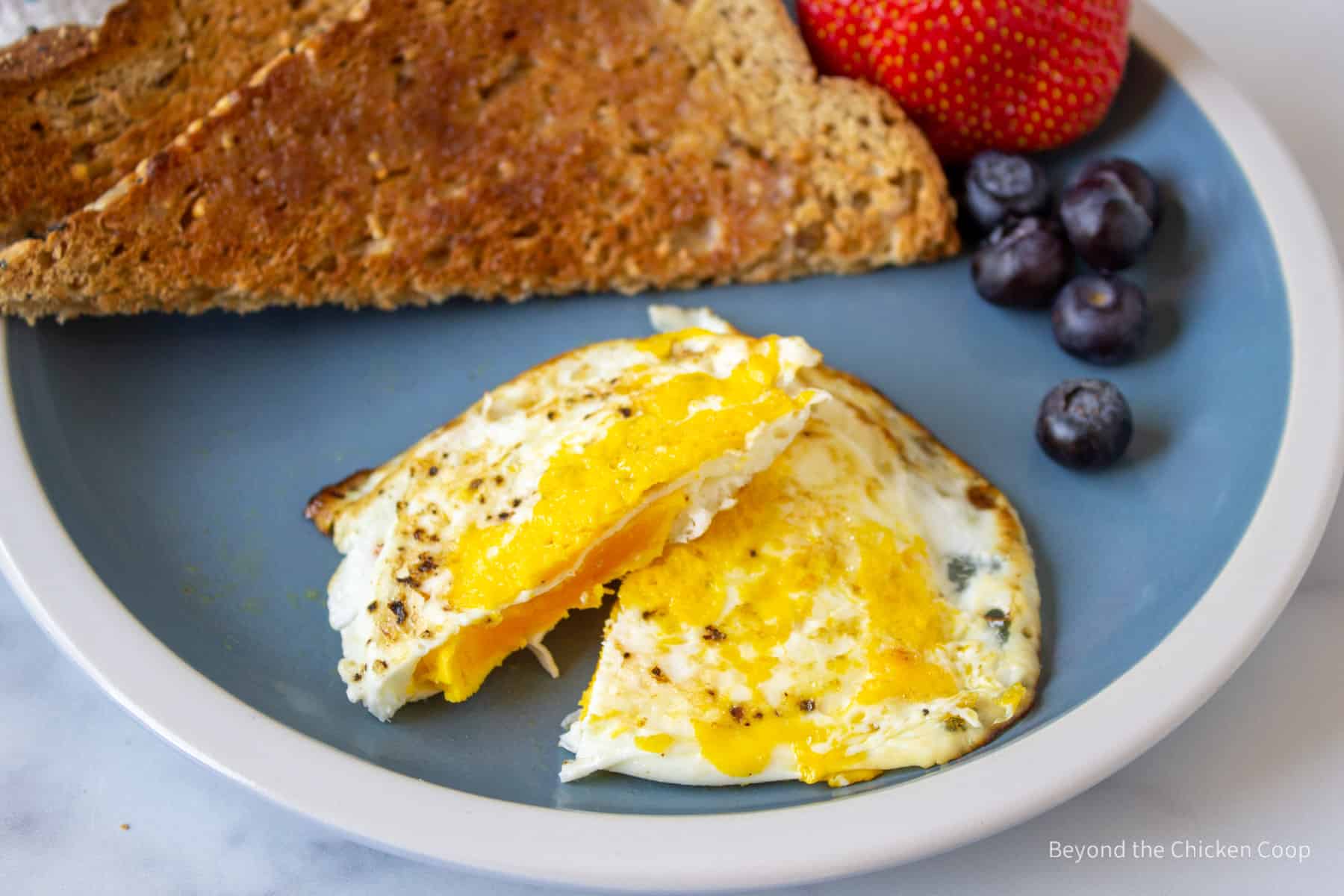 If you make this recipe, I'd love to hear about it! Leave a comment below and snap a picture and tag me on Instagram @beyondthechickencoop
Be certain to check out all my delicious breakfast recipes!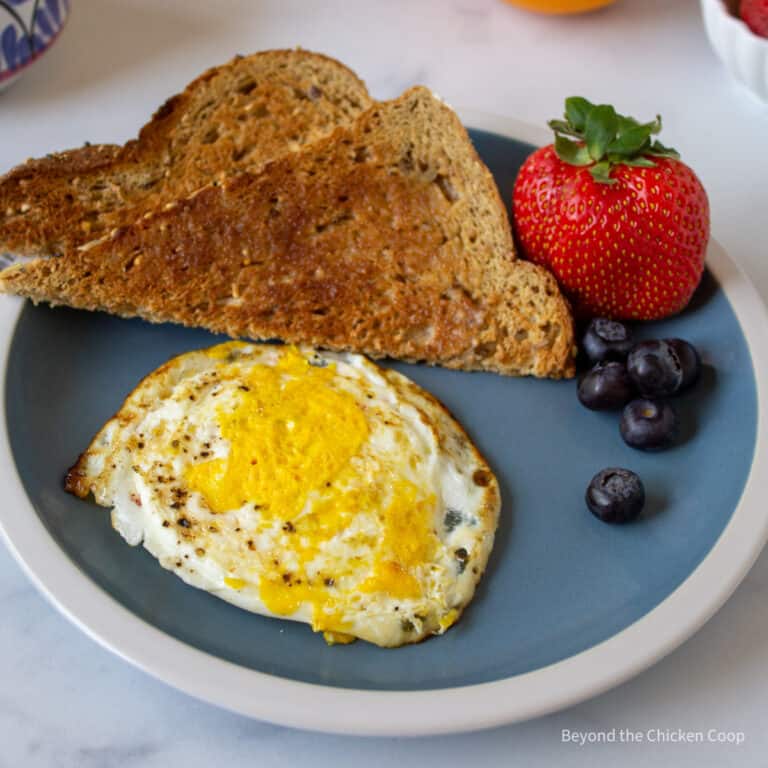 Over Hard Eggs
Fried eggs with the yolk fully cooked through.
Ingredients
½

tablespoon

butter

1

egg

salt

pepper
Instructions
Heat a pan over low heat

When pan is warm, add a ½ tablespoon of butter. Allow butter to melt and get bubbly.

Crack egg into pan over melted butter

Sprinkle with a bit of salt and pepper

Cook over low heat until most of the white has set

Carefully flip egg over and cook for 1-2 minutes

Flatten egg down with the spatula so the yolk breaks. You could also puncture the yolk with the corner of the spatula.

Flip egg back to original side up and press down again on the yolk and continue cooking for 1-2 minutes more or until yolk is fully cooked to your liking

Remove egg from pan and place on plate
Notes
Heat pan over low heat. This creates a more even heat in the pan.
Use butter or olive oil or rendered bacon grease
Cook over low heat. If the heat is too high, the white of the egg will overcook before the yolk has a chance to cook.
Be certain to pierce the yolk so it fully cooks. You can pierce the yolk at any time during the cooking process.

If you pierce as soon as you add the egg, the yolk tends to run into the pan and expands over the sides of the egg.
If you pierce after the first flip, the yolk tends to stay more in place.

Use a thin spatula to slide under the egg
The yolk can be cooked until it's not runny or until it's fully cooked all the way through
Cook just one or two eggs at a time. Don't overcrowd the pan.
Wipe out pan between each batch of eggs if cooking multiple batches
Nutrition
Calories:
113
kcal
Carbohydrates:
1
g
Protein:
6
g
Fat:
10
g
Saturated Fat:
5
g
Polyunsaturated Fat:
1
g
Monounsaturated Fat:
3
g
Trans Fat:
1
g
Cholesterol:
179
mg
Sodium:
107
mg
Potassium:
62
mg
Sugar:
1
g
Vitamin A:
413
IU
Calcium:
26
mg
Iron:
1
mg