This post may contain affiliate links, see my Privacy Policy.
Luscious raspberry sauce swirled into vanilla ice cream and mixed with chocolate chunks.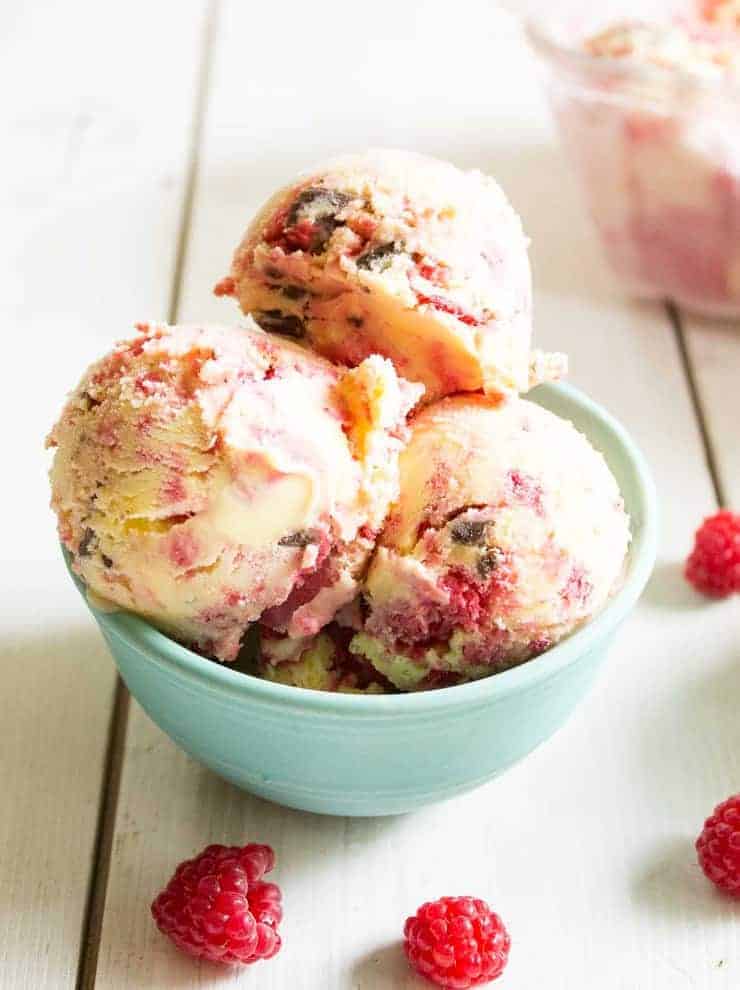 Raspberry swirl and chocolate chunk ice cream! OH MY!!! It's as good as it sounds. For some reason I am stuck on raspberries and chocolate. Just imagine this ice cream with Raspberry Brownies!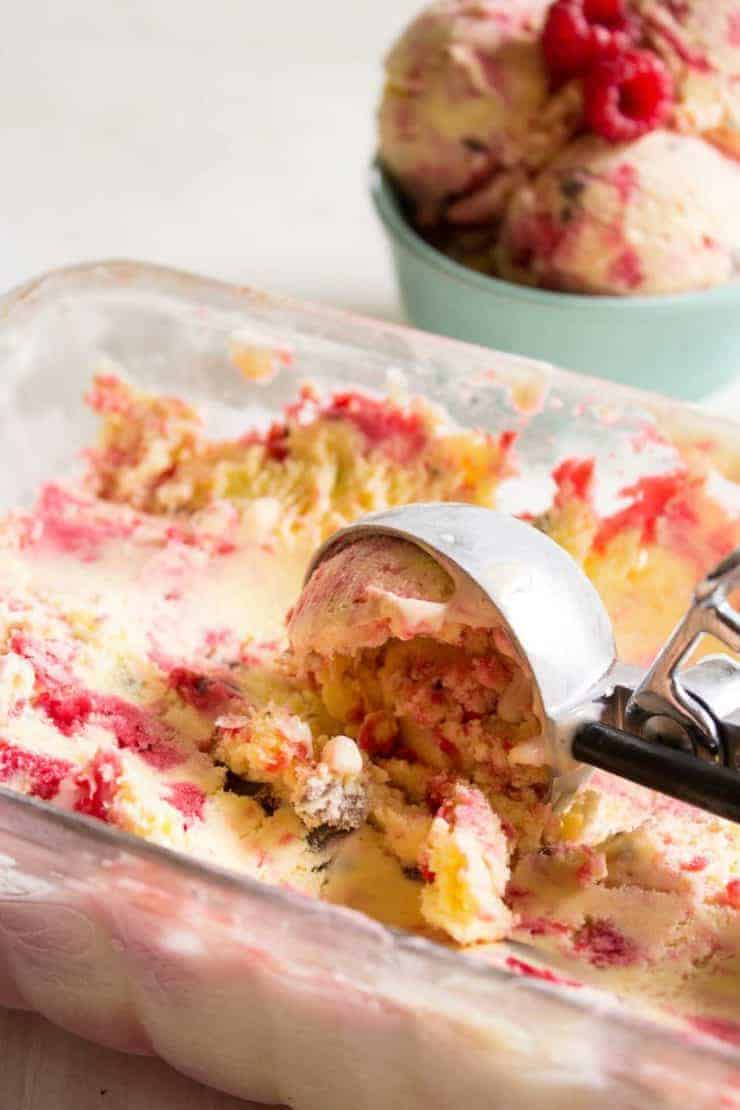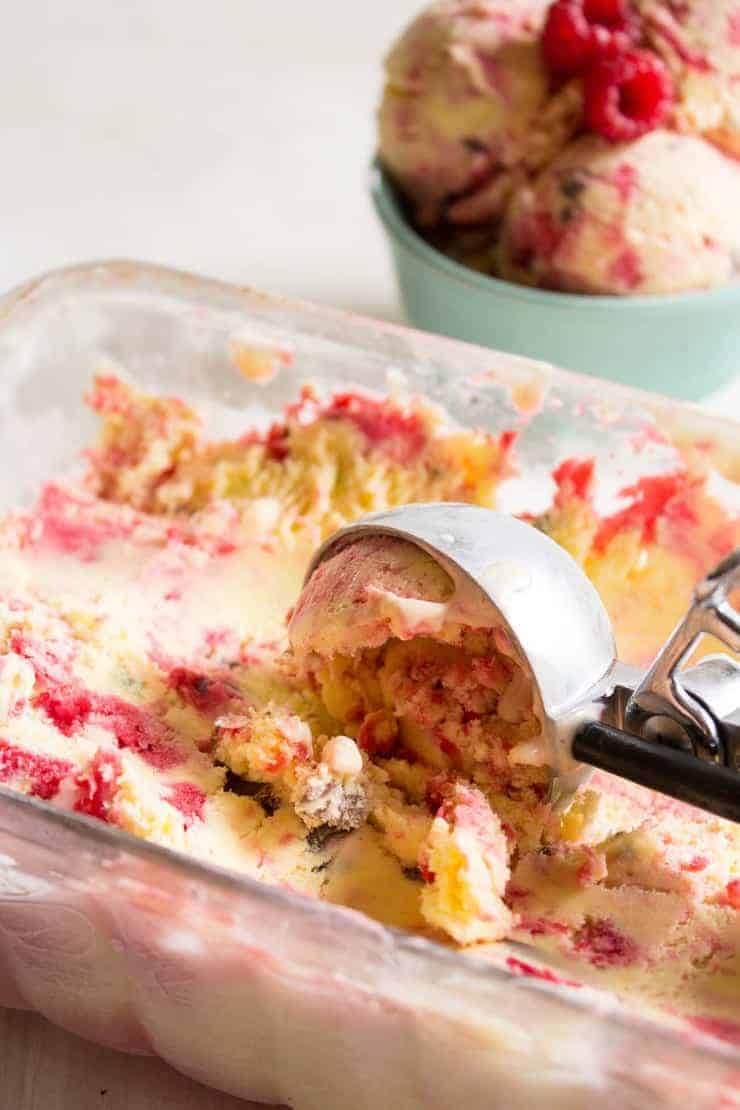 How do you make raspberry swirl ice cream?
For this ice cream, I started with the same basic custard that I used in my Old Fashioned Peach Ice Cream. Fresh raspberries were mixed with some sugar and left to macerate for a couple of hours. Because I didn't want all those seeds in my ice cream, I strained the berries and juice through a fine meshed sieve.
I debated adding this directly to the ice cream maker, but decided against it. Instead, I completely churned the ice cream. Then I put half of the ice cream in a dish and added half of the strained berries on top and sprinkled with chocolate. The rest of the ice cream went on top, then berries, and chocolate.
The ice cream is quite soft when it comes out of the mixer. Once I layered all the ingredients, I carefully took a butter knife and just lightly made swirls through the mixture.
I was very careful to not over mix. I popped it in the freezer and waited and waited and waited. I tell ya, the toughest part is the waiting! You can eat it right away and I always sample, but I really love it when it has set up and is firm.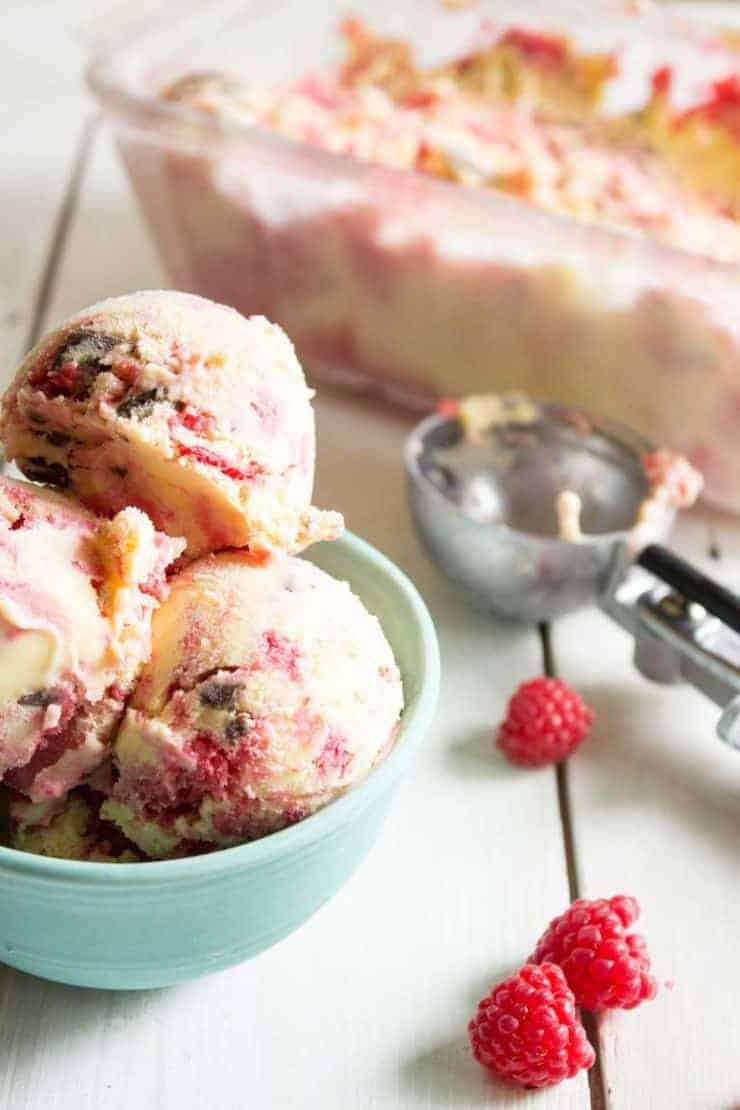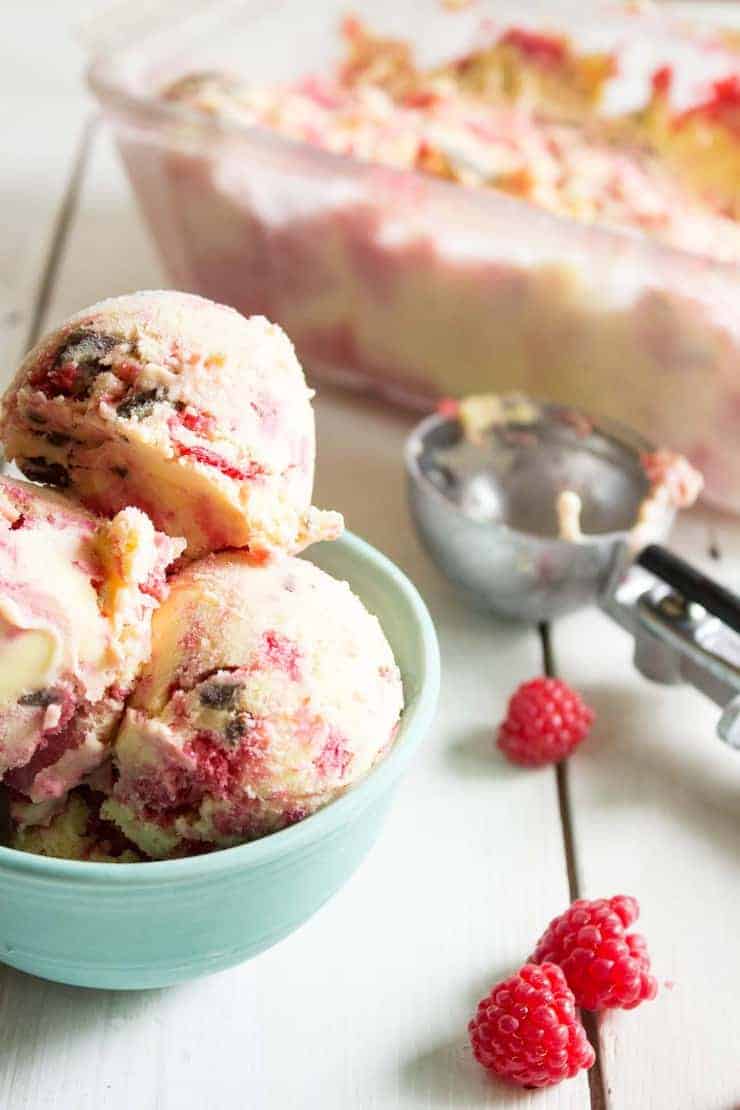 How do you churn ice cream?
I used an ice cream maker to churn this ice cream. Just one little piece of advice I'd offer – make certain your ice cream mixing bowl is fully frozen prior to churning ice cream. Trust me, your sherbet just won't turn into ice cream unless the bowl is really, really frozen!
The directions for my mixer says to freeze for at least 12 hours. Throw your bowl into the freezer the night before and then you are good to go!
Other frozen dessert recipes I have include Orange Sherbet, Lime Sherbet, Watermelon Sorbet, Apricot Sorbet, and Mint Chocolate Chip Ice Cream.
Please PIN for later!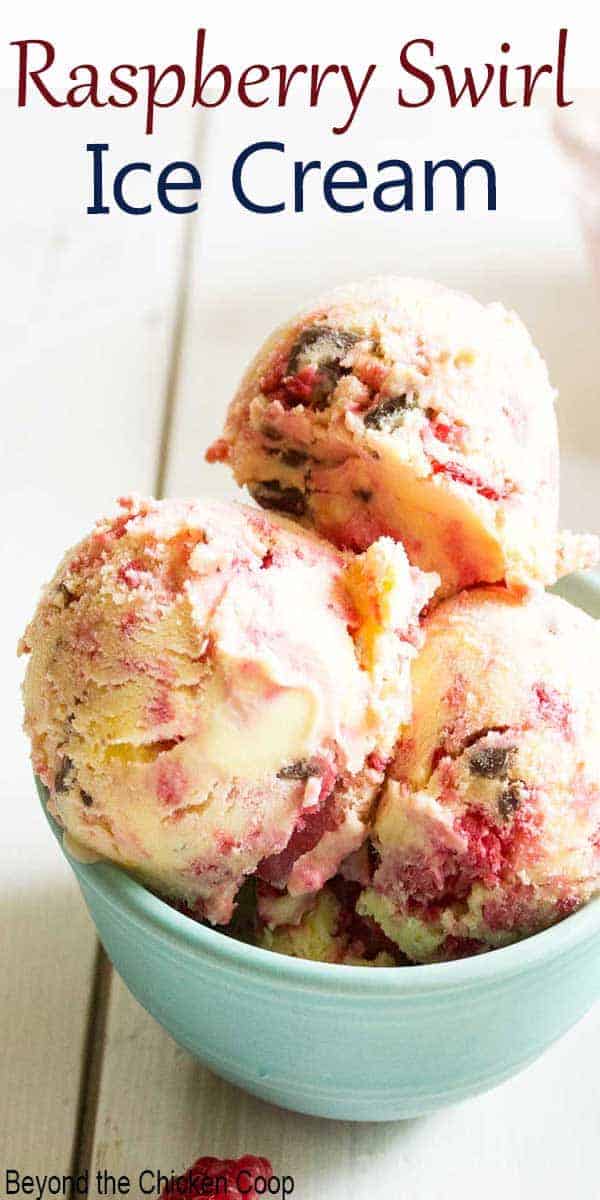 If you make this recipe, I'd love to hear about it! Leave a comment below and snap a picture and tag me on Instagram @beyondthechickencoop
If you loved this recipe you'll LOVE all the others in this category. Check out all my desserts here!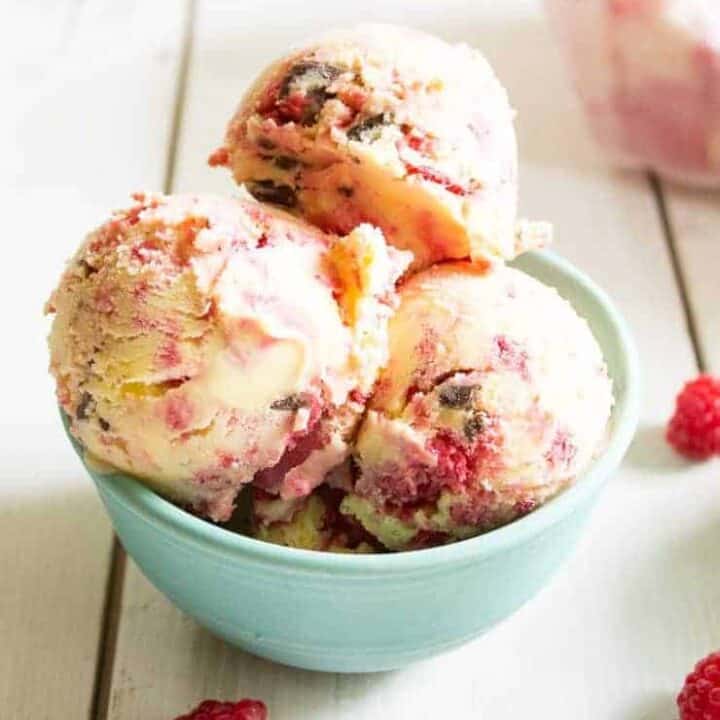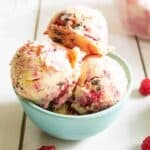 Raspberry Swirl and Chocolate Chunk Ice Cream
Fresh raspberries and chocolate chunks swirled into vanilla ice cream
Keyword:
homemade ice cream, how to make ice cream, ice cream recipe, ice cream with raspberries
Ingredients
2

cups

heavy cream

1

cup

milk

¾

cups

sugar

¼

teaspoon

salt

5

whole

large egg yolks

1

teaspoon

pure vanilla extract

1 1/2

cups

fresh raspberries

1/2

cup

sugar

2

oz

milk chocolate candy bars broken into small chunks

3 each
Instructions
In a saucepan, heat 1 cup heavy cream, 1 cup milk and ¾ cup sugar and salt. Warm over medium heat, stirring often until the sugar has dissolved, 3 to 4 minutes.

In a separate bowl, beat egg yolks. Take 1 cup of heated cream mixture and pour into whisked eggs. Pour in a slow steady stream while whisking eggs.

Pour egg mixture back into remaining cream mixture. Reheat over medium heat for 5 to 8 minutes stirring often. You do not want this mixture to boil. Mixture will begin to thicken. You want it to be thick enough to coat the back of a spoon. An instant read thermometer should read 175-180 F.

In a large bowl, pour remaining 1 cup of cream. Place a fine strainer over top. Pour heated custard into strainer.

Add vanilla.

Cover and refrigerate until completely cooled, at least 4 hours or overnight.

For Raspberry Sauce: Place raspberries and 1/2 cup sugar in a bowl. Stir until sugar mixed in. Cover and let sit for at least one hour.

Churn ice cream mixture in an automatic ice cream maker.

When finished churning, place half of the ice cream in a large dish. Drizzle half the raspberry sauce over the top. Sprinkle with half of the chocolate.

Place remaining ice cream on top and repeat with raspberry sauce and chocolate.

With a knife, carefully create swirls through the ice cream.

Cover and place in the freezer for at least 4 hours.
Recipe Notes
Ice Cream recipe adapted from Fine Cooking Magazine.
Plan at least 4 hours of chilling time before churning in an ice cream maker.
Nutrition Facts
Raspberry Swirl and Chocolate Chunk Ice Cream
Amount Per Serving
Calories 395
Calories from Fat 225
% Daily Value*
Fat 25g38%
Cholesterol 91mg30%
Sodium 110mg5%
Potassium 139mg4%
Carbohydrates 41g14%
Protein 2g4%
Vitamin A 940IU19%
Vitamin C 6.3mg8%
Calcium 80mg8%
Iron 0.3mg2%
* Percent Daily Values are based on a 2000 calorie diet.