Rich and creamy chocolate ice cream with bits of brownies! This chocolate brownie ice cream is a chocolate lovers dream ice cream!
This rich chocolate ice cream is made without eggs and does not require any cooking!
Homemade ice cream
Have you ever made homemade ice cream? I love making my own ice cream and make it quite often. This chocolate brownie ice cream is a bit different than most ice cream I make.
All of my other ice cream recipes involve making a custard with eggs. This recipe eliminates that whole step!
You simply mix everything together and then churn it in an ice cream maker. Once the ice cream is churned, it does need to go into the freezer for a few hours to cure or harden.
I've made this ice cream three different times in the past few days, and have come up with a few important steps to make a perfect ice cream!
Mix the cocoa powder with just a bit of liquid to make a thick paste
Slowly add more liquid while mixing well
Keep the brownie pieces in one inch pieces so they are noticeable in the ice cream
This brownie ice cream has actual pieces of brownies in the ice cream! So delicious!!!
Key ingredients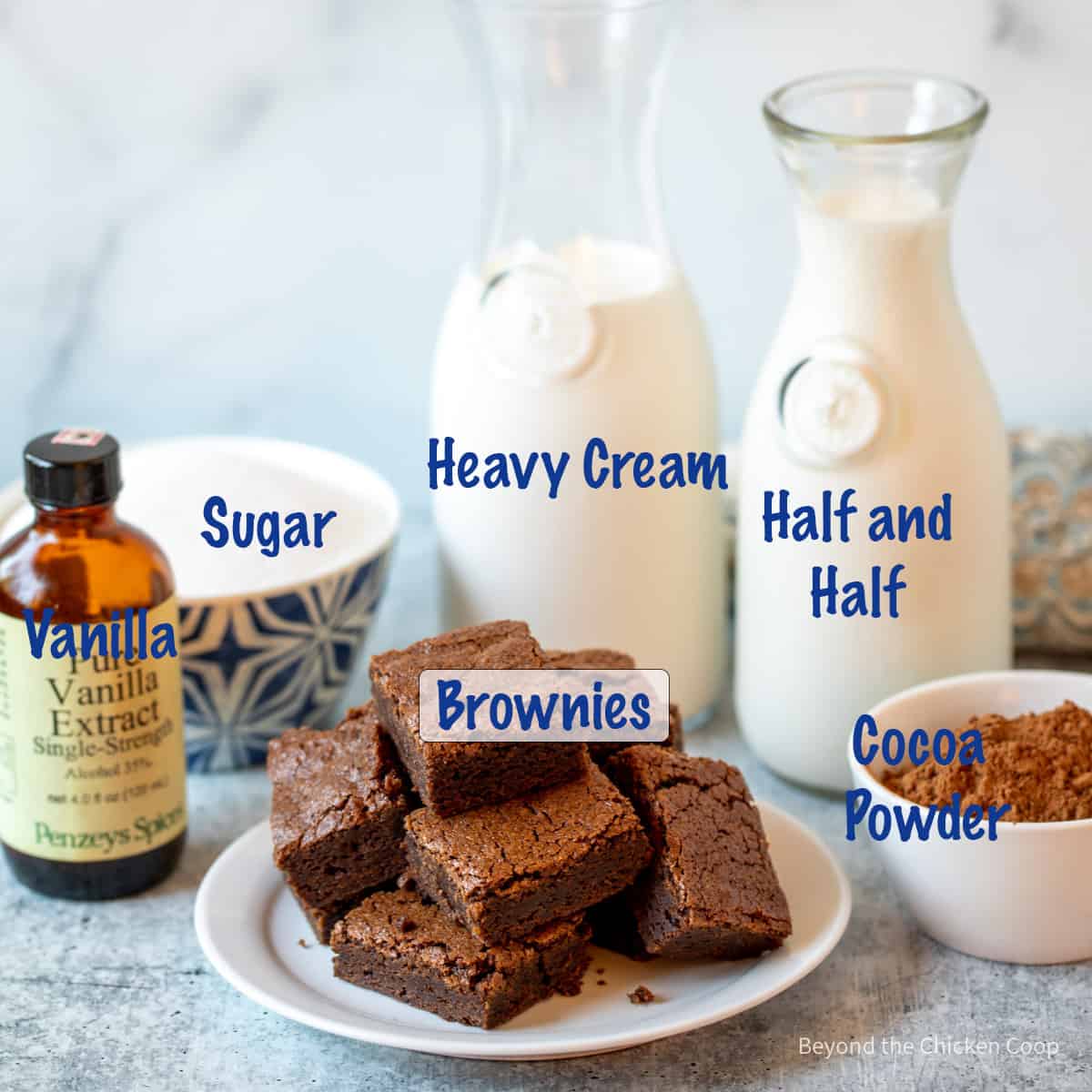 Ingredients
Brownies - Any brownie will do. If you have leftover brownies (is that even a thing?) you can use them, or whip up a batch of brownies just for this ice cream. You need a heaping cup of brownie bits. It's okay to add a bit more!
Heavy cream
Half and half - You can also use whole milk if you'd prefer
Unsweetened cocoa powder - I use regular unsweetened cocoa powder
Vanilla - Pure vanilla extract
Step by step directions
Sift cocoa powder into a bowl
Add ¼ cup of half and half and stir well until all liquid is absorbed. Add another ¼ cup and continue stirring. You should have a very thick chocolate mixture. Make certain all cocoa powder is mixed in. You don't want any dry cocoa powder.
Slowly add remaining half and half while stirring well. If you don't add slowly, you risk small little cocoa lumps!
Add sugar, vanilla and a pinch of salt
Stir in heavy cream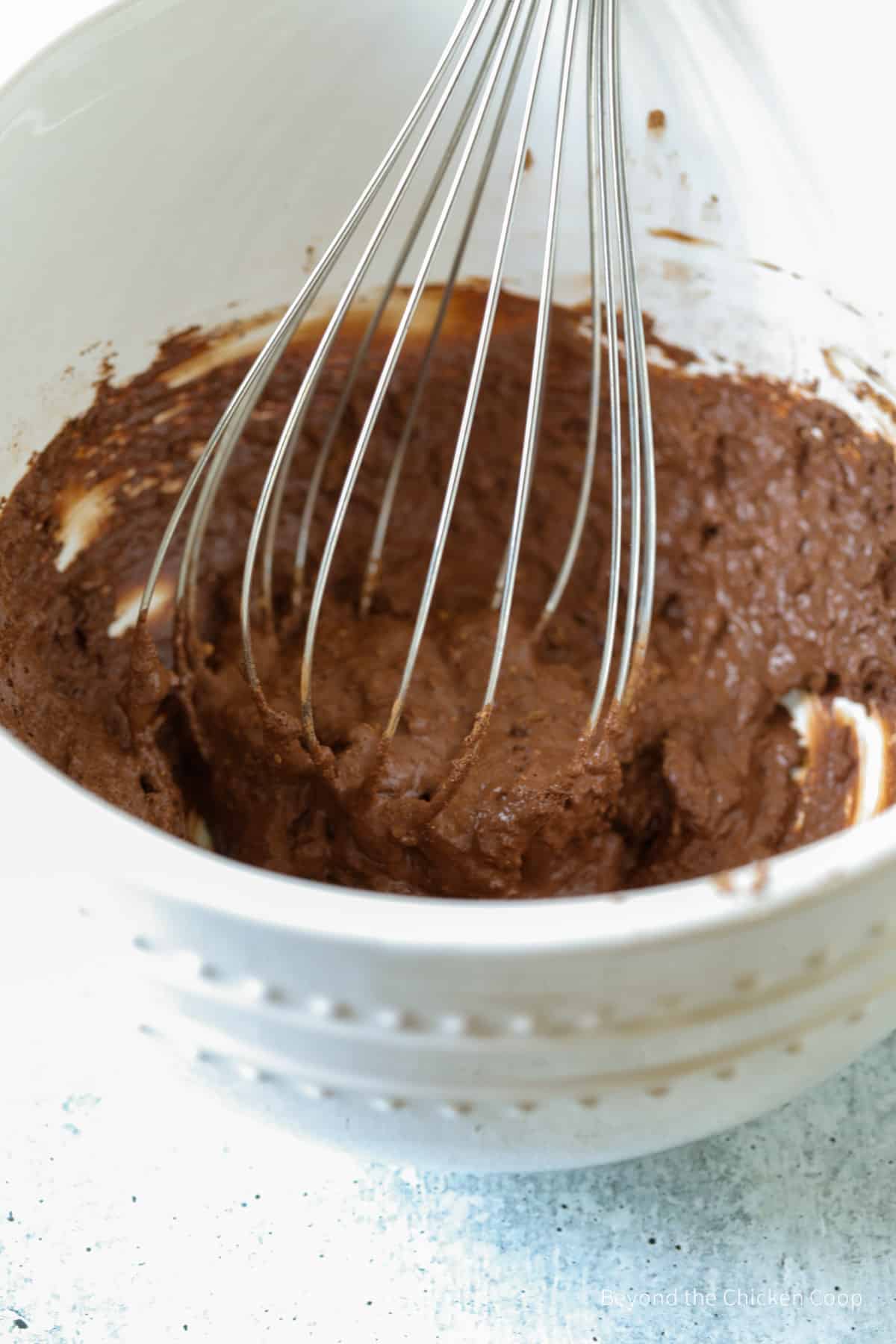 Put ice cream mixture in frozen bowl of automatic ice cream maker and churn for 20-25 minutes until ice cream has formed. It will be the consistency of soft serve ice cream.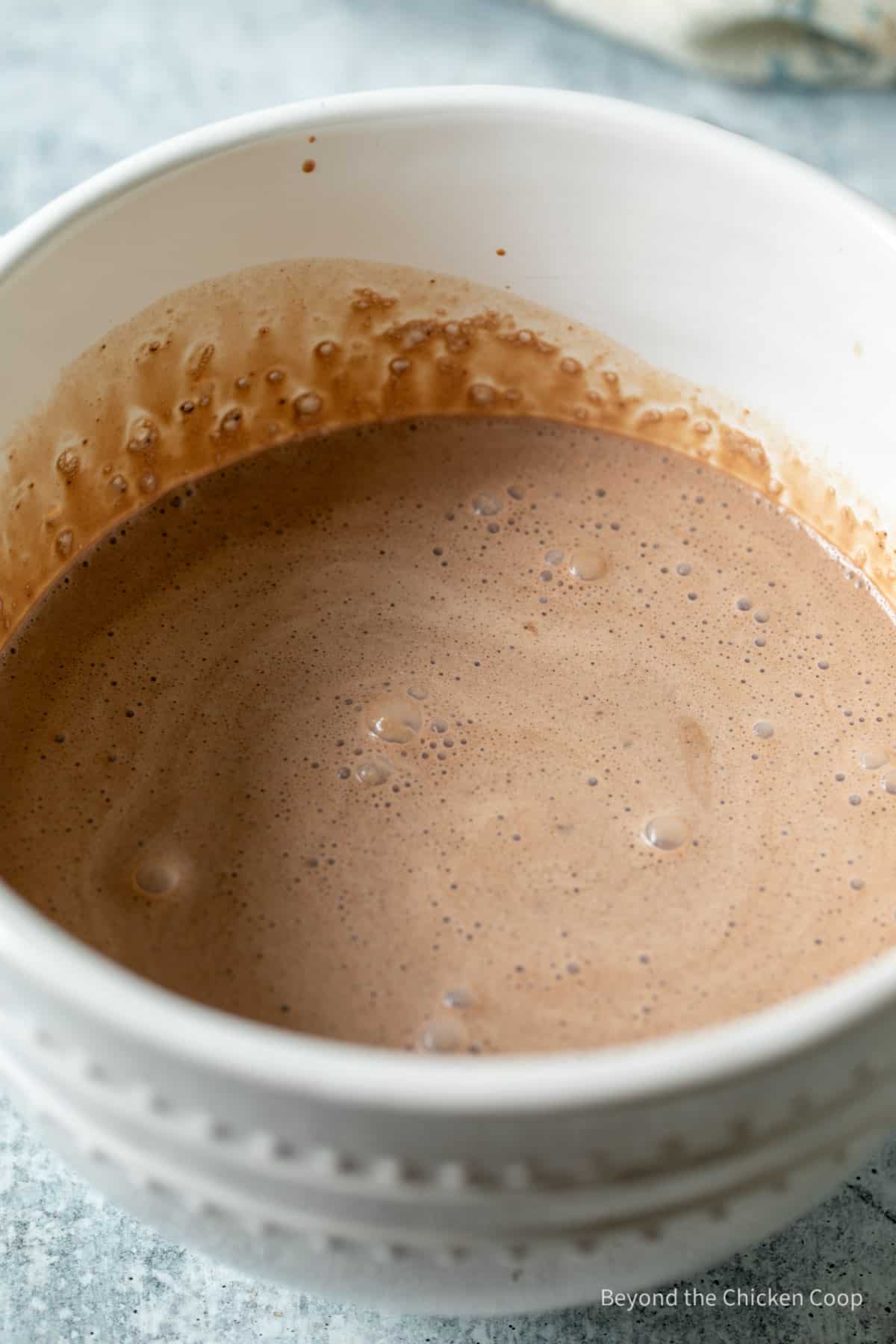 Scoop ice cream into a freezer safe container and add brownie bits. Stir lightly just to distribute brownie bits.
Place in freezer for 2-4 hours before serving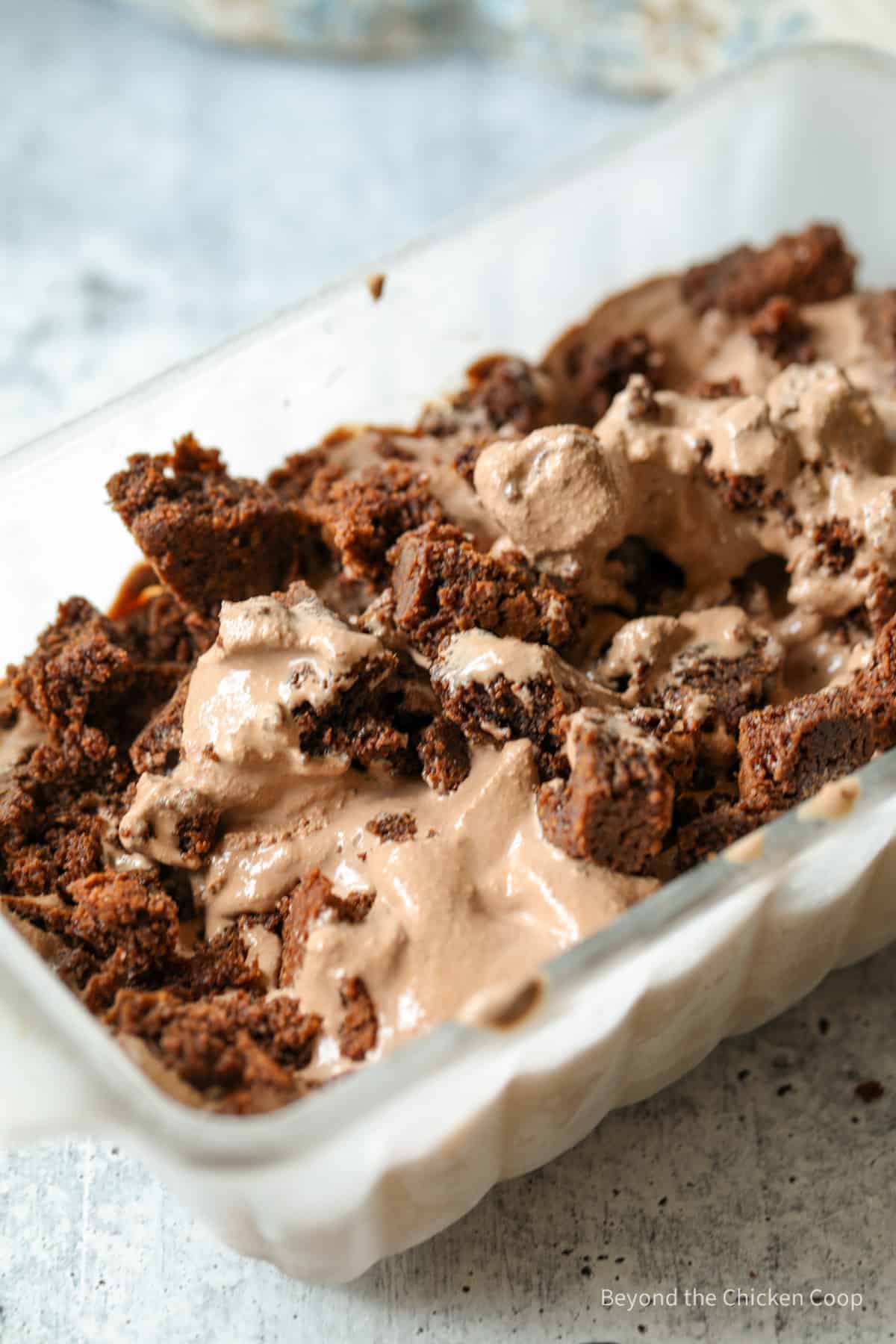 Recipe tips
The key to making this an easy recipe starts with mixing the cocoa powder. Cocoa powder usually has some lumps so make certain you sift it first.
Mix a very small amount of liquid with the cocoa powder forming a thick paste
Very slowly, stream in more liquid while stirring well with a whisk. Do this slowly and stir well to avoid those small lumps!
Once all the half and half has been added, you can add the other ingredients without a risk of lumps
Just tear, break or cut up the brownies to form bits. I kept them in about 1 inch pieces. They tend to disappear a bit once in the ice cream.
Make certain your ice cream churning bowl is fully frozen. Most take at least 12 hours to fully freeze.
Have the container you'll be storing your ice cream in prechilled in the freezer. I use a glass loaf pan.
Once ice cream has churned and you've added it to your container, quickly add brownie bits and give just a gentle stir so bits are distributed.
Freeze for 2-4 hours so ice cream can cure or harden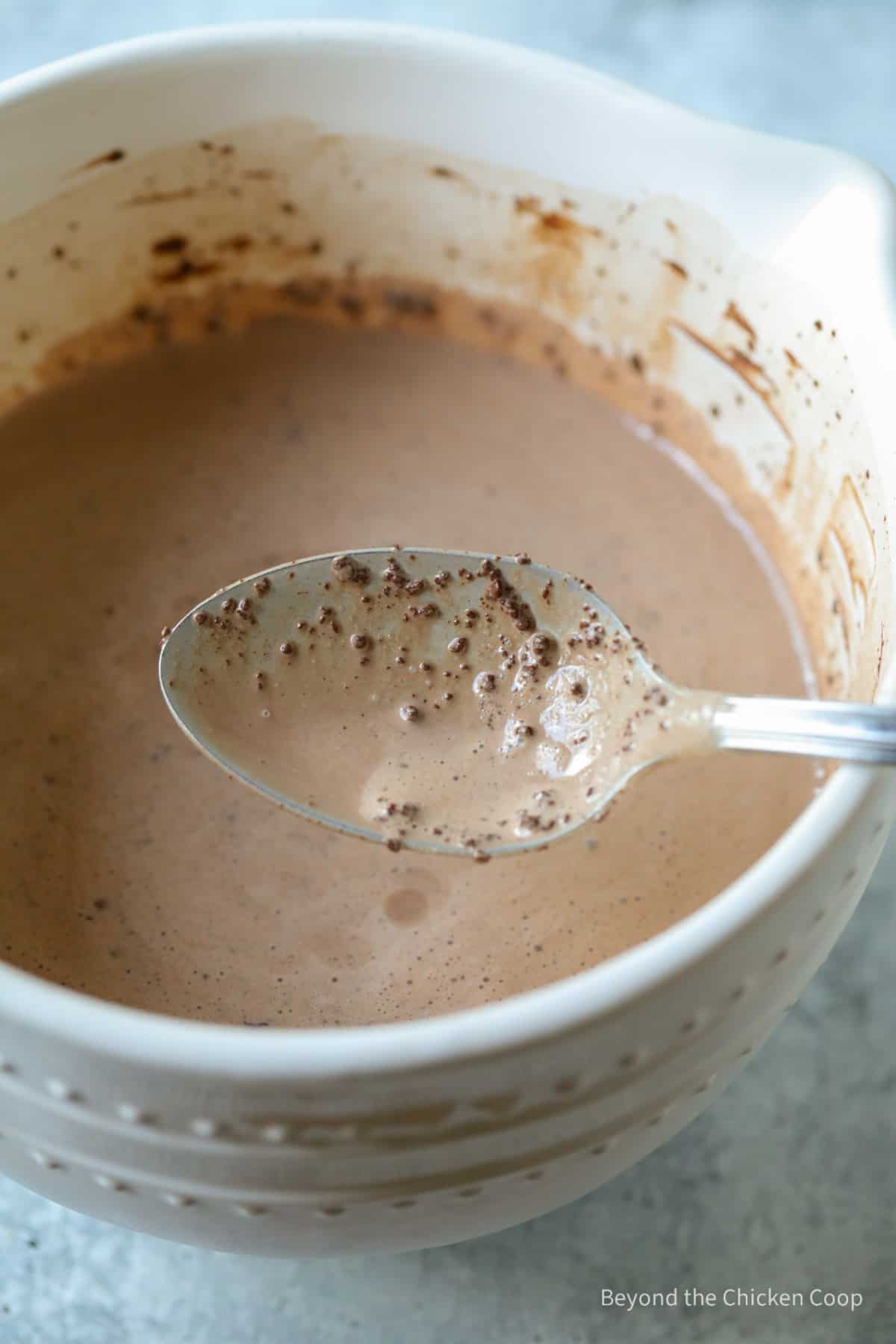 Frequently asked questions
My ice cream is rock hard. What do I do?
Homemade ice cream doesn't have additives to keep it a certain consistency like many store bought varieties have. If your ice cream is too hard to scoop, just leave the ice cream out for about 5 minutes at room temperature. Then try scooping again.
Do I need to cover my ice cream in the freezer?
Cover your ice cream with plastic wrap or a lid to your container.
More ice cream recipes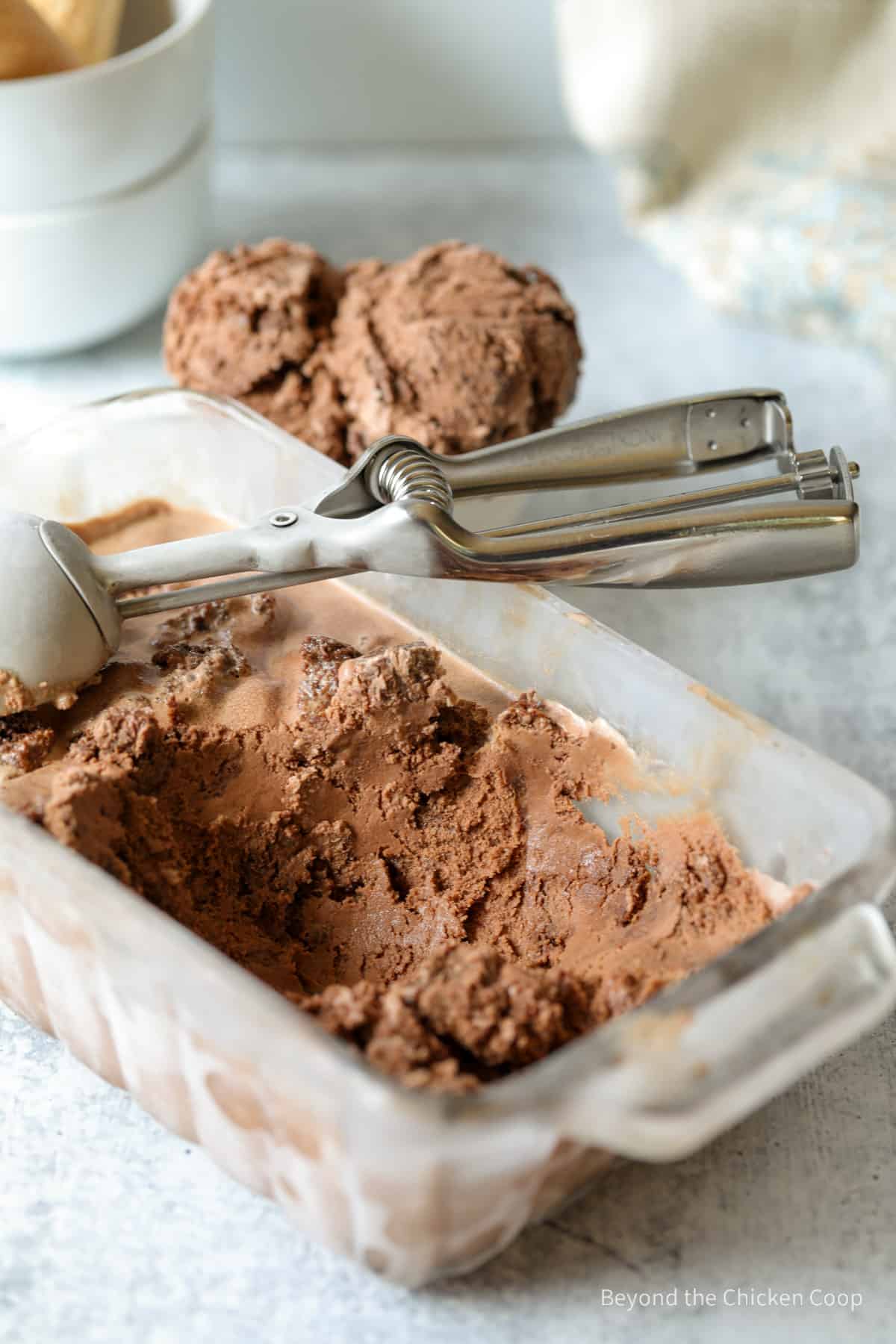 If you make this recipe, I'd love to hear about it! Leave a comment below and snap a picture and tag me on Instagram @beyondthechickencoop
Check out all my delicious dessert recipes!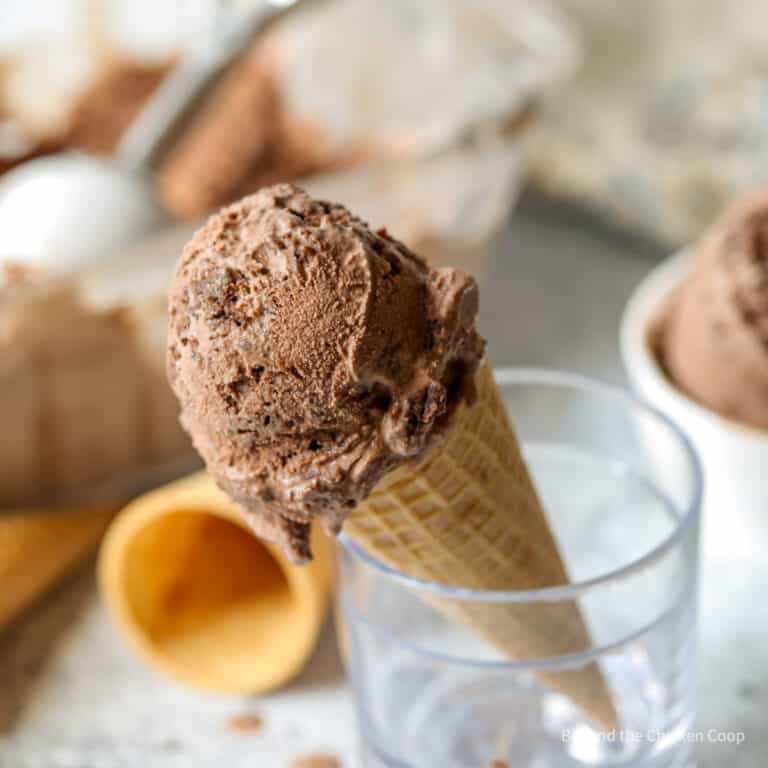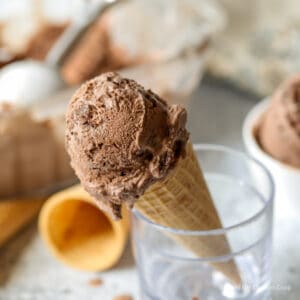 Chocolate Brownie Ice Cream
Creamy chocolate ice cream with bits of brownies throughout
Ingredients
½

cup

unsweetened cocoa powder

1½

cups

half and half

¾

cup

sugar

2

teaspoons

vanilla

pinch

salt

1½

cups

heavy cream

1

cup

brownie bits

(about 1 inch pieces)
Instructions
Place cocoa powder in a bowl

½ cup unsweetened cocoa powder

Add ¼ cup of half and half and stir well until all liquid is absorbed. Add another ¼ cup and continue stirring. You should have a very thick chocolate mixture. Make certain all cocoa powder is mixed in. You don't want any dry cocoa powder.

Slowly add remaining half and half while stirring well. Make certain you stir well with a whisk while adding the liquid. This helps avoid any small lumps.

Add sugar, vanilla and a pinch of salt

¾ cup sugar,

2 teaspoons vanilla,

pinch salt

Stir in heavy cream

Put ice cream mixture in frozen bowl of automatic ice cream maker and churn for 20-25 minutes until ice cream has formed. It will be the consistency of soft serve ice cream.

Scoop ice cream into a freezer safe container and add brownie bits. Stir lightly just to distribute brownie bits.

Place in freezer for 2-4 hours before serving
Notes
The key to making this an easy recipe starts with mixing the cocoa powder. Cocoa powder usually has some lumps so make certain you sift it first.
Mix a very small amount of liquid with the cocoa powder forming a thick paste
Very slowly, stream in more liquid while stirring well with a whisk. Do this slowly and stir well to avoid those small lumps!
Once all the half and half has been added, you can add the other ingredients without a risk of lumps
Just tear, break or cut up the brownies to form bits. I kept them in about 1 inch pieces. They tend to disappear a bit once in the ice cream.
It's okay to add a full, heaping measuring cup of brownie bits. 
Make certain your ice cream churning bowl is fully frozen. Most take at least 12 hours to fully freeze.
Have the container you'll be storing your ice cream in prechilled in the freezer. I use a glass loaf pan.
Once ice cream has churned and you've added it to your container, quickly add brownie bits and give just a gentle stir so bits are distributed.
Freeze for 2-4 hours so ice cream can cure or harden
Nutrition
Serving:
1
cup
Calories:
572
kcal
Carbohydrates:
64
g
Protein:
7
g
Fat:
34
g
Saturated Fat:
20
g
Polyunsaturated Fat:
2
g
Monounsaturated Fat:
10
g
Cholesterol:
88
mg
Sodium:
170
mg
Potassium:
248
mg
Fiber:
3
g
Sugar:
49
g
Vitamin A:
1089
IU
Vitamin C:
1
mg
Calcium:
114
mg
Iron:
2
mg