Delicious homemade old fashioned strawberry ice cream made with fresh strawberries. This slow churned ice cream is bursting with fresh strawberry flavor.
A perfect summertime treat.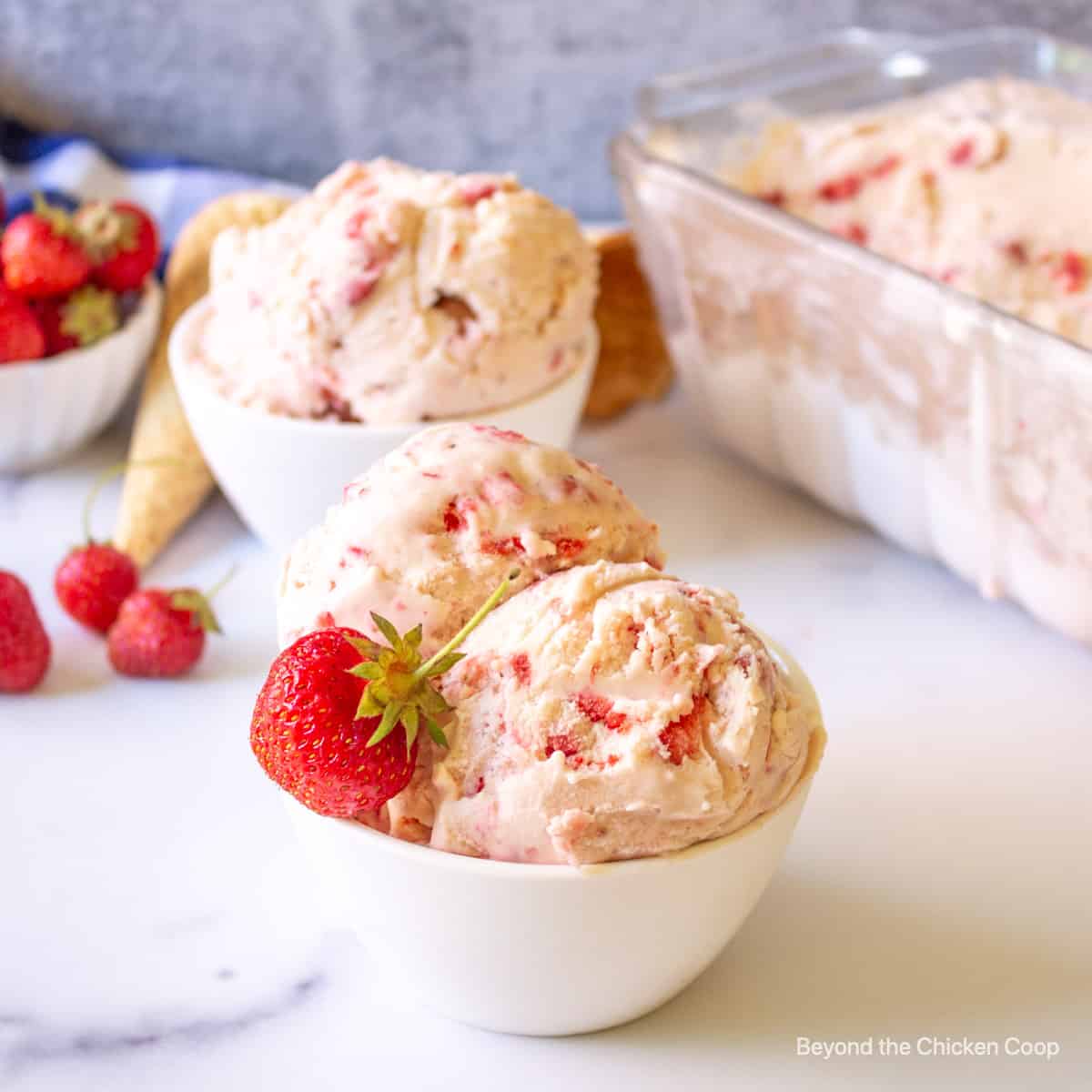 Why you'll love this recipe
Strawberry ice cream! This homemade ice cream is rich and creamy and full of fresh strawberries!
Making churned ice cream isn't hard, but you do need to plan ahead. The actual hands-on time is minimal but there is chilling time and hardening time to plan for as well.
This recipe is best when you have the absolute best strawberries. I'm talking straight out of the garden fresh. You want strawberries that are fully ripened and are full of flavor.
Many times the strawberries you find in the grocery store are picked well before they are ripe and then they ripen while they are shipped. Those will not have enough flavor for this ice cream.
We went to a local farm and picked fresh strawberries. I made this ice cream that same day!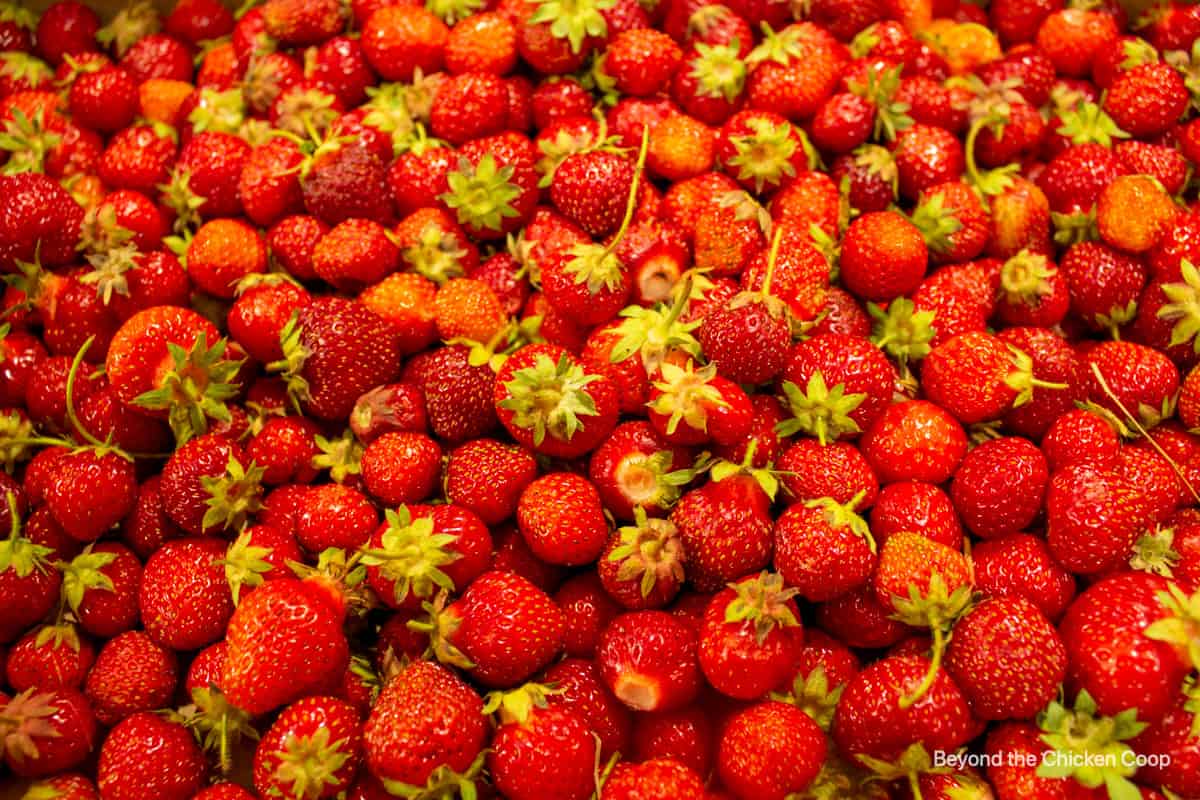 You can see how ripe these strawberries are. When you cut into them, they are juicy and flavorful.
Key ingredients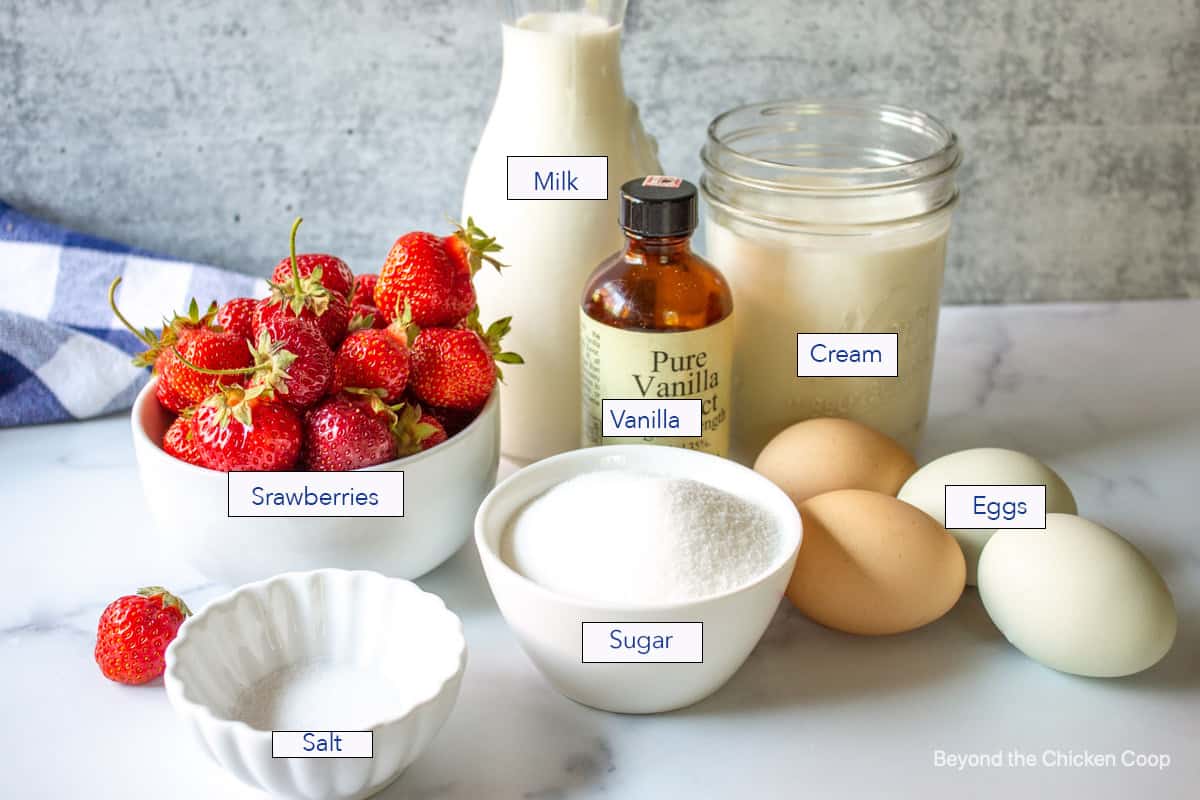 Heavy cream
Whole milk
Vanilla
Fresh strawberries
Sugar
Eggs - just the yolks
Step by step directions
Combine milk, cream, sugar and salt in a sauce pot and place over medium heat. Stir often to avoid scorching
Separate egg yolks from whites and whisk yolks for 1-2 minutes until they are light in color. You will not use the egg whites in this recipe.
Once the milk becomes hot and almost to a simmer, but not boiling, turn off heat
Take ¼ cup of the hot milk and slowly whisk into the egg yolks. This tempers the egg yolks so they don't scramble
Whisk the egg yolks into the hot milk and return heat to medium
Cook until it becomes a custard and temperature is between 175° - 185° or when the milk mixture begins to thicken and coats the back of a spoon
Remove from heat and strain using a fine sieve. Cover and store in the refrigerator until fully chilled - at least 4 hours!
Cut up strawberries into small pieces and combine with sugar. Cover and refrigerate strawberries. Stir strawberries 1-2 times while chilling to help make certain the sugar is well distributed. The berries will begin to release their juices during this time.
Combine fully chilled custard mixture, strawberries and their juices and vanilla
Add to a fully frozen ice cream mixing bowl and churn for 20-30 minutes until mixture is frozen and thick
Remove from churning bowl and place in a freezer container. Cover and freeze for 1-2 hours until ice cream is no longer soft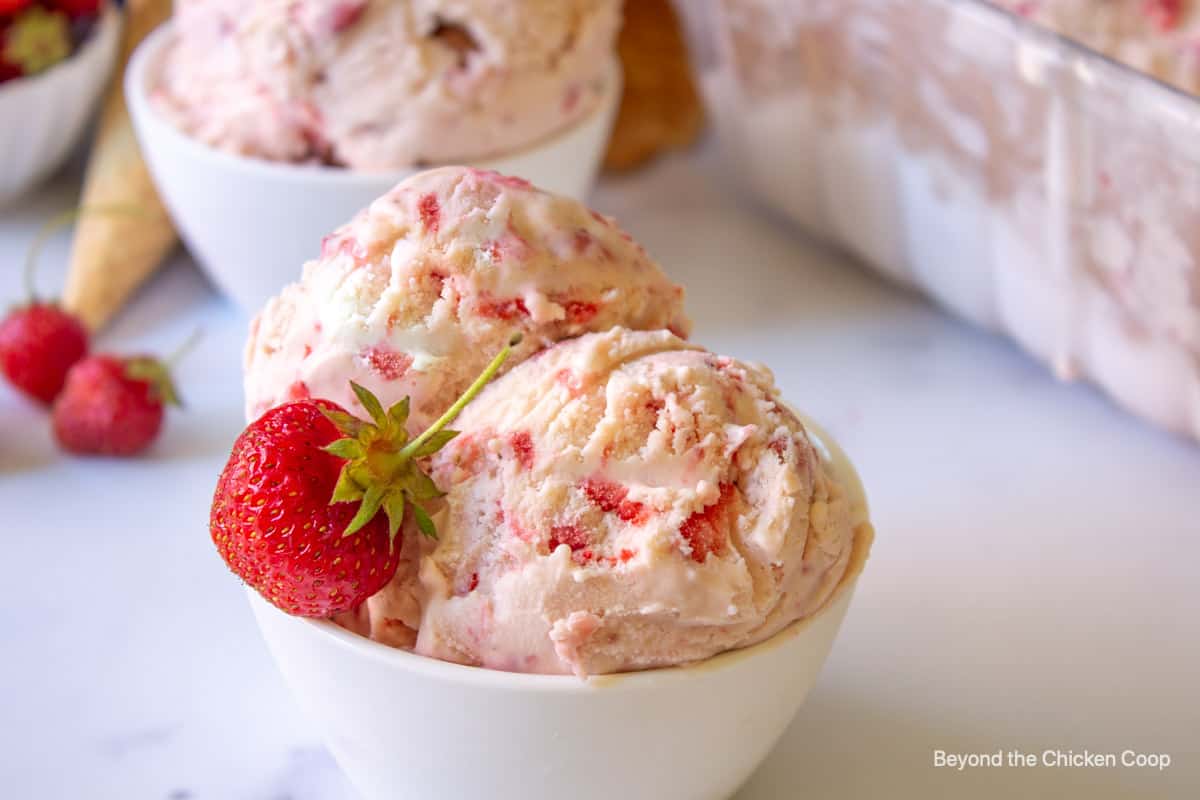 Recipe tips
Fully read through recipe instructions before beginning. There are a lot of steps and it helps to know ahead of time what will be happening.
Make certain ice cream bowl is fully frozen. My bowl takes at least 12 hours in a deep freeze to fully freeze. If bowl isn't fully frozen, ice cream will not freeze and churn properly. I often store my bowl in the freezer so it's always ready for another batch of ice cream!
Use the very best strawberries you can find!
Soak the strawberries in sugar allowing the juices to be released. Use both the strawberries and the juice in the ice cream.
Once ice cream is done churning, remove from churning bowl and freeze in the freezer for 1-2 hours. This helps harden the ice cream. You can eat the ice cream right away, but it will still be soft.
If ice cream is too hard to scoop, let set out at room temperature for 5-10 minutes.
Store in a covered container in the freezer
Quick method
Making homemade ice cream takes a bit of time. However, if you're short on time you can reduce the chilling time for the custard.
Once the custard is made, strain into a deep bowl. Place the bowl in an ice bath so the sides are covered with the ice water, but there is not danger of the water spilling over the sides into the custard.
Stir often until custard is fully chilled.
Recipe Faqs
How long will homemade ice cream last in the freezer?
Ice cream won't go bad in the freezer, however it may start to form ice crystals and it will lose its creaminess. Try to eat homemade ice cream within two weeks of making.

Store in a covered container.
What makes the ice cream pink?
This strawberry ice cream is slightly pinkish which comes from the juice released from the strawberries. The juice adds the color, but also adds flavor to the ice cream.
More strawberry recipes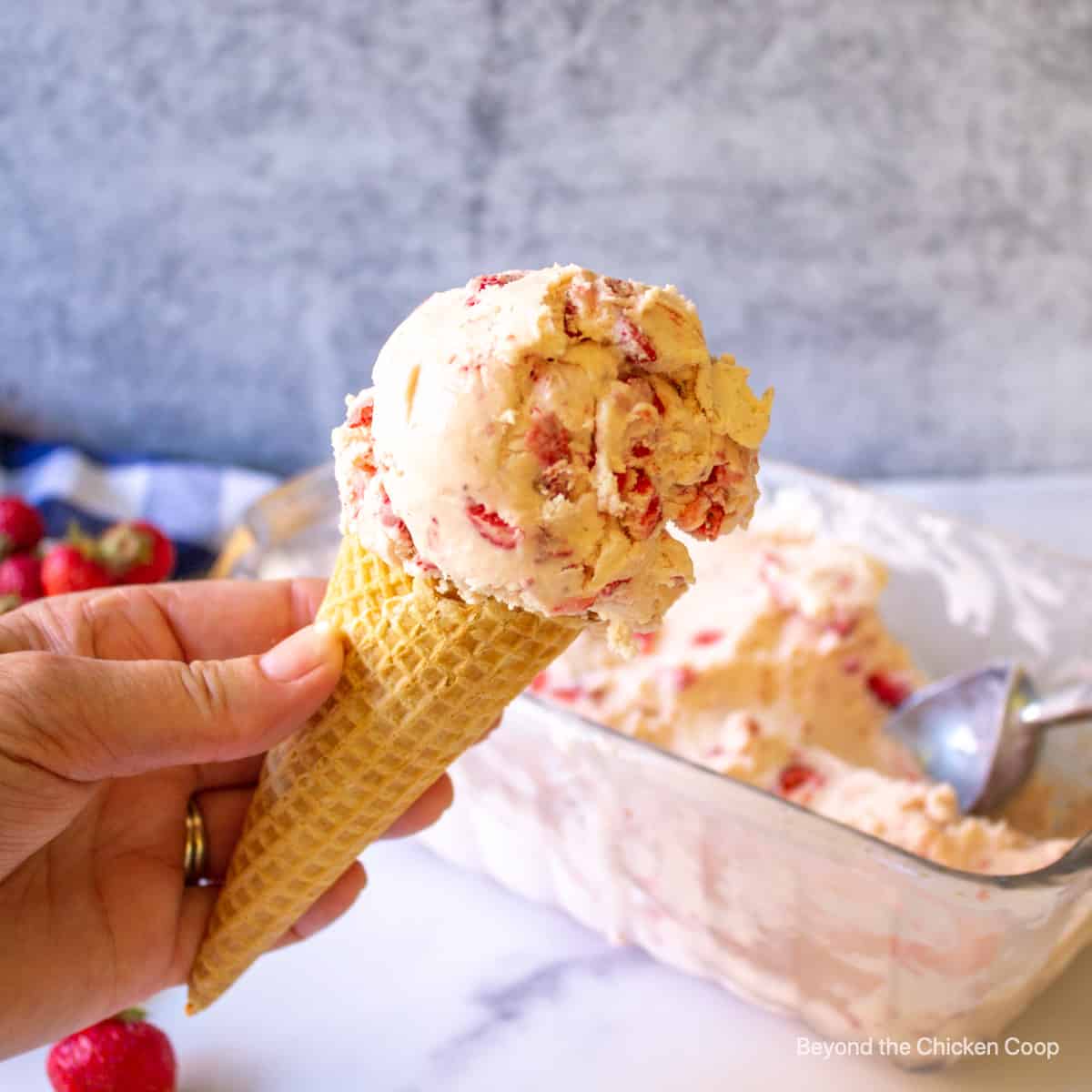 If you make this recipe, I'd love to hear about it! Leave a comment below and snap a picture and tag me on Instagram @beyondthechickencoop
Be certain to check out all my frozen treats!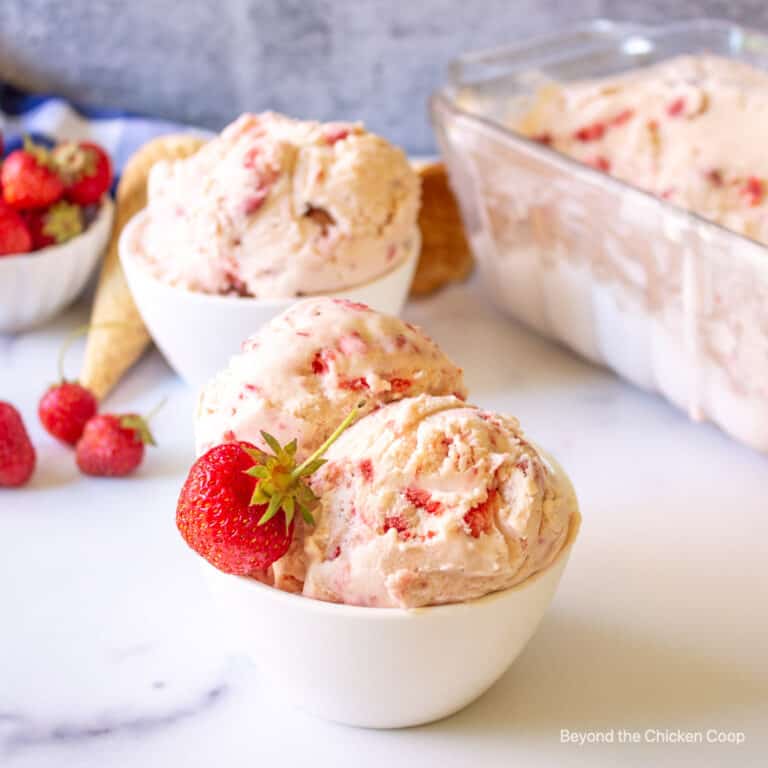 Strawberry Ice Cream
Churned strawberry ice cream made with fresh strawberries.
Ingredients
2

cup

heavy cream

1

cup

whole milk

¾

cup

sugar

¼

teaspoon

salt

4

egg yolks

2 ½

cups

diced strawberries

¼

cup

sugar

1

teaspoon

vanilla
Instructions
Combine milk, cream, sugar and salt in a sauce pot and place over medium heat. Stir often to avoid scorching

2 cup heavy cream,

1 cup whole milk,

¾ cup sugar,

¼ teaspoon salt

Separate egg yolks from whites and whisk yolks for 1-2 minutes until they are light in color. You will not use the egg whites in this recipe.

Once the milk becomes hot and almost to a simmer, but not boiling, turn off heat

Take ¼ cup of the hot milk and slowly whisk into the egg yolks. This tempers the egg yolks so they don't scramble

Whisk the egg yolks into the hot milk and return heat to medium

Cook until it becomes a custard and temperature reaches 175°- 185° or when the milk mixture begins to thicken and coats the back of a spoon

Place a fine sieve over a bowl and strain custard. Cover and store in the refrigerator until fully chilled - at least 4 hours!

Cut up strawberries into small pieces and combine with sugar. Cover and refrigerate strawberries. Stir strawberries 1-2 times while chilling to help make certain the sugar is well distributed. The berries will begin to release their juices during this time.

2 ½ cups diced strawberries,

¼ cup sugar

Combine fully chilled custard mixture, strawberries and their juices and vanilla

Add to a fully frozen ice cream mixing bowl and churn for 20-30 minutes until mixture is frozen and thick

Remove from churning bowl and place in a freezer container. Cover and freeze for 1-2 hours until ice cream is no longer soft
Notes
Fully read through recipe instructions before beginning. There are a lot of steps and it helps to know ahead of time what will be happening.
Make certain ice cream bowl is fully frozen. My bowl takes at least 12 hours in a deep freeze to fully freeze. If bowl isn't fully frozen, ice cream will not freeze and churn properly.
Use the very best strawberries you can find!
Soak the strawberries in sugar allowing the juices to be released. Use both the strawberries and the juice in the ice cream.
Once ice cream is done churning, remove from churning bowl and freeze in the freezer for 1-2 hours. This helps harden the ice cream.
If ice cream is too hard to scoop, let set out at room temperature for 5-10 minutes.
Store in a covered container in the freezer
Quick Chill Method:
Once the custard is made, strain into a deep bowl. Place the bowl in an ice bath so the sides are covered with the ice water, but there is not danger of the water spilling over the sides into the custard.
Stir often until custard is fully chilled
Churn ice cream as directed
Nutrition
Calories:
292
kcal
Carbohydrates:
26
g
Protein:
3
g
Fat:
20
g
Saturated Fat:
12
g
Polyunsaturated Fat:
1
g
Monounsaturated Fat:
6
g
Cholesterol:
146
mg
Sodium:
91
mg
Potassium:
132
mg
Fiber:
1
g
Sugar:
23
g
Vitamin A:
847
IU
Vitamin C:
21
mg
Calcium:
74
mg
Iron:
1
mg