This post may contain affiliate links, see my Privacy Policy.
Take advantage of fresh peaches while they are in season. This Old Fashioned Peach Ice Cream captures perfect peach flavor. This is a creamy, rich tasting ice cream with bits of peaches throughout.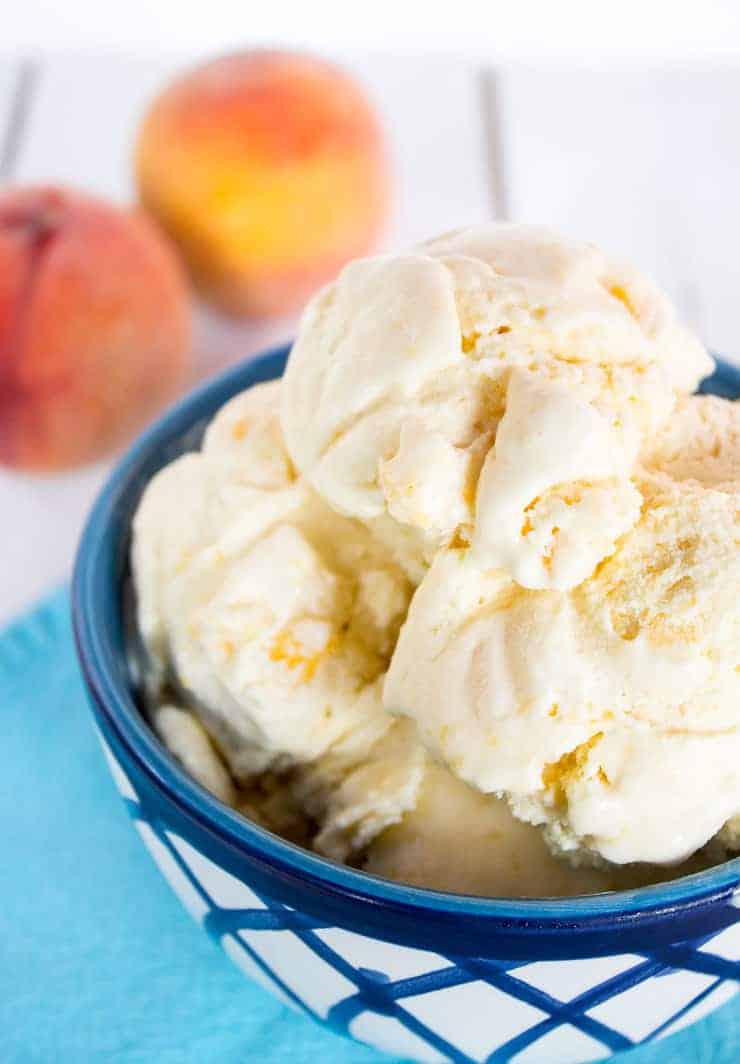 We can't grow peaches here. Our winters are too cold. Luckily we have a Peach Man that brings fresh peaches and other fruits to our town. The Peach Man is a fruit stand named…..The Peach Man.
I don't even know who the Peach Man is. But every summer the fruit stand opens up and fresh fruit (more than just peaches) are sold. They mainly carry apricots, cherries, and peaches!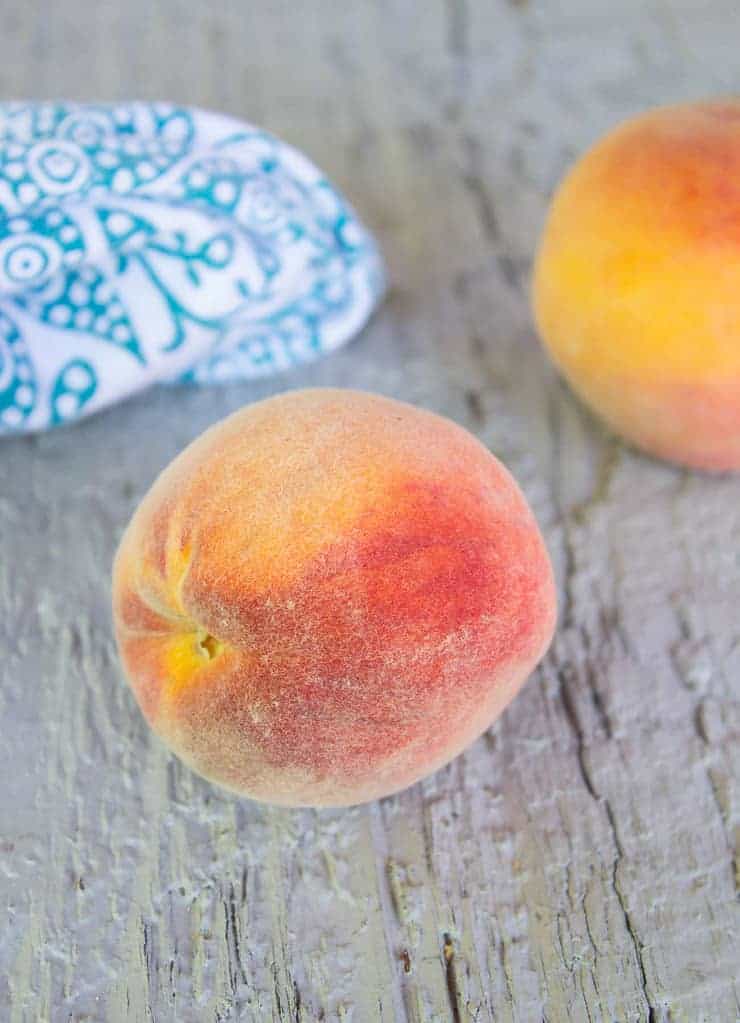 We stopped this week and bought peaches. I had to make Old Fashioned Peach Ice Cream. It is old fashioned because it is made with a custard, and churned.
There are a lot of great no-churn ice creams out there, but I've got to admit….I still love old fashioned churned ice cream!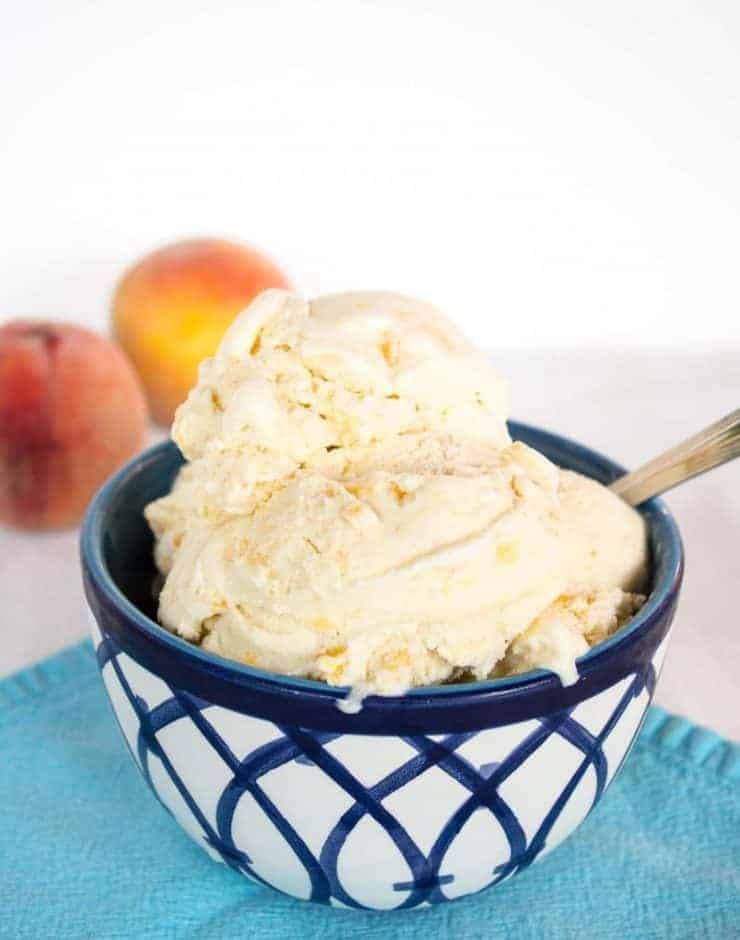 How to use fresh peaches when making ice cream
This isn't my first attempt at making peach ice cream. Last year I cut up a bunch of fresh peaches and dumped them into the ice cream custard and churned away.
It was good…but not great. The fantastic peach flavor was lacking. It was almost like all the fresh peach flavor was just sucked out of the peaches and disappeared.
I knew I needed to try a different approach. The second time I cut up all the peaches and put them into a bowl with a bit of sugar. I let them sit for a couple of hours. The sugar helped release a lot of the juices from the peaches.
When it was time to churn, I strained the liquid off the peaches and added it to the custard. Then during the last couple of minutes of churning, I added the actual peaches.
Can you say PERFECTION???? Yep! All the fresh peach taste and delicious ice cream!
How do you peel a peach?
Place 3-4 peaches in a pot of boiling water
Remove peaches after 30-45 seconds
Place peaches directly into a bowl of ice water
Use a paring knife and remove peach peel or skin.
The skin should come right off and not cling to the peach
Can I use frozen peaches?
For this recipe, you will want to use fresh peaches. It's worth waiting till they are in season. If you are looking for a recipe using frozen peaches, try this homemade peach cobbler. It can be made with fresh or frozen peaches.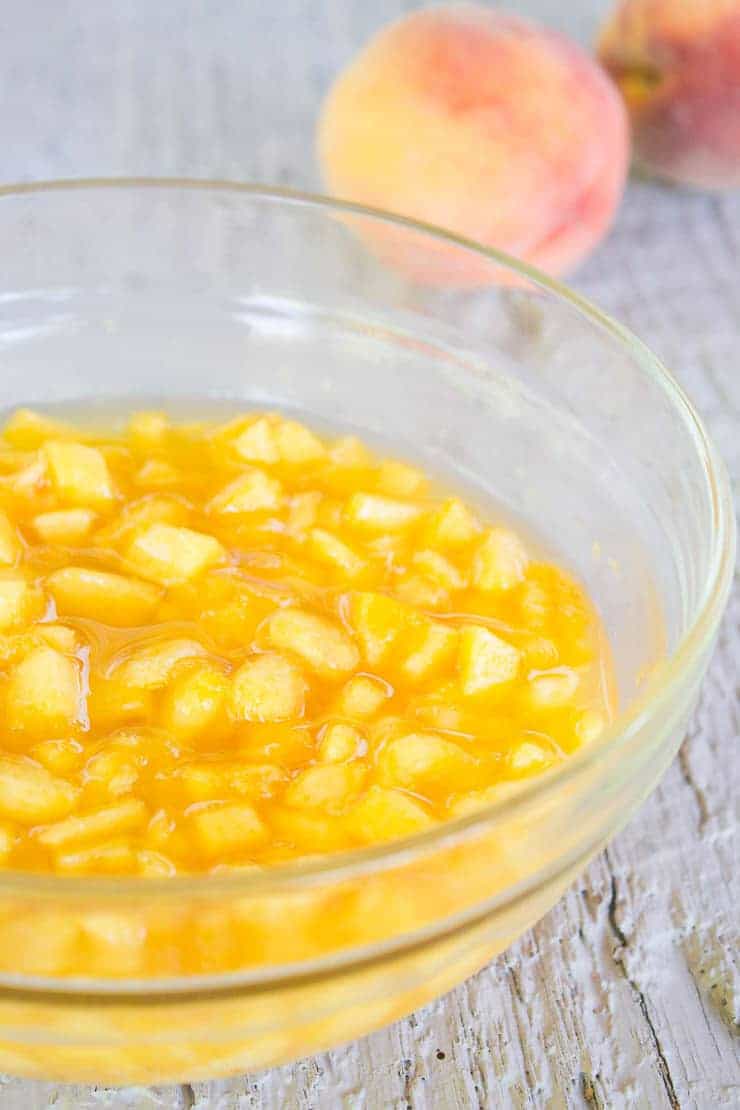 Just look at all that liquid! That's liquid gold! It's nothing but the juices from fresh peaches and a bit of sugar. So much yummy flavor.
How do you make peach ice cream?
This recipe takes some patience. You have to cook the custard, let it cool, churn the ice cream, and then freeze the ice cream. You can eat it directly after churning. I just like my ice cream a little more frozen.
The freezing was the hardest part. I kept checking my ice cream to see how it was progressing. It seemed to take forever to go from a "soft serve" ice cream to a "hard serve." But let me just tell you…it was totally worth it!
I used an ice cream maker to churn this ice cream. Just one little piece of advice I'd offer – make certain your ice cream mixing bowl is fully frozen prior to churning ice cream. Trust me, your ice cream just won't turn into ice cream unless the bowl is really, really frozen!
The directions for my mixer says to freeze for at least 12 hours. Throw your bowl into the freezer the night before and then you are good to go!
Tips for Making Fresh Peach Ice Cream
Use the best fresh peaches you can find
Peel peaches by blanching in hot water for a few seconds and then plunge into ice water
Chop peaches into small 1/2 inch pieces
Sprinkle peaches with granulated sugar. Stir and let sit until sugar is completely dissolved and a peaches have released a large amount of juice.
Use juice in the custard
Add peach chunks the final few minutes of churning
I also make some other delicious frozen treats – Mint Chocolate Chip, Raspberry Swirl, Orange Sherbet and Lime Sherbet!
Don't forget to PIN for later!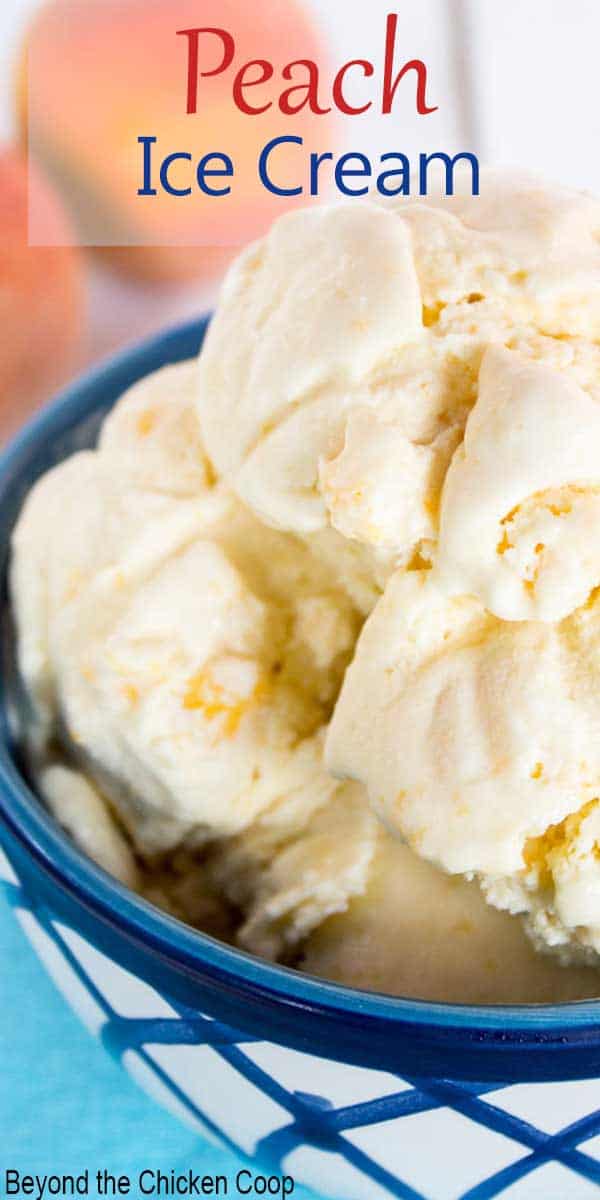 If you make this recipe, I'd love to hear about it! Leave a comment below and snap a picture and tag me on Instagram @beyondthechickencoop
Please check out all my delicious desserts!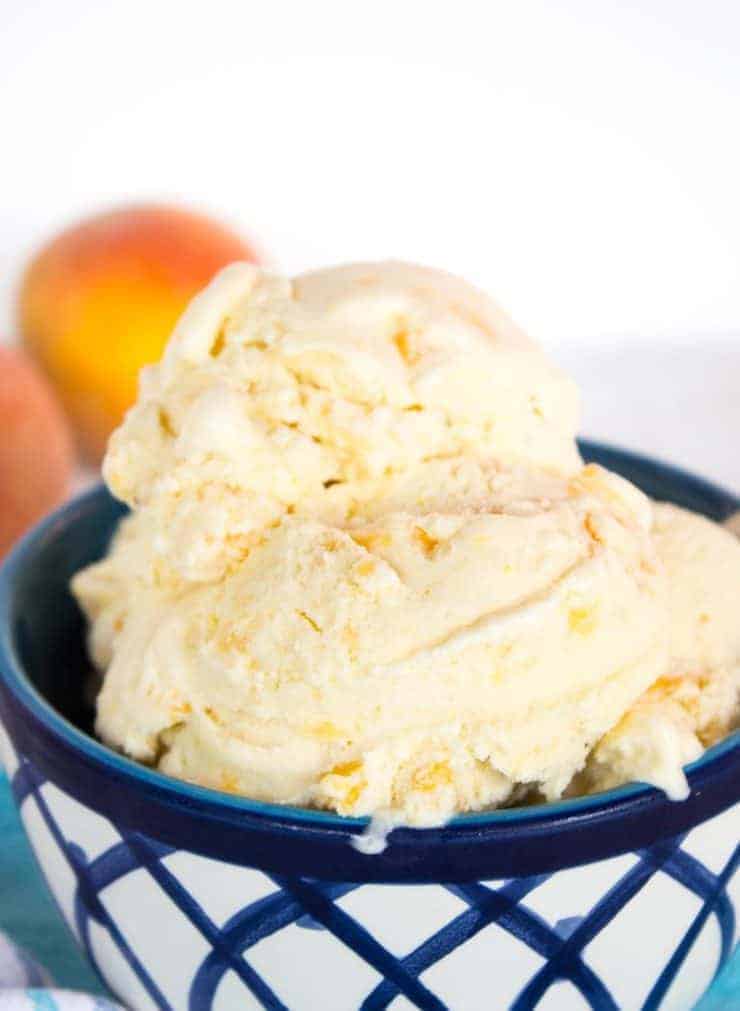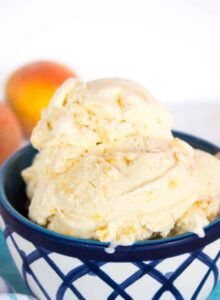 Old Fashioned Peach Ice Cream
Ingredients
4

whole

medium sized fresh peaches

(peeled, pitted and chopped.)

1/4

cup

sugar

2

cups

heavy cream

1

cup

milk

3/4

cups

sugar

1/4

teaspoon

salt

5

whole

large egg yolks

1

teaspoon

pure vanilla extract
Instructions
Place peaches in a bowl. Add 1/4 cup sugar and stir. Cove and refrigerate for at least 1 hour.

In a saucepan, heat 1 cup heavy cream, 1 cup milk and 3/4 cup sugar and salt. Warm over medium heat, stirring often until the sugar has dissolved, 3 to 4 minutes.

In a separate bowl, beat egg yolks. Take 1 cup of heated cream mixture and pour into whisked eggs. Pour in a slow steady stream while whisking eggs.

Pour egg mixture back into remaining cream mixture. Reheat over medium heat for 5 to 8 minutes stirring often. You do not want this mixture to boil. Mixture will begin to thicken. You want it to be thick enough to coat the back of a spoon. An instant read thermometer should read 175-180 F.

In a large bowl, pour remaining 1 cup of cream. Place a fine strainer over top. Pour heated custard into strainer.

Add vanilla.

Cover and refrigerate until completely cooled, at least 4 hours or overnight.

Strain peaches, reserving liquid. Mix liquid into cooled custard mixture.

Place custard into an automatic ice cream maker. Follow directions for ice cream maker.

During the last 3-5 minutes of churning, add peaches.

Remove ice cream and place in freezer.
Notes
Recipe adapted from Fine Cooking Magazine
Nutrition
Calories:
324
kcal
Carbohydrates:
28
g
Protein:
2
g
Fat:
23
g
Saturated Fat:
14
g
Cholesterol:
91
mg
Sodium:
108
mg
Potassium:
84
mg
Sugar:
26
g
Vitamin A:
935
IU
Vitamin C:
0.3
mg
Calcium:
73
mg