In this episode, Kathy discusses canning lids used for water bath and pressure canning.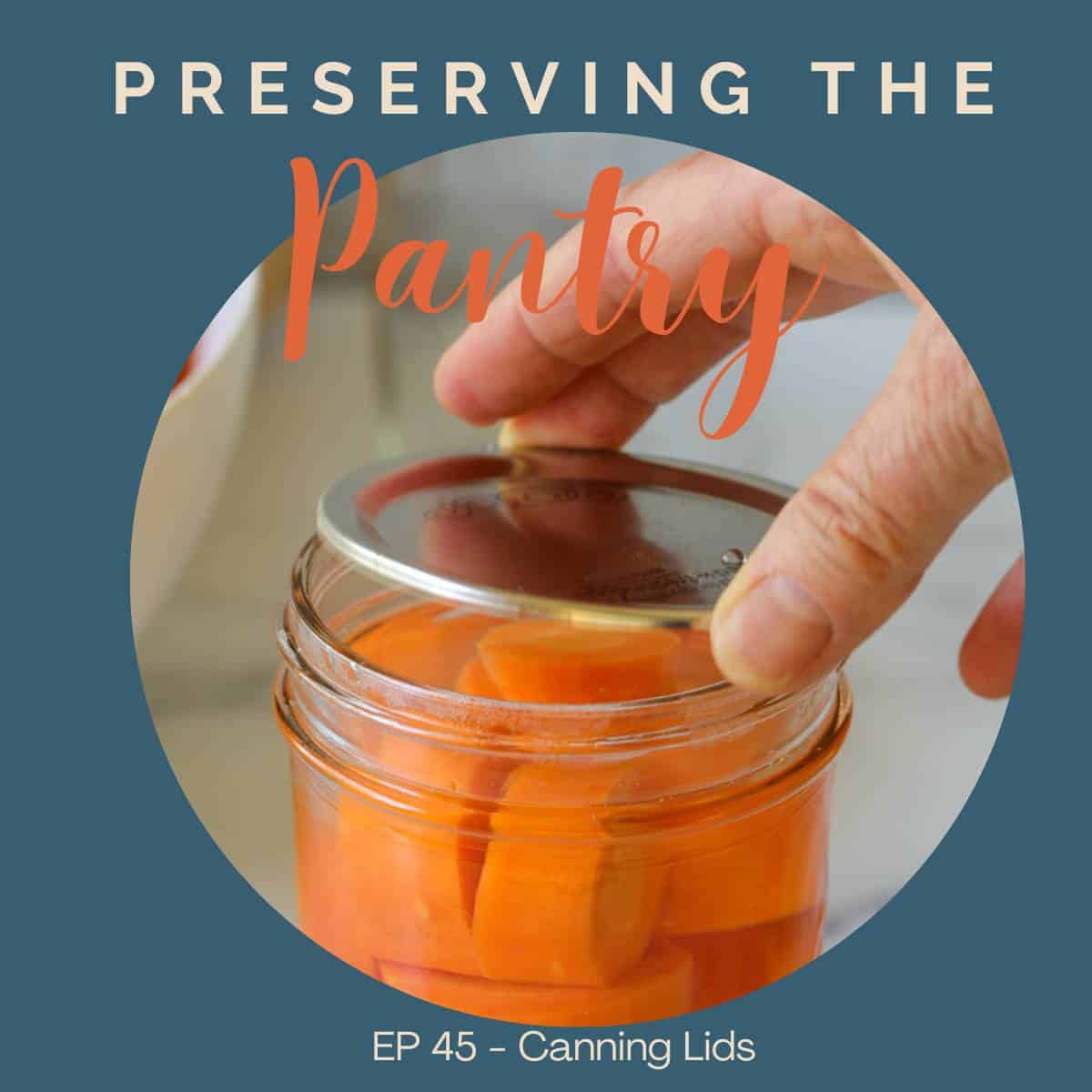 Play the episode
Resources
Resources mentioned in this podcast:
In this episode you'll learn:
All about lids for home canning
What lids are recommended for home canning by the NCFHP
How long unused lids last
If boiling lids is necessary before canning
Where to listen to the podcast
Listen to this episode on iTunes, Spotify, Amazon Podcast, or your favorite podcast player. Or scroll down to read a full transcript.
If you love this podcast, I'd love to hear about it! Leave a comment below and hop over and leave a comment on Instagram @preservingthepantry!
Transcript
Hello everyone and welcome back to Preserving the Pantry. We are going to continue our discussion today about what I call behind-the-scenes canning. So it's not a recipe, but it's everything you need to know about canning before you get started with canning.
In the last episode, we talked about canning jars. We've talked about headspace and canning, and today we're going to talk about canning lids and rings.
Now, the canning jars that we talked about last time require a two-piece. Lid to in order to make a good seal, and that includes the flat lid with a kind of rubber gasket on the top of it. It's not really a gasket, but that's probably the best way to describe it.
And a ring that screws it on and holds it in place. This is the only method I'm going to discuss because this is the method that is approved by the National Center for Home Food Preservation. I like to use that site for how I decide I'm gonna go about my canning. You can decide what works best for you, but this is what I like to use.
A couple of things about the canning rings. First of all, the rings can be used again and again until they become dented or rested, and then they should be discarded. The lids are recommended for just one-time use, so you'll use it for canning. After you use the contents in those jars, you will discard the lid and buy a new one for your next canning season.
It is recommended that you try to purchase just enough canning lids that you will use within one season or one year of canning. I tend to buy a few more because I don't want to ever run out and I like to buy them when I find them at the stores, and it's just easier to pick up a couple of packages that have to quickly run out and grab another one as I'm canning.
They do recommend that you use up your lids within five years. The chance of obtaining a good seal after that time may decrease, so you're always risking that the lids still might work, but you have a higher risk. Of the jars, not sealing. So how the lids work is you're going to fill your jars with whatever you're canning according to the process that is described in your recipe.
Leave an adequate amount of head space, wipe off the rims of your jars, and then place the lid on top of it. Then you put the ring on and seal it, just finger tight. Then you put it in your hot water. Your water bath can or your pressure cooker, and as it's being heated, the oxygen will be pushed out of the jar and the sealing compound on the lid warms up and softens fitting itself against the top of the jar.
Then as the food cools, once you're done with the processing, the contents in the jar shrink and the little be sucked down. The rubber seal will form a tight seal, which helps protect the food. Once your jars are completely cooled, then you can remove that ring, wash your jars, and check for a seal.
One of the reasons that the National Center for Home Food Preservation recommends this ring and lid as an approved method is for three main reasons. One is those lids are pretty readily available now. I know a couple of years ago there was a shortage of lids and everybody was, and a frenzy trying to get enough lids so they could do their canning.
But during that time period, there was a shortage of a lot of things, not just canning supplies. So most years, there are plenty of lids available. Another reason that they recommend these lids is they're really easy to use. You wash the jars, you fill them up, you wash the lids, you place them on the jars, you put the ring on, you process, and so they're super easy.
And the third reason is that once your canning is done, it's very easy to determine whether you have an adequate seal. So it really makes it so that for the home can, it's super easy peasy.
Several years ago, it was required that you boil the lids before you used them in your canning. That is no longer the case, and in fact, it's recommended that you don't do that any longer.
So you just need to wash your lids in warm soapy water, rinse them really well, and then you're going to place them on your jars. You don't need to soak them in water. You don't need to boil them ahead of time.
That's about it. For the lids, it's really kind of straightforward, but always make sure it's certain that you check your lids.
If you get one out of the box that's brand new, but feels like the rubber seal is not all the way on there, or you have a slightly dented lid, those are ones you're not going to want to use.
I hope this helps. Let's get ready for our canning season, and I'll see you next week in the pantry.
Thanks for listening, and be sure to tune in again next week for more episodes of Preserving the Pantry.