In this podcast episode, Kathy share her recipe and method for making homemade canned chili. This is a delicious way to make homemade chili shelf stable and ready to use.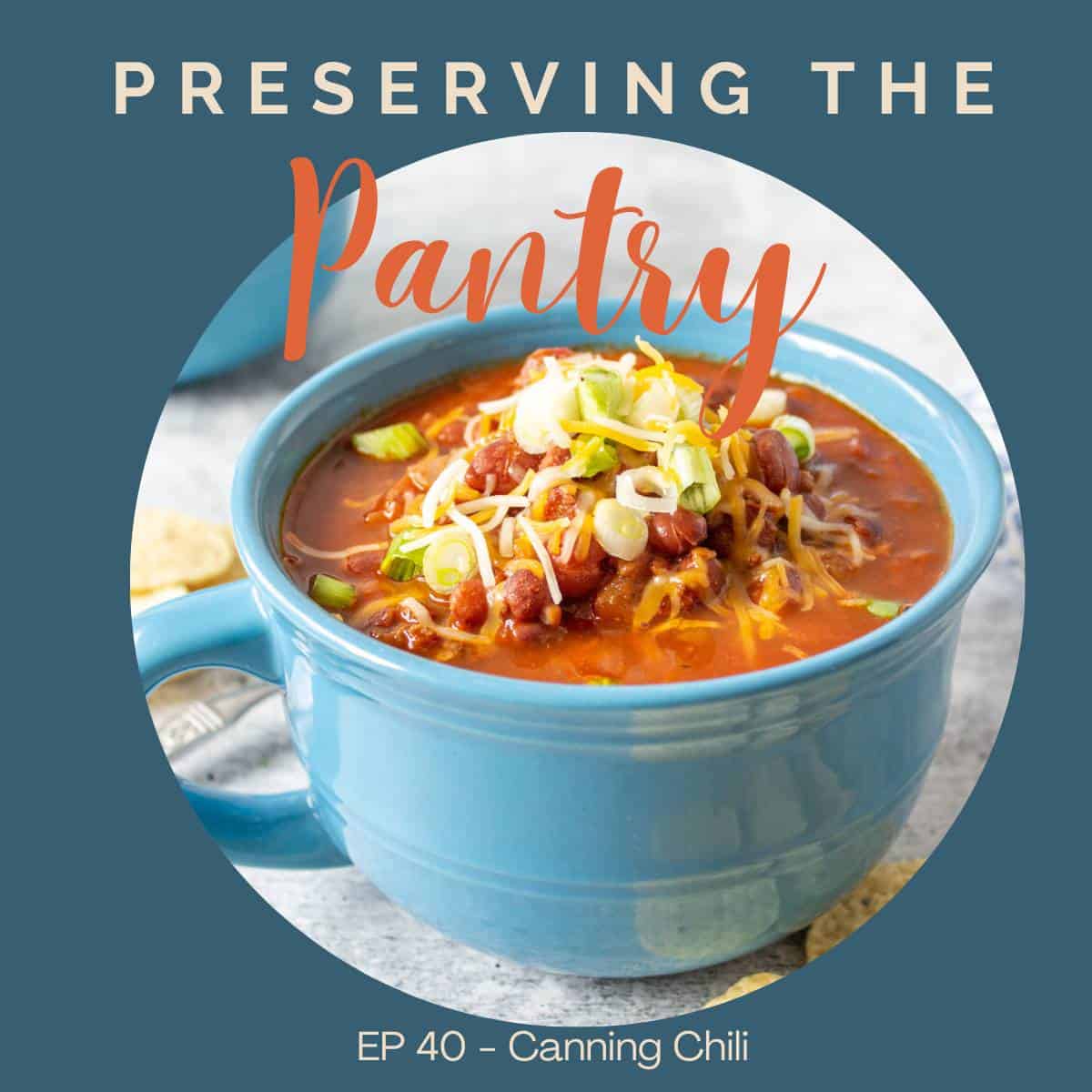 Play the episode
Recipes
Find the complete recipe for How to Can Chili
Recipes mentioned in this podcast:
In this episode you'll learn:
Ingredients needed for making chili
How to prepare dried beans for canning
Steps to can chili
How to use a pressure canner for canning chili
How to store canned jars of chili
Ideas for using home canned chili
Where to listen to the podcast
Listen to this episode on iTunes, Spotify, Amazon Podcast, or your favorite podcast player. Or scroll down to read a full transcript.
If you love this podcast, I'd love to hear about it! Leave a comment below and hop over and leave a comment on Instagram @preservingthepantry!
Transcript
Hi everyone, and welcome back to my pantry. I am so glad you are here again today. If this is your first time listening, welcome to Preserving the Pantry. I hope that you enjoy today's episode.
I always think about canning season as the middle of the summer or the end of the summer when the harvest is full on and you're trying to keep up with everything you're picking from the garden.
But really there are so many items that we can can outside of the gardening season. Canning chili with beans is the recipe I'm going to share with you today, and it's a perfect one to do outside of the gardening. One of the things that I love about this recipe is you have ready to eat cans of chili in your pantry, that all you have to do is take off the shelf, heat it up, and you've got a dinner or a condiment to add to baked potatoes or chili dogs, or however you like to use chili.
This recipe is similar to the recipe that I shared back in episode 18, which was how I canned dried beans. So there's a lot of similarities there because we are going to start with dried beans. If you've never used a pressure canner before, you might also want to go back and listen to episode nine, which I talk about some of the basics of using both a water bath canner and a pressure canner.
For this recipe, you're going to need pint sized jars, a pressure canner, canning lids, canning rings, a jar lifter, and a basic cooking pot for cooking this chili to begin with.
So let's get into this recipe. You are going to need one and a half pounds of dried beans. I like to use pinquito beans, which are a very small little bean, but kidney beans can also be used in this recipe.
You're going to need oil, either vegetable oil or canola oil or olive oil, whatever you prefer to use. Two cups of diced onion. Four cloves of garlic that are minced five pounds of burger. Now you can use any type of burger. You can use beef, ground beef, you can use turkey. I primarily used our wild game, so we either used ground elk, venison, or sometimes moose, or even a combination of all of those.
Use what works best for you. If you prefer a meatless chili, you can totally leave this out.
You'll need four quarts of canned tomatoes. If you've canned your own, perfect. If not, you can buy the whole canned tomatoes. They can be whole diced or crushed. Anyway works. You'll need four cups of tomato sauce, four tablespoons of chili powder, three tablespoons of ground cumin.
A tablespoon of salt, tablespoon of black pepper, and a tablespoon of brown sugar. This does not make the chili sweet. It just kind of takes off that real acidic taste from the tomatoes. It just balances the chili out perfectly.
The first thing you're going to do is sort through your beans and rinse them, and then you're going to soak them in a big bowl or pot of water overnight. If you don't have the time to do it overnight, you want to soak 'em for at least two hours in hot water. You'll need that pre-soak before we can get started.
Drain those beans and then place them in a large pot covered with at least two inches of water. You're going to bring it to a boil, reduce it to a simmer, and simmer it for 30 minutes.
Drain the beans, but you're going to reserve at least two cups of the bean water. We might need to use it later to thin the chili. The beans will not be fully cooked at this time. Just like when we canned our dried beans, we add them into the canning jars, not fully cooked, and they finish cooking perfectly in the canning process when they are in the pressure canner.
In a separate pot, you're going to saute your onions in a bit in the oil until they're soft and slightly translucent. Add your garlic and then add your burger and you're going to brown it along with the the onions and garlic. If your burger is high in fat or any sort of grease comes off, you need to skim that off and remove all of the grease from that burger after it's cooked.
Then pour in your canned tomatoes with the juice. And if you're using the whole tomatoes, you're going to break those up into smaller bits. Add the tomato sauce and all of your seasoning and the brown sugar. You will heat this until your mixture is simmering. Add back the partially cooked beans and the two cups of water.
Then give that all all a stir. Remove it from the heat. Then you will place your chili into your clean hot jars, leaving one inch of headspace. Wipe down the rim of each jar and place a clean lid and ring on the jars. Place the jars into a pressure canner with two inches of simmering water in the bottom of the pot.
Make certain the rack is in the bottom of that canner. Place your lid on the pressure canner and lock it into place and remove the steam vent cover. Turn the heat up to a medium high and allow the steam to begin to flow from the steam vent. You want it to vent for 10 minutes and then place the cover over the steam vent that will allow to your pressure to begin to rise.
You'll want your pressure to rise to at least 10 pounds of pressure if you are at an elevation below a thousand feet. If you are higher than a thousand feet, you'll wanna look to the, look at the chart that I have in my How To Can Chili post to see how much pressure you will need to have.
Pressure can or process your pint jars for an hour and 15 minutes, or quart jars for one hour and 30 minutes. Once your time is up, you'll turn off your heat. But do not try to open the lid and do not remove the steam vent cover until the pressure has fully dropped to zero. Then remove the steam vent cover and wait at least five minutes.
Carefully remove the cover of the canner. Be careful when lifting that lid off. It is still hot in there, and the steam can still come out. After you've taken the lid off of the canner, wait an additional five minutes and then remove the jars and place them on a cooling rack. Let your jars cool for at least 12 hours without touching the jars or the lids, and do not tighten the rings during this time.
The jars need to fully seal on their own. After that amount of time of 12 to 24 hours, remove your rings and then check the seals. I always check the seals by just pushing down in the center. If there's no up and down movement, your jar has sealed. Wash the outside of your jars and label the date and the contents of the what's in the jars and store it in a cool dark.
To use, you simply open the jar, remove the contents, and you heat and enjoy it. We have pint-sized jars of this chili in our pantry, and we use it often. It makes a great quick meal, but it's also a great addition to chili dogs or baked potatoes, or however you like to eat your chili. Add it to nachos. It's perfect for that, or even into a burrito.
This chili is great to have stocked in your pantry for whenever you need it. I still use my homemade chili recipe on those days when I have more time to cook, but when I need a quick, easy meal, I just grab one straight off the pantry shelf. As always, I will leave the recipe link in the show notes so that you can go directly to the webpage and read the recipe, and it's an entirety with all of the hints, tricks, and all of the processing times, and pressure times that you need.
I will see you next week in the pantry. Bye.
Thanks for listen. And be sure to tune in again next week for more episodes of Preserving the Pantry.