In this episode, we are making a small batch of strawberry jam. This is an easy to make jam that can be stored in your refrigerator. No canning or freezing needed.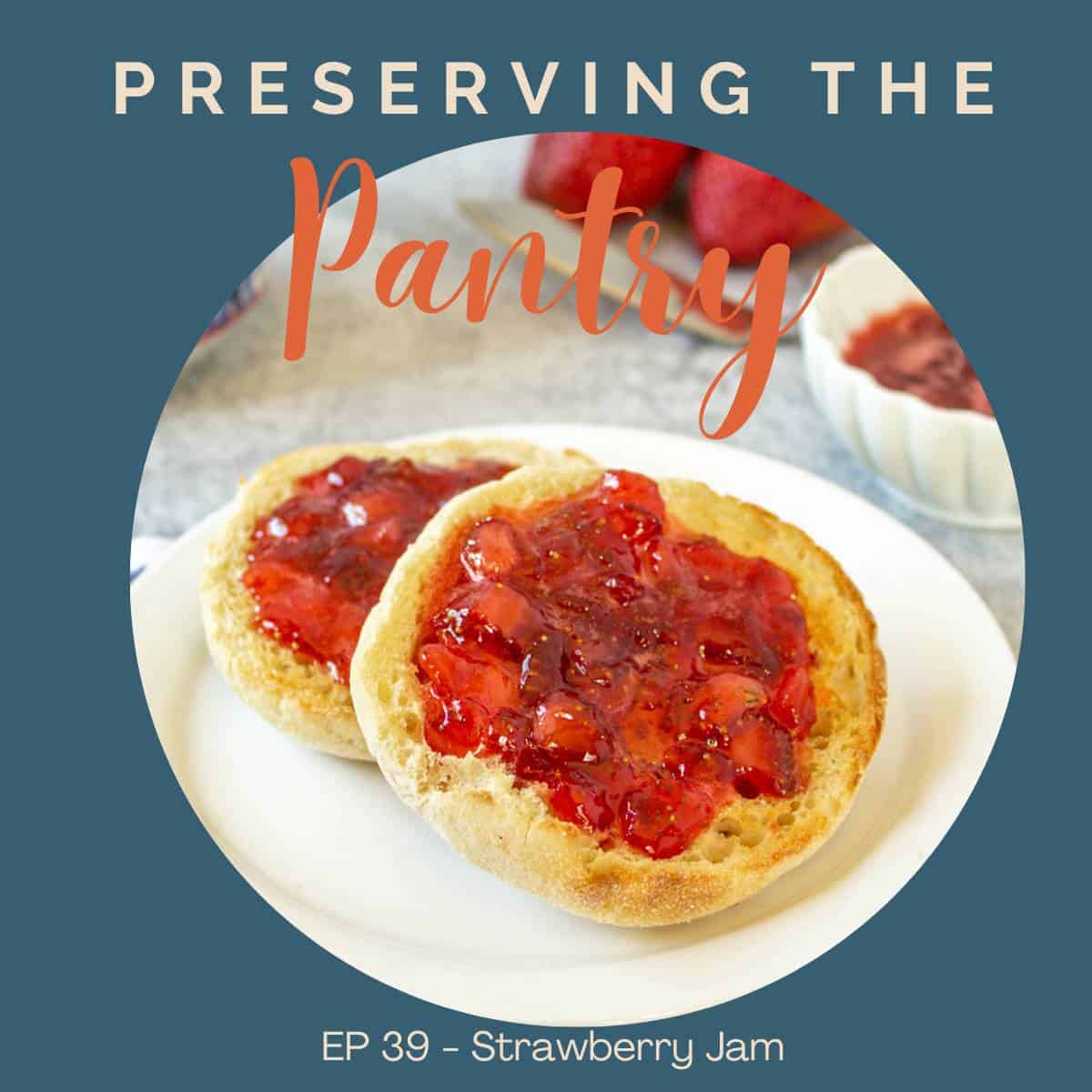 Play the episode
Recipes
Find the complete recipe for Strawberry Jam
Recipes mentioned in this podcast:
In this episode you'll learn:
The steps needed to make a small batch of jam
How to know when the jam has set up
Ways to test the jam
Where to listen to the podcast
Listen to this episode on iTunes, Spotify, Amazon Podcast, or your favorite podcast player. Or scroll down to read a full transcript.
If you love this podcast, I'd love to hear about it! Leave a comment below and hop over and leave a comment on Instagram @preservingthepantry!
Transcript
Hi everyone. Welcome back to the Pantry. I have another great recipe for you today. This is when you're not going to want to make. We're making strawberry jam! Now you know how much I love to make jams and different items and can them and store them in my pantry. But this strawberry jam is just a small batch of Strawberry Jam.
No canning, no freezing. Just make it and eat it. Store it in your fridge if there's any leftover. I love to make this recipe when you don't have a ton of time, but you want something really delicious.
Oftentimes, when strawberries just really start to come out in the market, I know you can get them all year long, but you can tell when they really start to get on in season and start to arrive in the market, it's a great time to grab some and then make that jam.
If you're really lucky to grow strawberries at home, oh, this strawberry Jam is going to be amazing. Here's what's so great about this recipe. It makes a small batch. You just need about two cups of strawberries and you can make it and just really not all that much time at all. Oh, I guess it probably takes about 20 to 30 minutes at the very max to make this jam.
So imagine you get up in the morning, you make this jam, and then you have breakfast on the table, maybe with some homemade pancakes or waffles, and the smell of this strawberry jam is the most enticing thing ever. So if you want to get people up and outta bed, make a batch of this strawberry jam and see if they come running on out.
You can also make this jam and just store it in your refrigerator and use it on biscuits or on a sandwich. It's really great and because it's easy to make, you'll find that you come back to this recipe again and. So here's what you're going to need for this recipe. You're going to need a heavy duty stainless steel pot or another type of pot that can hold up to the heat.
You want something that's heavy duty so that the temperature isn't going to easily burn your jam. You'll need two cups of fresh strawberries, so they're gonna need to be cleaned. Hold. Remove that little stem and chopped, you'll need to start with more than the two cups, and once you chop it all up, then you're going to have the two cups in there.
I like to have a semi chunky jam. So I just make kind of a fine dice. If you like a smoother jam, you can chop this all up and just put it into your food processor or your blender and just blend it just a little bit so that all of those chunks are gone. So you need the two cups of strawberries and one cup of sugar.
Guess what? That's it. Nothing else. You're going to place your strawberries and the sugar in the saucepan over medium heat. You stir until the sugar is melted and the berry juices start to release so you, it'll all start to come together. You're going to continue to stir as that heat's up. And then you're going to bring it to a boil.
Once it comes to a boil, you're gonna cook it anywhere from 10 to 12, 15 minutes until the jam has set. Now remember when you're talking about our rhubarb jam, where you can test to see if that jam has set up by putting a little dollop onto a cold plate, let it set for about 30 seconds or a minute and then tilt the plate.
If it's really runny on the plate, it's not ready. If it sets up and doesn't run, it's ready. Sometimes I also draw a line through the middle of that with the back of my wooden spoon. If the jam stays separated, your jam is ready. Otherwise, let it go for another minute or two and test it again and that's it.
Once it's set up, you remove it from the heat and you pour it into a heatproof container. Now, it's very tempting to eat this strawberry jam right away, but you don't want to burn your mouth, so let it cool down. It can be warm, but make certain it's not hot because there's nothing worse than a jam burn on your fingers or in your mouth! It just sticks to it and it's a horrible burn.
Remember that the cooking time may vary depending on the heat from your burner and the type of pot you have. So just just go by what you can see from the jam being set. I told you this strawberry jam is going to become your absolute favorite.
Make a batch on the weekend and then store it and eat it all week in your fridge. I hope to see you again next week in the pantry. Bye.
Thanks for listening. And be sure to tune in again next week for more episodes of Preserving the Pantry.