In episode 33, Kathy shares a recipe for making baked tortilla chips. This is a great way to us up those leftover corn tortillas!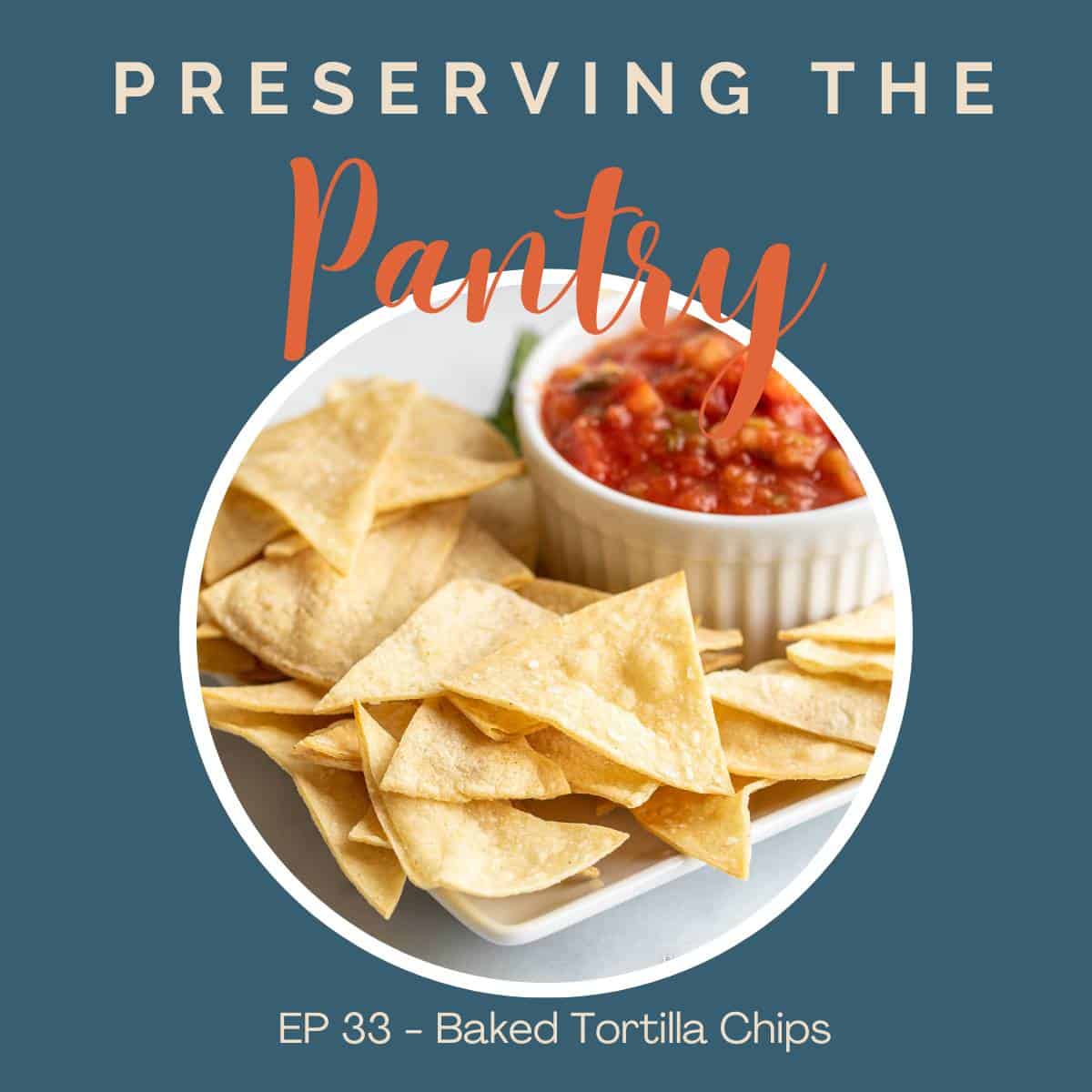 Play the episode
Recipes
Find the complete recipe for Baked Corn Tortilla Chips
Recipes mentioned in this podcast:
In this episode you'll learn:
How to make baked tortilla chips
Flavor options to add to the chips
How to store baked tortilla chips
Using flour tortillas for making chips
Where to listen to the podcast
Listen to this episode on iTunes, Spotify, Amazon Podcast, or your favorite podcast player. Or scroll down to read a full transcript.
If you love this podcast, I'd love to hear about it! Leave a comment below and hop over and leave a comment on Instagram @preservingthepantry!
Transcript
Hello everyone, and welcome to Preserving the Pantry. I'm so glad you're with me again today. I have a recipe for you that isn't really about preserving food, but it is about not wasting food. So this is a recipe for baked corn tortilla chips. We always seem to have corn tortillas in our refrigerator. We use them for a lot of different recipes.
Oh, we'll make enchiladas or tacos. But then sometimes those tortillas don't get used. And rather than letting them get stale or having to throw them out or feed them to the chickens, making them into chips is a really great idea. And these chips are really delicious and they're baked so. In my book, that means I can eat more of them.
So all you need for this recipe are corn tortillas. You can use white corn or yellow corn tortillas. Whatever you have, you can buy them just for this recipe or use up your leftovers that are in the fridge. Don't let him go to waste. And then you need some sort of oil. You, you want a light tasting oil, but use what you have on hand.
Use what you already like to use. I usually use a canola or a vegetable oil. You can use olive oil or any sort of oil that you have. And then you want a coarse salt. Your regular table salt is just a bit too fine. So find a kosher salt, which is really nice and coarse. Or a flaked sea salt works really well as well.
That's all your main ingredients that you're going to need. Now, there are other flavor options that you can use. You could use a chili lime seasoning. You could use chili powder, you could use smoked paprika, but I like these just plain.
So the first thing you're going to do is take your tortillas and you're going to use a small pastry brush and just brush the top of those tortillas with the oil.
You don't need a lot of oil on it, but you do want to try to cover the surface of the tortilla. I only do one side of the tortilla. You could do both if you want, but I find it's not necessary. What I do is I take one tortilla, brush that oil on, and then put another tortilla right on top of it, brush the oil on, and I continue.
Once I have a stack of about six tortillas, then I take my knife, I cut the whole stack of tortillas in half, and then I cut them into smaller wedges. I usually cut them into sixths. If you wanted to do smaller, you could. And then you take those tortillas and you sprinkle them, spread them out on a baking sheet, an ungreased baking sheet.
Then you take your salt and you just sprinkle it across the top of those and that tray goes into the oven, a preheated 375 degree oven, and it takes about 10 minutes, and then you pull it out and you take a look and see how they're doing. They're usually going to need more time, but I like to get a quick peek at these and see, make certain that I don't have any tortillas that are overlapping.
You can flip the tortillas with a spatula or you can just leave them as is and put them back in the oven for about, for another three to five minutes until they're really nice and crispy and slightly golden and brown. You can let them go longer. There's a really fine line between getting them nice and golden and burnt, so keep a close eye.
Once those are done, pull the tray out, let them cool just enough so you can handle them, and then remove them from the tray and put them into a container. These chips are ready to eat and they have such a delicious crunch. If you find that maybe you pulled them out a little bit too soon, no problem, put them back in the oven and that just for a few more minutes, and they're going to crisp up.
When you take those chips and fold them in half, they're gonna have a nice snap to them when you bite into them. They're going to have a great crunch. If it doesn't have that, put them back on the oven for just a little bit longer. These chips are perfect for your hardiest of dips. They will not fall apart when you're dipping them.
I like to use it with my homemade guacamole or my homemade salsa, but really sometimes I just like to eat these chips just by themselves.
Now you can also make these with flour tortillas, but the texture is a bit different. And so the process is going to be the same, but you're not going to bake them for quite as long flour tortillas, sometimes separate once they're cooked.
So you may have a few layers, but you're still gonna have a real nice crispy, almost more cracker ish like than a chip like. But if you have extra flour tortillas, give it a try and see how this works for you. To store these tortilla chips. If you actually have any leftover, once they're fully cooled, put them in an airtight container or a zip top bag and store them at room temperature.
They're probably best eaten within five days, but they'll last longer than that, as long as they've been fully dried. If they lose their crispness at all, you put 'em back into the oven for just a few minutes and they're gonna crisp right back up. When I'm making these, I usually use whatever I have left over, but sometimes I actually make these chips for a gathering or an occasion.
And when I do that, I usually plan on two corn tortillas per person, and that typically gives you about 12 chips per person. So keep that in mind if you think you're going to need more, but it gives you a good estimate of where to start. If you're doing a large number of tortillas, remember that you do not want to overcrowd your pan.
You might want to put them on two baking sheets instead of just one, or do them in batches. If you use two baking sheets, you can bake both right at the same time, but about halfway through that baking time, rotate those pans. So the one that was on the top now goes onto the bottom and the one on the bottom goes to the top.
That's gonna help make certain that they cook even. The, this is a great way to use up those corn tortillas that may be going bad in your refrigerator, and it makes such a great snack. I hope you enjoy them. Give them a try. I'll see you next week in the pantry. Bye.
Thanks for listening. And be sure to tune in again next week for more episodes of Preserving the Pantry.