In this episode, Kathy discusses how to use a pressure canner to can carrots.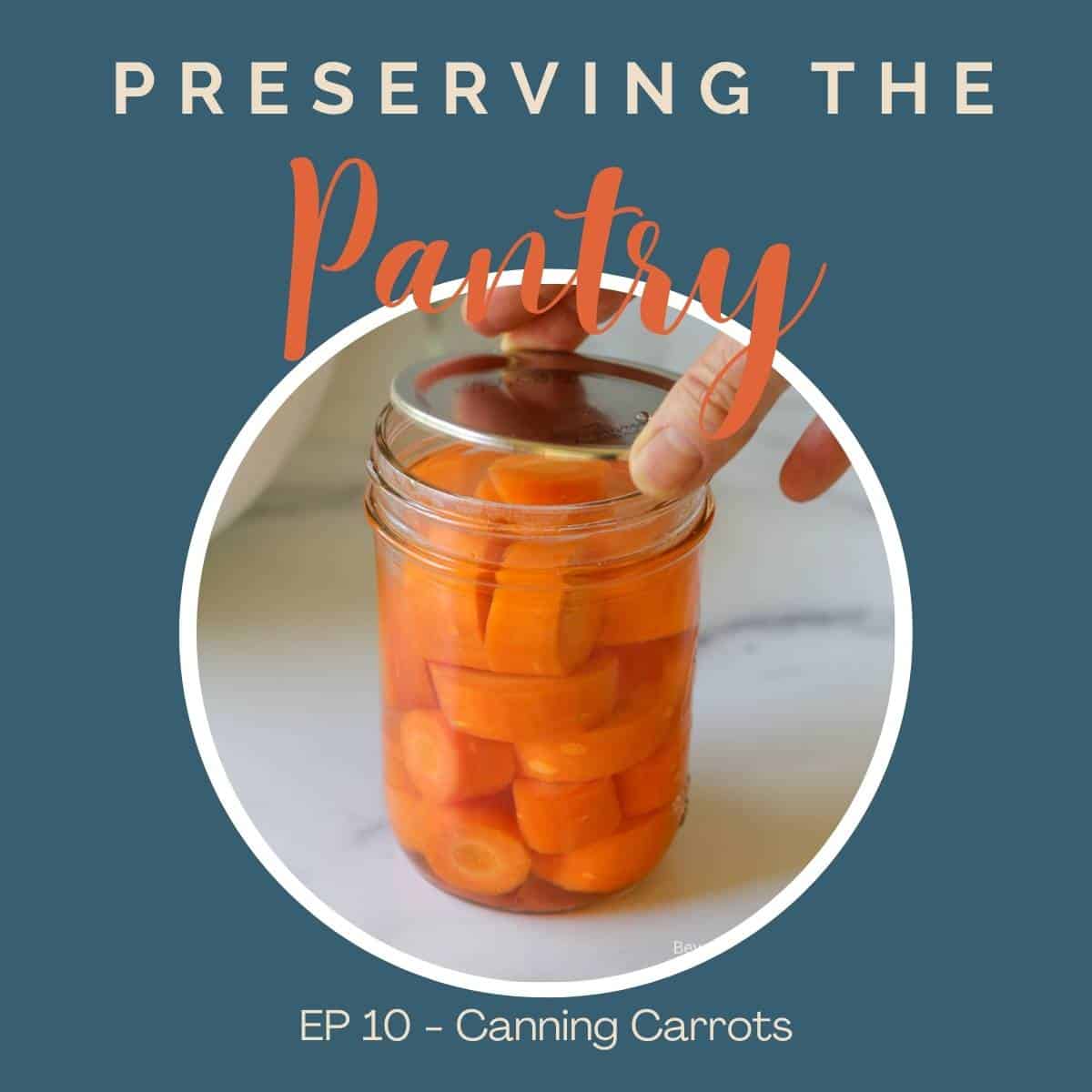 Play the episode
Recipes
Find the complete recipe for Canning Carrots
Recipes mentioned in this podcast:
If you're new to pressure canning, be certain to check out How to Use a Pressure Canner.
In this episode you'll learn:
How to prepare carrots for canning
Steps needed to can carrots
How to use a pressure canner
How to use canned carrots in recipes
Where to listen to the podcast
Listen to this episode on iTunes, Spotify, Amazon Podcast, or your favorite podcast player. Or scroll down to read a full transcript.
If you love this podcast, I'd love to hear about it! Leave a comment below and hop over and leave a comment on Instagram @preservingthepantry!
Transcript
Hello everyone. And welcome back to the Pantry. We are going to be talking about how to can carrots today. Now, if you listened to the last episode, we talked about how to know whether you use a water bath canner, or a pressure canner.
So if you haven't listened to that episode yet, make certain you go back and listen to that.
Carrots are a low acid item. So they have to be pressure canned. They are one of the easiest items to pressure can though. What I really love about canning carrots is the carrots are perfectly cooked. All you have to do is take them off the pantry shelf, open the jar, drain off that liquid, heat them up, and you've got carrots ready to eat.
They're perfectly cooked all the way through. I also like to add carrots to items like my stews or soups. I even use them because they're so perfectly cooked in my baking. I open them, drain them, mash them, and use them in my carrot cakes or carrot cookies. Both of those recipes call for cooked carrots. I have just eliminated a step by using my canned carrots off the pantry shelf.
We grow carrots, but we never seem to get enough or, or they never seem to get big enough for us to be able to can the carrots that we grow, we just eat them. But I do go to our farmer's market or a local CSA and get carrots from them. And I can those carrots.
So for canning carrots, This will make eight pints of carrots, which will fit easily into my pressure canner. Now check your pressure canner before you decide how many you're going to make to see how many yours is going to hold. You'll need about 4-6 pounds of carrots. Canning salt doesn't have anything in it. So it allows the liquid in your carrots, your can of carrots to be really nice and clear.
If you use table salt, it may get a bit cloudy. So make sure you use canning salt. And then the final item you're gonna use is boiling water. And that's it. That's all you're putting into these jars of carrots; carrots, salt, and water. And by the way, the salt is completely optional. So if you don't want it, don't add it.
The first thing you're going to do is get all your jars and equipment ready. Then wash and peel your carrots and wash them again. And when I say wash, you're rinsing under cold water really well getting any dirt residue off of them. You do want to peel your carrots.
Now I love a good homegrown carrot, just washed and eaten just like that without peeling. When canning and leaving that peel on the peel may get a little bit tough and fibrous on the carrot itself. So I like to remove it.
You're going to start wash, peel and wash your carrots again, then cut your carrots into your desired shape and size. So again, this is really up to you.
I tend to do a variety because I use them for different things. I cut them into thick rounds about, oh, maybe just a little less than an inch thick, diced. And then I also like them in spears. So depending on how you're going to use them or whatever you like, whatever your preference is, is how you're going to cut those up.
Place your carrots in your jars, making certain that there's at least one inch of headspace from the top of the carrots to the top of the jar. If you need to cut, trim down your spears a little bit, if you're using carrot spears, make sure that you trim those down.
If you're going to salt, use a half of a teaspoon of salt to each pint or a teaspoon to each quart. Pour boiling water over the carrots, leaving a one inch headspace. Remove the air bubbles by gently tapping the jar on the counter and then running your debubbler or a very thin plastic spatula around the inside, just to help jiggle up those carrots a little bit and get those bubbles out of the jar.
Wipe down your rim of the jar and place the ring and the lid on the jar. Remember don't over, tighten your ring, just finger tighten it. So it's nice and snug. Place the jars in the pressure canner with simmering water and you want two to three inches of water in the bottom of your canner. This may vary depending on your individual canner so make sure that you read the directions for your canner on how much water to place in your, your pressure canner.
Place the lid on the pressure canner and lock it into place. Turn that heat up and let the steam begin to come through the vent steamer. Remember, don't put that cover on quite yet.
Once the steam begins to come through, time it for 10 minutes and after 10 minutes place the vent cover on it to stop the steam. Then you'll begin to watch your pressure. You want 10 pounds of pressure at sea level. If you are above sea level, you'll need to adjust your pressure. And I have a chart that explains exactly how you need to adjust.
I'm at about 2000 feet above sea level. So I need to adjust my canner to 12 pounds of pressure. Once you reach the desired pressure, you're going to start your timer. Pints will need 25 minutes and quarts need 30 minutes of processing. You want to make certain that the minimum pressure is maintained during this processing time. So don't let it go below whatever you're supposed to be at. So I don't let mine go below 12 pounds of pressure.
Turn the heat off, but do not open the vent cover or the lit once the pressure has fully come back to zero carefully, remove the vent cover, wait five to 10 minutes and then remove the. Allow the jars to sit in the counter for another few minutes, five to 10 is adequate.
This will help prevent siphoning of the liquid from the jars carefully. Use a jar lifter and remove each jar and place it in upright position on a baking rack or on a clean towel on your counter. Leave about a one inch space between your jars. It takes anywhere from 12 to 24 hours for your jars to fully cool.
Don't touch them until they're fully cool. After they're cooled, you can now check the seals to see if they have fully sealed, just push the center of the lid. And if there's no up and down movement, your lid has sealed. You also want to take off the ring and check the seal again, just to make certain it's on.
Wash the outside of your jar and, and the top of the lid drive the jars and then label the jars with the carrots and the date. Store your jars in a cool dark location.
Carrots are probably one of the easiest items to can because you don't have a whole lot of prep work to do. You just simply cut those carrots. Put in the salt, boiling water and put them in your canner. They are so pretty to look at on your pantry shelf. That's it for today. I'll see you next week in the Pantry.
Thanks for listening and be sure to tune in again next week for more episodes of Preserving the Pantry.