Cherry Snack Cake is a delicious cake filled with tart cherries! This moist cake doesn't need any frosting or icing. It's delicious and so full of flavor.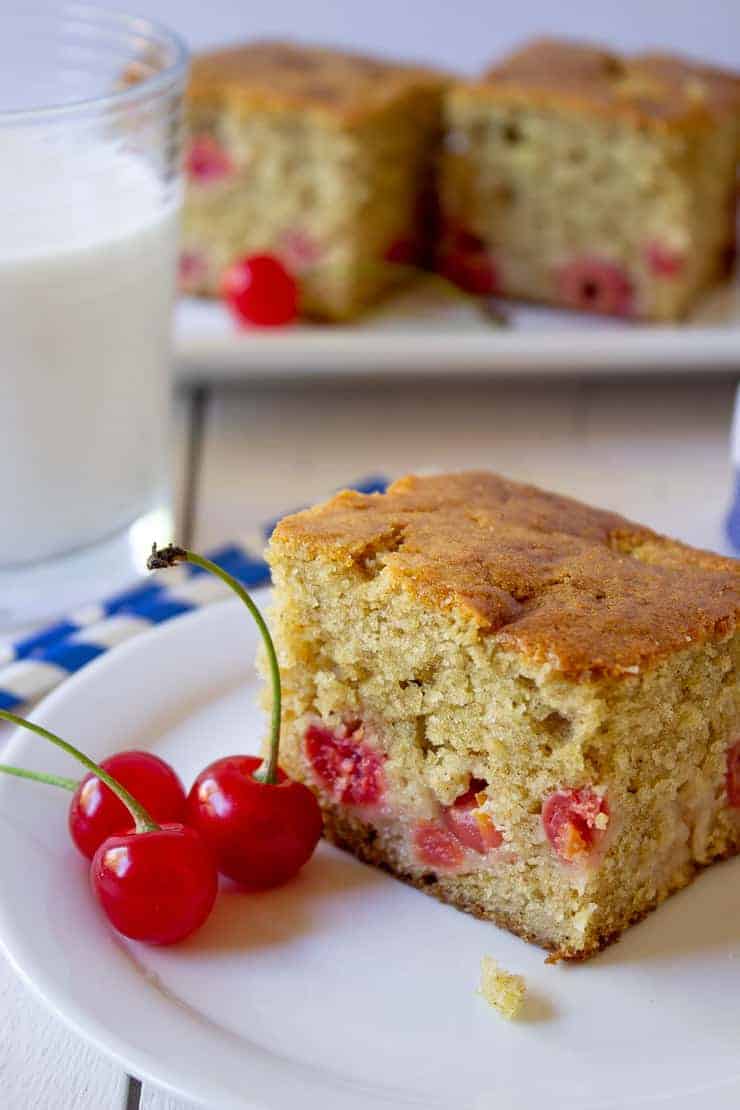 This cherry cake is perfect for dessert, snacks, or lunches. It packs perfectly in a lunch box and makes a special treat for any kid or adult.
Our pie cherry tree is fully loaded and ready to be picked. Right now I'm only picking a small amount of cherries everyday and using them up in every way possible. I've made cherry cobbler and cherry pie and now I've made cherry cake!
We have two cherry trees; a bing cherry tree and a sour or tart pie cherry tree. I used the bing cherries in cherry muffins but for this snack cake I used the tart cherries.
What are pie cherries?
Pie cherries are a tart cherry that are usually a bright red color. Pie cherries are softer and juicier than a sweet cherry.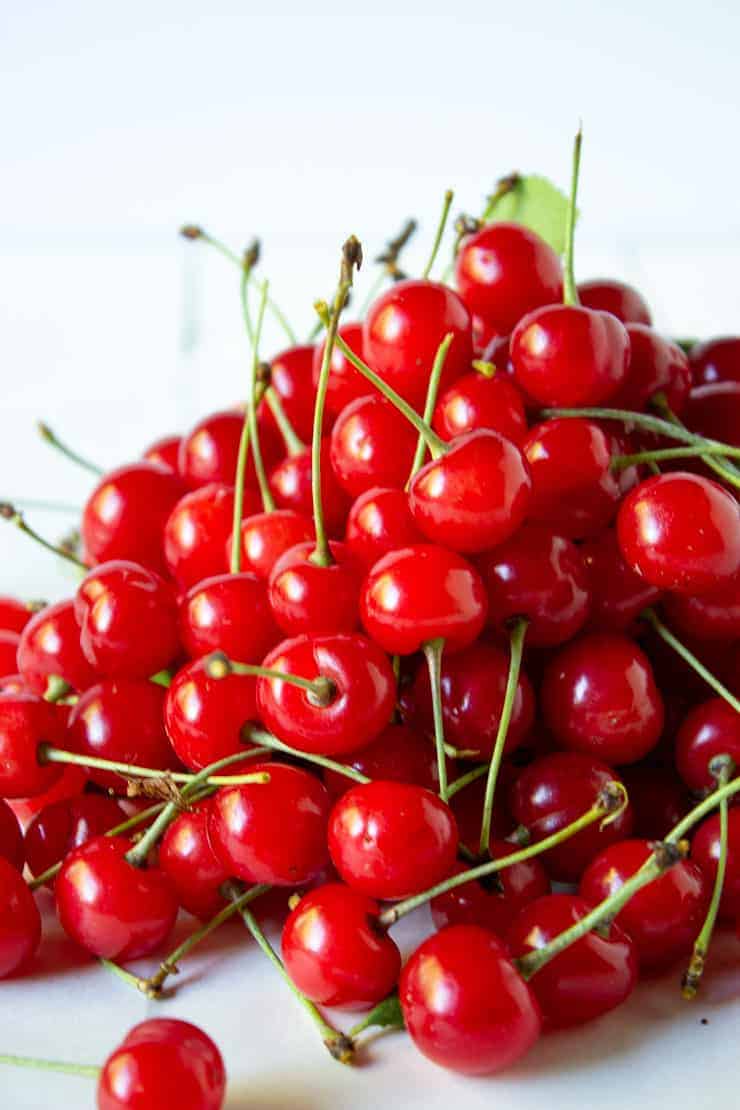 How do I pit cherries?
There are a few ways to pit cherries. I find pie cherries easier to pit than a sweet cherry. When I pick pie cherries, I try to leave the stem on. I use the stem to help pit the cherries.
Ways to pit cherries:
Hold the cherry between you forefinger and thumb. Hold the stem in the other hand. Gently squeeze the cherry while gently pulling on the stem. Often the seed will pop right out and still be attached to the stem. This works best if they are pitted the same day they are picked. Sometimes the seed stays inside and then I go to step 2 or 3.
Gently squeeze the cherry without the stem until the seed comes out.
Use a cherry pitter to remove the seed.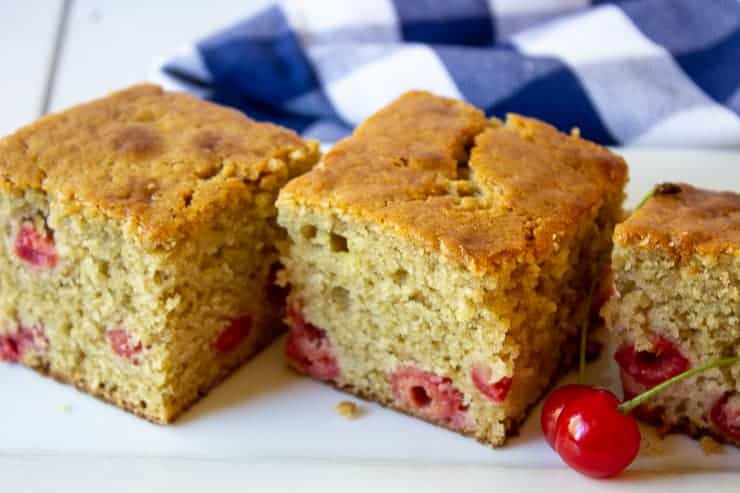 What ingredients do I need to make cherry cake?
Tart cherries
Flour
Sugar
Baking powder
Baking soda
Salt
Cinnamon
Milk
Eggs
Vanilla
Butter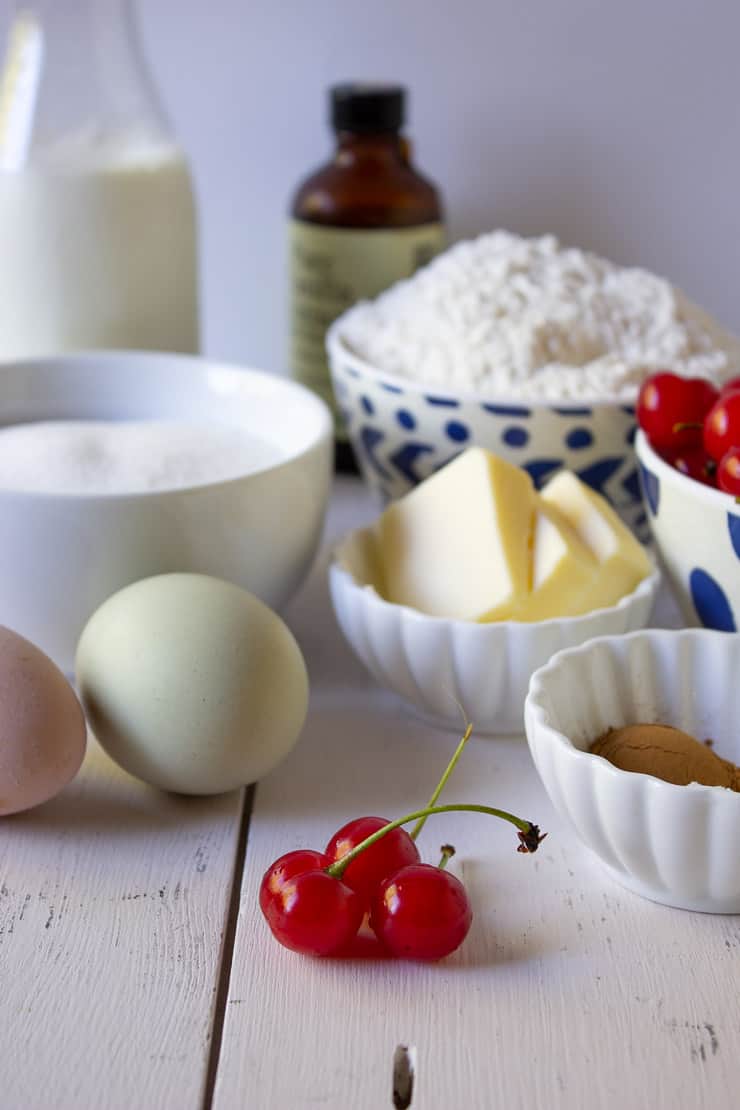 Why is this called a snack cake?
This cake is moist and holds together well. It's best eaten sliced into squares and eaten without any frosting or extra topping. Because this cake holds together so well, it can be snacked on right out of hand - no need for a plate or a fork. This cake is perfect for packing into school lunches!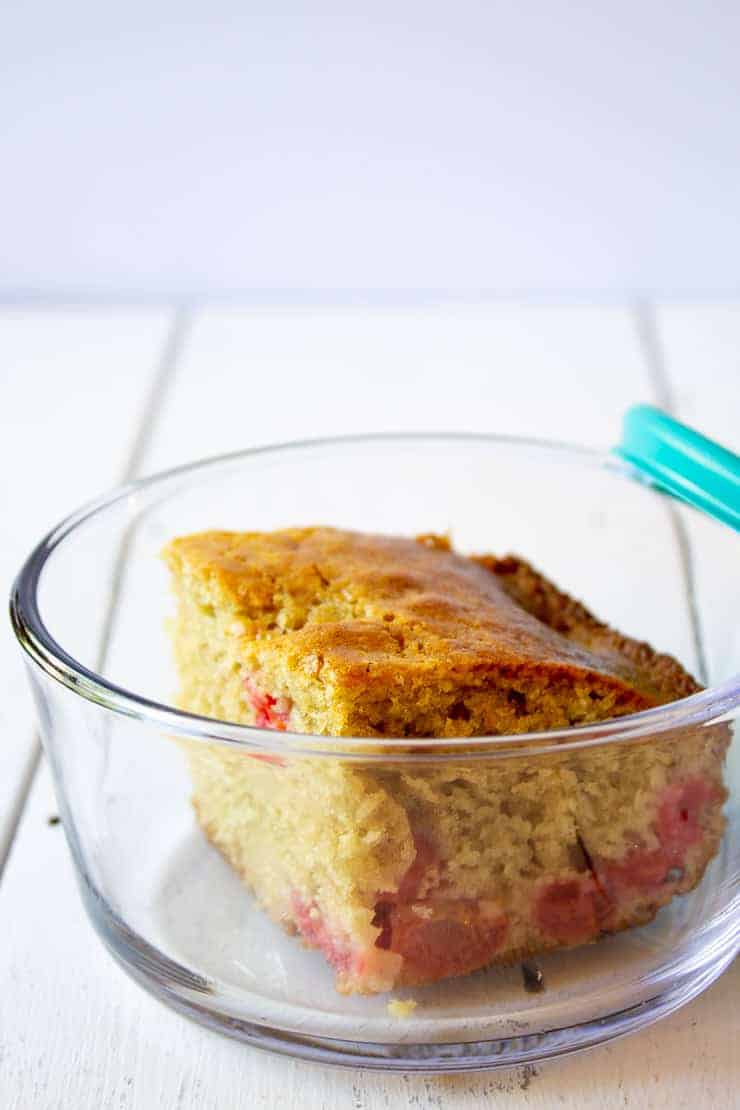 Do I use fresh or frozen cherries?
I used fresh cherries when making this cake. You could also use frozen cherries. Fold cherries in while still frozen. Increase baking time by 5-10 minutes.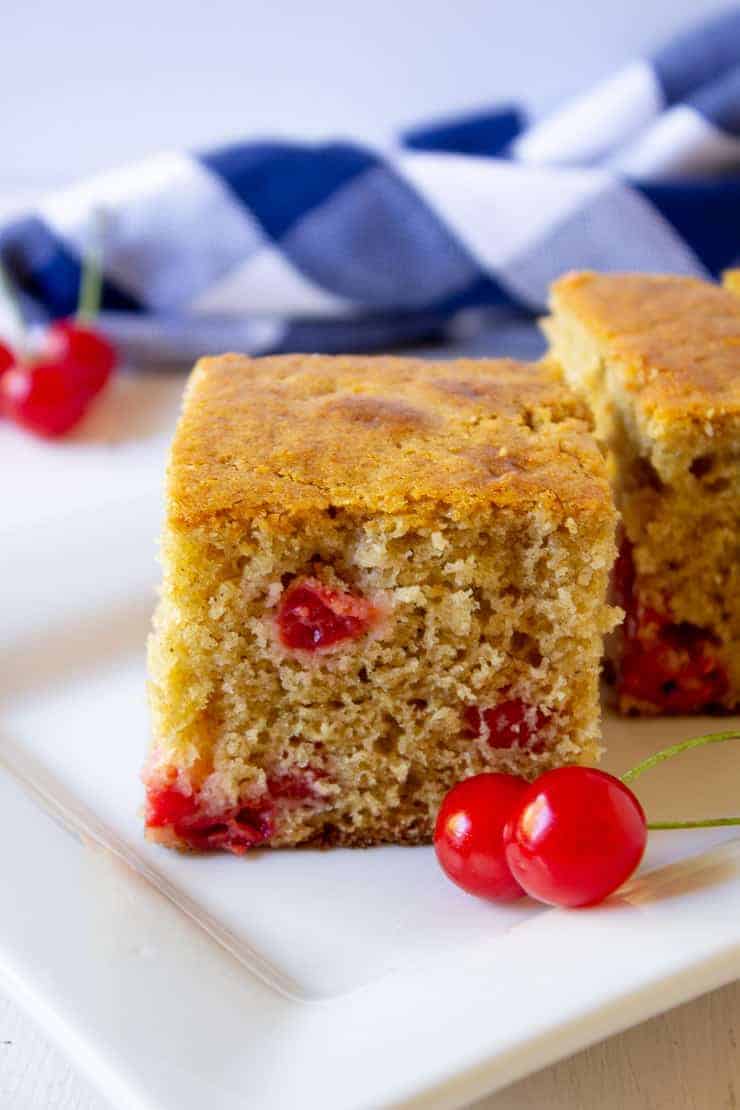 How do I make this cake?
Mix flour, sugar, baking powder, baking soda, cinnamon and sugar together.
In a separate bowl, combine eggs, vanilla, butter and milk.
Combine wet ingredients into the dry ingredients.
Fold together until well incorporated.
Fold cherries into batter.
Pour batter into greased baking pan and bake in a preheated 350 degree oven.
Let cake fully cool and remove from pan.
Don't forget to PIN for later!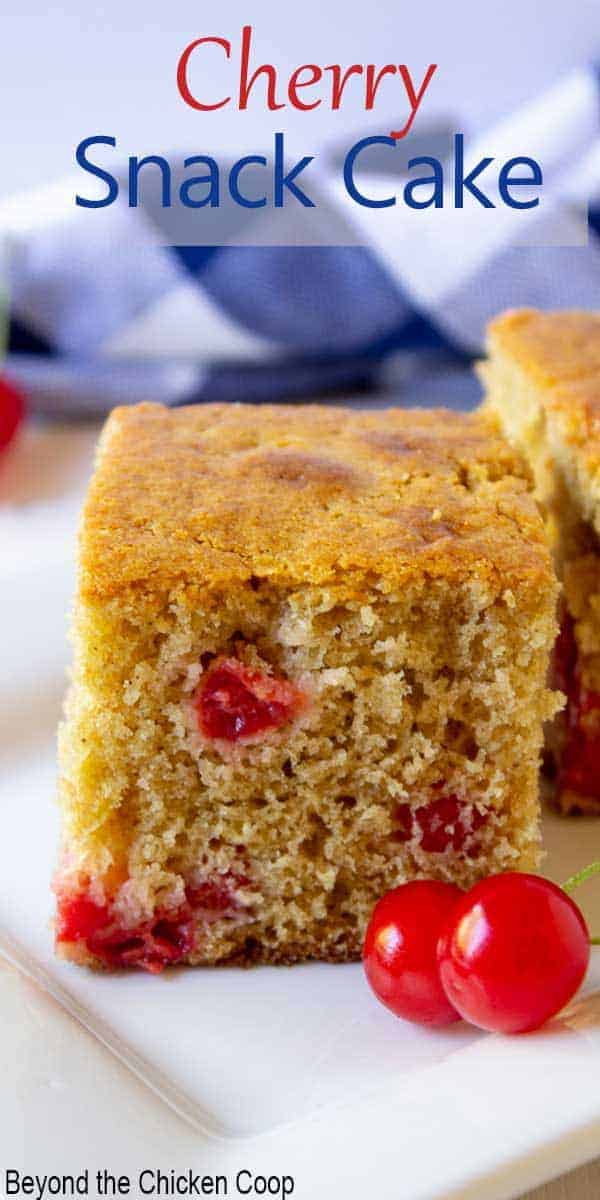 If you make this recipe, I'd love to hear about it! Leave a comment below and snap a picture and tag me on Instagram @beyondthechickencoop
Check out all my delicious baking recipes!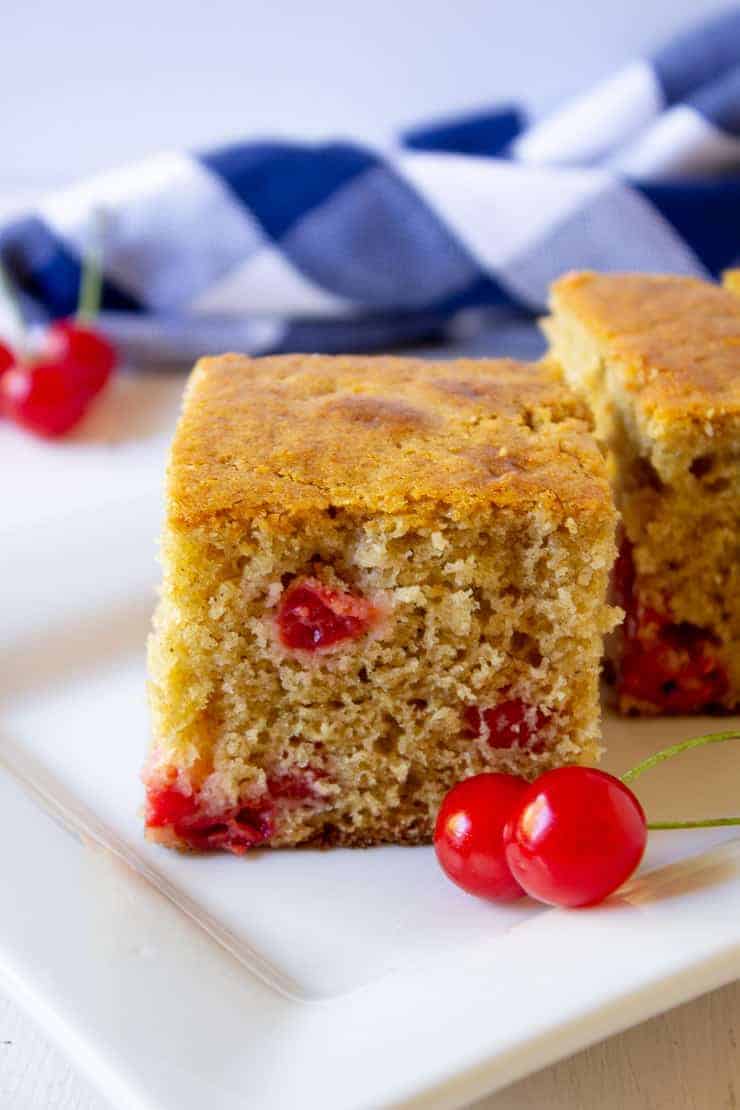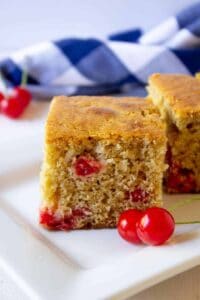 Cherry Snack Cake
Moist yellow cake filled with tart cherries
Ingredients
2

cups

flour

1

cup

sugar

1

teaspoon

baking powder

½

teaspoon

baking soda

1

teaspoon

ground cinnamon

¼

teaspoon

salt

2

eggs

1

teaspoon

vanilla

⅓

cup

butter

(melted)

1

cup

milk

2

cups

tart cherries

(pitted)
Instructions
Combine flour, sugar, baking powder, baking soda, cinnamon and salt in a large mixing bowl.

In a separate bowl combine eggs, vanilla and melted butter.

Add liquid ingredients into dry ingredients and combine.

Pour batter into a greased 11 x 7 inch baking pan.

Bake in a preheated 350 degree oven for 45-50 minutes.

Allow cake to fully cool in baking dish. Cut into 12 pieces and serve.
Nutrition
Calories:
225
kcal
Carbohydrates:
38
g
Protein:
4
g
Fat:
7
g
Saturated Fat:
4
g
Cholesterol:
43
mg
Sodium:
159
mg
Potassium:
144
mg
Fiber:
1
g
Sugar:
21
g
Vitamin A:
245
IU
Vitamin C:
2
mg
Calcium:
51
mg
Iron:
1
mg