Spinach stuffed shells are large shell shaped pasta filled with Italian sausage, spinach and ricotta cheese. The shells are baked with additional cheese and marinara sauce making this a delicious meal.
Perfect for dinner any night of the week!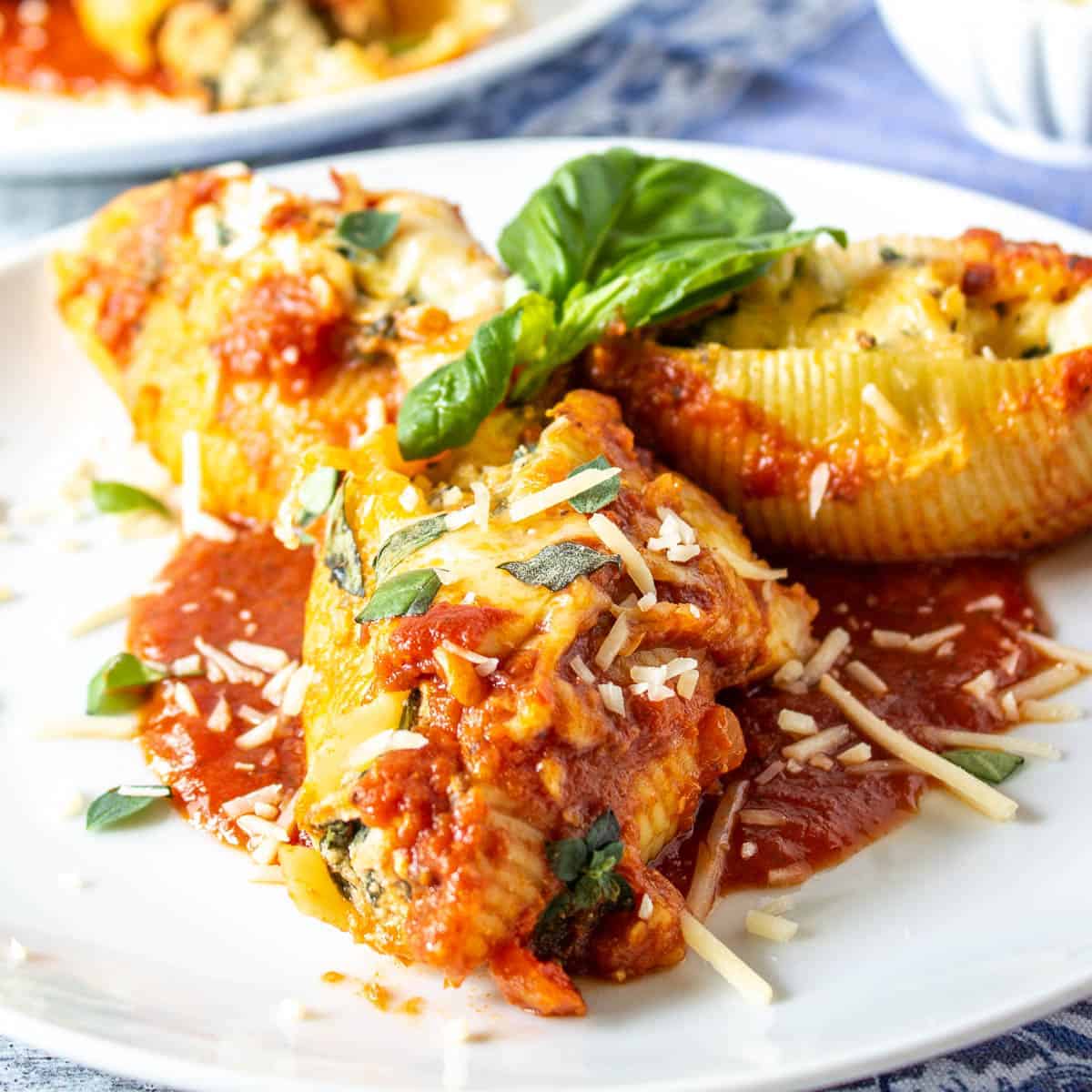 Why make this recipe
These stuffed pasta shells are a delicious comfort food. It has all the flavors of a lasagna, but instead of layers of pasta, cheese and sauce, the shells are stuffed with a cheese mixture and then baked with a marinara sauce.
I love making this for dinner for my family, but it's also perfect for serving a crowd. This recipe can easily be doubled and baked in two pans. Make this ahead of time and then bake at dinnertime helps makes getting dinner on the table easy!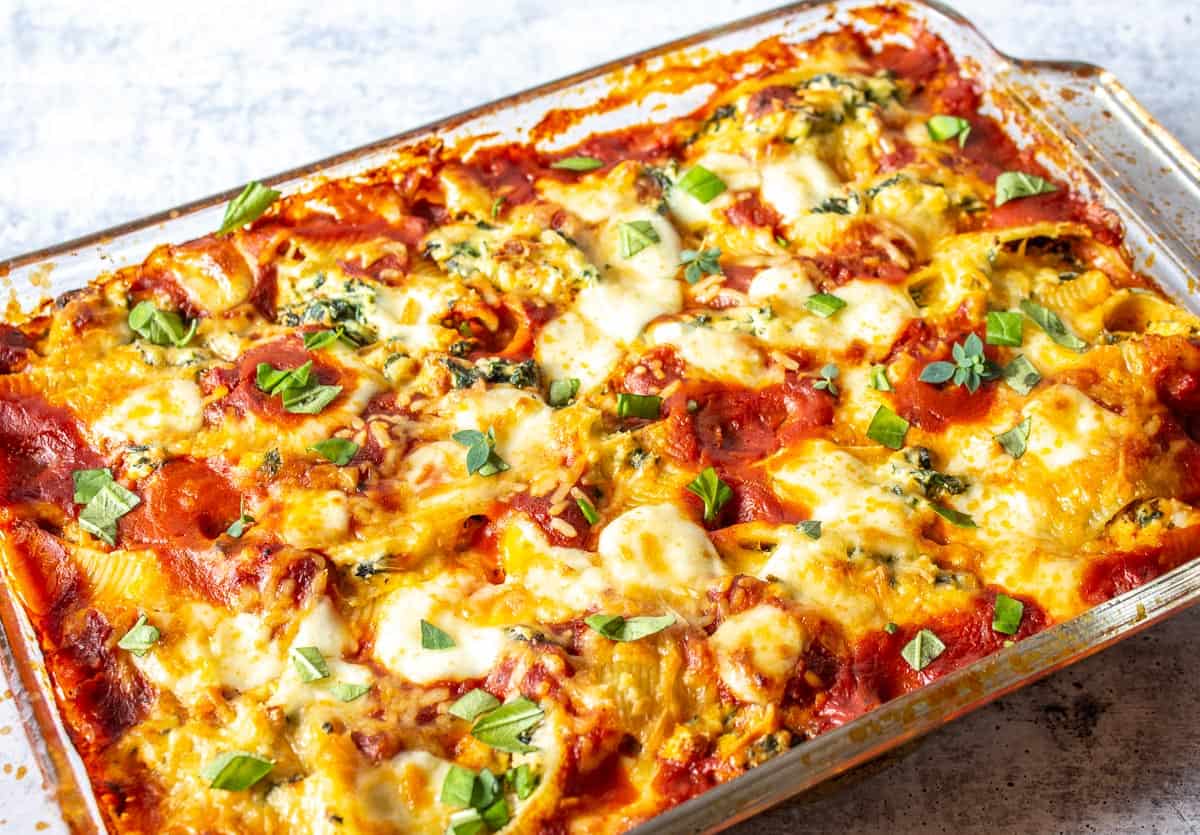 Key Ingredients
Jumbo pasta shells - look for the jumbo sized shells so they can easily be filled
Spinach - I used fresh spinach, but you could also use frozen
Ricotta cheese - Whole milk ricotta is creamier than a skim ricotta. I prefer the whole milk ricotta.
Fresh mozzarella - This fresh version can often be found in the deli section of most stores
Marinara sauce - Buy your favorite or make your own marinara sauce
Parmesan cheese - Use shredded parmesan cheese
Italian sausage - Spicy or sweet Italian sausage. You may omit if you'd prefer a vegetarian version.
Step by step directions
Cook pasta shells
Cook Italian sausage. Wipe out pan when finished and use same pan for spinach.
Sautee garlic for a few seconds in a pan. Add fresh spinach. I add in large batches, allowing spinach to cook down before adding more. Keep all spinach in pan until it has all been cooked. Remove spinach to a colander and allow spinach to cool. Once cool, squeeze out all liquid. This takes a lot of squeezing. Keep rotating spinach in your hands and squeeze until all liquid is removed.
You start out with about 10 cups of spinach, but once it has cooked down and all the liquid squeezed out, you end up with about 1 cup of spinach.
Coarsely chop spinach
Combine ricotta, parmesan, egg and seasonings together in a bowl.
Add chopped spinach and fold until combined
Add cooled sausage, be careful to not add any of the grease.
Carefully stuff each pasta shell with 3 tablespoons of cheese filling
Place each stuffed shell in a greased baking dish with a layer of marinara sauce
Continue filling all shells until dish is full
Drop spoonfuls of sauce around the filled shells
Place diced mozzarella on top of shells
Sprinkle remaining parmesan cheese over top
Cover dish with foil and bake at 375 for 30 minutes
Remove foil and continue cooking for an additional 20 minutes
Turn broiler on for an additional 5 minutes and cook until the cheese is slightly browned
Remove from oven and allow dish to rest for 10 minutes
Garnish with fresh herbs and serve with additional marinara sauce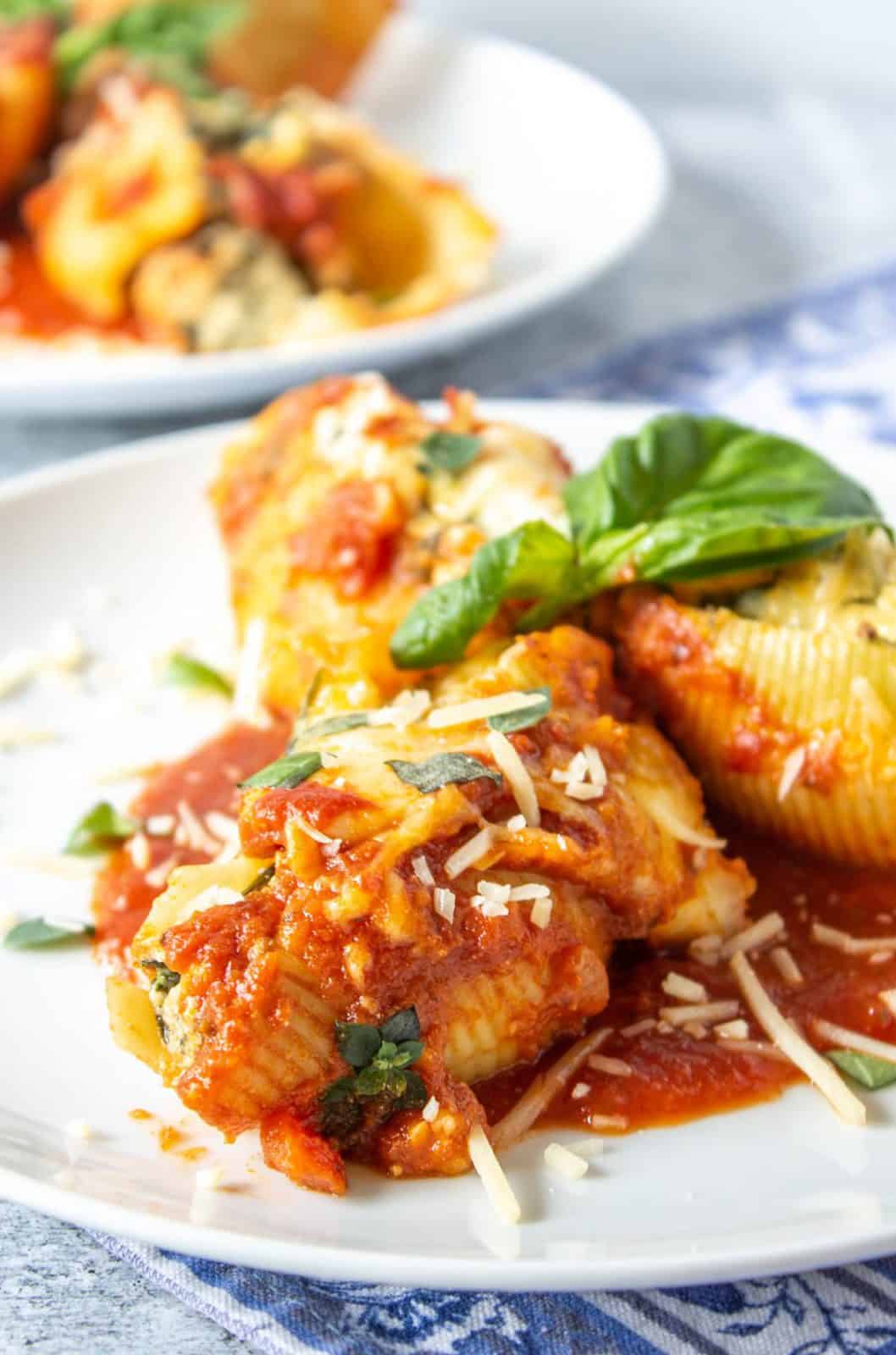 Substitutions and variations
Use frozen spinach in place of fresh. Allow spinach to fully thaw and then squeeze out all liquid
Omit Italian sausage to make a vegetarian version
Use cottage cheese in place of the ricotta cheese. This is a great way to save money when making this dish. The cottage cheese is extra creamy and once cooked, you can't tell the difference.
Add sautéed mushrooms for extra flavor
Other delicious main dishes
If you love this pasta dish, you might also want to check out these dishes:
If you make this recipe, I'd love to hear about it! Leave a comment below and snap a picture and tag me on Instagram @beyondthechickencoop
Be sure to check out all my delicious main dish recipes!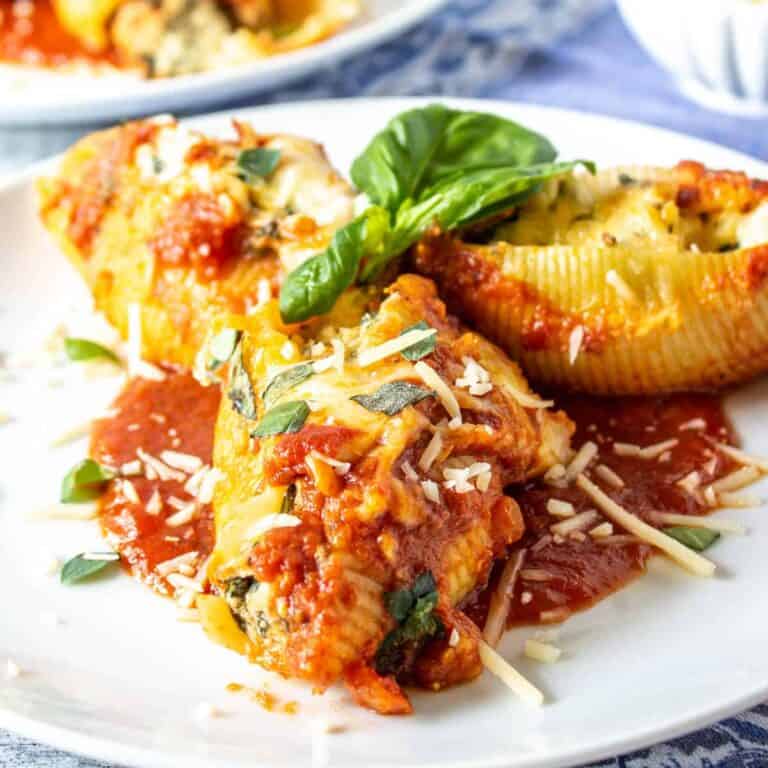 Spinach Stuffed Shells
Jumbo pasta shells filled with a cheesy spinach mixture with Italian sausage baked together with a marinara sauce.
Ingredients
20 -24

Jumbo Pasta Shells

1

pound

Italian Sausage

(Spicy or Sweet)

10

ounces

Baby Spinach

(Fresh)

2

tablespoons

Olive Oil

2

cloves

Garlic

(Minced)

2

cups

Ricotta Cheese

(Whole milk)

¼

cup

Parmesan Cheese

(Shredded)

1

Egg

¼

teaspoon

Garlic Powder

½

teaspoon

Dried Basil

¼

teaspoon

Dried Oregano

¼

teaspoon

Salt

¼

teaspoon

Pepper

pinch

Ground Nutmeg

3

cups

Marinara Sauce

4

ounces

Fresh Mozzarella

(Cubed)

¼

cup

Parmesan Cheese

(Shredded)

1

teaspoon

fresh herbs

(For garnish, optional)
Instructions
Cook pasta shells

20 -24 Jumbo Pasta Shells

Cook Italian sausage. Wipe out pan when finished and use same pan for spinach.

Sautee garlic for a few seconds in a pan. Add fresh spinach. I add in large batches, allowing spinach to cook down before adding more. Keep all spinach in pan until it has all been cooked. Remove spinach to a colander and allow spinach to cool. Once cool, squeeze out all liquid. This takes a lot of squeezing. Keep rotating spinach in your hands and squeeze until all liquid is removed.

2 tablespoons Olive Oil,

2 cloves Garlic,

10 ounces Baby Spinach

Coarsely chop spinach

Combine ricotta, parmesan, egg and seasonings together in a bowl.

2 cups Ricotta Cheese,

¼ cup Parmesan Cheese,

1 Egg,

¼ teaspoon Garlic Powder,

½ teaspoon Dried Basil,

¼ teaspoon Dried Oregano,

¼ teaspoon Salt,

¼ teaspoon Pepper,

pinch Ground Nutmeg

Add chopped spinach and fold until combined

Add cooled sausage, be careful to not add any of the grease.

Carefully stuff each pasta shell with 3 tablespoons of cheese filling. Place each stuffed shell in a greased baking dish with a layer of marinara sauce. Continue filling all shells until dish is full.

Drop spoonfuls of sauce around the filled shells. Place diced mozzarella on top of shells. Sprinkle remaining parmesan cheese over top

4 ounces Fresh Mozzarella,

¼ cup Parmesan Cheese

Cover dish with foil and bake at 375 for 30 minutes. Remove foil and continue cooking for an additional 20 minutes. Turn broiler on for an additional 5 minutes and cook until the cheese is slightly browned.

Remove from oven and allow dish to rest for 10 minutes Garnish with fresh herbs and serve with additional marinara sauce
Notes
I usually cook a few extra shells in case one falls apart and can't be used
The spinach cooks down from about 10 cups of spinach to about 1 cup of cooked and squeezed spinach
To make ahead of time, cover and refrigerate after filling shells and adding sauce and cheese. Bake as directed, increasing baking time by 15-20 minutes.
To prevent cheese from sticking to foil, spray foil lightly with a nonstick spray before placing on dish
Substitutions and variations
Use frozen spinach in place of fresh. Allow spinach to fully thaw and then squeeze out all liquid
Omit Italian sausage to make a vegetarian version
Use cottage cheese in place of the ricotta cheese. This is a great way to save money when making this dish. The cottage cheese is extra creamy and once cooked, you can't tell the difference.
Add sautéed mushrooms for extra flavor
Nutrition
Serving:
3
shells
Calories:
589
kcal
Carbohydrates:
28
g
Protein:
30
g
Fat:
40
g
Saturated Fat:
17
g
Cholesterol:
126
mg
Sodium:
1425
mg
Potassium:
883
mg
Fiber:
3
g
Sugar:
6
g
Vitamin A:
4764
IU
Vitamin C:
20
mg
Calcium:
389
mg
Iron:
4
mg