How to perfectly cook hard boiled eggs.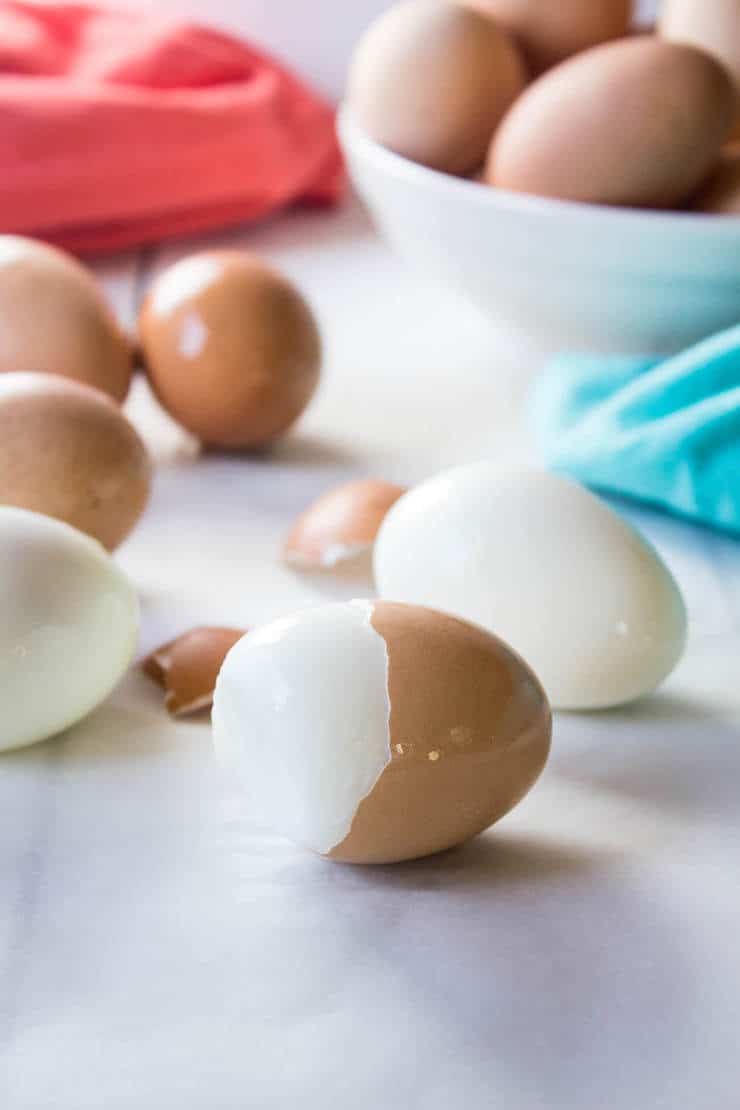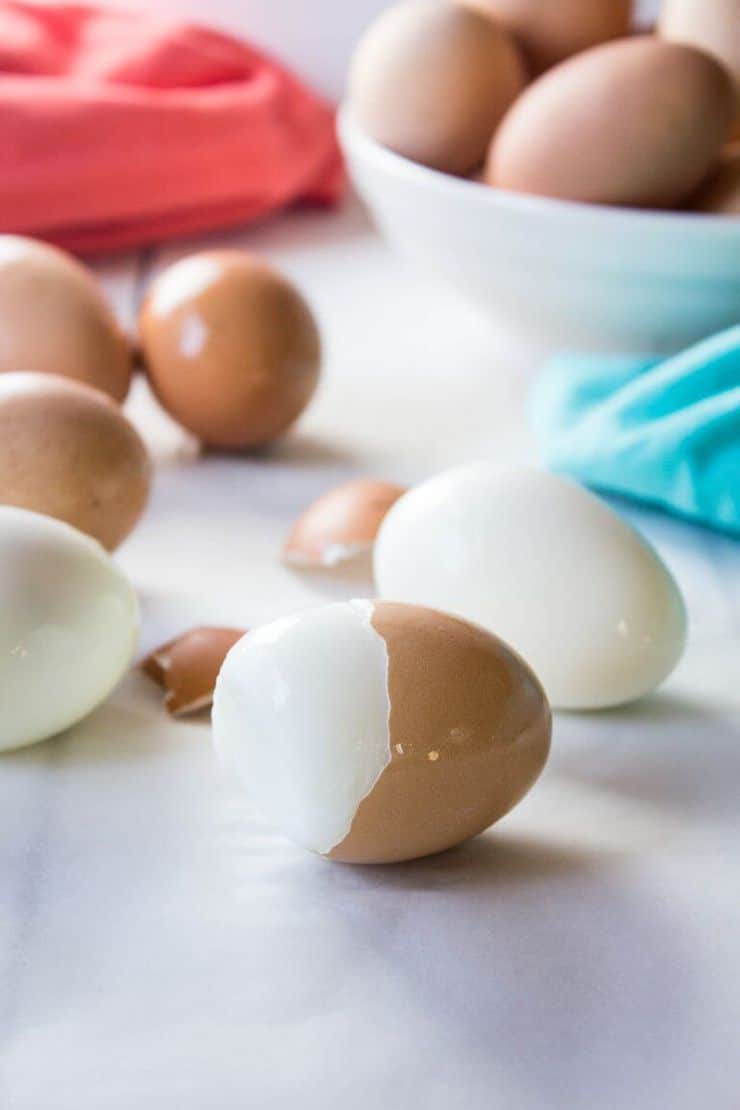 Hard cooked eggs
If you've ever had a fresh egg, and I mean a really fresh egg, like straight from the chicken fresh, then you will know why I need a recipe on how to make hard boiled eggs.
Fresh eggs are wonderful for so many reasons, but when it comes to boiling them, I could be tempted to buy them from the store! The problem is, fresh eggs don't peel easily. In fact, they hardly peel at all unless you want just a wee bit of white and all the yolk for your hard boiled eggs.
The shells of fresh hard boiled eggs tend to stick to the white of the egg.  The shell comes off in only teeny tiny little minuscule bits.  And I do mean minuscule!
You pick and you pick and you pick and still, bits seem to be stuck to the egg. When or if you finally get the shell off, the poor egg is so pitted that even the thought of Deviled Eggs is out of the question!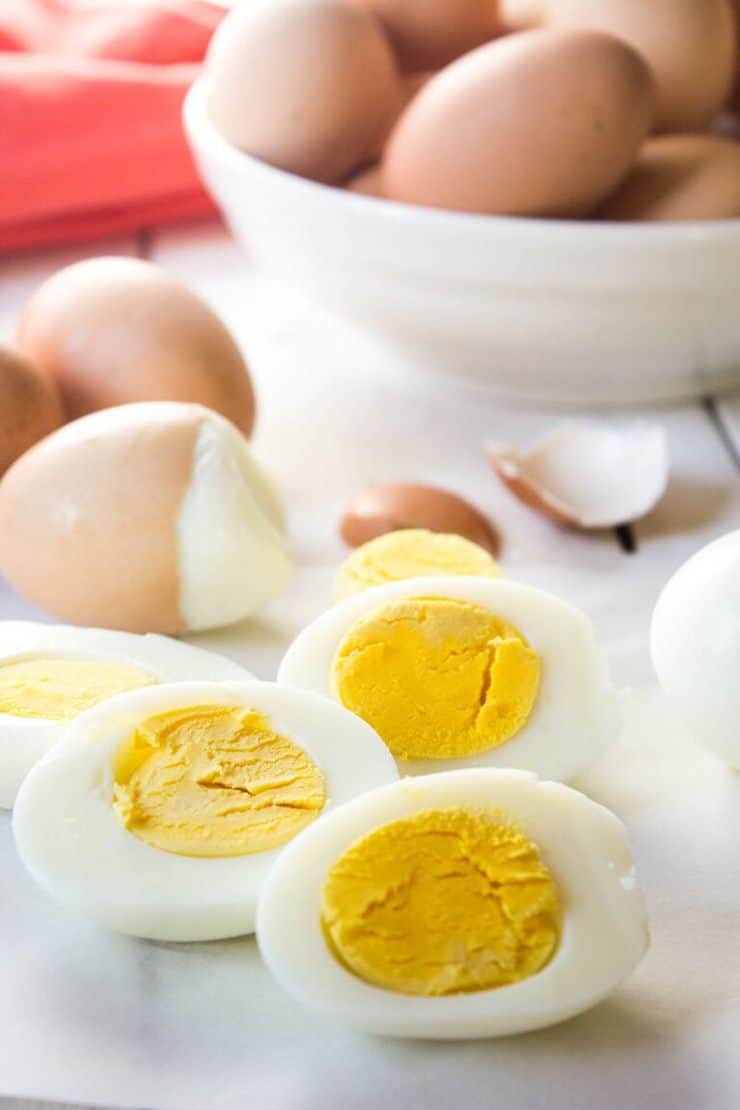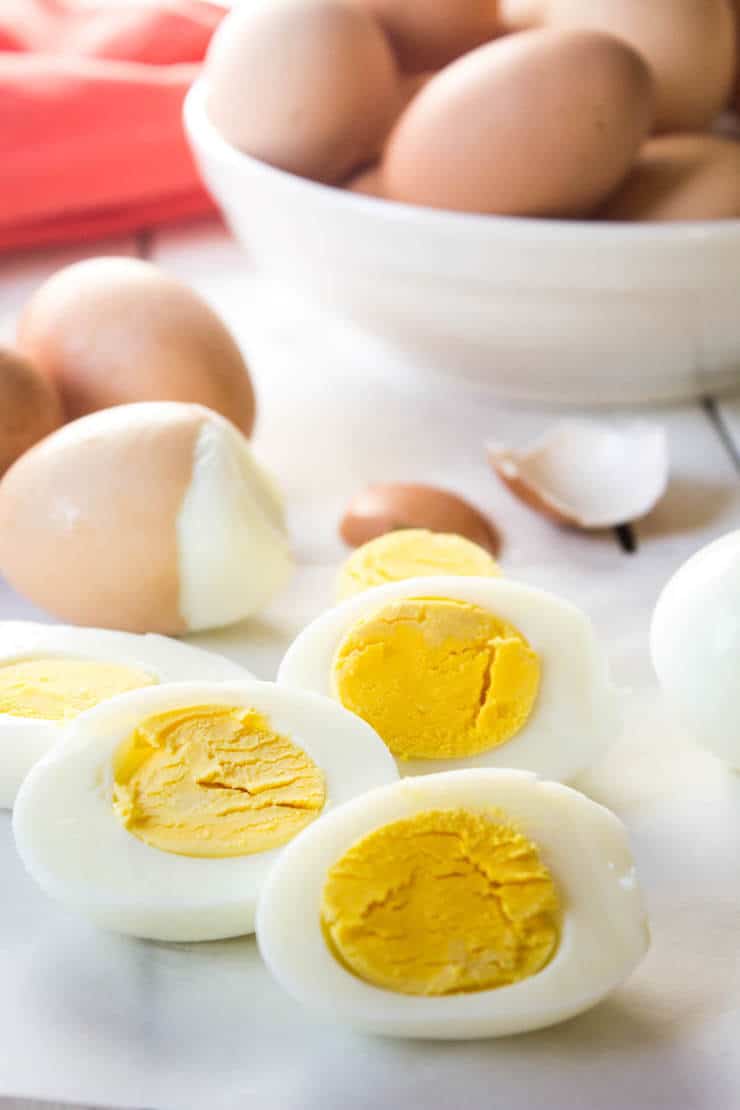 If possible, do not use eggs on the same day they were laid. Let the eggs sit in your fridge for at least 3-4 days before boiling. This allows the shell to start to absorb air and the white doesn't stick to the shell quite as much.
I also try to select eggs of a similar size. My chickens lay everything from a super jumbo to a rather petite-sized egg.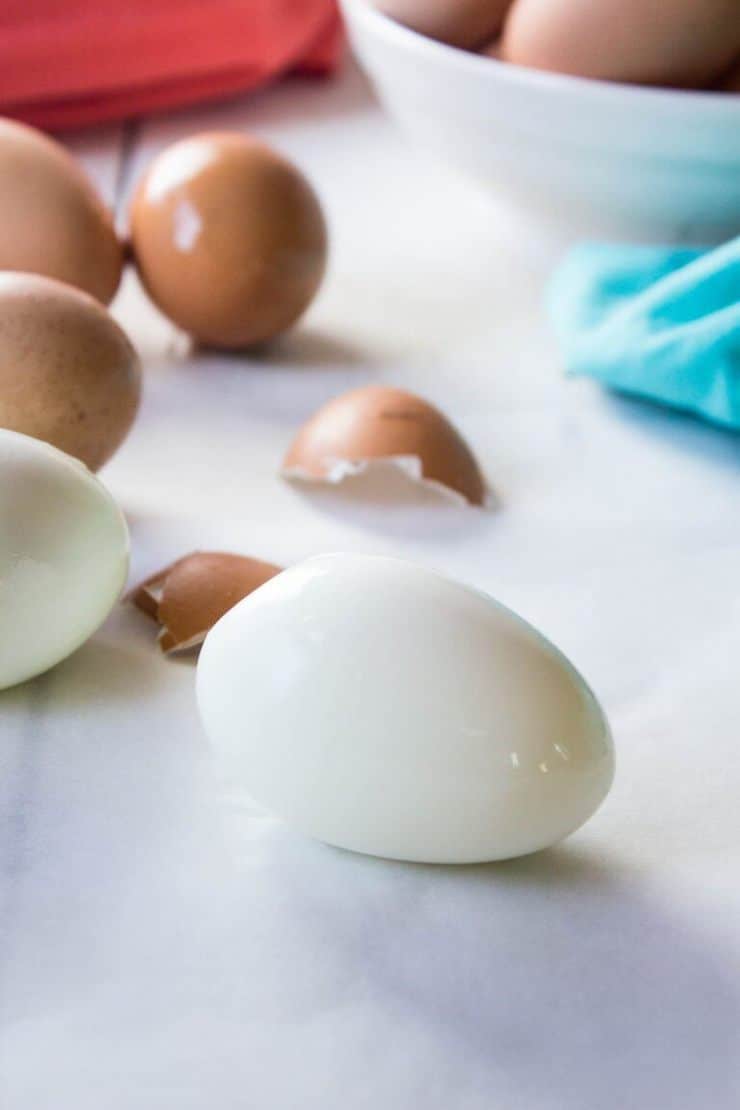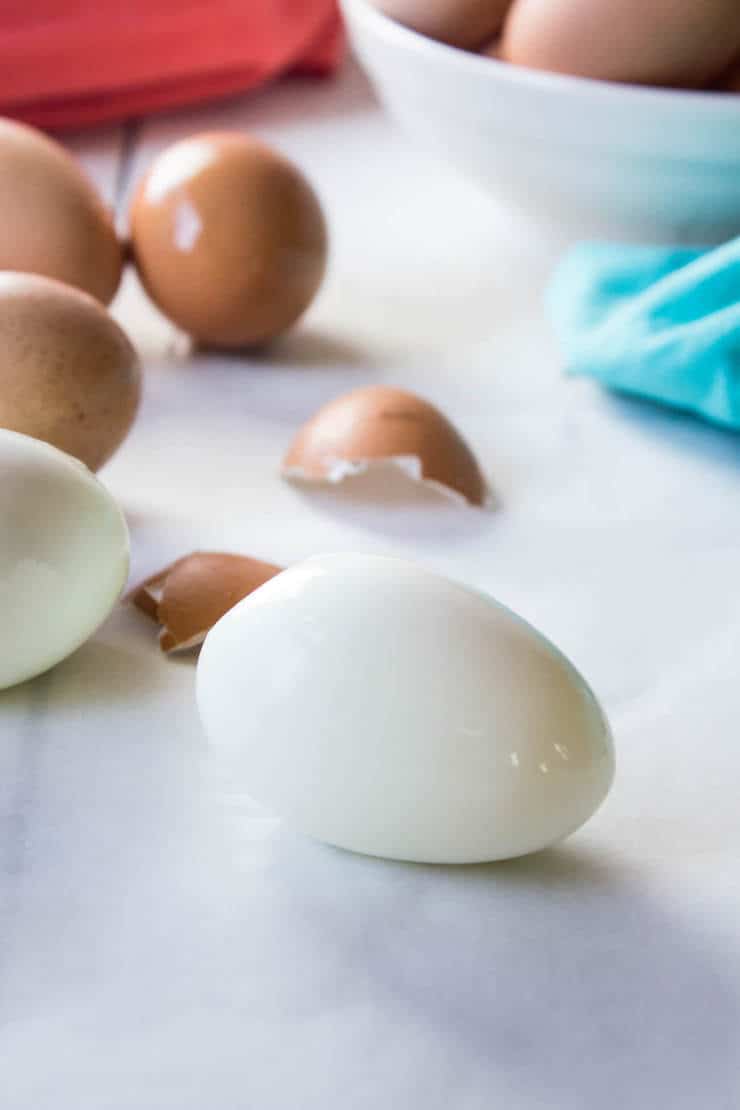 Put cold eggs into a pot and fill with cold water. Turn the heat on high and bring to a boil. As soon as a boil is obtained, set the timer for 10 minutes.
When 10 minutes are up, carefully pour most of the hot water out and flush pot with cold water. I let the water run for a few minutes to quickly lower the temperature of the eggs and pot.
Then fill the pot again with cold water and ice cubes. The eggs need to rest in this ice bath for at least 10 minutes so they are completely cooled.
Recipes that use hard boiled eggs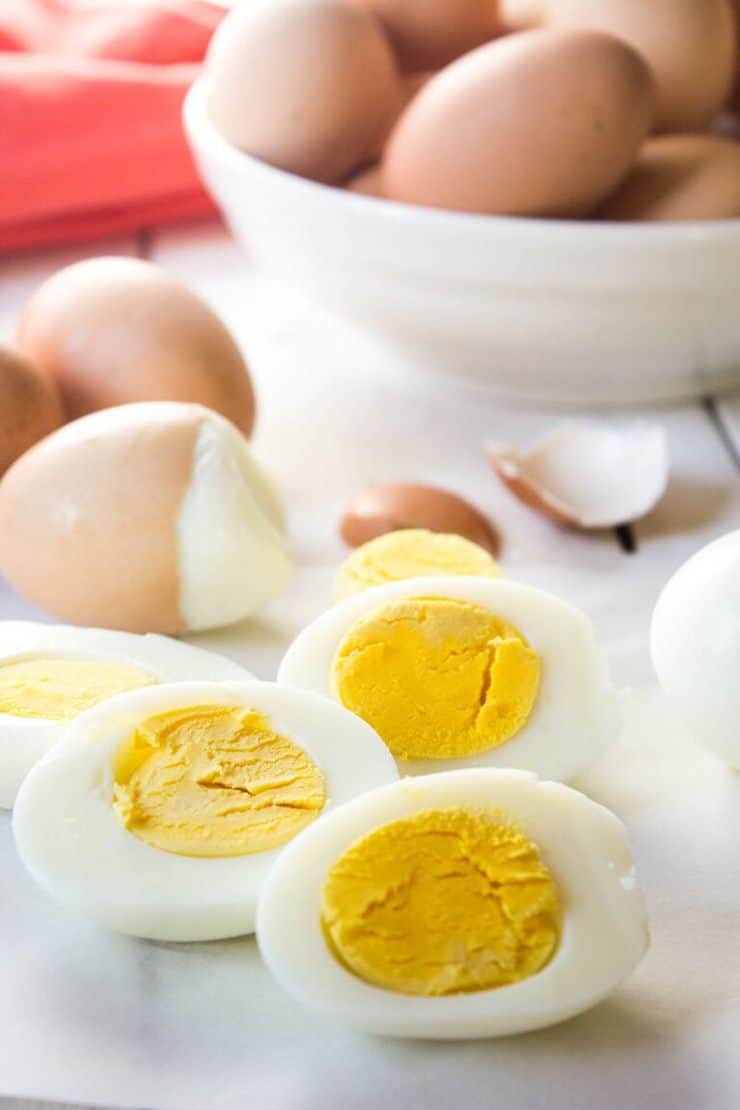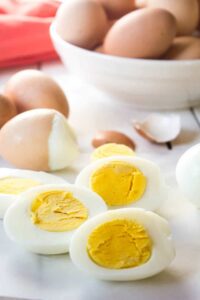 Hard Boiled Eggs
Technique for cooking a perfect hard boiled egg.
Instructions
Place cold eggs in a pot. Cover with cold water.

Place on high heat and bring to a boil.

When water boils, set timer for 10 minutes.

After 10 minutes, remove pot from stove and pour off water. Run cold water over eggs. Pour off water and fill with cold water again.

Add ice to pot and let eggs sit in ice water for 10-15 minutes.

Peel and use or store in refrigerator.
Notes
When pouring water out of pot, just pour out as much as possible without dumping the eggs out. It is okay to leave a bit of water on the bottom of the pan.
Even following this recipe, you will get the occasional farm fresh egg that will be difficult to peel. 
Nutritional Disclaimer:
Nutritional information is provided as a courtesy and should only be construed as an estimate rather than a guarantee. To obtain the most precise nutritional information in a provided recipe, you should calculate the nutritional information with the exact ingredients you are using when preparing the recipe using your preferred nutrition calculator.
Nutrition
Calories:
62
kcal
Protein:
5
g
Fat:
4
g
Saturated Fat:
1
g
Cholesterol:
163
mg
Sodium:
62
mg
Potassium:
60
mg
Vitamin A:
240
IU
Calcium:
25
mg
Iron:
0.8
mg