Crispy, Crunchy Onion Rings

My family loves onion rings. We have our favorite go-to places to order onion rings. Our absolute favorite is a local hamburger joint that has the best ones. Then there are several places that just don't compare. We've really become onion ring connoisseurs – is there even such a thing?
What we really love in an onion ring is a great crispy coating that has great crunch and taste when you bite into it. The onion also has to be cooked just perfectly.
I have a recipe that rivals our favorite hamburger joint's onion rings!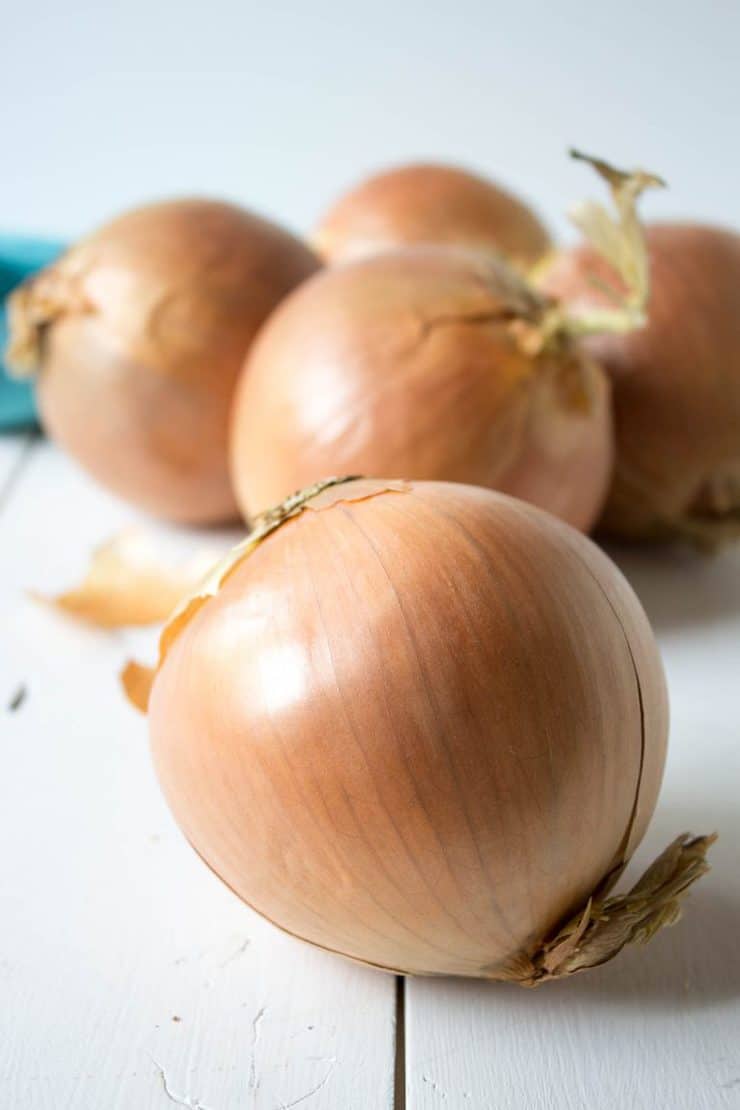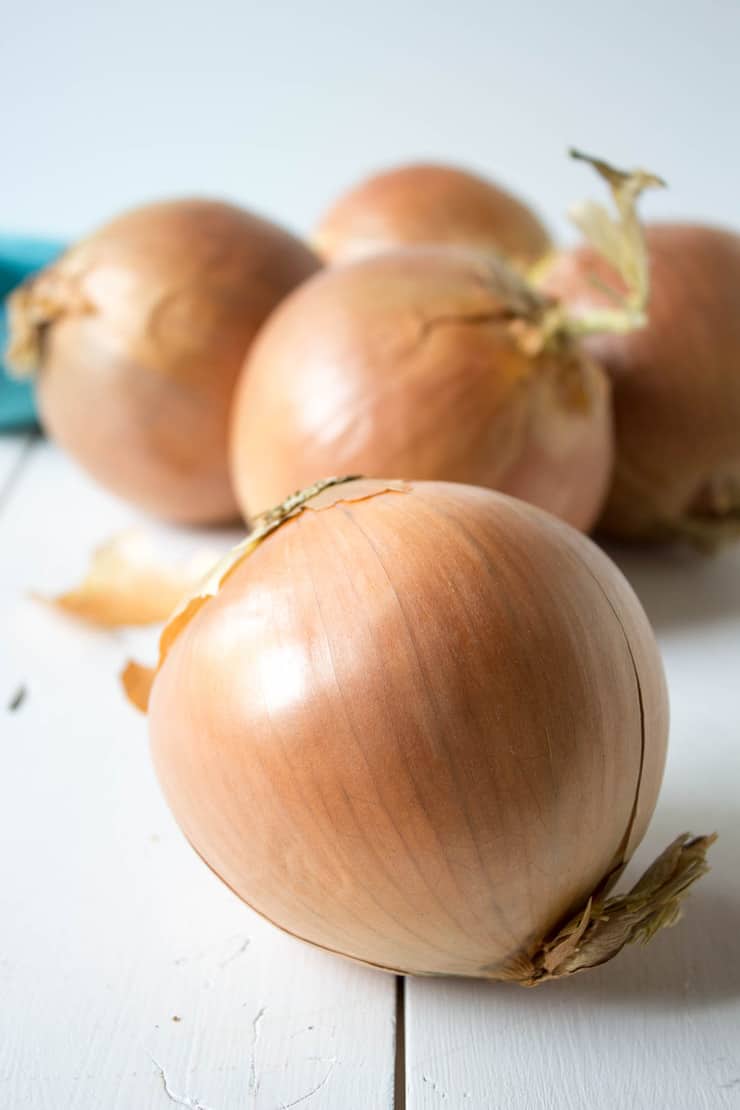 I often have recipes planned out that I'm going to make. But then sometimes I visit the grocery store and all my plans go straight out the window.
That's what happened with these onion rings. I was all set to make a strawberry dessert and then when I got to the store this huge bin of onions was staring at me. The onions were huge and on sale! How could I say no? Onion rings quickly became my next item to make!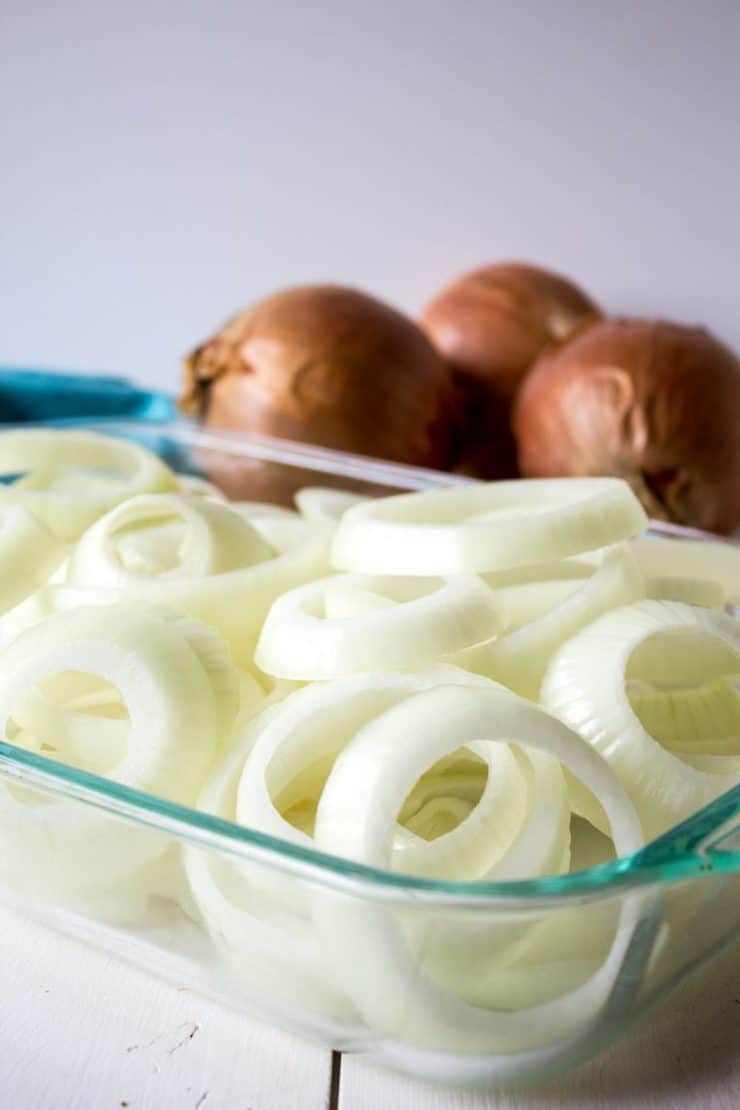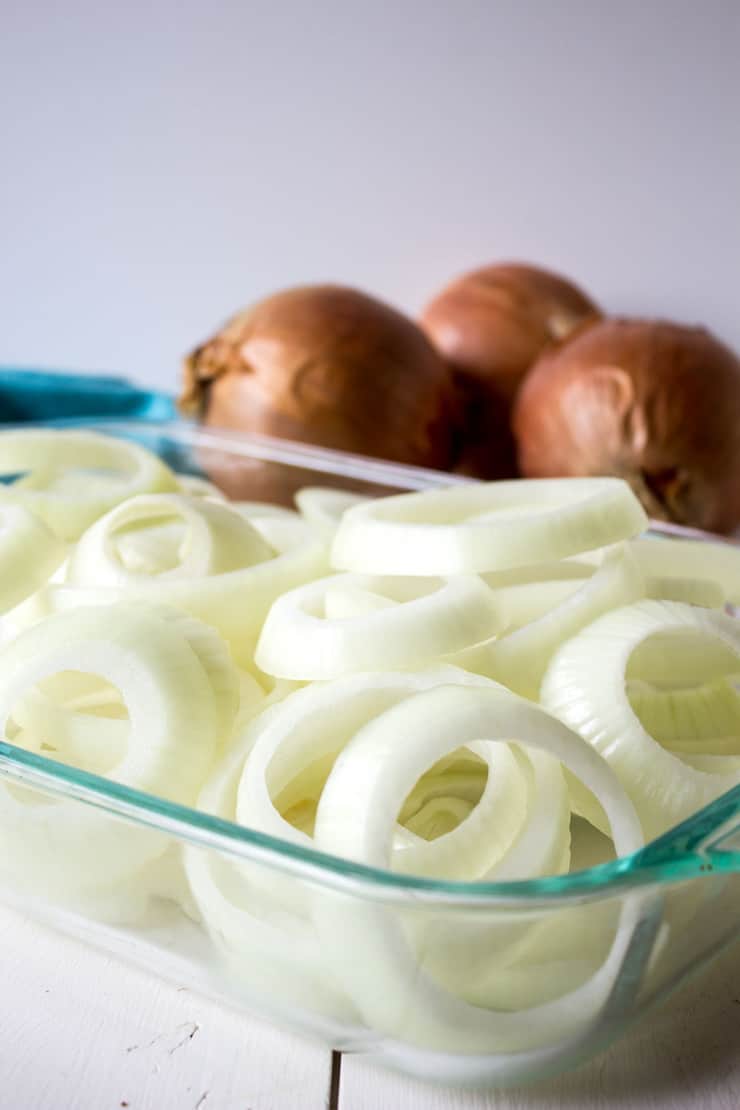 I came home with a bagful of onions determined to create an onion ring that rivaled our favorite burger joint's onion rings.
How to make onion rings
Slice onions in large rings – 1/2 inches is ideal!
Soak onions for 1-3 hours in milk. This helps mellow the strong onion taste
Make certain oil is preheated to 375 degrees
Cook in small batches – don't over crowd your oil
Keep cooked onion rings in a 175 degree oven on a baking sheet lined with a rack while the other onion rings are cooking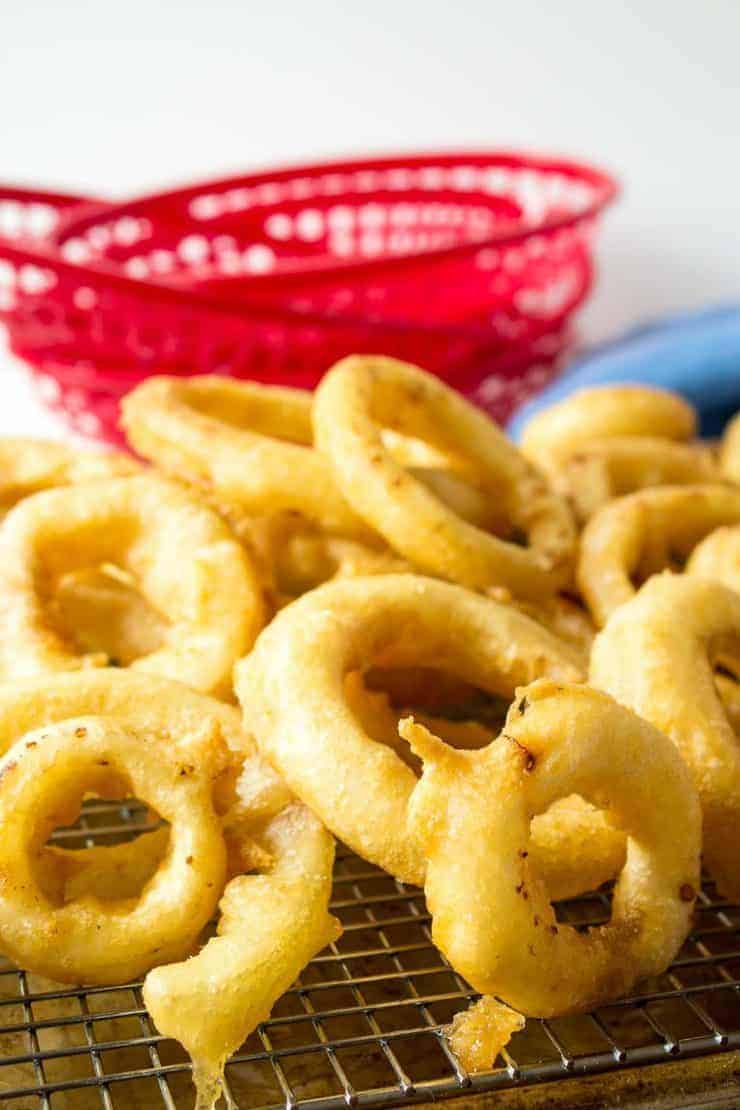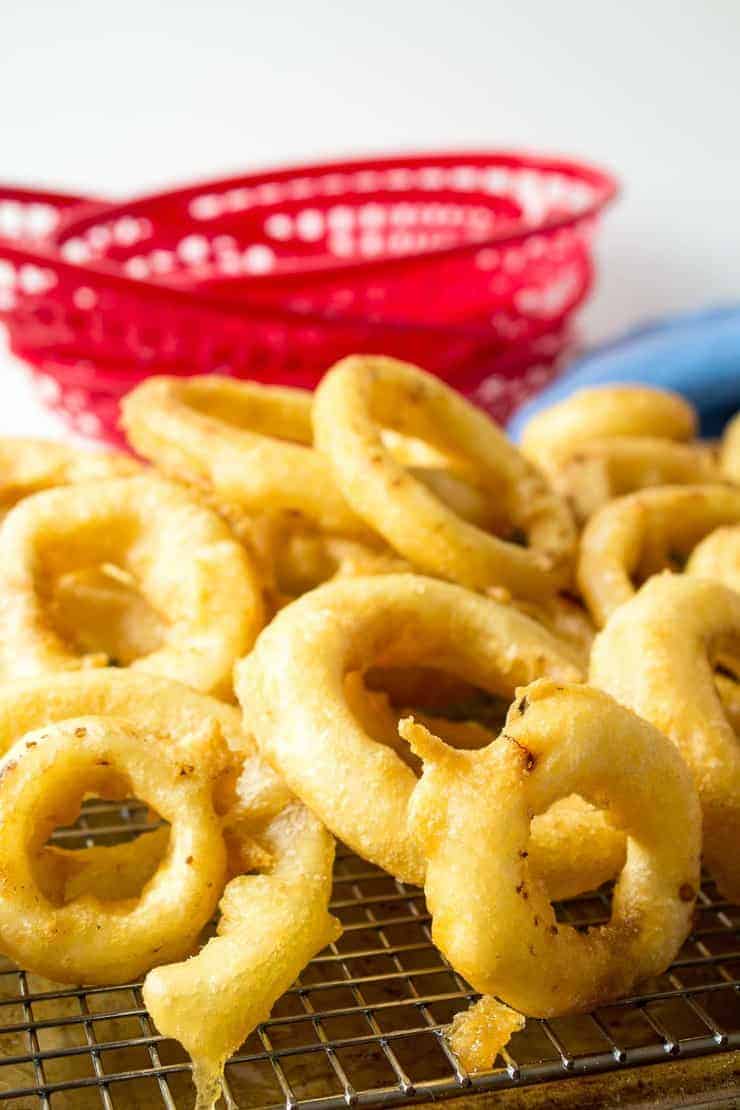 Onion Ring Batter
I make a beer batter for these onion rings. The batter is light and crispy. All you need to make the batter is flour, salt and beer.
Other Great Recipes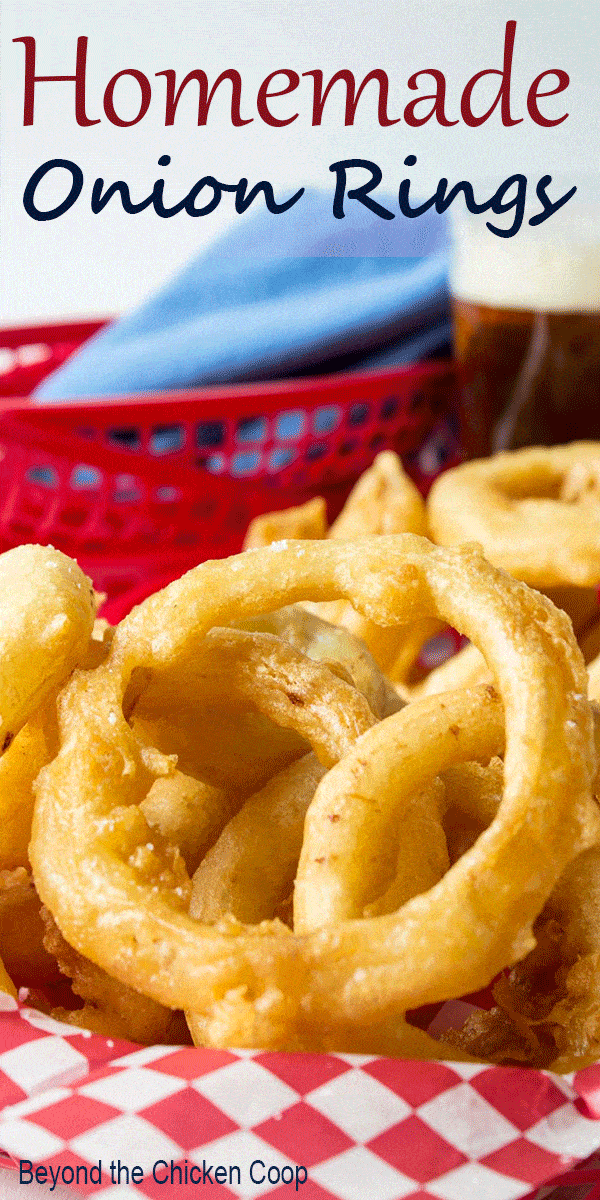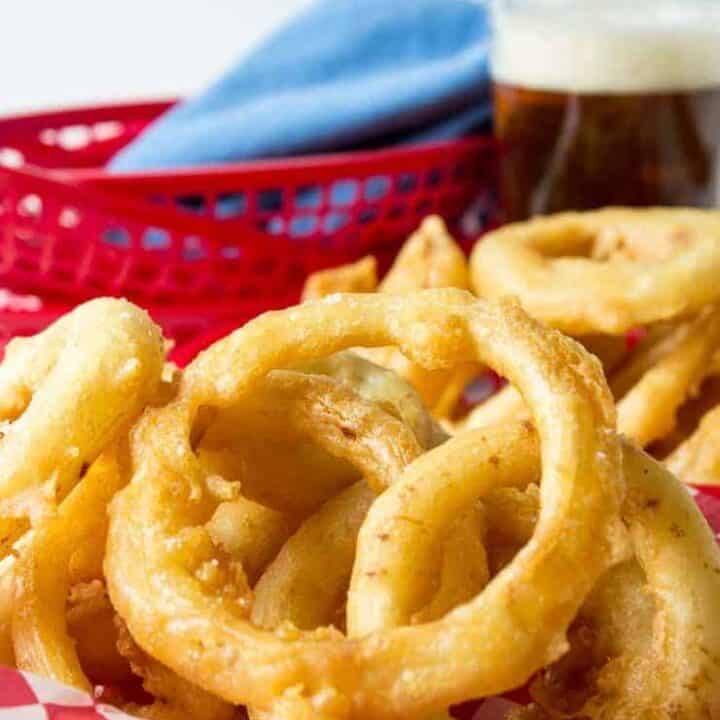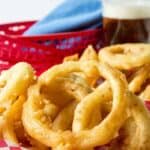 Onion Rings
Crispy, Crunchy onion rings
Course:
Appetizer, Side Dish
Keyword:
crispy onion rings, homemade onion rings, onion rings recipe
Ingredients
Onions
1 - 2

large

onion

1

cup

milk
Batter
1 1/2

cups

flour

1/2

teaspoon

salt

1 1/2

cups

beer
Assembly and Cooking
4-6

cups

oil

1/2

cup

flour

salt
Instructions
Onions
Peel and slice onions into 1/2 inch rings. Separate rings and place in a dish.

Pour milk over onions. Cover and refrigerate 1-2 hours. Stir onions at least once during resting time.
Batter
Add flour and salt to a mixing bowl. Stir together.

Cover and let sit at room temperature for at least one hour.
Assembly and Cooking
Preheat oil to 375 degrees. Amount of oil used depends on size of pan. You want 2-3 inches of oil in pan.

Pour off milk from onion rings.

Place 3-5 onion rings in bag. Shake lightly so they are coated.

Place each onion ring into batter one at a time. Remove from batter with tongs or a fork, tapping tongs lightly on side of bowl to remove excess batter.

Cook for 2-3 minutes per side until golden brown.

Remove from oil and place on a baking sheet lined with a baking rack.

Place baking sheet in a 175 degree oven to keep warm while cooking remaining onion rings.

Allow oil to return to 375 degrees and repeat.

Sprinkle with salt just before serving.
Nutrition Facts
Onion Rings
Amount Per Serving
Calories 429
Calories from Fat 144
% Daily Value*
Total Fat 16g 25%
Cholesterol 6mg 2%
Sodium 468mg 20%
Potassium 220mg 6%
Total Carbohydrates 55g 18%
Protein 9g 18%
* Percent Daily Values are based on a 2000 calorie diet.
Have you ever wondered what type of onion is best? Check out this Onion Cheat Sheet.