Delicious ham and bean soup made with dried beans is perfect for lunch or dinner. This hearty soup is a perfect way to use up leftover ham and is a perfect way to warm up on a cold day.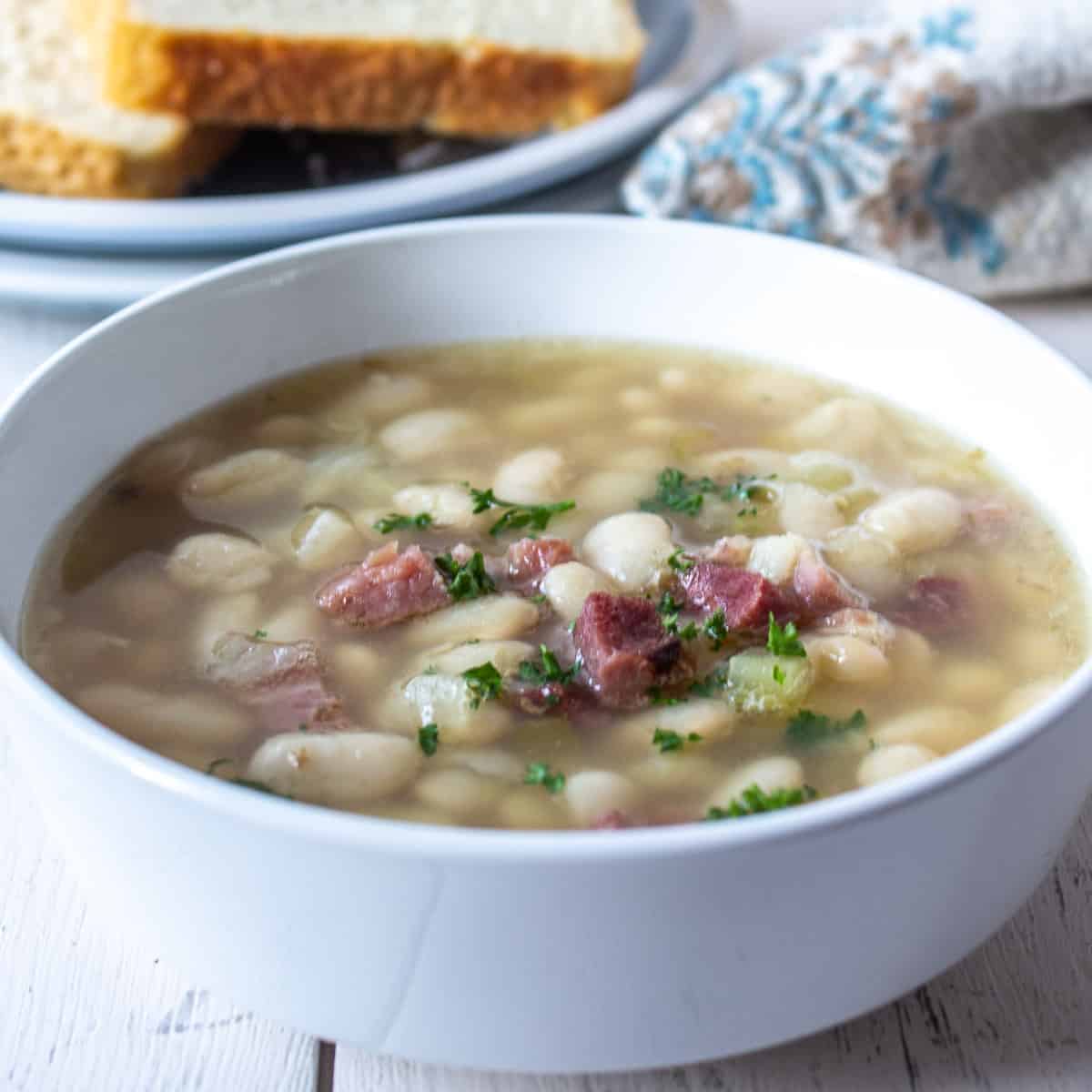 This is an amazing bowl of soup and it is one of the easiest pots of soup I have ever made. You basically throw everything in one pot and cook until done. Easy and delicious. You just can't beat that combination.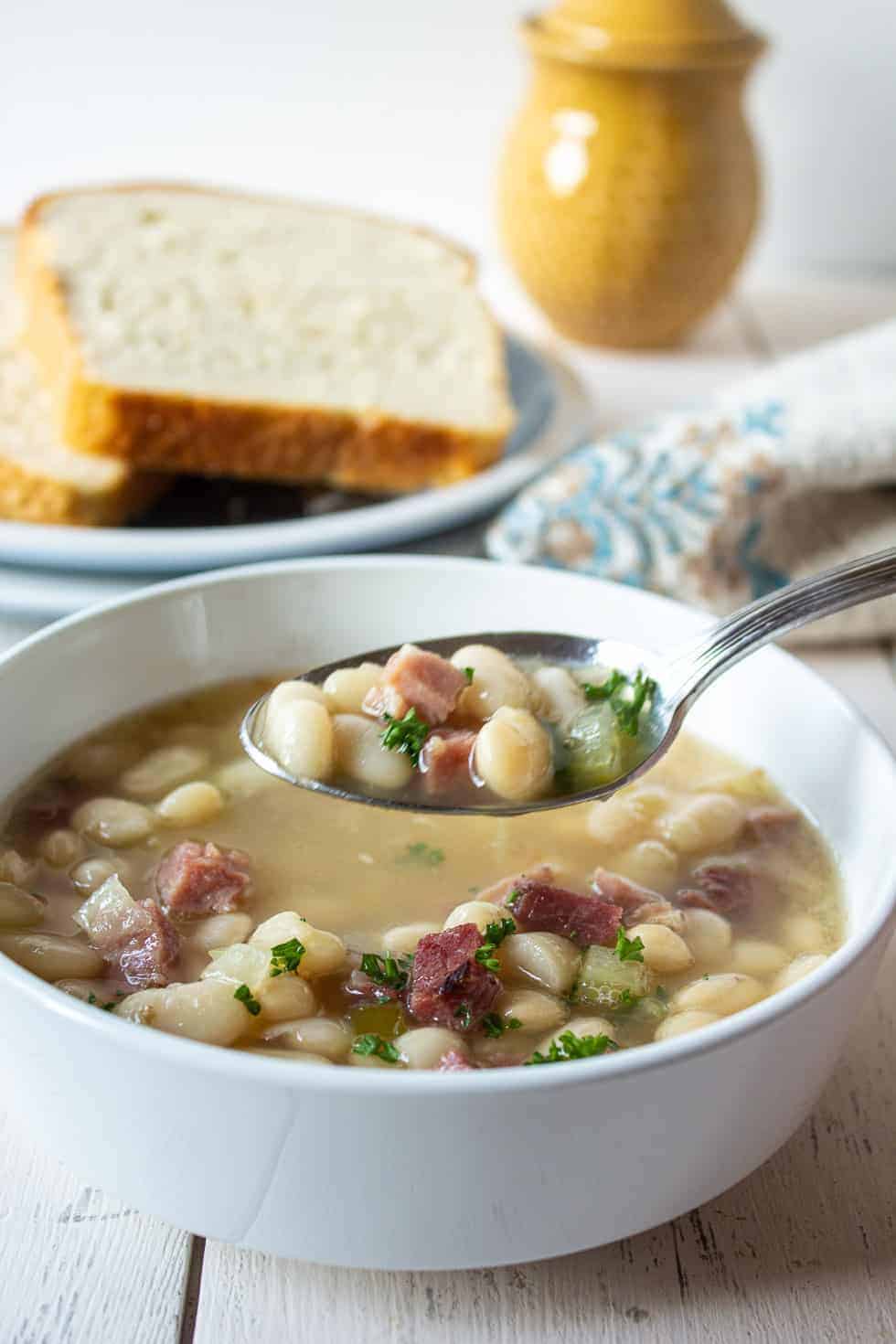 Beans
I used dried great white northern beans in this recipe. You could also use navy beans or cannellini as well. In a pinch you could use canned white beans. Just drain and rinse beans before adding to the soup. One important thing to remember when using dried beans is to presoak the beans. The soaking allows the beans to begin to soften. It's best if you can soak overnight or at least for 5 hours.
Quick soak beans
Sometimes we forget or don't have a full 5 hours to soak the beans. Place dried beans in a pot and add water. Add enough water so it is two inches above the level of the beans. Bring beans to a boil. Turn off heat. Cover and let sit for at least one hour.  Drain bean and follow recipe for soup.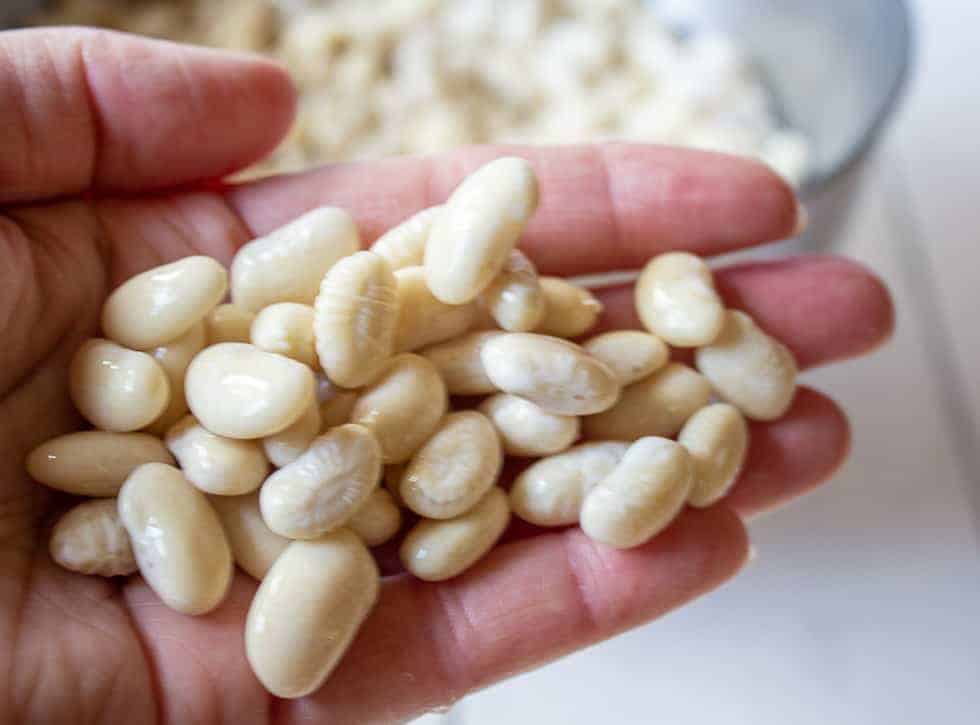 What type of ham do I use?
For this recipe I used leftover ham chopped into small chunks. You could also use slick slices of deli ham or a ham bone from a leftover baked ham.
Steps to make ham and bean soup
Soak beans
Drain beans and add to soup pot
Add chicken broth and water
Chop onions and celery and add to pot
Add bay leaf
Chop ham and place in pot
Simmer until beans are soft -  2-3 hours
Remove bay leaves
Taste and add salt and pepper as needed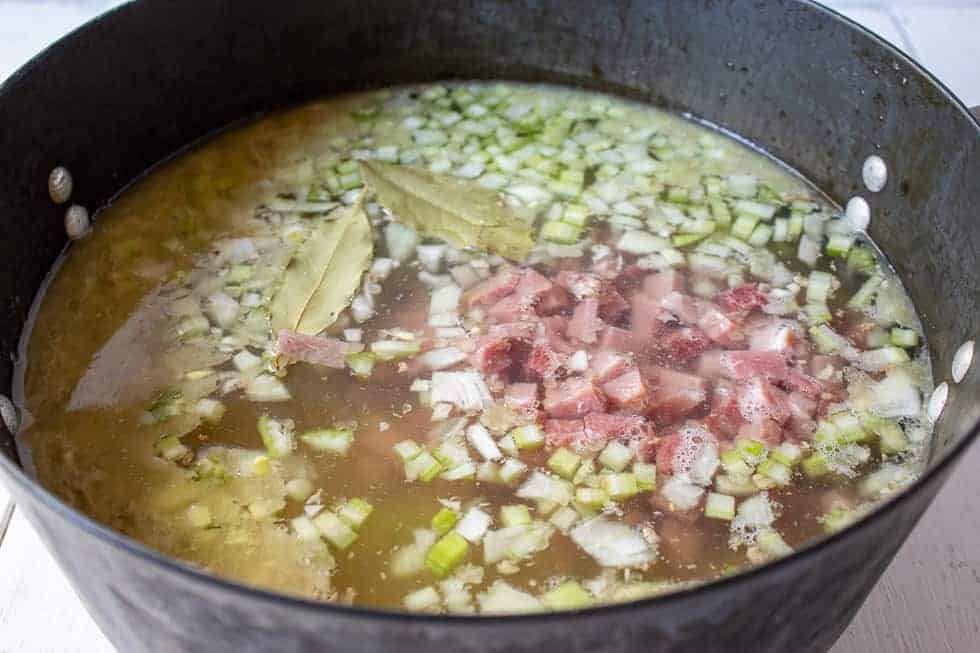 How long does it take to cook the beans?
Cooking beans varies with the amount of time it takes. It depends on the size and age of your beans, how long you soaked them and the temperature in which they are cooked. I always plan for the longest time, but start testing them at the least amount of time.
After two hours of simmering the beans, I pull a bean out and smash it with my fingers. If the bean is still hard or has a hard interior, it needs more cook time. I retest every 15-20 minutes until the are soft all the way through.
Don't I need to cook the beans first and then add the other ingredients?
Nope, everything goes into the pot all at once and is cooked altogether. That's one of the great things about making this soup. You just throw everything into the pot, simmer until done.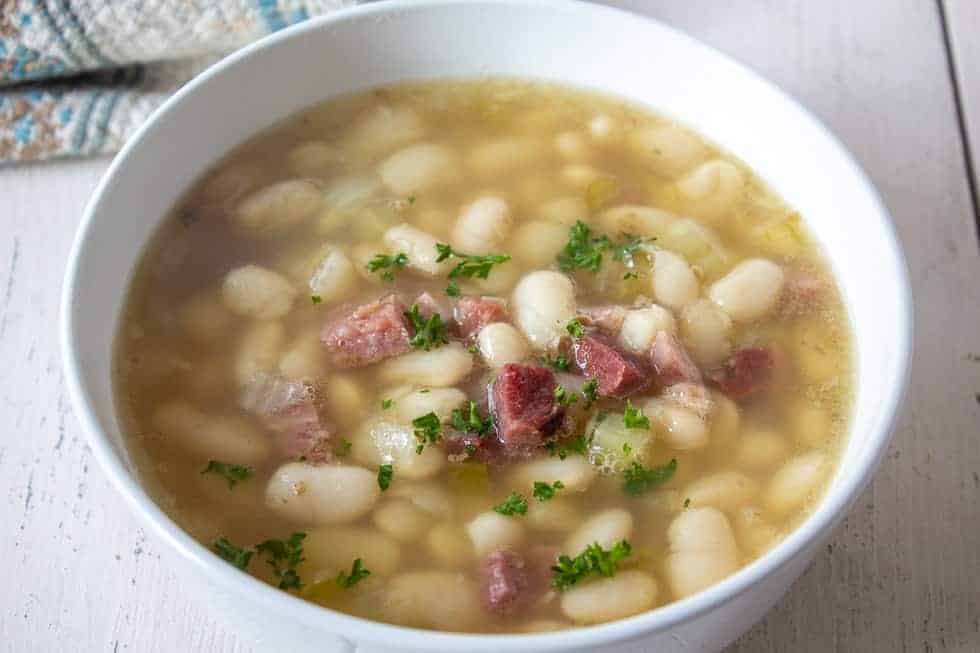 How much salt do I add?
I don't add any salt to this soup until the very end. The amount of salt needed depends on many factors. First, what type of broth have you used? I use my homemade chicken broth. Second, the type of ham you use. Ham typically has a lot of salt and often it is enough to flavor your entire soup and no added salt is needed. The only way to know if you need more salt is to taste it at the end of cooking time.
Can I freeze this soup?
Yes, this soup freezes well. Cook the soup and allow to fully cool. Package in freezer safe containers and place in freezer. To use, simply thaw and reheat.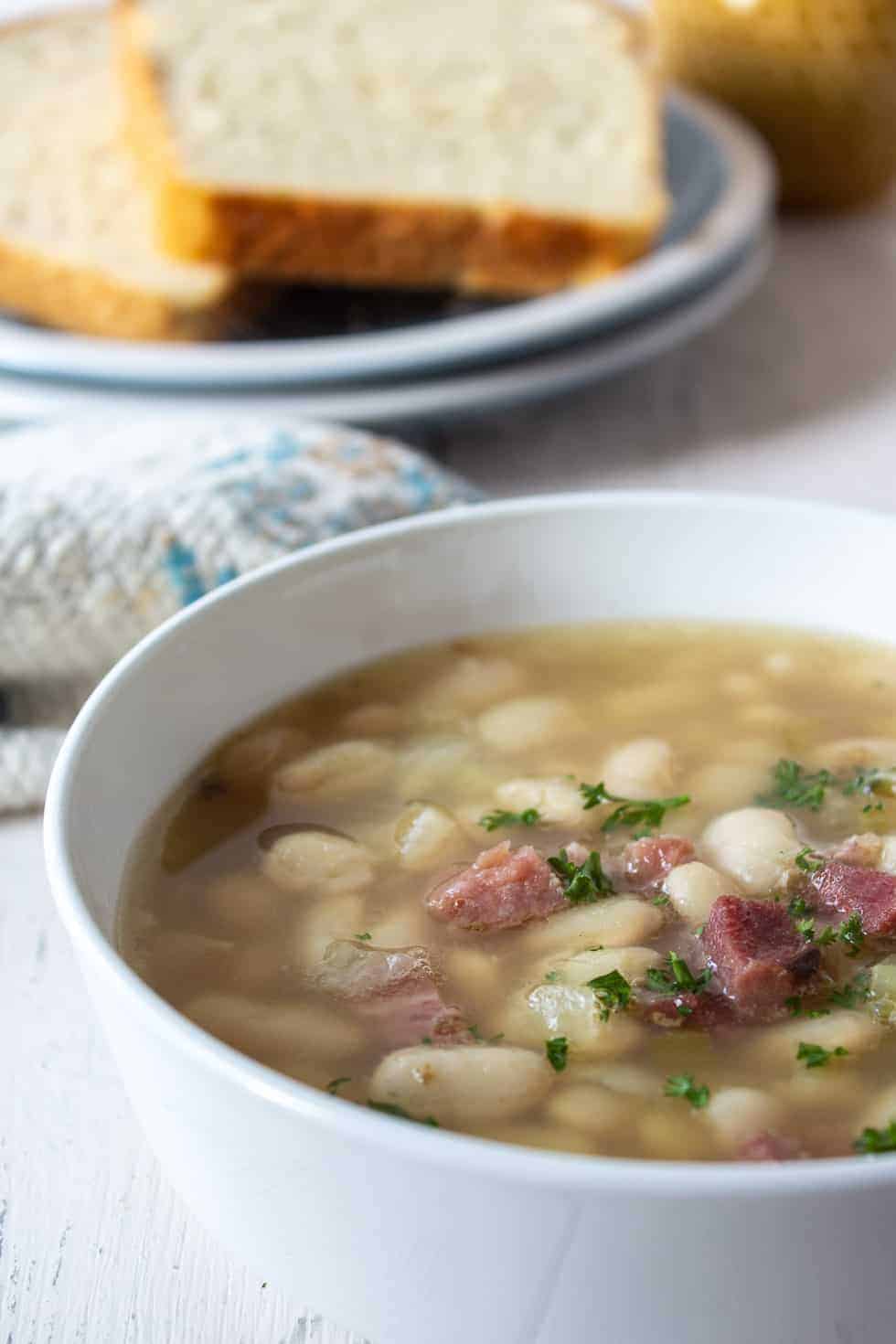 I've added a lot of beans to this soup. If you prefer fewer beans, reduce the beans to 2 cups of dried beans instead of the 3 cups called for in the recipe.
Tips for making ham and bean soup
Be certain to soak your beans overnight or use a quick soak method
Simmer beans rather than hard boiling beans. Simmering helps protect the beans from breaking apart.
Don't add salt until the very end and only if needed. This soup is often salty enough without adding any additional salt
What to serve with Ham and Bean Soup?
If you make this recipe, I'd love to hear about it! Leave a comment below and snap a picture and tag me on Instagram @beyondthechickencoop
Check out all my Soup Recipes!
Ham and Bean Soup
White beans and ham combined in a delicious ham and bean soup.
Instructions
3 cups dried great northern beans

Drain beans and add to a soup pot

Add chicken broth, water, ham, chopped celery, chopped onions and bay leaves

8 cups chicken broth,

4 cups water,

2 cups ham,

½ cup celery,

1 cup onion,

2 bay leaves

Simmer uncovered for 2 - 2 ½ hours until beans are tender

Taste and add salt and pepper if desired

Remove bay leaves and serve

Garnish with fresh chopped parsley, if desired
Notes
Tips 
Be certain to soak your beans overnight or use a quick soak method
Simmer beans rather than hard boiling beans. Simmering helps protect the beans from breaking apart.
Don't add salt until the very end and only if needed. This soup is often salty enough without adding any additional salt
Nutrition
Calories:
271
kcal
Carbohydrates:
37
g
Protein:
19
g
Fat:
6
g
Saturated Fat:
2
g
Cholesterol:
17
mg
Sodium:
1038
mg
Potassium:
1028
mg
Fiber:
11
g
Sugar:
2
g
Vitamin A:
23
IU
Vitamin C:
17
mg
Calcium:
118
mg
Iron:
4
mg