In this episode, Kathy shares three different recipes for repurposing stale bread. No more wasting day-old bread!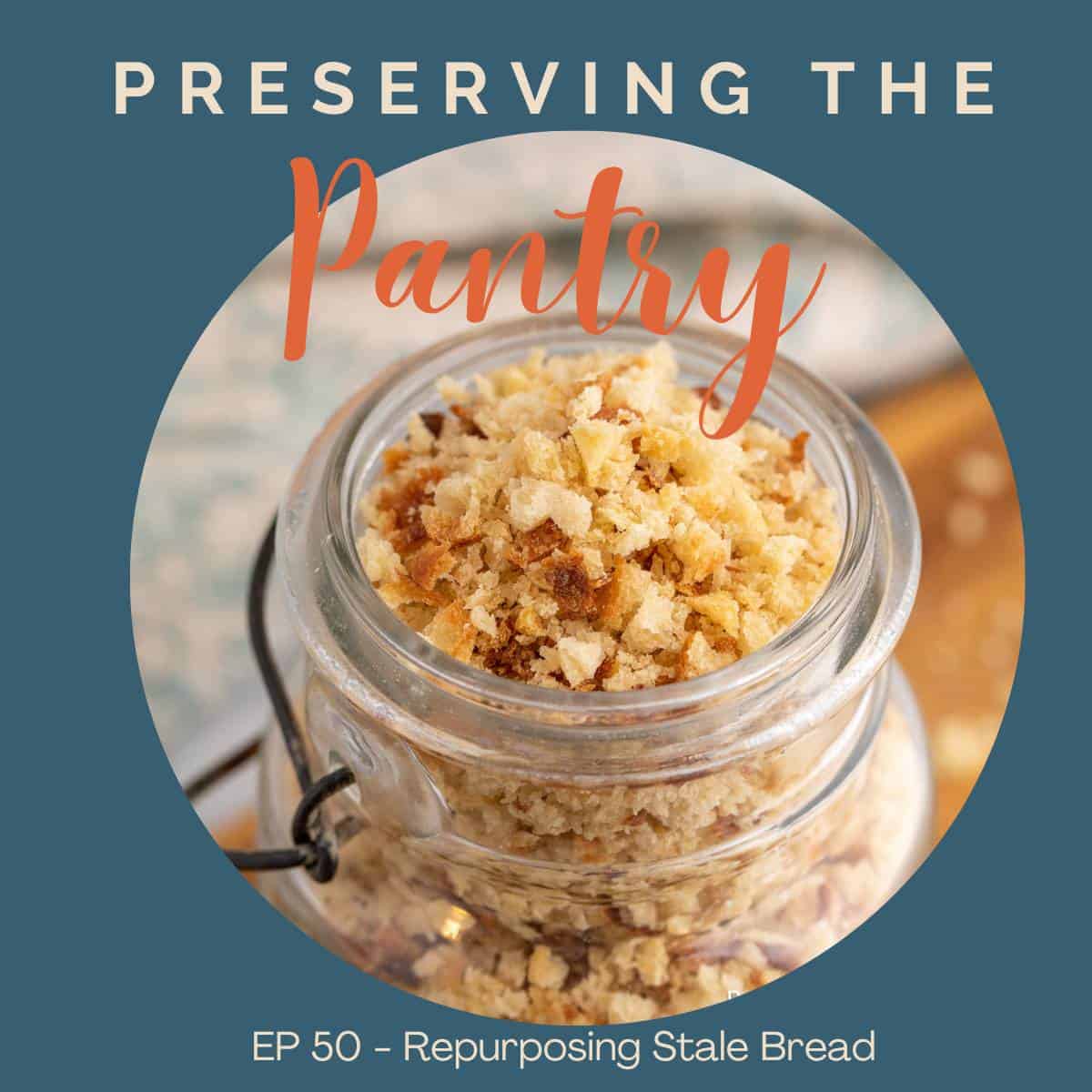 Play the episode
Recipes
Recipes mentioned in this podcast:
In this episode you'll learn:
Ways to use stale bread before it goes bad
Three recipes for using stale bread
Where to listen to the podcast
Listen to this episode on iTunes, Spotify, Amazon Podcast, or your favorite podcast player. Or scroll down to read a full transcript.
If you love this podcast, I'd love to hear about it! Leave a comment below and hop over and leave a comment on Instagram @preservingthepantry!
Transcript
Hello everyone and welcome back to Preserving the Pantry. Today we are talking about repurposing stale bread. Boy that just isn't a super exciting title, is it? I tried to think of something clever, but when it really comes down to it, This is what we're talking about when bread starts to go stale and it's not great for sandwiches or just eating anymore and you don't wanna throw it out, what do you do with it?
I have three great solutions for what you can do with your stale bread. The first is to make homemade breadcrumbs. Next is to make homemade croutons, and the final one is to make homemade bread cubes that you would use in a stuffing or dressing. So all three of those, essentially what we're going to be doing is drying the bread and then reuse it into something else.
So let's talk about those. I like to make a lot of my own bread, and I've already talked back in episode 25, about when I make a batch of bread, I will often slice it up and then freeze a couple of loaves and use the other loaves fresh and then pull loaves out of the freezer when I need them. Now it's just my husband and me at home and we don't go through bread that fast.
I've been playing around with sourdough bread quite a bit, and even though I'm making some smaller size loaves, we just can't keep up with all that sourdough. So rather than throwing it away or feeding it to the chickens, I like to repurpose that bread as much as possible. So let's talk about those three different things.
Let's start first with the homemade bread cubes. I usually do this around Thanksgiving or Christmas time when we're gonna be making stuffing for our Turkey, and I like to make my own bread cubes. You can use homemade bread. But you can also use store-bought bread for this. So whatever works, you don't have to just have your own homemade.
And what I do with this is I take it and I want it slightly stale. If you're using super fresh bread, it tends to get compacted or mushed as you're cutting it up and it then it's, it's just not as good. So you want it slightly stale. So when you're cutting those, that bread into cubes, it holds its shape.
The first thing you do is take your bread and cut them into about one-inch cubes. If you don't prefer the crust on your bread, you can trim that off first, but otherwise, I usually leave it on. So you cut all your bread into cubes and I pile it just into a great big roasting pan. I put that into a very low-temperature oven.
I like to cook it, not cook it. I like to dry it in a very low-temperature oven. So for this, I use about 200-degree Fahrenheit oven. I put the bread cubes in there in that roasting pan. And usually, when I'm doing this I have a very thick layer, like oh, probably three or four breadcrumbs stack tall, cuz I like to do a huge batch of this when I'm making my stuffing.
So every about 30 to 45 minutes, I get in there and I rotate those breadcrumbs. I actually just use my hands. I get in and I move everything around so that the pieces in the very center have an opportunity to come to the outside and they're gonna get dry. You're looking for a very dried breadcrumb or bread cube, but you don't want them toasted here, just dried.
Toasting adds just a slightly different flavor, and that's not what I'm looking for when I'm making my stuffing. This can take anywhere from two to four hours, which seems like a long time, but if you're doing other things, you just keep setting your timer for every 30 to 45 minutes and you keep coming back, rotating those around and checking to see if they're fully dry.
The actual drying time varies, depending on a lot of different things. First is how stale or dry your bread is, to begin with. Second what is the humidity in your house or in the area where you are? And the third is how many bread cubes are you actually drying? So you just have to be flexible with that time and you'll just kind of keep an eye on it.
All right, so the next one I want to talk about is making homemade breadcrumbs. This is very similar to the bread cubes. We start out the same way, cut them into about one-inch square cubes, and then I place the cubes in my food processor and I pulse them. Again, you don't want fresh bread cubes because if they're really fresh, they will become almost mush in that food processor, and we don't want that.
We want some crumbs. I have been using my sourdough bread for this and for this I like the crust to be left on the bread cubes, but I usually move the bottom layer of crust because I'm baking my sourdough bread in a very heavy-duty Dutch oven pan and a high-temperature oven, and it gets almost to be a little thick on that bottom of my bread.
I like to remove that because just as a different consistency than the rest, you can decide what works for you. This is all about how you like things. Once I have them pulsed and they're rather a coarse crumb, sort of similar to a Panko breadcrumb, I lay those out on a baking sheet and I try to put them so that there's just a very thin layer of them on there, and I spread them out so that they're nice and level.
I put those in about a 300-degree Fahrenheit oven and I get in and I just stir them or rotate 'em around about every 10 minutes. This will take a. About oh, 20, 25, 30 minutes. Again, depending on how dry your bread is, to begin with the humidity of your house in your area, and how many breadcrumbs you're putting in there.
And so once those are done, I bring them out of the oven. I let them fully cool Chuck again, make certain that they're fully dry, and then I place them in an airtight container. I mentioned these are our rather coarse breadcrumbs. If you want a finer breadcrumb, once they're fully dried and cooled, you can put 'em back in the food processor and pulse 'em again, and you're gonna get a finer breadcrumb.
You can store these breadcrumbs in the freezer or in your pantry. I'd use 'them up within one to two weeks. In the freezer, they're going to be good there for months.
Alright, the last type of bread that I'm gonna be talking about repurposing are croutons. And who doesn't love a crouton? For these croutons, I like to make a garlic butter crouton.
I start again with my cubed bread, about one-inch cubes. You can make them a little bit smaller if you prefer your croutons a little bit smaller, and I place them on a large roasting pan and put them in a 350-degree Fahrenheit oven. And I let those in, stay in there, and until they're nice and dry, takes about, oh, I don't know, 10 to 20 minutes, and I'm going to be storing those about every 10 minutes or so until they're fully dry.
While that's happening, I put a cup of butter. So two sticks of butter in a saucepan with five cloves of garlic that are minced. You can add more garlic here too if you want it really nice and garlicky, go for it. And then I put two tablespoons of fresh parsley that's chopped. If you don't have fresh parsley, you can use dried.
You can also use other herbs if you prefer. You can use like dried Italian seasoning. You can just use oregano. If you wanted, you can just mix this up and, and play with it however you like. I melt that butter and just warm it up until you start to smell that garlic, so you're just letting everything kind of melty and get all nice and fragrant.
And then I turn that heat off when my bread is fully dry. I pour that butter mixture all over those dried bread cubes, and then I kind of fluff it so that that butter is getting all over so that everything is nicely covered and has butter, garlic, and parsley on it. Then I add a bit of salt and pepper.
And then I put it back in the oven for about five minutes. It's going to just really toast it up. Then we're looking for nice toasted breadcrumbs here. Unlike the bread cubes that we used for stuffing here, we want 'em to be a little bit toasty to add some flavor. Remove them from the oven once they're nice and toasty.
The best way to test this is just by tasting them, so you might need to make a little extra just so that you have enough when you're all done because it's really hard to resist once you start tasting them. Remove those from the oven and let them completely cool and store them in an airtight container. Again, use those within about one to two weeks, and then you can make a new batch when you're ready.
That is it. There are three great ways to repurpose stale bread, especially if you're making your own homemade bread. But this can be your store-bought bread as well. Don't limit yourself. This is a great thing. Just get in and try it and see what you can make. I hope this works for you. I'll see you next week in the pantry.
Bye.
Thanks for listening, and be sure to tune in again next week for more episodes of Preserving the Pantry.