In this episode, Kathy shares a recipe for making Peach and Blackberry Cobbler using either fresh or frozen fruit.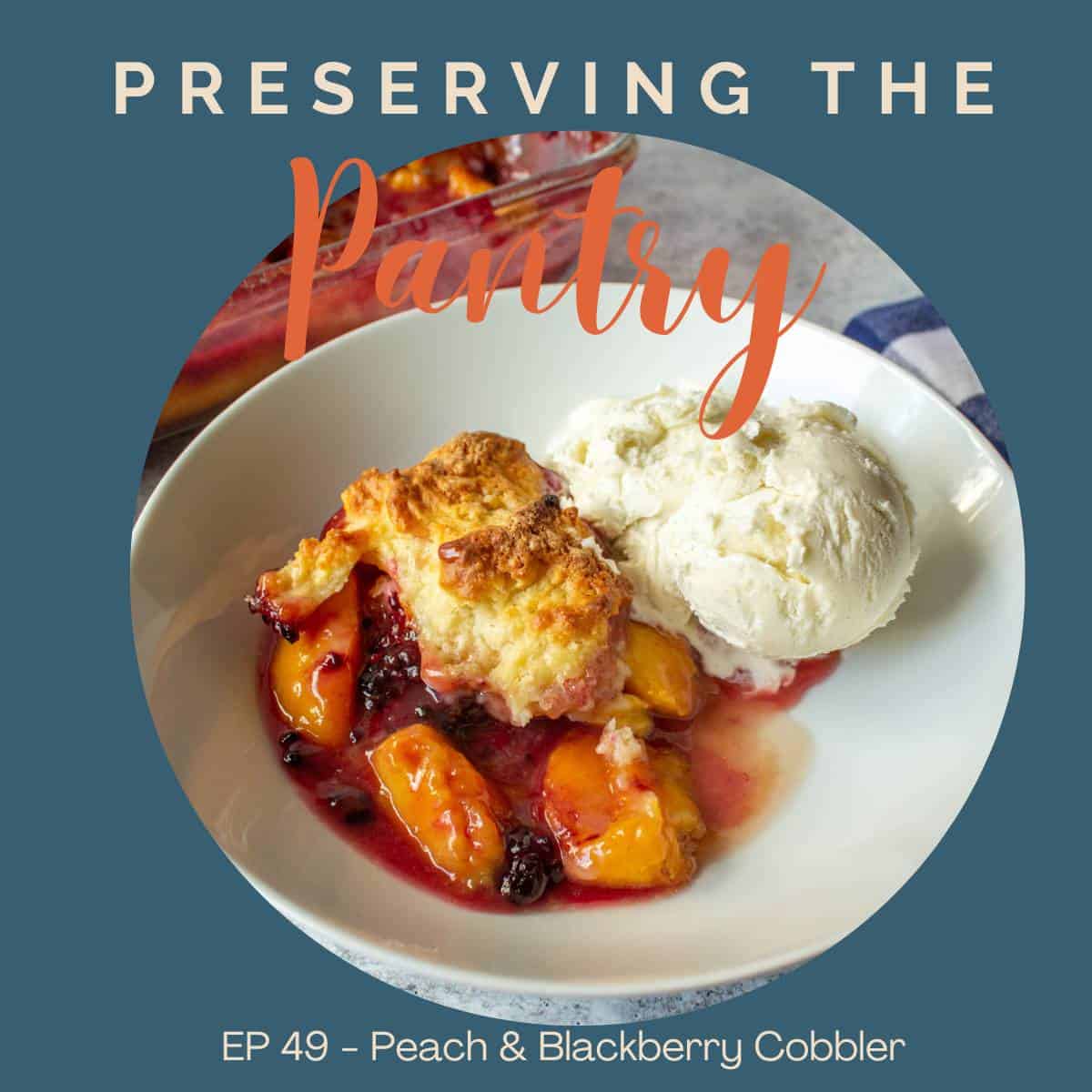 Play the episode
Recipe
Find the complete recipe for Peach and Blackberry Cobbler
Recipes mentioned in this podcast:
In this episode you'll learn:
How to make a cobbler with peaches and blackberries
How to use frozen fruit or fresh fruit for the cobbler
The recipe for the cobbler topping
Directions for making the cobbler
Where to listen to the podcast
Listen to this episode on iTunes, Spotify, Amazon Podcast, or your favorite podcast player. Or scroll down to read a full transcript.
If you love this podcast, I'd love to hear about it! Leave a comment below and hop over and leave a comment on Instagram @preservingthepantry!
Transcript
Hello. Welcome back. We are going to be baking today and we are baking a recipe that's just delicious. It's a dessert, it's a blackberry and peach cobbler. Now this recipe is one of my favorites to make. Hmm. Although. Any dessert really is a favorite of mine, but this is so great because you can make it any time of year.
When I first developed this recipe, I used frozen peaches and frozen blackberries. But in the summertime when you have fresh peaches and fresh blackberries, Yep, it works for that too. So for this recipe, we are going to be using six cups of sliced peaches. So you want them pitted, peeled, and sliced, and then two cups of blackberries, a cup of sugar, a quarter cup of flour, and a teaspoon of ground cinnamon.
You're going to use lemon juice and lemon zest, so that's all for the filling. For the topping, the cobbler topping, you'll need one and a half cups of flour, two tablespoons of sugar, two teaspoons of baking powder, a quarter teaspoon of salt, six tablespoons of butter, and I use regular salted butter and three-quarters of a cup of milk.
Now, don't worry if you're not writing all this down. There is a direct link to the recipe where everything's written out for you. So we start with the filling. We place the peaches and the blackberries in frozen, or if you have 'em fresh, then use the fresh, but you don't have to thaw the peaches or blackberries.
If they're frozen, place 'em in a large bowl. Sprinkle the sugar, flour, cinnamon, lemon juice, and zest over the top, and then you just toss 'em to coat, and then you put those into a lightly greased baking dish.
Then we make the topping, we place the flour, sugar, baking powder, and salt together. And then you cut in the butter and you use either your hands or pastry blender and you want some coarse crumbs so that everything is mixed together and it's just, just kind of lumpish.
And then we add the milk, we stir in just till it's combined. This will not be a smooth batter. It's thick and it will be a little bit coarse looking. Take large spoonfuls of those. And you just put dollops of that batter right on top of the. Of the peach and blackberry filling. You want it just kind of separated on there.
Some can be touching. It's going to be looking like cobblestone when it's done, which is where the name cobbler comes from. You place that into the oven, a preheated 375-degree oven, and you bake for 55 to 60 minutes until the mixture is bubbly and the topping is golden. Now, if you are using fresh peaches, you'll reduce that time by about 10 to 15 minutes, but everything else is exactly the same.
This is a great way to use up any peaches or blackberries that you have left in your freezer, but it's also perfect for planning for summertime when you want to maximize the fresh fruit that you have. It's a great, easy recipe, one that you're going to love. I'll see you next week in the pantry. Bye.
Thanks for listening, and be sure to tune in again next week for more episodes of Preserving the Pantry.