In episode 23, Kathy discusses how to store and freeze ripe avocados and shares recipes for using ripe avocados.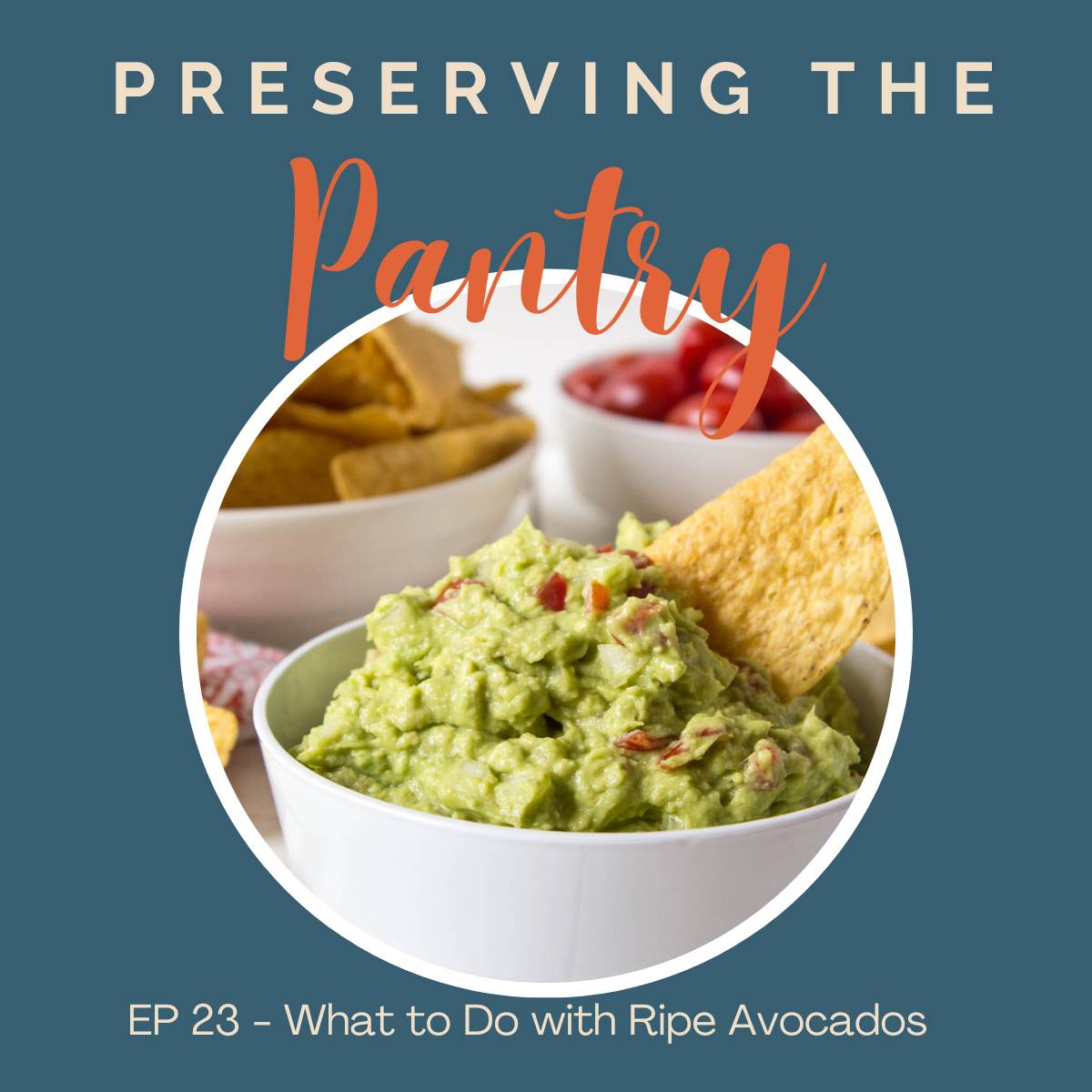 Play the episode
Recipes
Recipes mentioned in this podcast:
In this episode you'll learn:
How to tell if an avocado is ripe
How to slow down avocados from ripening
Where to store avocados
Ways to freeze mashed avocados
How to freeze guacamole
Recipes using avocados
Where to listen to the podcast
Listen to this episode on iTunes, Spotify, Amazon Podcast, or your favorite podcast player. Or scroll down to read a full transcript.
If you love this podcast, I'd love to hear about it! Leave a comment below and hop over and leave a comment on Instagram @preservingthepantry!
Transcript
Hi everyone and welcome back to the Pantry. Today we're going to be talking about avocados.
Now, we received a box in the mail the other day from my husband's cousin, and that box was full of avocados. His cousin has several groves of avocados that he grows, and every once in a while during the harvest time, he will send us a box.
It's the best present ever. The only problem is those avocados all tend to ripen around the same time. So I have a few tricks of how we handle and deal with all those avocados.
The first thing I do when I get these avocados is I sort through the box and pull out the very ripest ones right away. You can tell an avocados by just feeling it. You'll feel if they're very firm, they need a few more days. If they're soft and have a little give, they're ready to use.
So I pulled those avocados out and separated them out. The ripe avocados I decided I needed to use right away. The ones that weren't quite there, I stored several of them in my refrigerator in the crisper drawer.
So you can do this whether you have an abundance of avocados like me, or just a few avocados. If you leave them out on the counter, they're going to ripen them. If you place them in the refrigerator, in the crisper drawer or inside of a container so that they don't dry out in the refrigerator, it's going to slow down that ripening process.
My mother-in-law used to also wrap the avocados individually in newspaper and then put those in the refrigerator. With the ripe avocados, we got busy using those right away.
The first thing I did is my absolute favorite. We made guacamole. You just can't go wrong with homemade guacamole. My guacamole is pretty simple.
I just use those avocados, diced tomatoes, diced onions, lime juice, fresh squeezed, a little bit of salt and pepper and that's it. I like to mash up the avocados with the fork. I leave it just a little bit chunky because I like a little bit of that avocado. Then I dice up my tomatoes. I remove, if they're really juicy, I remove the excess juice so it's just the diced tomatoes.
You can choose to leave the tomatoes out if you'd like. I add those and then I add the diced onions. I like to use a white onion or a yellow onion, but we've also used red onions when we don't have any of the others available. Once that is all mixed in, we squeeze fresh lime juice over the top and mix that in.
The lime juice does a couple of different things. It prevents the guacamole, the avocados from darkening, but it also adds a really great flavor. Then we add salt and pepper and taste it. It usually uses more salt than I expect, so if it feels like it's missing a little bit something, add a little bit of salt.
With the guacamole, we eat it right away, but of course we had a lot of excess this time as well. So I do store it in the refrigerator for a couple of days, but I also freeze my guacamole. So what I do is put it in small containers and I, I take a piece of plastic wrap and put it right down on the surface and pat it down.
That helps prevent the top of the guacamole from darkening, and it also helps prevent it from getting a little bit of freezer burn while it's in the freezer. So I like to add that on there.
I put a lid on and I put those in the freezer. When I take them out to use them, I let them thaw, and then there is a little bit of the juice that comes off of the avocado. Sometimes it's a little bit dark. I just pour that off and then remove the plastic wrap.
If the surface of your guacamole has darkened, it's not going to hurt anything, but it doesn't look the best. I will often just scoop that off and discard that part, and then the rest is good to go.
This time I also mashed up several avocados and didn't add anything to it except the fresh squeezed lime juice.
I took an ice cream scoop and took put scoops of the mashed avocado on a baking sheet that was lined with, I used a silicone mat so it wouldn't stick, and I just filled the cookie sheet all the way up and put that into our deep freeze. Once those were frozen, they came off really easily off that silicone mat.
I popped them into a zip top bag, labeled the bag that it was mashed avocados with lime juice and threw that in the freezer. We'll plan on using those to make. Guacamole or add them to other items. My daughter will be using those to make her avocado toast. It's one of her favorite things she likes to make in the morning.
The last thing I did with the avocados is I made an avocado dressing and dip, and this is a recipe we make every once in a while. It does make a larger batch, so it's really great when you have a gathering and it's a great dip for fresh veggies or even your chips you can put in there.
So for the avocado dip I use three cloves of garlic, four ripe avocados, a little bit of black pepper and salt, two tablespoons of olive oil. I add some water, about three tablespoons of water, and this makes everything really creamy so it thins out so it's more of a dressing or a dip rather than that thick avocado like guacamole, consistency.
I add juice from a half of a lime and I also add grated lime peel. It adds such great flavor. And then I add a little bit of red pepper flakes, just to give it a little bit of kick and a tablespoon of white wine vinegar.
Put everything into the food processor and puree it until it's nice and thin. If you want an actual dressing, you're gonna wanna add a little bit more of the water, so it's pourable, and then you just serve this with your fresh cut veggies or chips if you like.
It's great when we get a surplus of avocados like this, but it doesn't happen often. But these steps work whether you have two avocados, 10 avocados, or 40 or 50 avocados.
The avocados are so valuable and just like gold to us that we don't want any of them go to waste. So make certain that you use up those avocados before they go bad and store them away if you think they're, you're not going to get to them right away.
That's it for today, everyone. I hope that you find a treasure trove of avocados soon. Enjoy.
Thanks for listening and be sure to tune in again next week for more episodes of Preserving the Pantry.