In this episode, Kathy shares a recipe for slow roasting tomatoes. These oven roasted tomatoes are perfect for serving as an appetizer or turning into a delicious sauce!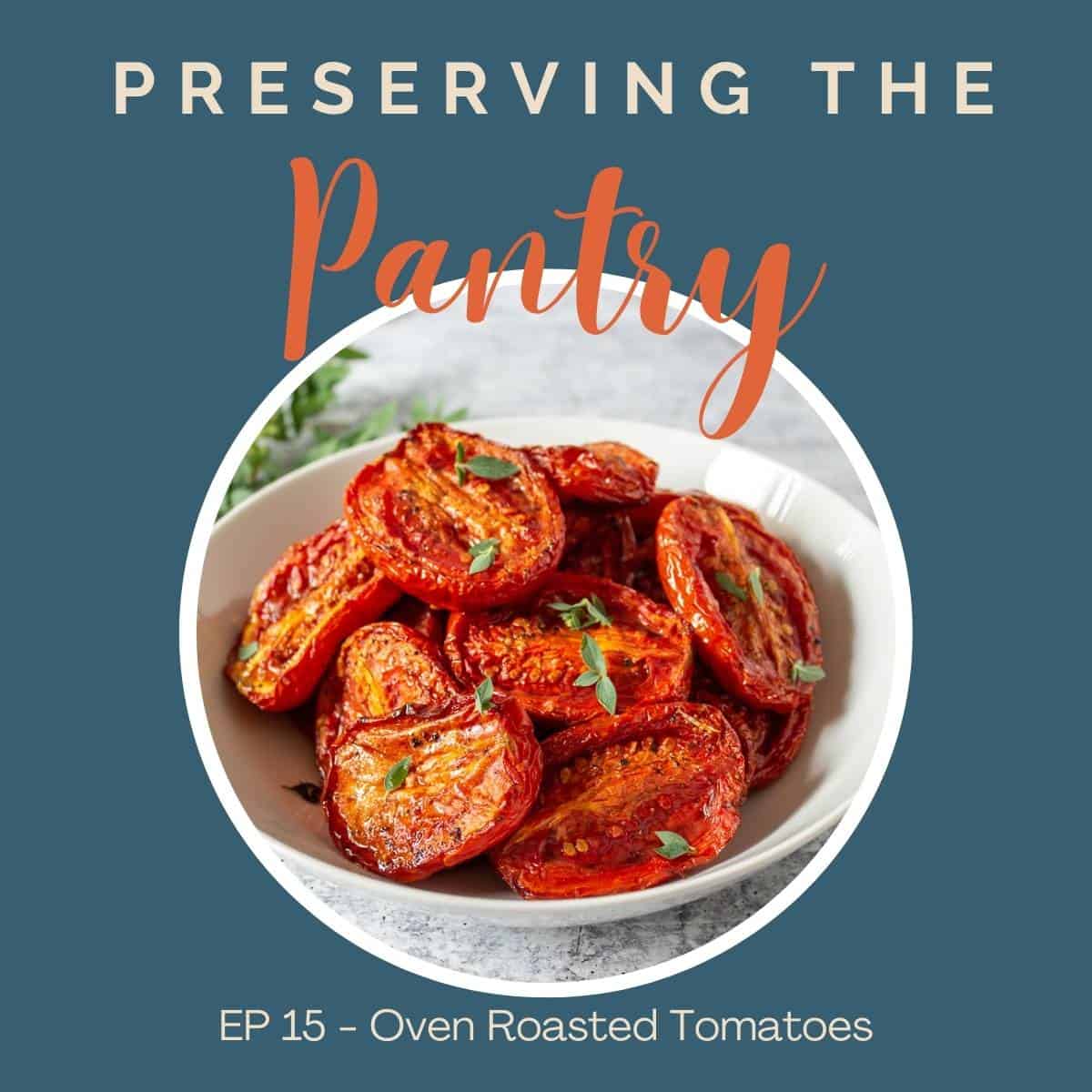 Play the episode
Recipes
Find the complete recipe for Oven Roasted Tomatoes
Recipes mentioned in this podcast:
In this episode you'll learn:
How to oven roast tomatoes
How long to roast tomatoes
Two ways to use roasted tomatoes
How to store leftover tomato sauce
Where to listen to the podcast
Listen to this episode on iTunes, Spotify, Amazon Podcast, or your favorite podcast player. Or scroll down to read a full transcript.
If you love this podcast, I'd love to hear about it! Leave a comment below and hop over and leave a comment on Instagram @preservingthepantry!
Transcript
Hello everyone, and welcome back to the Pantry. Today we're going to be talking about oven roasted tomatoes. Now our gardening season is just coming to a close. We have not had a frost yet, but that really could happen any day. So we're trying to use up all the tomatoes that we can, and right now we're still harvesting quite a few really nice tomatoes.
I love to make homemade tomato sauce and can that and store in my pantry to use all year long. But another favorite recipe is this oven roasted tomatoes. So the oven roasting just really intensifies the tomato flavor, making it delicious tomato. This recipe can be done with almost any type of tomato.
You just want to make certain that they're really ripe. So I've done this with cherry tomatoes, roma tomatoes, large sized tomatoes. You'll just want to try to make certain that the tomatoes that you are using are similar in size. So when I use cherry tomatoes, I try to use just the cherry tomatoes.
What you're going to do is you'll start with about two pounds of tomatoes. But if you don't have quite that many, that's okay. You can use a smaller amount as well.
You'll want to preheat your oven to 325 degrees Fahrenheit. Take a cookie sheet and line it with foil or parchment paper. When the tomatoes are being roasted, they release a lot of juices, and the parchment paper or the foil just makes cleanup that much easier.
You'll take one head of garlic and slice it in half, and you'll need about a half a cup of oil and some fresh herbs. Two to three sprigs of rosemary thyme oregano.
What you'll do is line your baking sheet, place the olive oil and the herbs in a bowl, and then cut your tomatoes in half. Place your tomatoes in the olive oil mixture and then toss it so that they're well coded in the olive oil, and then put the tomatoes on the baking sheet, along with the head of garlic.
Drizzle, all that remaining olive oil over the tomatoes and the head of garlic. I also like to let the fresh herb sprigs. I lay them right on the cookie sheet too. Put these in your oven and let them roast for about two hours, and that's it.
One of my favorite ways to eat the and roasted tomatoes is by taking french bread and toasting it and then adding an herbed cream cheese and topping it with the oven roasted tomatoes. It makes a great appetizer.
We also will take our oven roasted tomatoes. And turn it into a delicious tomato sauce. And all you do for that is you take your tomatoes, that roasted garlic, you take some additional fresh oregano or thyme or basil, a little bit of brown sugar and salt, put it all in your food processor and you just puree it until it's nice and smooth.
You taste it, and if you need a little bit of extra salt or a little bit more brown sugar, the brown sugar will take away any of that acidity that that tomatoes may have. Then you add just a touch more, and then it's ready to be heated and you just serve it over pasta. It has so much flavor.
Now with this oven roasted tomato sauce, if I have an abundance of sauce that I've made, I store this in the freezer, pull it out when I need it, and just reheat it and then use it.
One great thing about this oven roasted tomato sauce is it's so thick, not super watery because you've already taken out the excess water when you've slow roasted those tomatoes.
Now, I want you to tune in again next week if you have a lot of tomatoes, especially if you have green tomatoes, because next week I'm going to share a recipe for green tomato relish, and it's a great way to use up that final little bit of tomatoes from your garden.
I'll see you next week.
Thanks for listening. And be sure to tune in again next week for more episodes of Preserving the Pantry.