Homemade Dill Pickles with fresh dill and garlic
The cucumbers plants are loaded and I have an abundance of cucumbers!  Time for canning dill pickles!!!  I have the perfect recipe that can be used for just one quart or 6 quarts.
In my garden, I have four cucumber plants.  Three are pickling cucumbers and one is just for eating.  Of course, you can eat pickling cukes too. They make a great slice and eat cucumber, but they are also perfect for making dill pickles!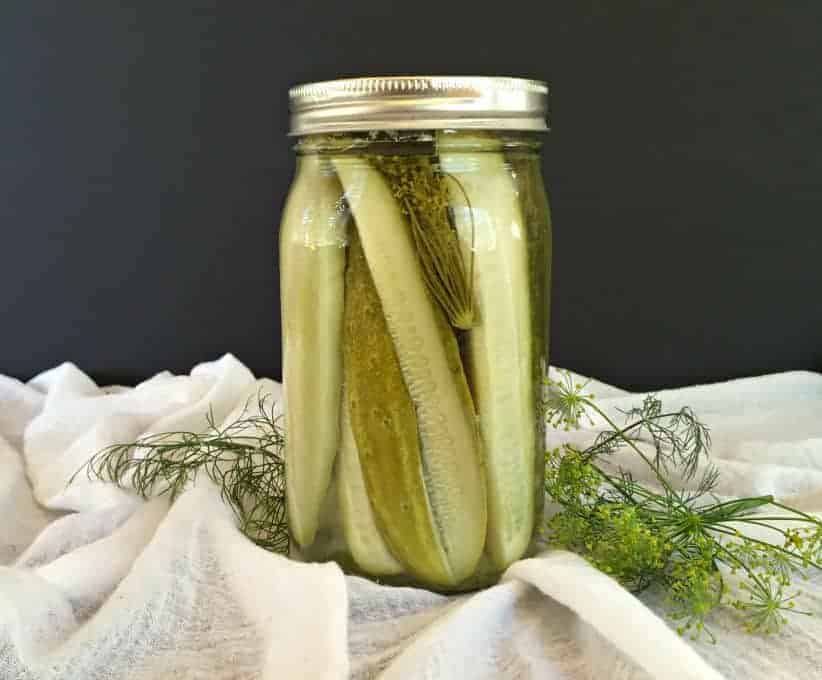 Tips for Making Dill Pickles
Use white distilled vinegar...you often use apple cider vinegar for bread and butter pickles.
Use pickling salt.  Pickling salt doesn't have any iodine or anti-caking agent added.  This helps keep your brine clear and not cloudy.
Use pickling cucumbers!  They are different than an eating cucumber.
Use fresh dill.  You want the flowering head for  your pickles.
Sterilize your jars and lids before filling with cucumbers.
Don't process in a hot water bath.  This one was hard for me to get past. I always followed all the steps in the canning books, but my pickles often turned soft and then slimy.  Not a good pickle.  After talking to my great aunt, who was well know for her pickles and canned hundreds of quarts every summer, I found she did not process her pickles.  When you think about it, there's enough salt and vinegar in these jars to neutralize anything potentially bad.  If you are skeptical about this, you can always refrigerate your pickles.
Wait at least 3 weeks before trying...they need time to pickle!
I prefer to use whole, small pickling cucumbers.  Once they get too large, I slice them into spears.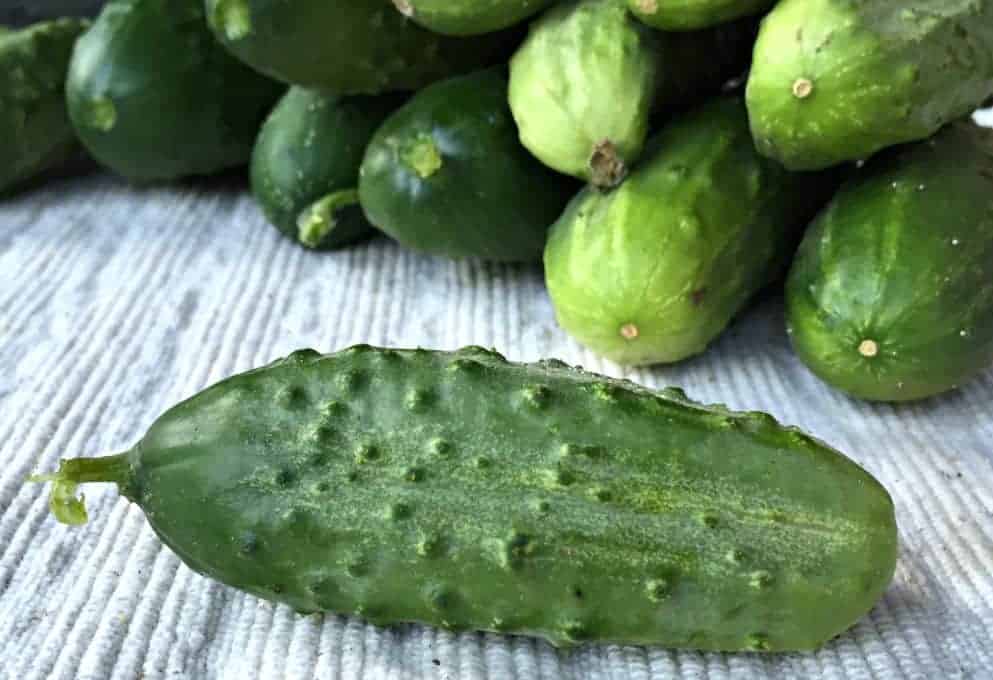 This recipe makes 6 quarts of pickles.  I don't always have enough pickles to make an entire batch.  I use what I have each time I pick.  Sometimes, I only make one or two jars at a time.
To make smaller batches, adjust the brine as follows for each quart you need:  3 cups water, 1 cup vinegar, 2 tablespoons salt.  The amount you use varies depending on how many cucumbers you could squeeze into your jars.  You will end up with a bit of extra brine, but better to have too much than to not have enough.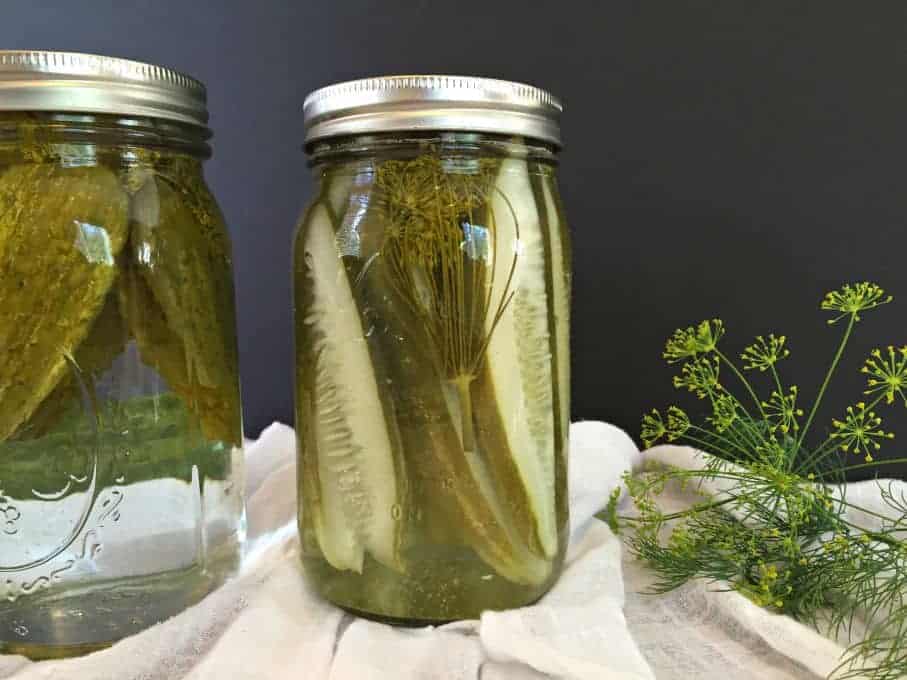 My great aunt's recipe had one additional ingredient...a grape leaf!  She always added one.  I tried it once when I made a batch of pickles.  I don't use it any more for two reasons...I couldn't really detect a difference with the grape leaf added, and I don't grow grapes so I don't have grape leaves!  I'm curious as to how and why grape leaves got added to a jar of pickles.....hmmmm.....
Anytime you are home canning, always use caution.  Jars should be washed and sterilized just before using.  Product should be examined upon opening jars.  If anything looks different, unusual, or you just aren't sure...throw it out!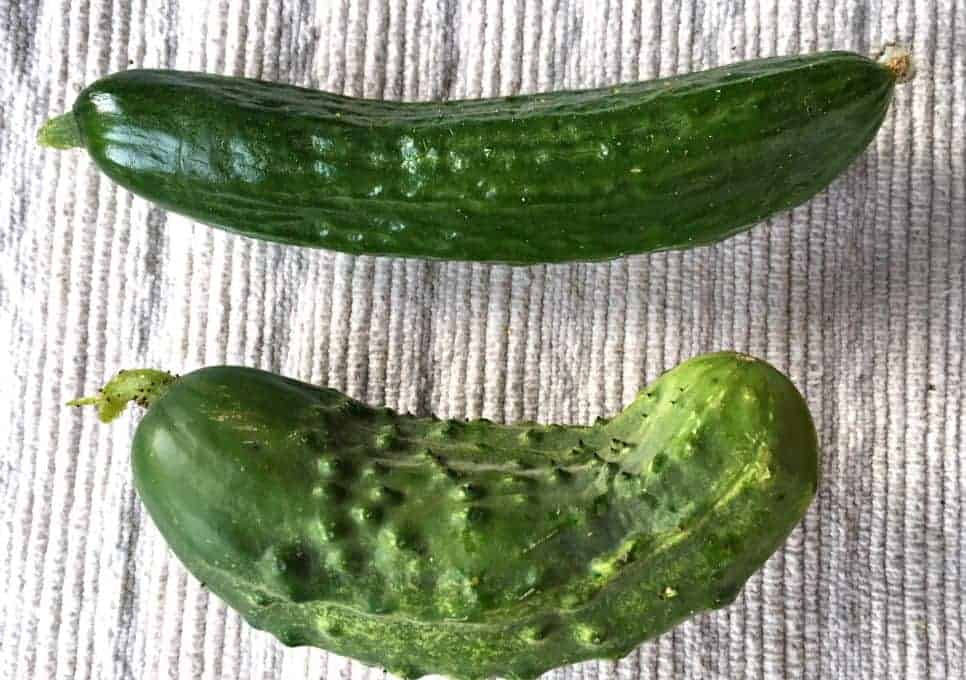 The above picture shows a pickling cucumber on the bottom and a regular cucumber on the top.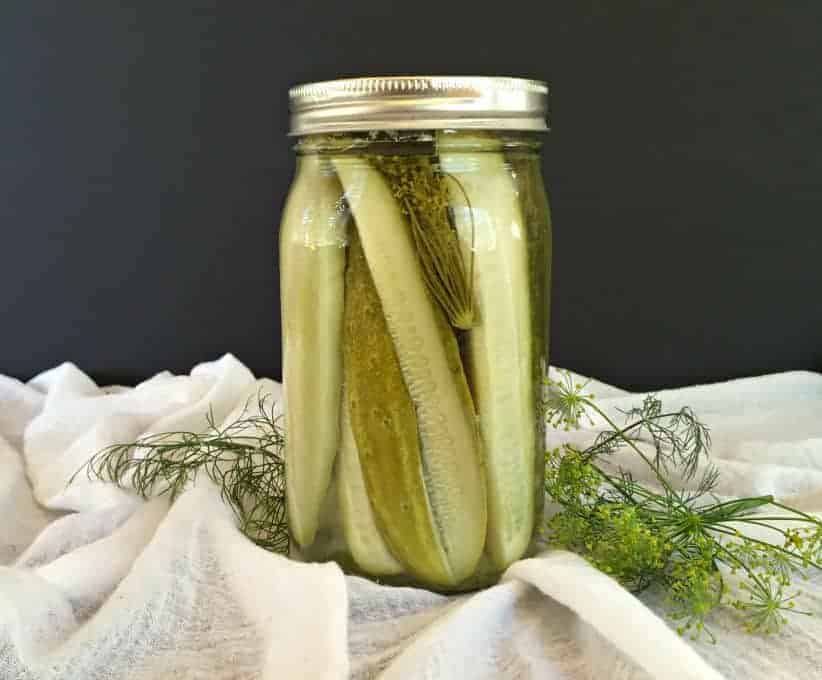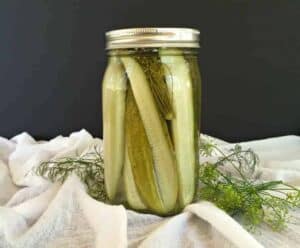 Dill Pickles
How to can dill pickles
Ingredients
3

quarts

water

1

quart

white vinegar

½

cup

canning salt

20-30

whole

pickling cucumbers

(depending on size)

6-12

heads of fresh dill

12

cloves

whole garlic
Instructions
Place vinegar, salt, and water in a sauce pan.

Bring to a boil.

Meanwhile, Wash cucumbers in water

Place small cucumbers directly in sterilized canning jars

Large cucumbers can be sliced into smaller spears or rounds

Add 2 cloves whole garlic to each jar

Add 1-2 Heads of Dill to each jar

Pour boiling brine over pickle mixture.

Wipe down rim of jars and put canning lid and ring on tight.

Let jars sit until completely cooled

Check that jar has sealed. If not sealed, place in fridge.

Wash jars to remove any excess brine and store for at least 3 weeks before using.
Nutritional Disclaimer:
Nutritional information is provided as a courtesy and should only be construed as an estimate rather than a guarantee. To obtain the most precise nutritional information in a provided recipe, you should calculate the nutritional information with the exact ingredients you are using when preparing the recipe using your preferred nutrition calculator.
Nutrition