This post may contain affiliate links, see my Privacy Policy.
This creamy Caesar salad dressing is a delicious take on a classic Caesar Salad dressing. This dressing can be made ahead of time and is made without anchovies.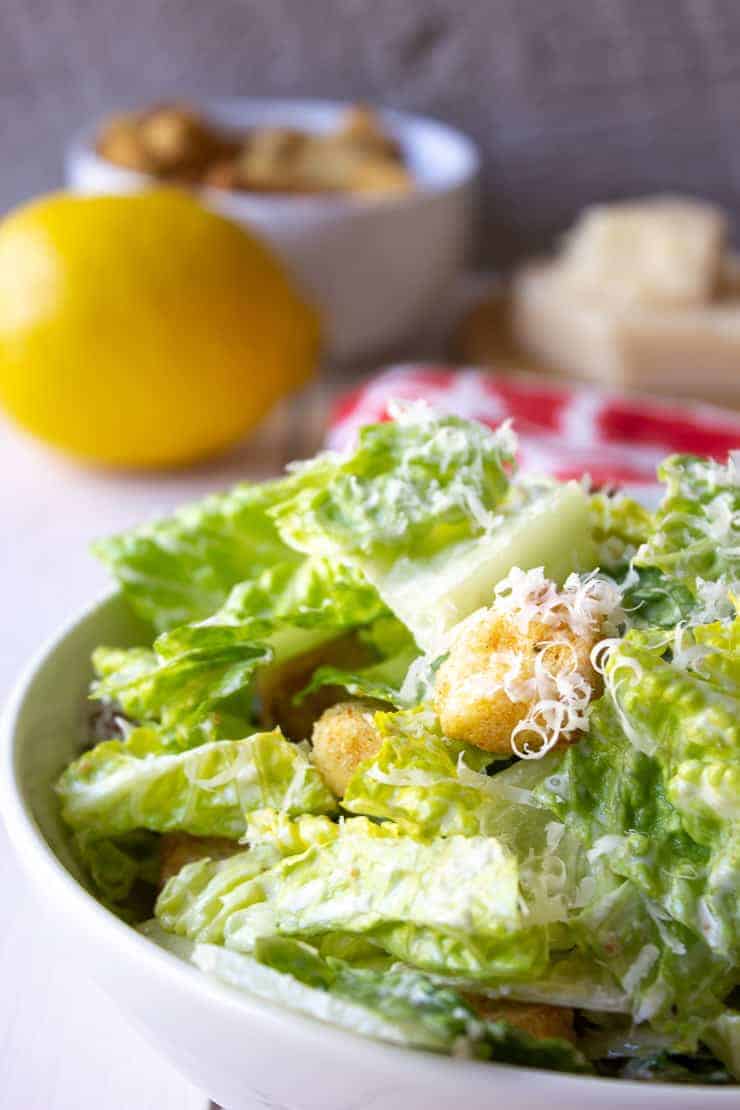 When I was in college, I worked in a small fine dining restaurant. We made Caesar salads table-side. We wheeled out a cart and mixed up the dressing, added the lettuce and croutons and then served it up.
It was quite impressive and very intimidating for me at the beginning. It was my first introduction to Caesar salad.
We didn't measure anything….just a little of this and a little of that! We couldn't taste the dressing as we were making it to see how it tasted.
I made some amazing Caesar salads, according to my guests. And I'm also certain I had some that were a little less desirable when I didn't get the oil/vinegar ratio correct. We didn't get to measure anything, we just poured the oil and vinegar from little cruets.
I ate a lot of Caesar salad during that time. I started making them at home. That was my practice arena.
I wanted to make a really spectacular Caesar salad every time in the restaurant so I practiced a lot. Plus, I really loved eating Caesar salad.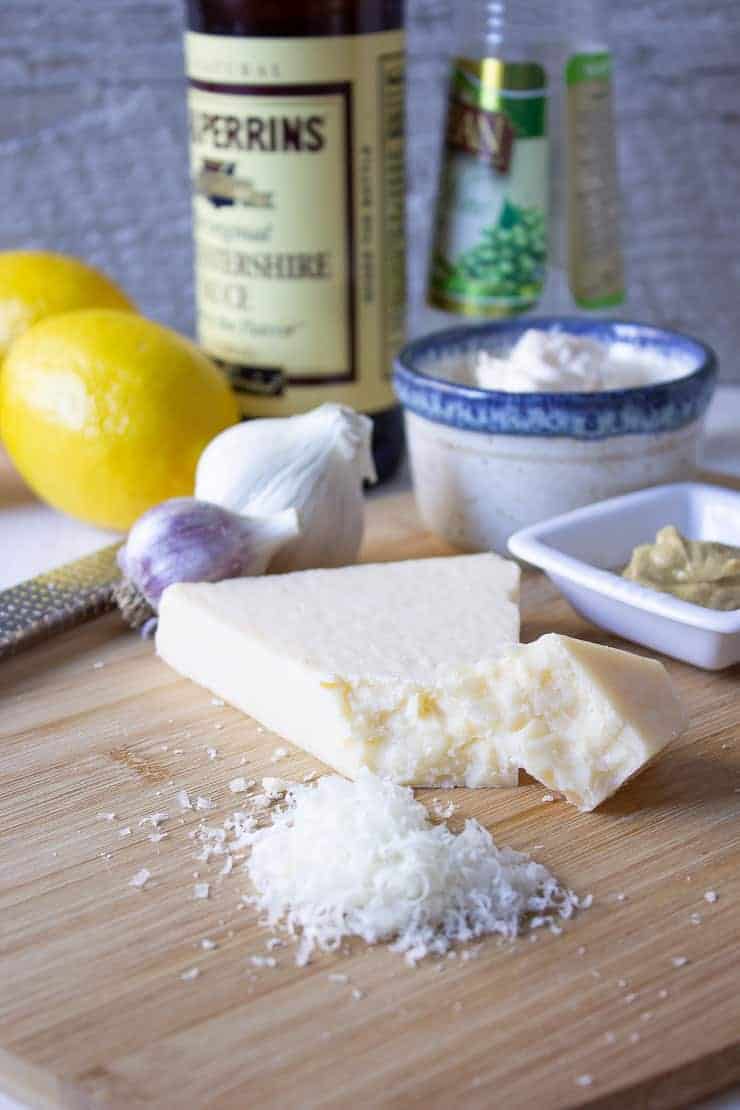 Does Caesar Salad Dressing have anchovies?
You can add anchovies, but this recipe does not use anchovies.
My Caesar salads today have changed since I first began making them. I tend to make Creamy Caesar Salad Dressing now and somewhere along the way I stopped using anchovies in the dressing. Unlike a traditional Caesar dressing, this Creamy Caesar dressing can be made ahead of time.
Does Caesar Salad Dressing have eggs?
Traditional Caesar dressing is made using eggs. My recipe does not use eggs. I've used mayonnaise as a binder instead.
How long does Caesar Salad Dressing last?
Caesar dressing can last up to two weeks in the refrigerator. If the dressing separates, just stir until it comes back together.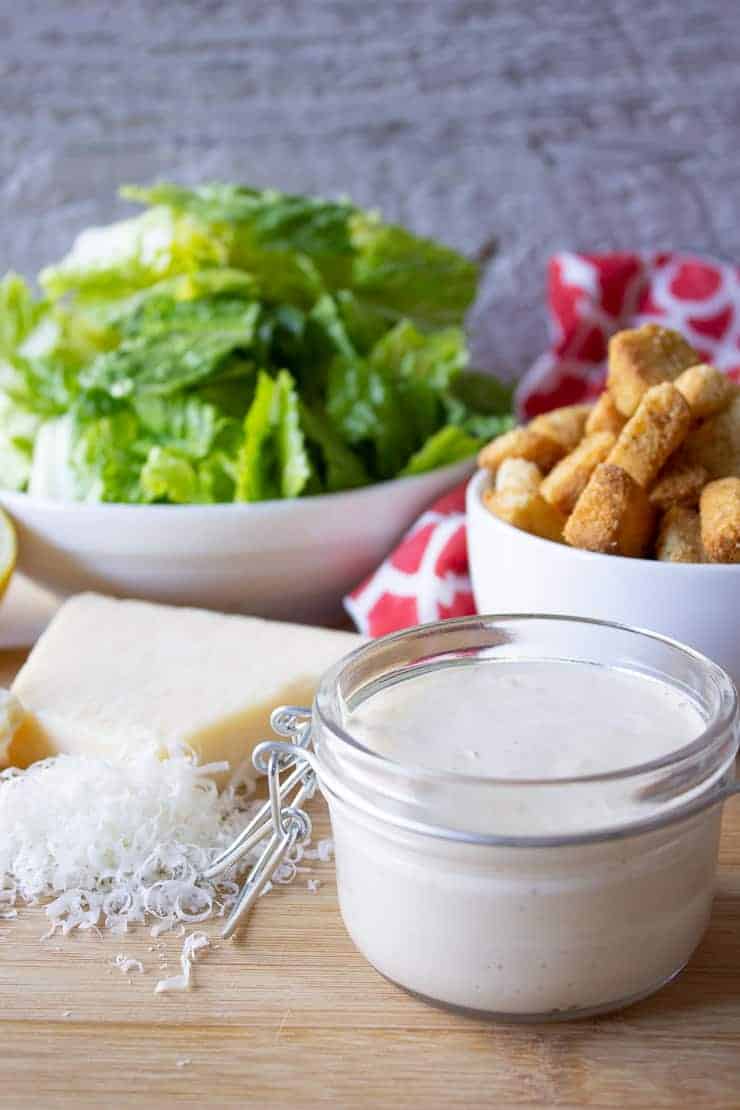 What can I add to a Caesar Salad?
You can add a grilled chicken breast, grilled salmon, or thinly sliced cooked steak. All of the items can be added warm or cold.
This creamy dressing is also used when making a Chicken Caesar Wrap.
Other Great Salads
If you are looking for other great salad recipes, check out this Tuna Cobb Salad and Oriental Chicken Salad. If you are looking for other homemade dressings, you'll want to try this homemade blue cheese dressing.
Don't forget to PIN for later!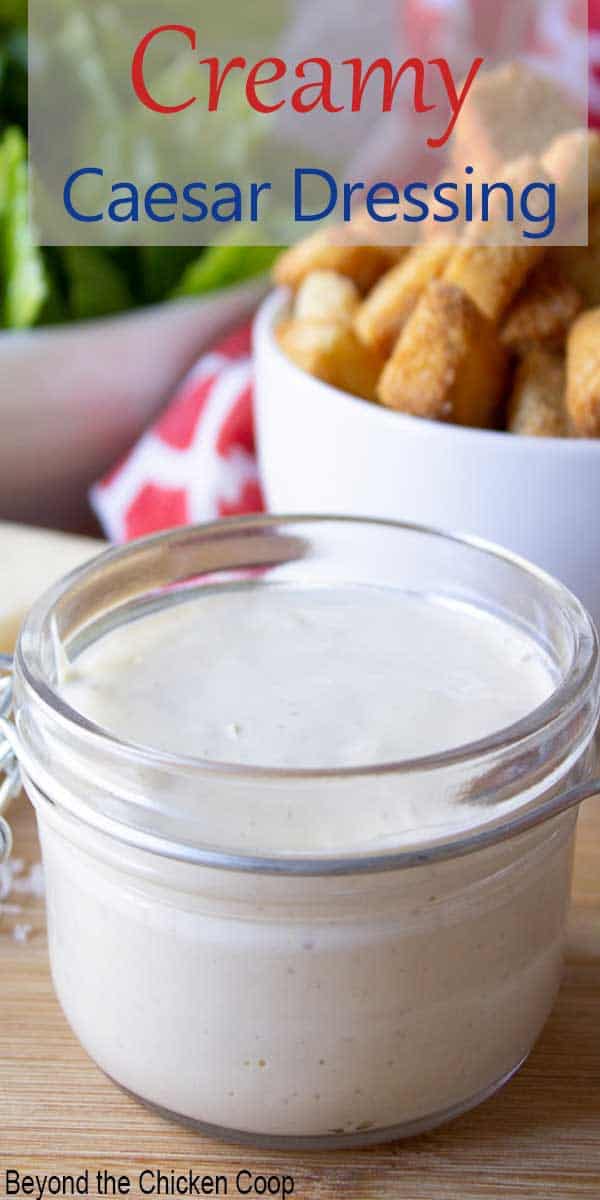 If you make this recipe, I'd love to hear about it! Leave a comment below and snap a picture and tag me on Instagram @beyondthechickencoop
Check out all my recipes!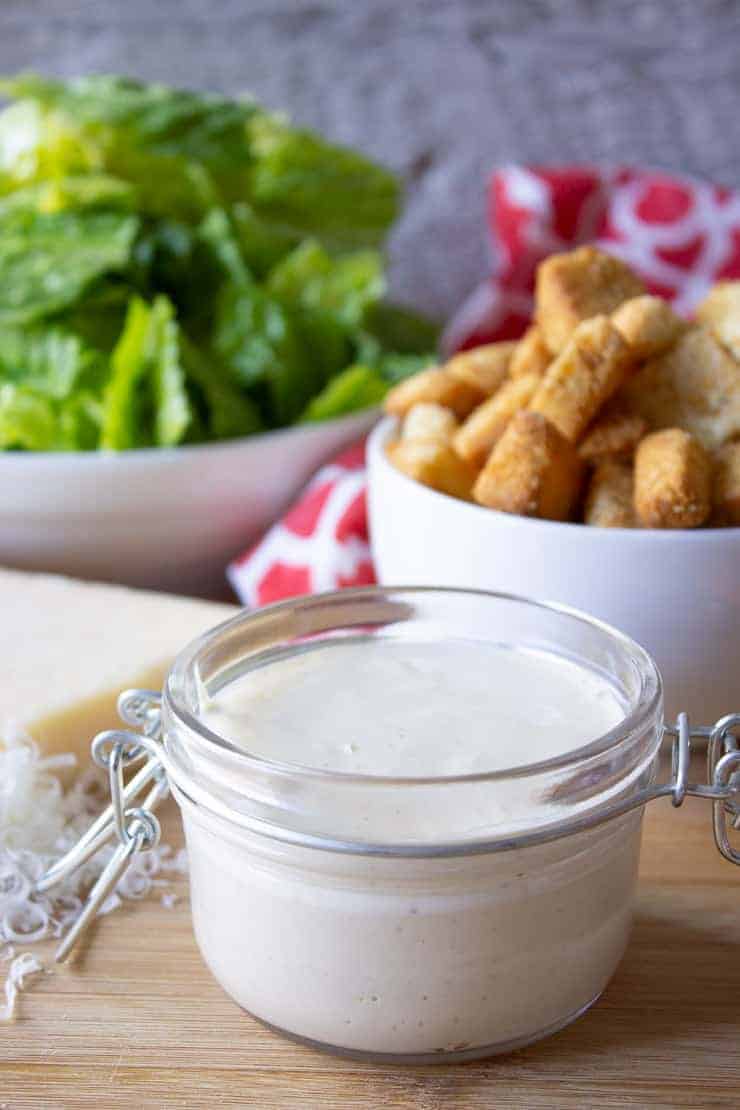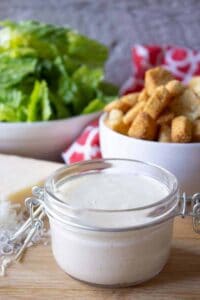 Creamy Caesar Salad Dressing
Ingredients
1/2

Cup

Mayonnaise

1

teaspoon

Dijon Mustard

2

cloves

garlic

1/2

Juice of a lemon

1

teaspoon

Worcestershire Sauce

1

teaspoon

Red or White Wine Vinegar

1/4

teaspoon

black pepper

1/4

cup

grated Parmesan Cheese
Instructions
Add all dressing ingredients except Parmesan to a blender or food processor. Process until all ingredients are incorporated. Add Parmesan and pulse until blended.

Store in a covered container and refrigerate until ready to use.
Nutrition
Serving:
2
Tablespoons
Calories:
113
kcal
Carbohydrates:
1
g
Protein:
1
g
Fat:
11
g
Saturated Fat:
2
g
Cholesterol:
8
mg
Sodium:
151
mg
Potassium:
15
mg
Vitamin A:
35
IU
Vitamin C:
3.8
mg
Calcium:
38
mg
Iron:
0.1
mg
This recipe was originally published in May of 2016. I have updated the pictures and the recipe and added a video.