Baked Spaghetti Squash with a rich cheesy Alfredo sauce!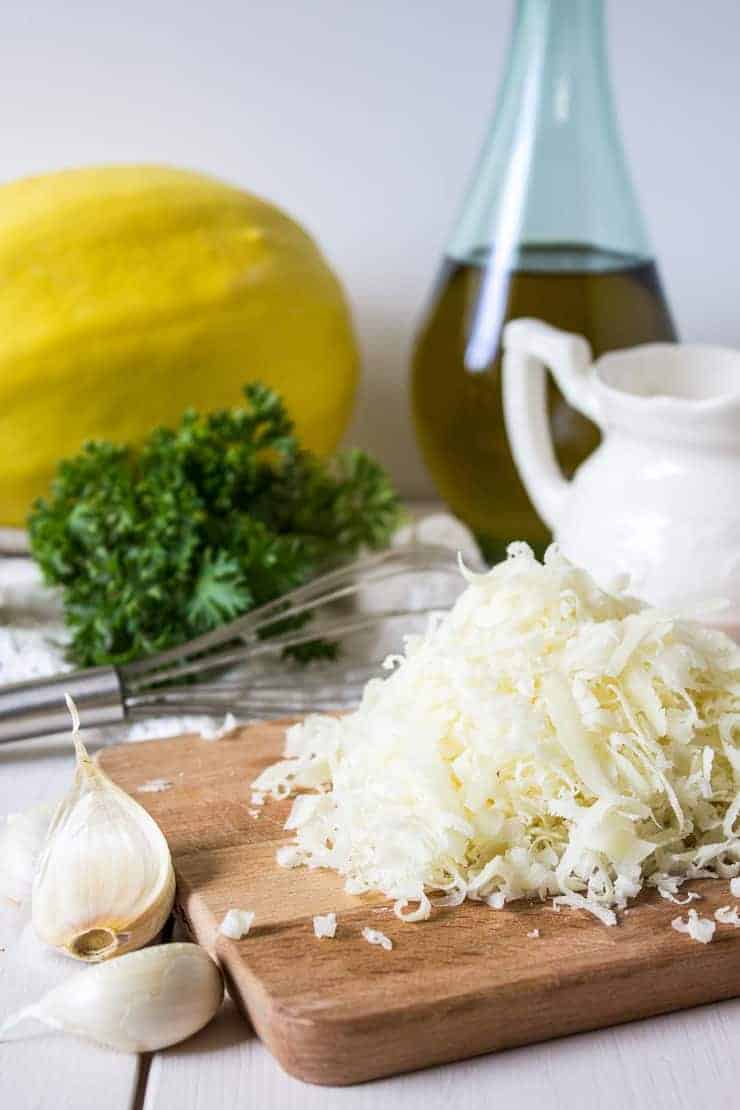 There have been some big changes happening in our household. We now have three teenage drivers! Idaho does things a bit different than other states. Kids can take Drivers Ed at the age of 14 1/2. When the class is completed, they have a permit. After 6 months they are eligible for a driver's license. 
The boys  both got their licenses last week. Currently the boys are 15 and my daughter is 16. Now do you see why things are a bit crazy around here? I am having to create a weekly schedule of who gets to drive when and where.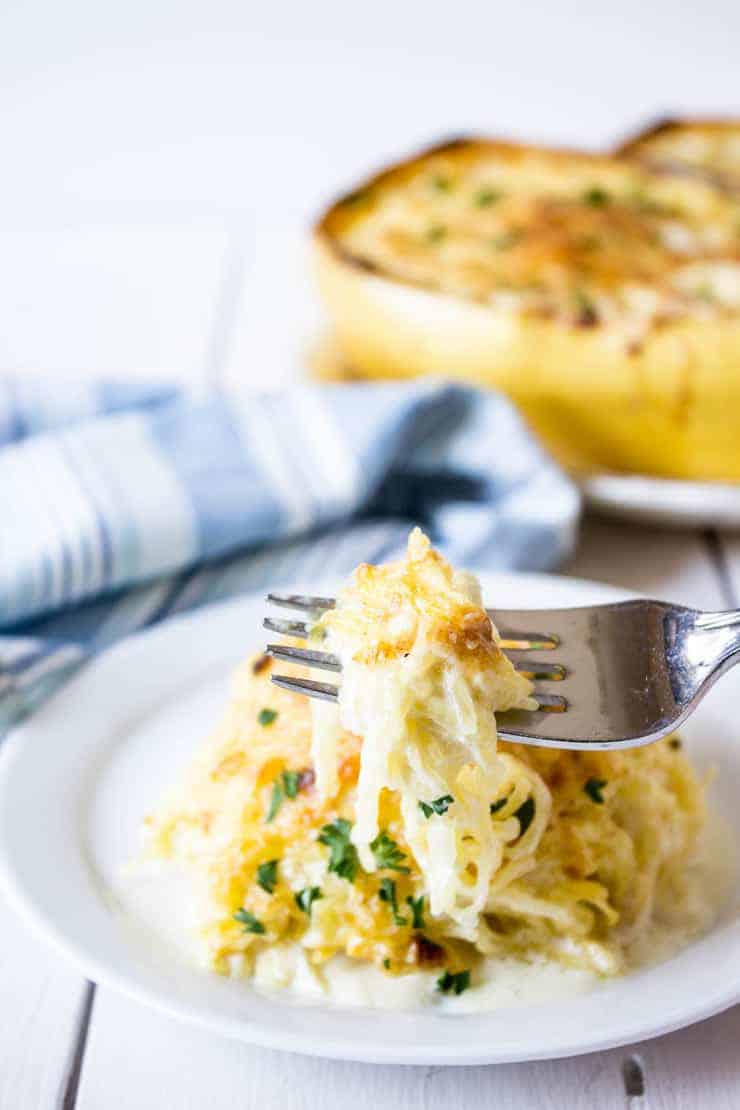 Sometimes I need a little comfort to help calm all this craziness! This Baked Spaghetti Squash Alfredo helped a bit! It does have a rich sauce, but then it's baked with a veggie! So it can't be all bad – Right???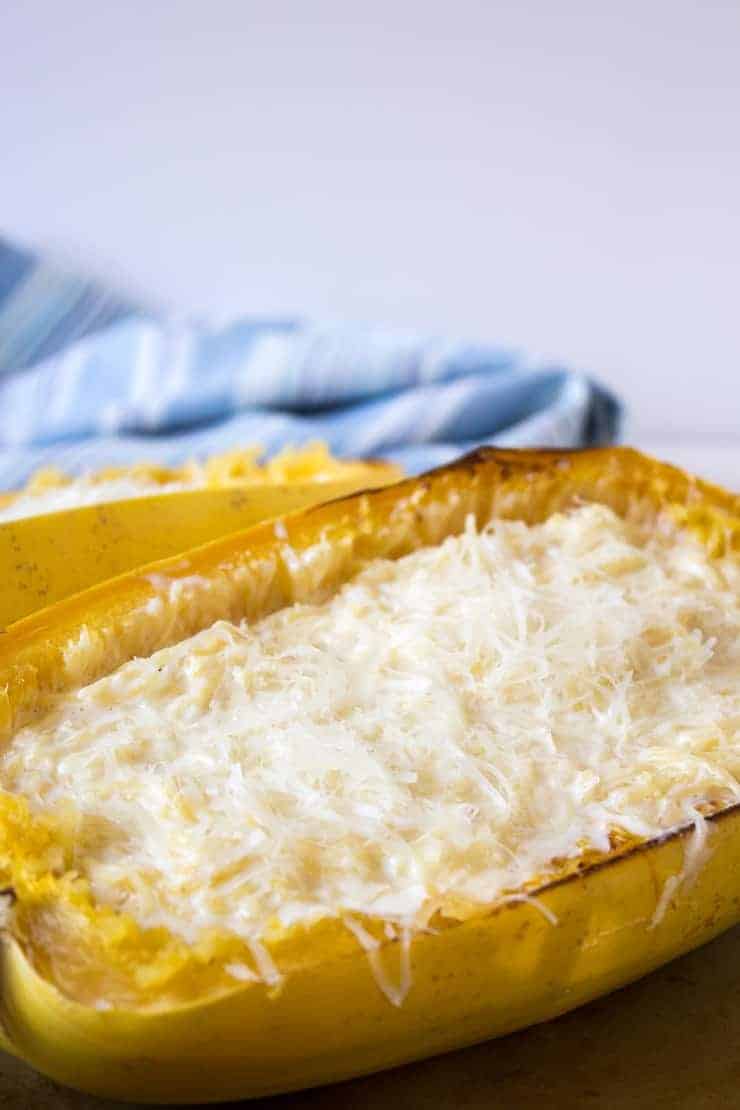 I made my own Alfredo sauce, but you could easily buy a prepared sauce at the store.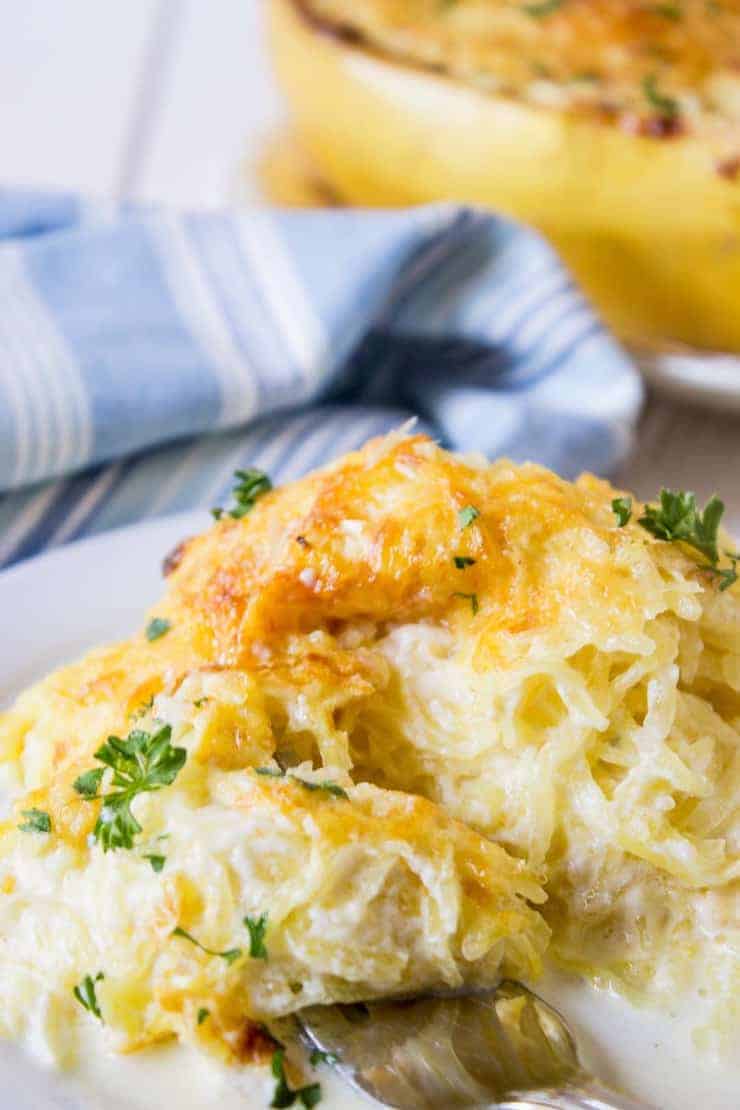 To make this delicious baked spaghetti squash dish you simply bake the squash first. Then you gently scrape out the strands of squash into a bowl and leave behind the shells of the squash. The shells will be used to bake the delicious filling. Once your Alfredo sauce is made, you mix it with the strands of spaghetti squash and put it back to the shells.
My only caution when baking these is to make certain the filled shells are sitting level on a baking sheet. You can use rolled foil to create a ring around the squash to help level them. If they aren't level the filling will spill over when baking.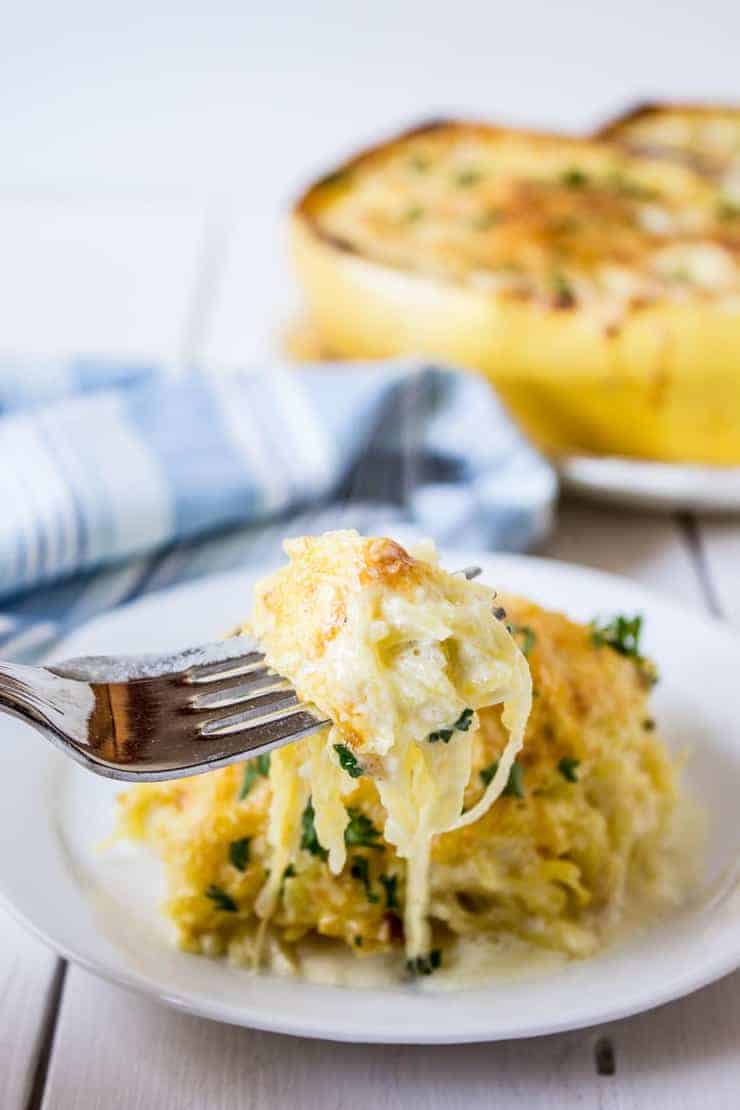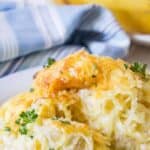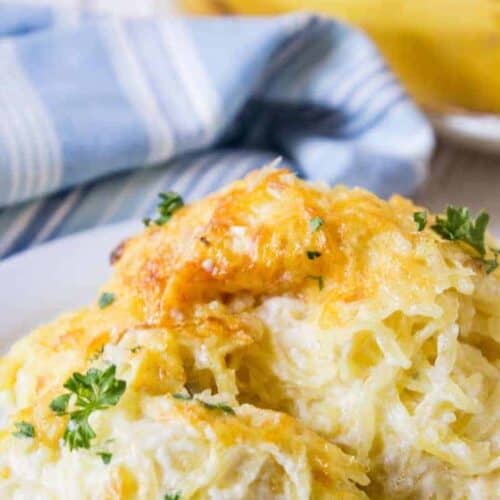 Spaghetti Squash Alfredo
Baked spaghetti squash with a cheesy Alfredo sauce.
Course:
Entree, Side Dish, Vegetable
Cuisine:
American, Italian
Keyword:
recipes with spahetti squash, spaghetti squash with alfredo sauce, spaghetti squash with cheese
Ingredients
Alfredo Sauce
2

tablespoons

olive oil

2

cloves

garlic

minced

2

cups

heavy cream

2

cups

Parmesan cheese

grated

1/4

teaspoon

pepper

1/8

teaspoon

nutmeg

1/8

teaspoon

salt

optional
Topping
2

Tablespoons

Parmesan cheese

grated
Instructions
Slice spaghetti squash in half lengthwise. Scrape out seeds. Place face down on a baking sheet. Bake in a preheated 375 degree oven for 30 minutes.

Remove from oven and let cool. Use a fork to remove the strands of squash and place into a bowl. Leave a small amount in the shell so the shell isn't too flimsy.

Place shells right side up on a baking sheet. Set aside.
Alfredo Sauce
In a sauce pot, add olive oil and garlic over medium low heat. Just heat the garlic through so it turns fragrant, but do not brown.

Add the heavy cream. Heat until just before the cream comes to a boil. Stir cream often to prevent scorching.

Whisk in Parmesan cheese. Add pepper and nutmeg. Taste to see if salt is needed. I often find the Parmesan cheese salty enough and don't add any additional salt.

Continue cooking over low heat, while stirring, until the sauce thickens slightly. Remove from heat.

Pour Alfredo sauce over strands of spaghetti squash. Stir so the sauce is evenly distributed.

Divide squash into two shells. Sprinkle with additional Parmesan cheese.

Level shells on tray with a coil of foil placed around the base of each shell. If the shells are not level, the sauce will spill out while baking.

Bake in a preheated 375 degree oven for 30-35 minutes until the sauce is bubbly and browned on top.
Nutrition Facts
Spaghetti Squash Alfredo
Amount Per Serving
Calories 503
Calories from Fat 387
% Daily Value*
Total Fat 43g 66%
Cholesterol 132mg 44%
Sodium 666mg 28%
Potassium 263mg 8%
Total Carbohydrates 14g 5%
Protein 15g 30%
* Percent Daily Values are based on a 2000 calorie diet.
Other Great Recipes to Try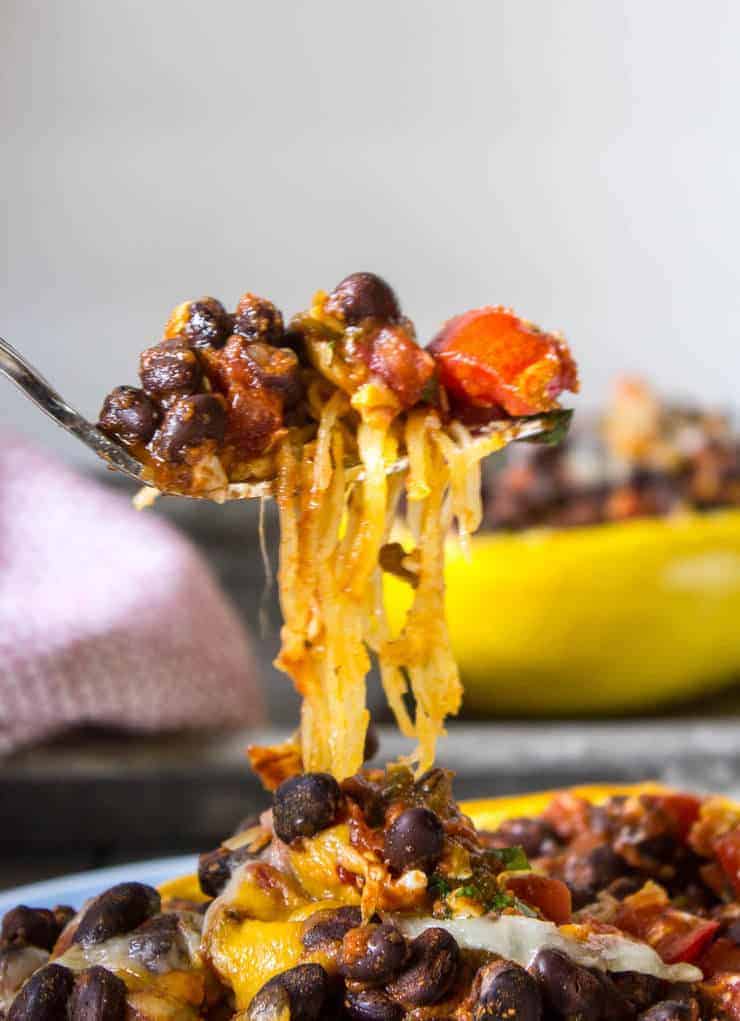 Black Bean Spaghetti Squash Boats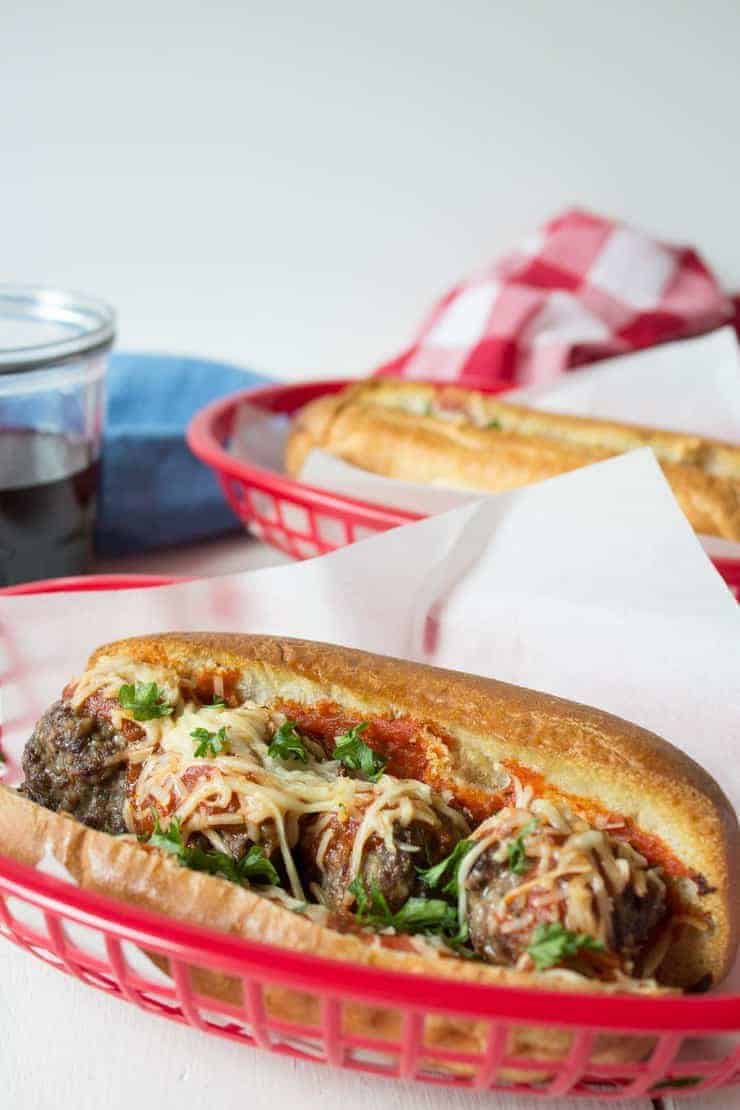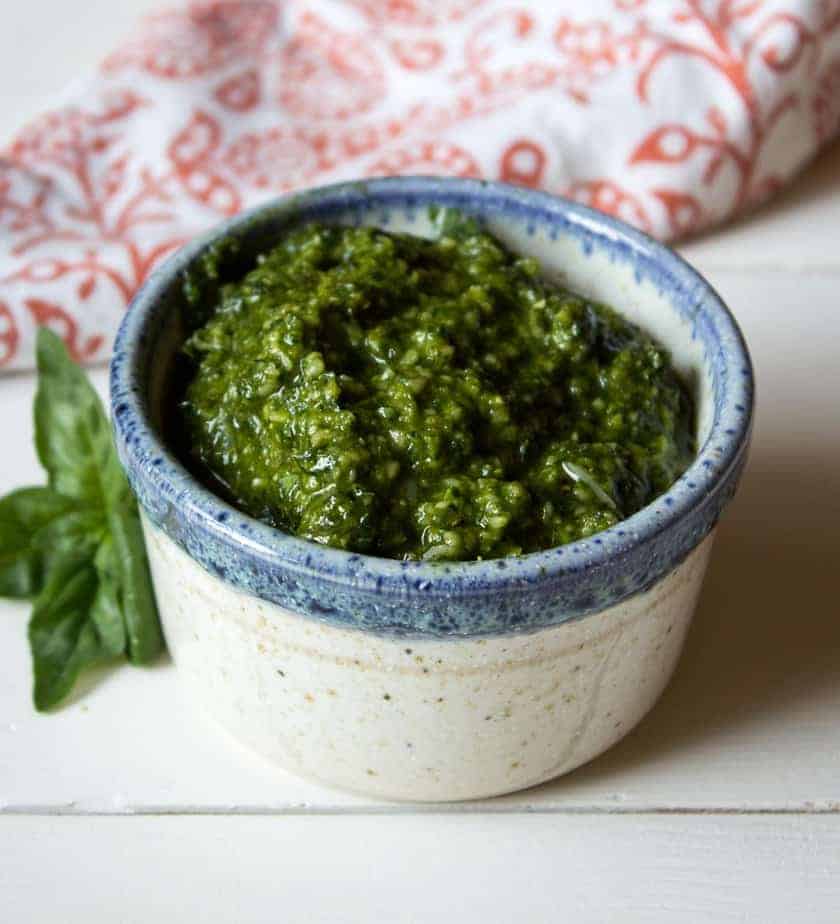 Homemade Basil Pesto