Homemade Lemon Curd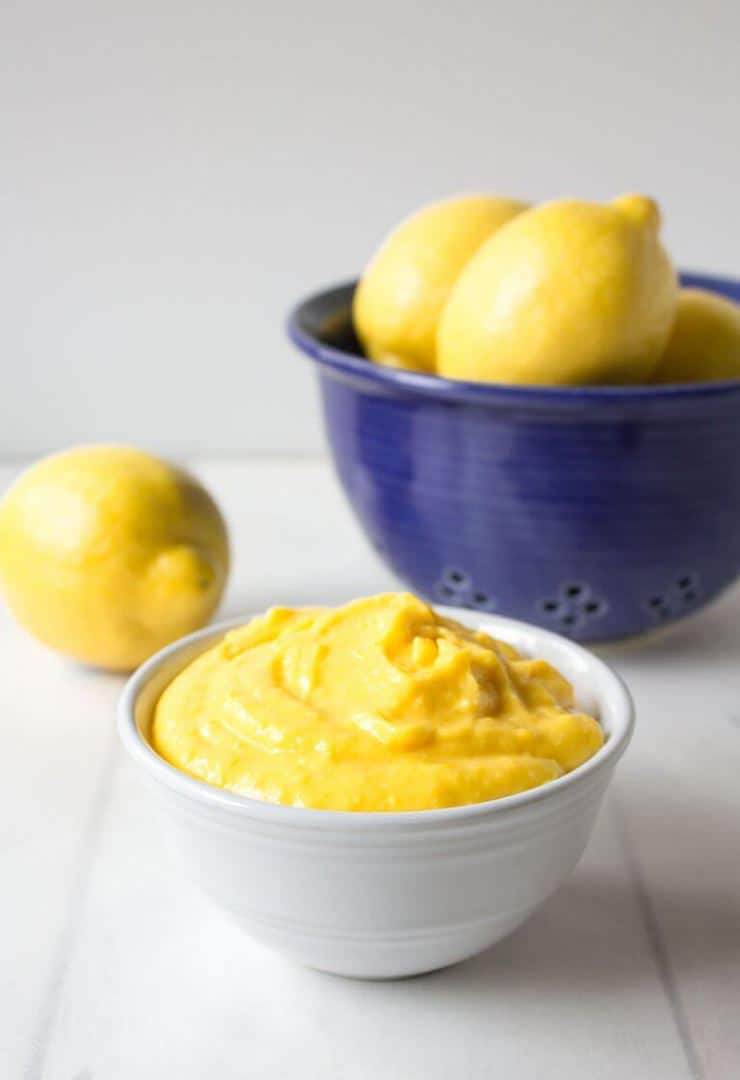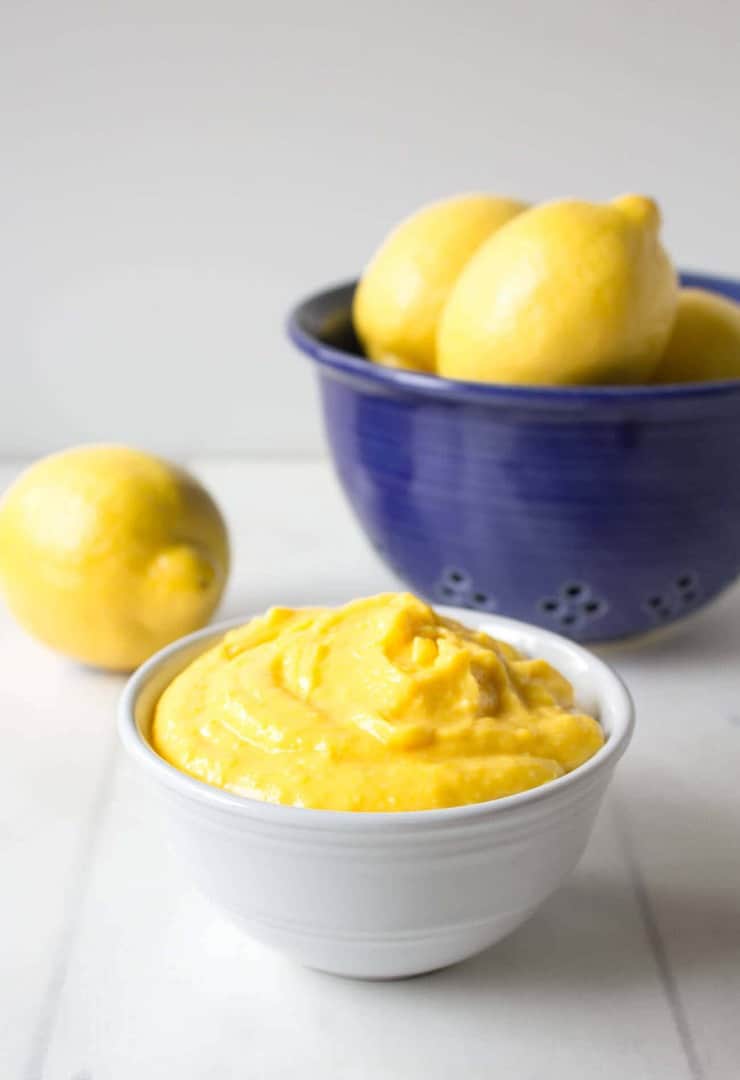 When life gives you lemons...make lemon curd, or fresh squeezed lemonade! Why do lemons have such a bad rap anyway? We tend to call things that are no good a lemon. Nobody wants a car that's a lemon.
Maybe it's because they are so sour....and this is true, but lemons are also quite versatile. How many foods can you use in desserts, beverages, main dishes and salad dressings?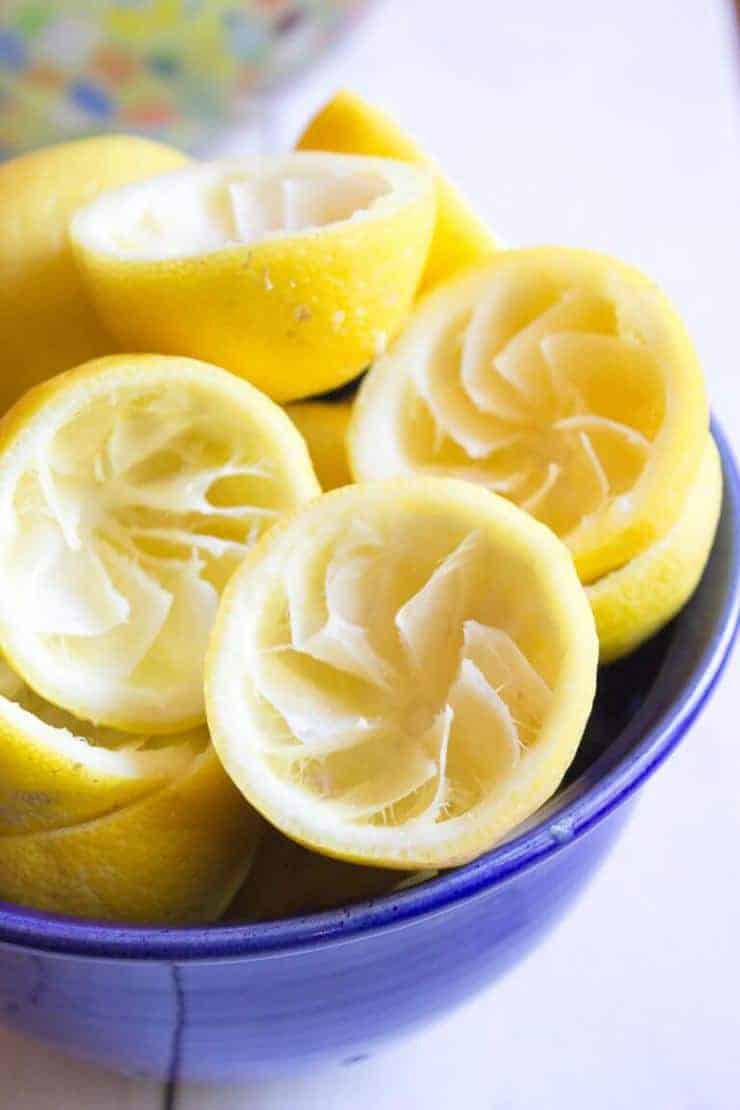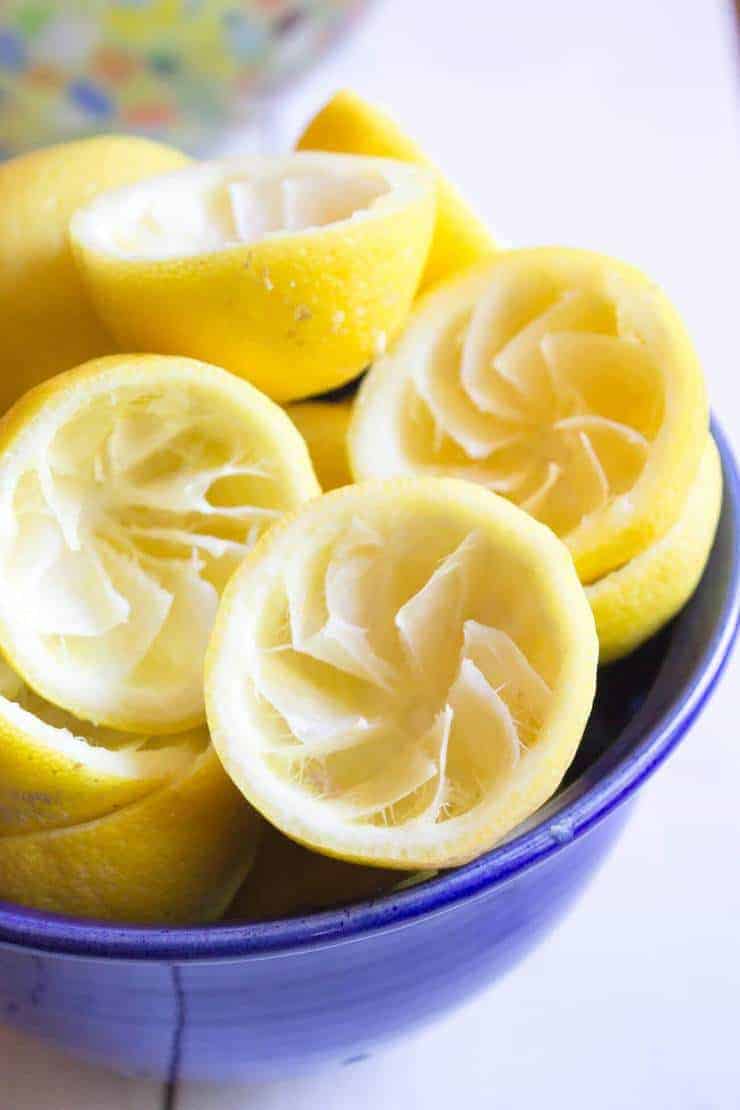 I think lemons are a good thing and since I had a huge bowl of fresh lemons, I decided to make lemon curd. Lemon curd has such intense lemon flavor. My mouth waters just thinking about it!
It's time to start think about lemons as a good thing!
What is lemon curd?
A curd is a sweet spread usually made with citrus fruit. It is often served with scones as a condiment and is used as a jam. Curds are also used as a filling in sweet desserts.
What ingredients do I need to make lemon curd?
2 whole eggs
2 egg yolks
sugar
lemon zest
lemon juice
butter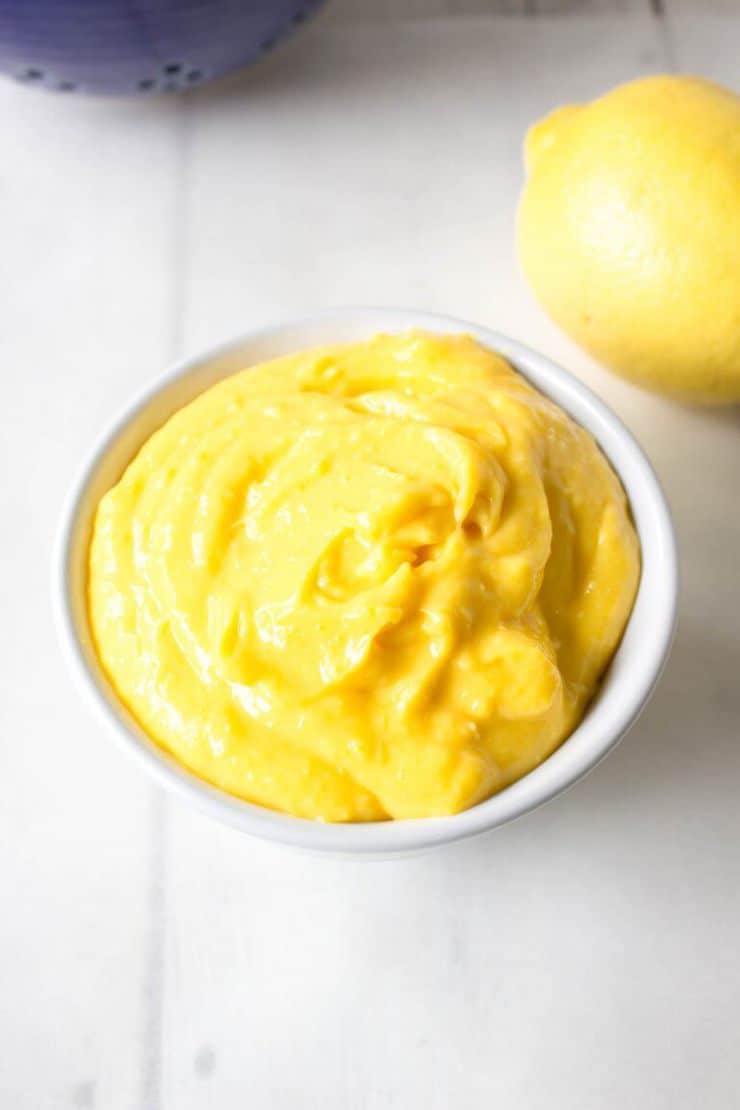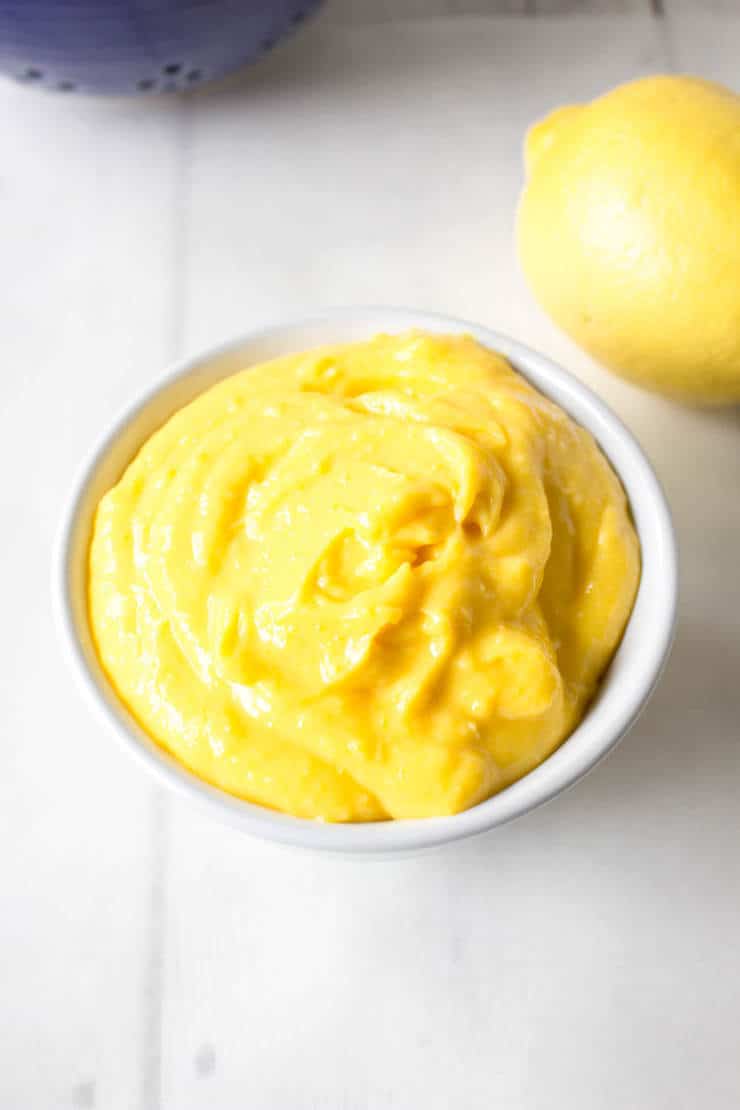 When making curd, you do want to plan ahead a bit. You want it to fully chill before eating. This takes a good couple of hours. Don't skimp on the chilling time. The lemony flavors are so much better when the curd is chilled.
The color of your curd may be lighter than my vibrant yellow curd. I used fresh eggs from my chickens. Right now their yolks are a deep dark yellow color.
I used this lemon curd as a filling in my Lemon Cupcakes topped with Lemon Buttercream Frosting! It would also be great in these lemon curd bars.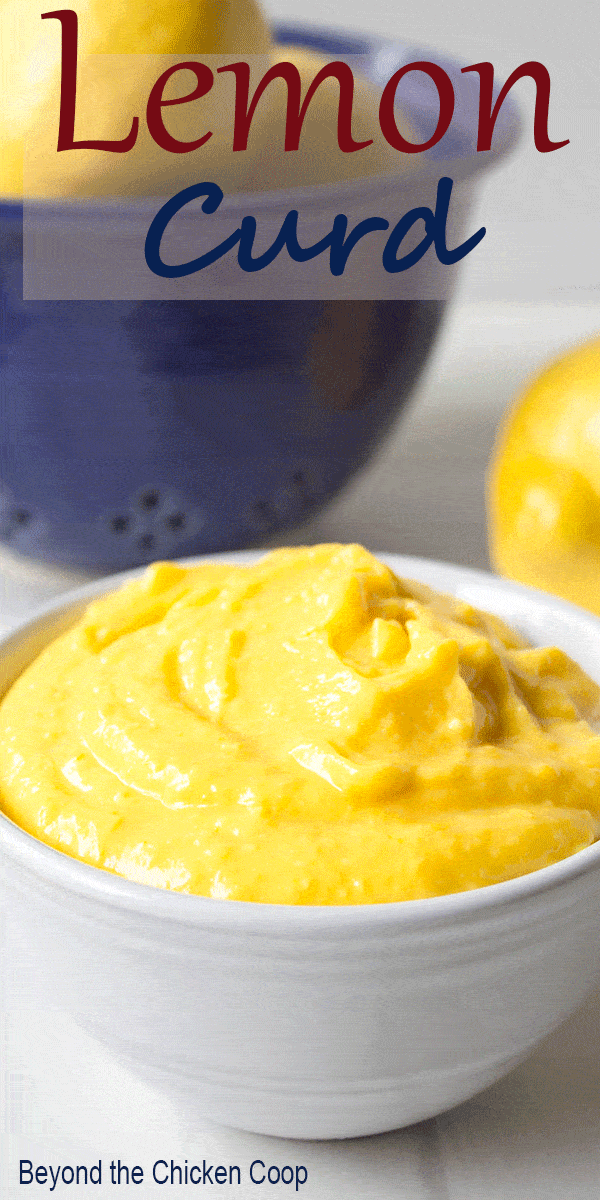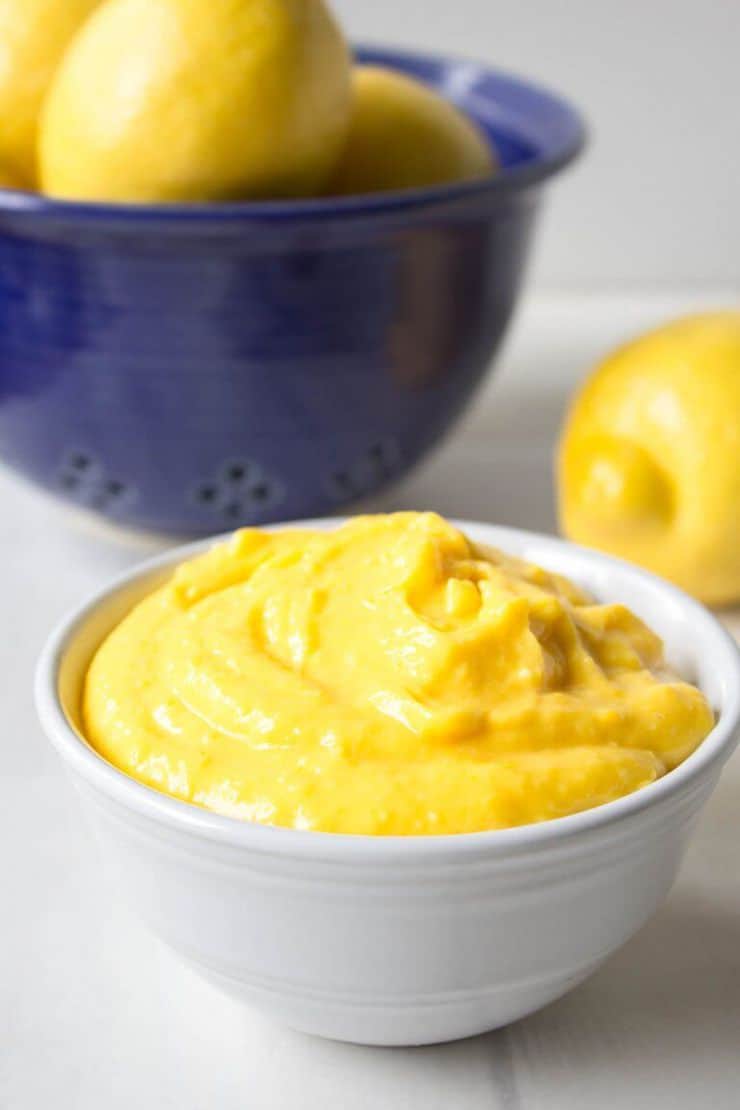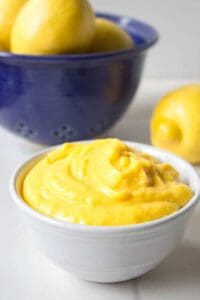 Lemon Curd
Ingredients
2

whole

eggs

2

egg yolks

¼

cup

sugar

2

lemons zested

2

lemons juiced

¼

cup

butter

(Sliced into chunks)
Instructions
In a metal bowl or in the top of a double boiler, combine all eggs, egg yolks, sugar, lemon zest, and lemon juice.

Place bowl over pan with a few inches of water. Do not let bottom of pan touch water.

Turn heat to high, add butter slices and begin stirring with a whisk. Continue stirring to avoid burning.

Cook until mixture becomes thick and coats the back of a spoon.

Remove from heat. Pour mixture into a very fine sieve. Use a spatula to push mixture through sieve.

Let cool a few minutes. Cover with plastic wrap making certain plastic wrap is directly touching the lemon curd. This helps avoid a skin forming on the surface.

Cool in refrigerator for a least 2 hours.
Notes
Can be made without a double boiler. Use a lower heat to help avoid scorching.
Once cooled, curd can be frozen and used later.
Nutrition
Serving:
16
tablespoon
Calories:
738
kcal
Carbohydrates:
57
g
Protein:
6
g
Fat:
55
g
Saturated Fat:
32
g
Cholesterol:
520
mg
Sodium:
427
mg
Potassium:
101
mg
Fiber:
1
g
Sugar:
52
g
Vitamin A:
1935
IU
Vitamin C:
38.7
mg
Calcium:
76
mg
Iron:
1
mg