Instant Pot Bone Broth is a delicious broth made in the Instant Pot. Use beef, pork or chicken to make this flavorful broth.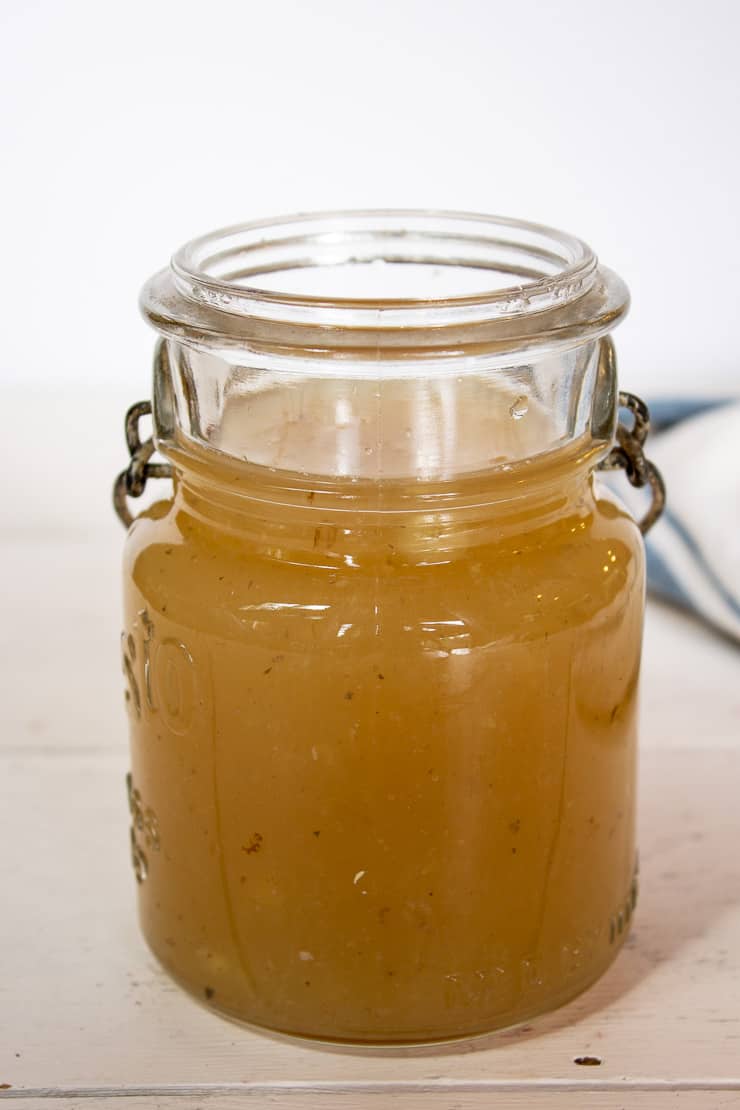 I use this broth in my Enchilada Soup and Pasta e Fagioli.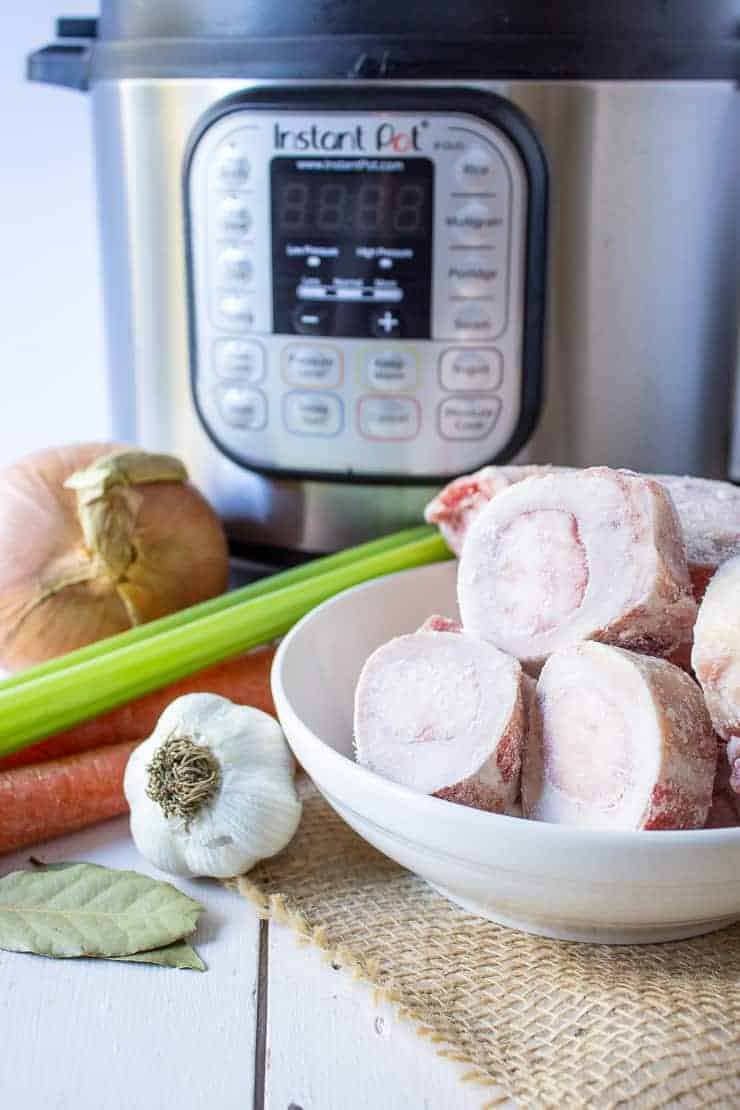 What is bone broth?
Bone broth is a meat broth that is made by cooking bones along with vegetables in water. Bone broth often has a jelly-like consistency which comes from cooking the bones for a long period of time.
When the broth is heated it is in liquid form like any other broth. I've saved time by making this bone broth in the Instant Pot.
What type of bones can I use?
Almost any type of bones can be used to make broth. I've used beef bones, pork bones and elk bones. I also have a recipe for chicken broth using a different method.
What is the difference between bone broth and stock?
Bone broth has a very long cook time which helps release nutrients from the bones and marrow. Regular broth is cooked with bones and vegetables but usually doesn't contain any of the gelatin-like in bone broth.
Stock may contain a small amount of gelatin. Bone broth and stock often contain the same ingredients when cooking. The main difference is the amount of cook time required to release the nutrients from the bones.
Using an Instant Pot reduces the amount of cook time since the bones are cooked under pressure.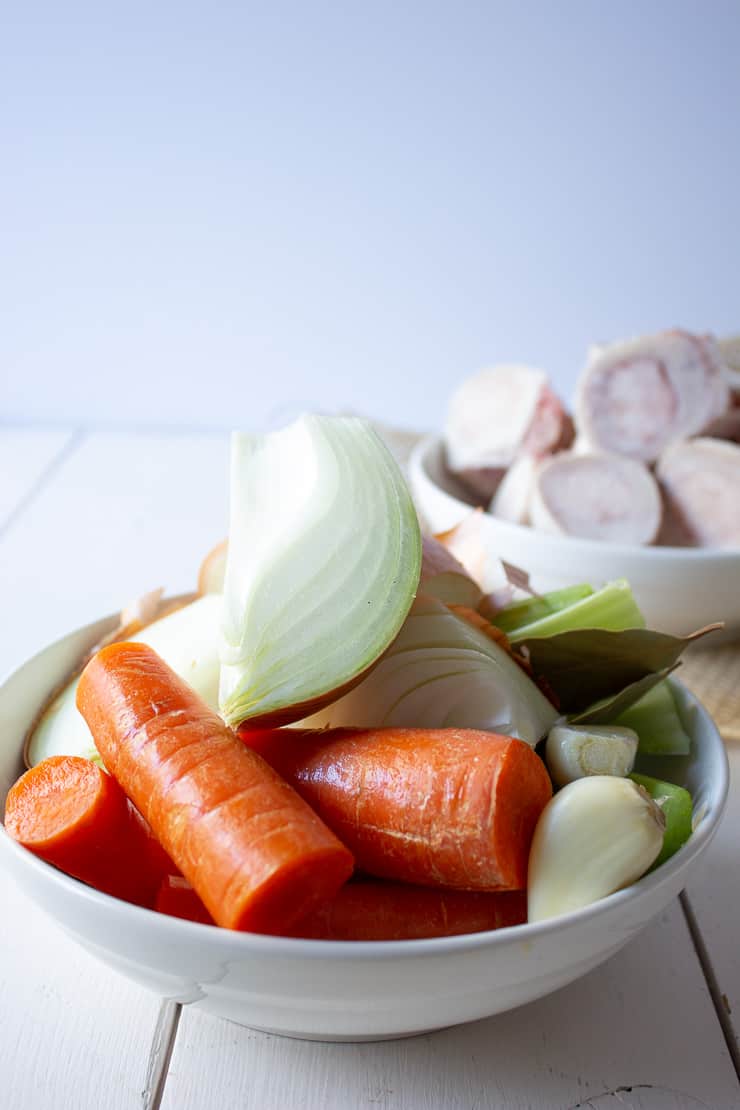 Why make broth in an Instant Pot?
An Instant Pot is a pressure cooker. It takes less time to cook everything in a pressure cooker. It's also super easy and hands-off. All you do is load everything into the pot and close the lid. Then you turn on the Instant Pot and let it do its work.
It will automatically cook for the specified amount of time and beep when it's done! Easy Peasy!
How do I use bone broth?
Add  to soups
Use in rice or risotto
Add to sauteed vegetables
Use in any recipe that calls for stock or broth
Can I freeze bone broth?
Yes, this broth can be frozen. I like to freeze it two ways. First, I often freeze in ice cube trays and then once it's frozen I pop the cubes into a freezer bag. My ice cube tray makes about 1 tablespoon-sized cubes. I can easily pull out a few cubes and add it to any dish I'm cooking.
I also like to freeze in canning jars with plastic lids. I usually use these when I need a larger amount of broth, like when I'm making soup.
One caution when using jars is not to fill them all the way. In fact, leave a good 1 - 1 ½ inch of room. The broth expands when it freezes and there's nothing worse than finding out your jar split in the freezer. If that happens, throw out the jar and the broth.
If you'd like your broth shelf stable, canning is a great idea! Follow these directions for canning chicken stock.
Where do I get bones to make bone broth?
You can get bones from a variety of places. First, you could use a leftover bone from a pot roast or other meat you cooked for dinner. You could also go to your grocery store and ask your butcher. They will often have a good supply of bones.
My store has cut bones in the freezer section. My husband supplies the wild game bones for me. I just ask him to cut the bones into pieces that will fit into my Instant Pot.
The size of the bones doesn't matter. I've used both small and large bones.
How do I make Instant Pot Bone Broth?
Put bones in pot
Drizzle cider vinegar over bones
Add vegetables, garlic and bay leaves
Add water
Close and seal lid
Cook on high pressure for 2 ½ hours
Allow pressure to naturally release
Remove lid and allow broth to cool enough to handle
Strain off bones and other ingredients
Pour into a container and refrigerate
Once cool, scrape off any fat on top
Use or pour into smaller containers and freeze
If you make this recipe, I'd love to hear about it! Leave a comment below or snap a picture and tag me on Instagram #beyondthechickencoop
If you loved this recipe you'll LOVE all the others in this category. Check out all my Instant Pot Recipes here!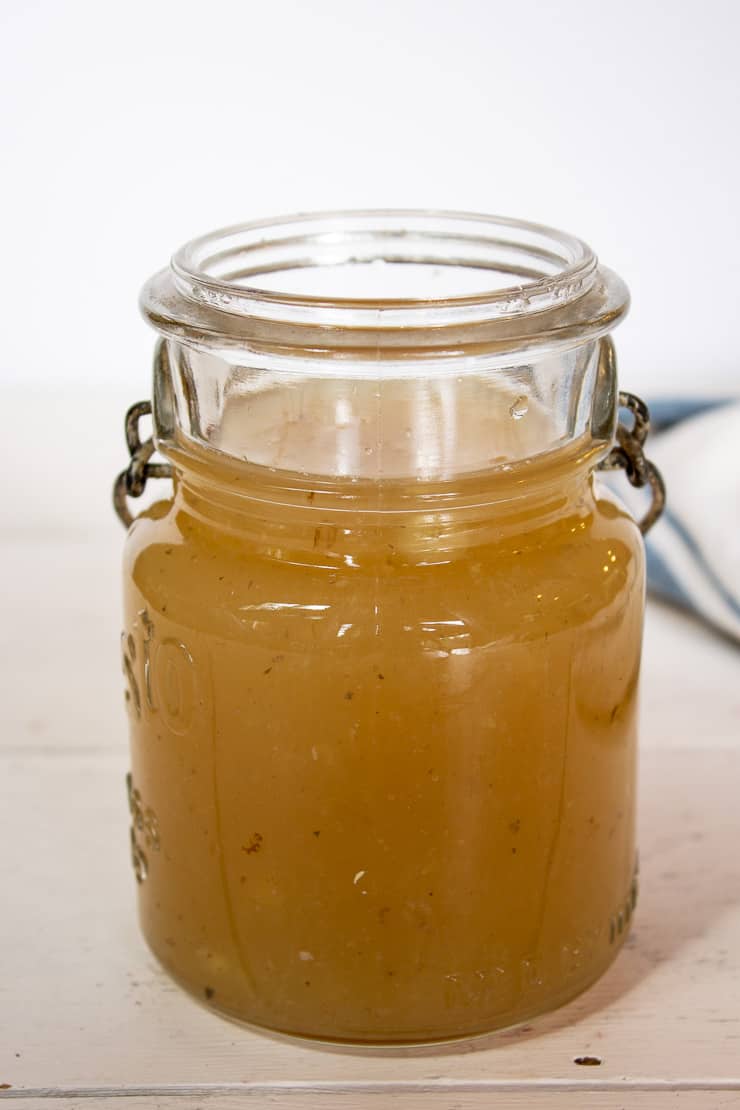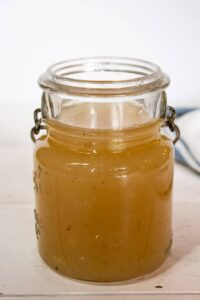 Instant Pot Bone Broth
Bone broth made in an electric pressure cooker
Ingredients
3

pounds

bones

(beef, pork or elk)

2

Tablespoons

apple cider vinegar

1

onion

(quartered)

2

cloves

garlic

2

carrots

(chopped in half)

1

stalk

celery

(chopped in half)

6

quarts

water
Instructions
Add bones to pot of Instant Pot.

Drizzle over apple cider vinegar. Allow to sit for 2-3 minutes.

2 Tablespoons apple cider vinegar

Add remaining ingredients and fill water to the fill line of pot.

1 onion,

2 cloves garlic,

2 carrots,

1 stalk celery,

2 bay leaves,

6 quarts water

Close lid and set to high pressure for 180 minutes.

Allow pot to naturally depressurize. Carefully remove lid and allow to cool slightly.

Strain off bones and remaining ingredients.

Refrigerate broth. Once cooled, skim off any fat on the surface.

Divide into storage containers and use within 3 days or freeze.
Notes
Ways to use broth:
Add  to soups
Use in rice or risotto
Add to sauteed vegetables
Use in any recipe that calls for stock or broth
Nutritional Disclaimer:
Nutritional information is provided as a courtesy and should only be construed as an estimate rather than a guarantee. To obtain the most precise nutritional information in a provided recipe, you should calculate the nutritional information with the exact ingredients you are using when preparing the recipe using your preferred nutrition calculator.
Nutrition
Serving:
0.5
cup
Calories:
5
kcal
Carbohydrates:
1
g
Sodium:
20
mg
Potassium:
32
mg
Vitamin A:
1030
IU
Vitamin C:
0.9
mg
Calcium:
13
mg