Wild Huckleberries made into a delicious Huckleberry Crisp. This tasty dessert can be made with fresh or frozen wild huckleberries and a granola topping. 
Super simple to make and absolutely delicious!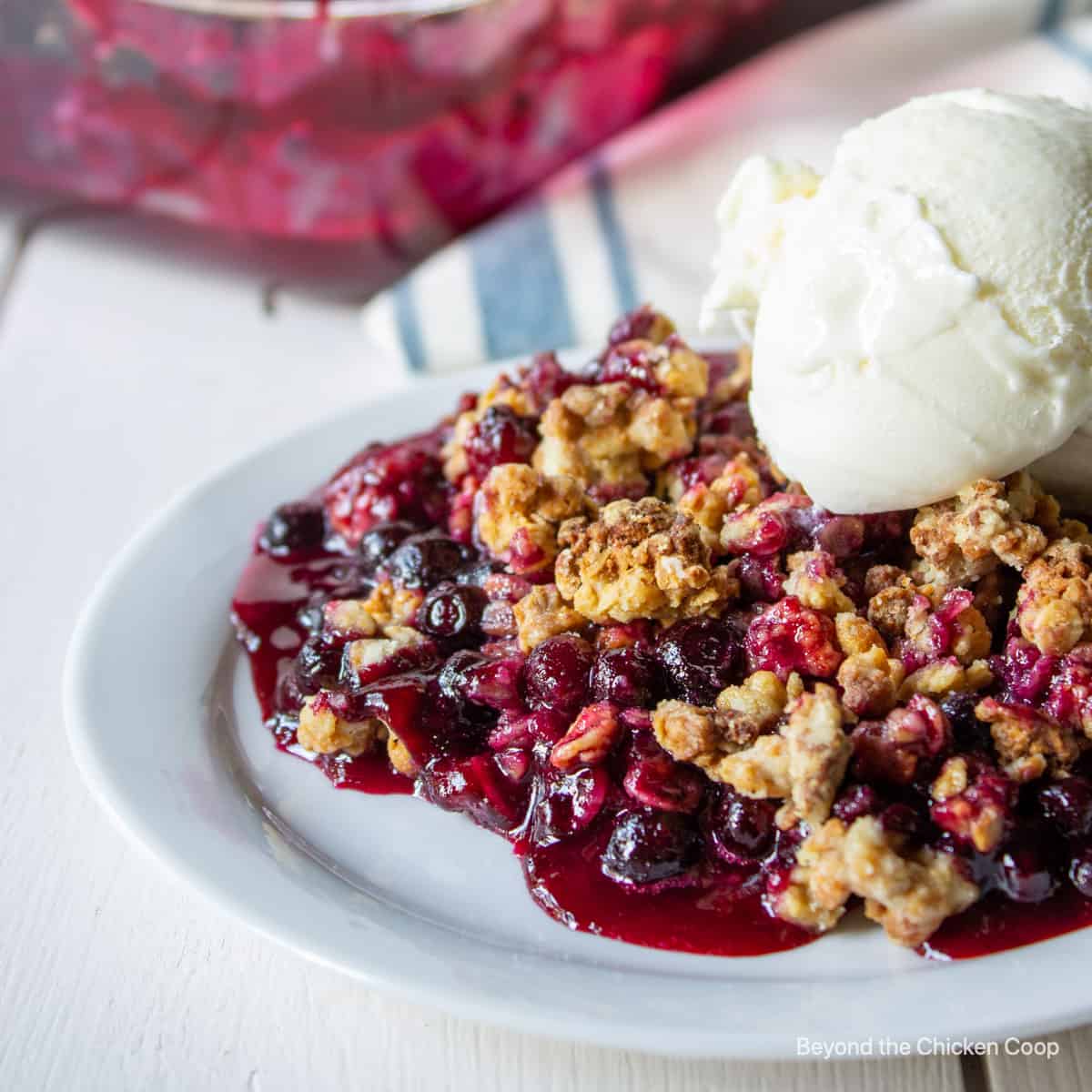 Huckleberries
Huckleberries grow wild in the mountains of the inland northwest.  They are a coveted berry that are a local treat.  All the restaurants sell something on their menus highlighting the huckleberry. Souvenirs all have something to do with the huckleberry.  The huckleberry is Idaho's state berry.
Every summer, we go huckleberrying.  Most people here do, but no one ever shares where they found their prized possessions.  It's top secret.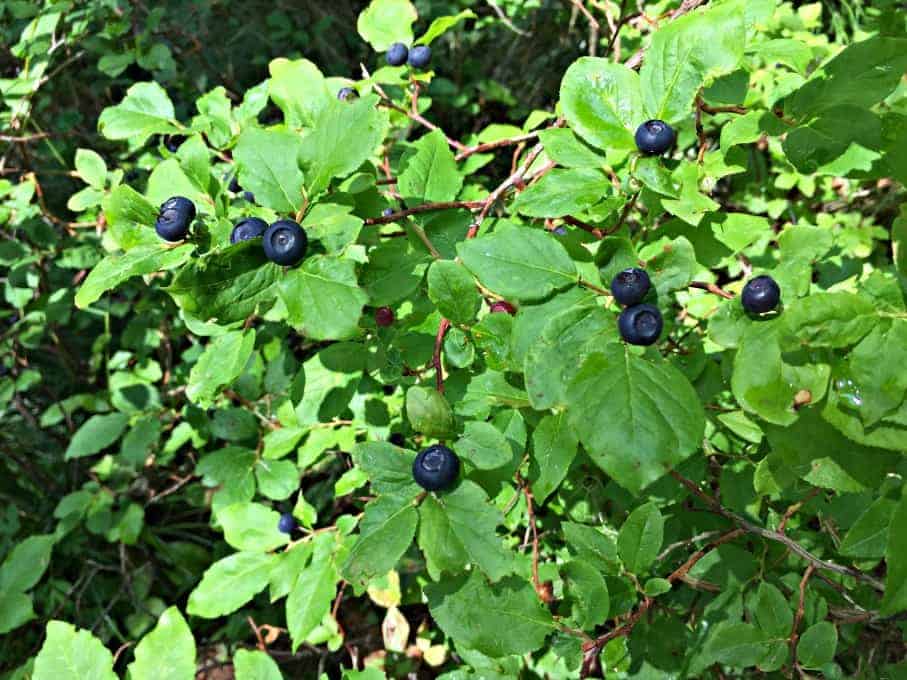 Huckleberries resemble blueberries.  The taste is usually tarter than a blueberry.  They are smaller and often have a purplish or a reddish tint.
They are much harder to pick than blueberries, and not just because you have to drive way up in the mountains to find them.  The bushes grow on rough terrain and the berries aren't clumped together.
A gallon of huckleberries currently sells for $40 $60 a gallon!  The price just keeps going up! Isn't that crazy!!!  A lot of the local restaurants buy them to use in drinks and desserts, but many people are willing to pay the price so they have can their share at home too.
This huckleberry crisp makes the huckleberries the star of the show! Just a simple granola topping and maybe a scoop of vanilla ice cream and you've got a winner!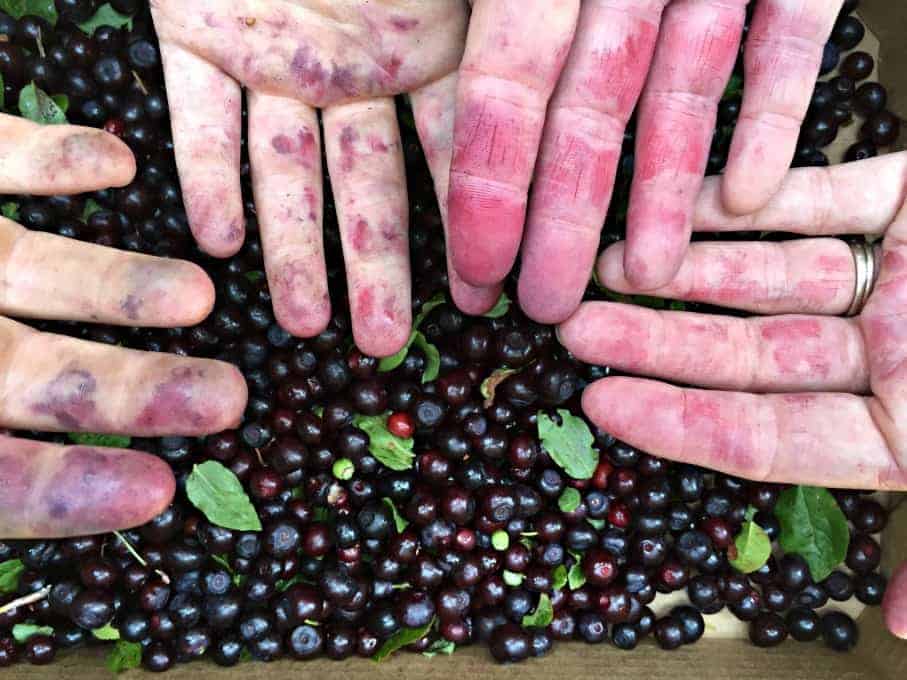 The tell-tale sign of a huckleberry picker is the stained hands. The tell-tale sign of a huckleberry picker who has been eating their berries is a stained mouth! You can always spot 'em!
Key ingredients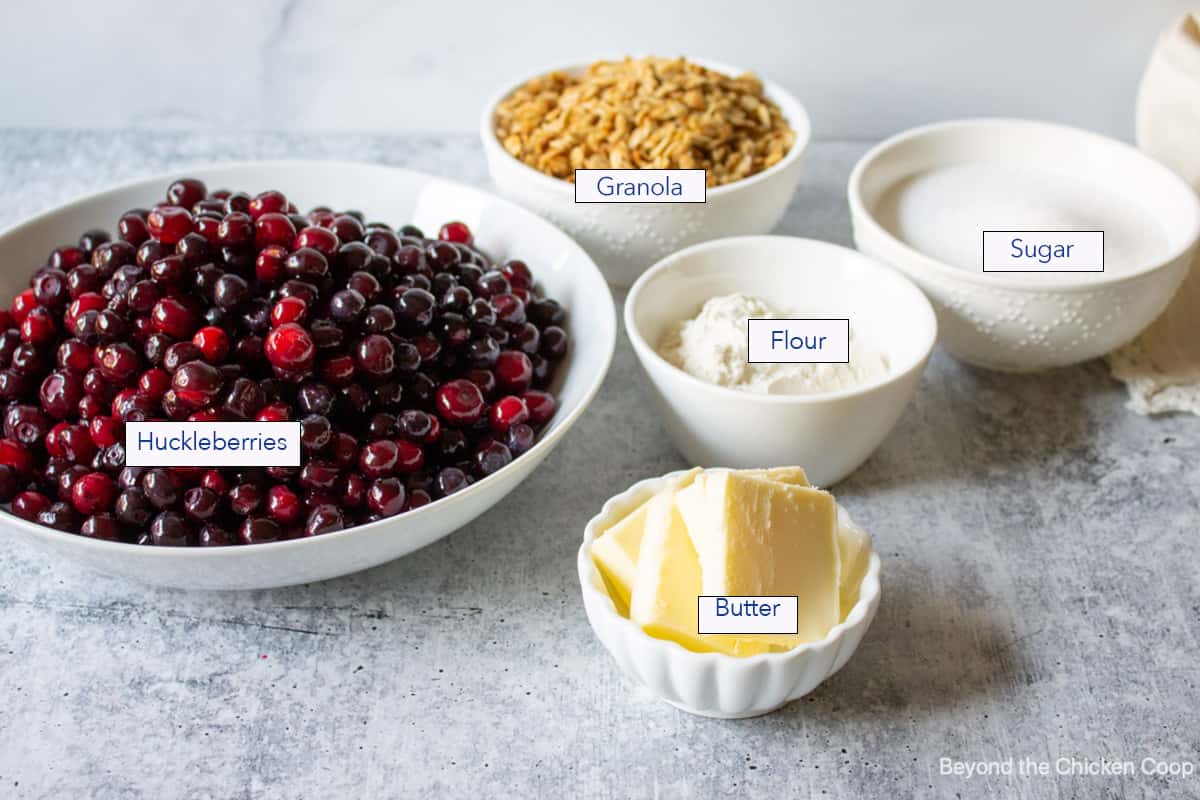 Huckleberries - fresh or frozen
Granola - I use my homemade granola, but almost any granola will work. Try to avoid one with dried fruit, chocolate and nuts. I've used my pecan granola before, but the pecans do tend to get pretty browned while cooking.
Sugar
Flour - all purpose flour
Butter - salted butter
Step by step directions
Place huckleberries in a bowl along with ¼ cup of flour and sugar
Lightly toss to coat
Place berries in a greased 8x8 inch baking dish
Combine granola, flour and melted butter. Stir until flour is no longer powdery
Spread over huckleberries
Bake in a preheated 350° oven for 30-35 minutes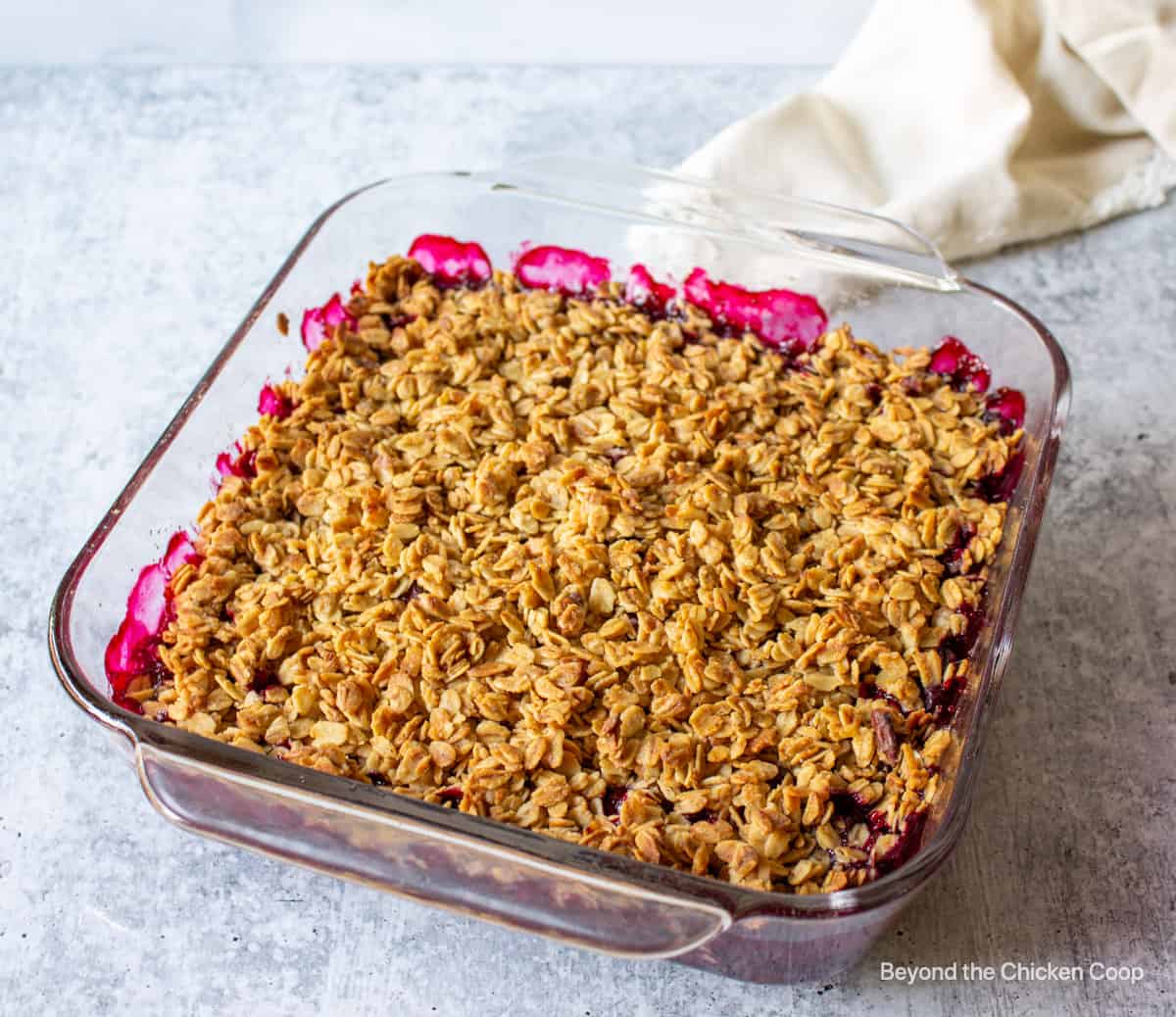 Variations
Replace granola topping with an oatmeal topping that I use in this rhubarb crisp.
Use blueberries in place of the huckleberries
Add a tablespoon of fresh lemon zest to the berry mixture
Add a teaspoon of ground cinnamon to the berry mixture
Recipe tips
If you want your fruit a bit thicker, add ⅓ cup of flour instead of the ¼ cup
Fold berries gently so the berries aren't crushed
If using frozen berries, do not thaw first. Add berries frozen and increase cooking time by 5-10 minutes
Bake uncovered for 30-35 minutes. Crisp is done when berries are bubbling and granola is golden.
Crisp can be served warmed or at room temperature
Recipe Faqs
How long will this crisp last?
The crisp will last for 2-3 days when covered and stored at room temperature.
Can I reheat the huckleberry crisp?
Yes, this can be reheated. For a single serving heat in the microwave for 30-40 seconds. For the entire dessert, place in a preheated 350° oven for 10-15 minutes until heated through.
More huckleberry recipes
You might also want to try making Huckleberry Muffins and Huckleberry Custard Pie!
If you make this recipe, I'd love to hear about it! Leave a comment below and snap a picture and tag me on Instagram @beyondthechickencoop
Check out all my dessert recipes!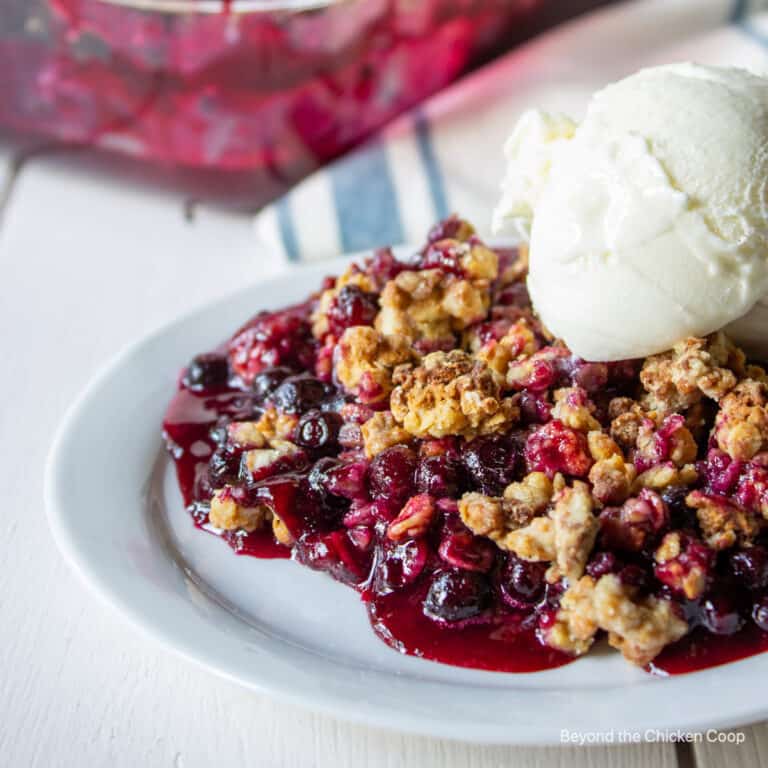 Huckleberry Crisp
A delicious dessert made with wild huckleberries and a granola topping.
Ingredients
4

cups

wild huckleberries

¾

cups

sugar

¼

cup

flour
Topping
2

cups

granola

¼

cup

butter

(melted)

¼

cup

flour
Instructions
Mix huckleberries, sugar and ¼ cup flour together. Pour into a greased 8 x 8" baking dish.

4 cups wild huckleberries,

¾ cups sugar,

¼ cup flour

In another bowl, mix granola, butter, and ¼ flour together.

2 cups granola,

¼ cup butter,

¼ cup flour

Pour granola mixture over huckleberries.

Bake at 350 for 30-35 minutes.

Keep a close eye on your crisp. You want the mixture to be bubbling, but you don't want your topping to burn.
Notes
If you want your fruit a bit thicker, add ⅓ cup of flour instead of the ¼ cup
Fold berries gently so the berries aren't crushed
If using frozen berries, do not thaw first. Add berries frozen and increase cooking time by 5-10 minutes
Bake uncovered for 30-35 minutes. Crisp is done when berries are bubbling and granola is golden.
Crisp can be served warmed or at room temperature
Nutrition
Calories:
338
kcal
Carbohydrates:
56
g
Protein:
5
g
Fat:
11
g
Saturated Fat:
4
g
Polyunsaturated Fat:
1
g
Monounsaturated Fat:
3
g
Trans Fat:
1
g
Cholesterol:
15
mg
Sodium:
73
mg
Potassium:
129
mg
Fiber:
2
g
Sugar:
25
g
Vitamin A:
271
IU
Vitamin C:
3
mg
Calcium:
47
mg
Iron:
2
mg