In this podcast episode, Kathy discusses whether re-canning commercially canned food is a safe and practical practice.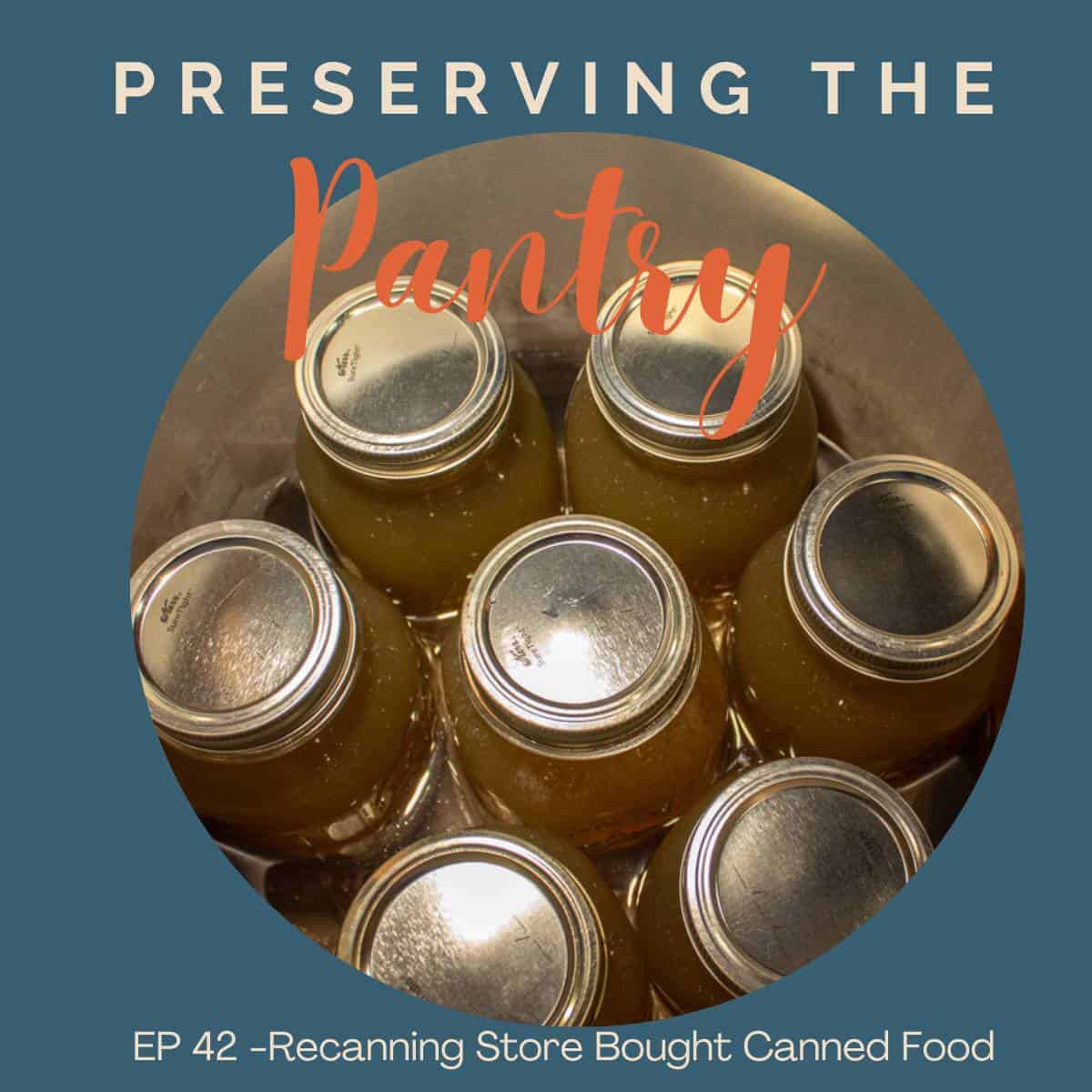 Play the episode
Recipes
In this episode you'll learn:
If purchasing large cans of commercially canned food and re-canning into smaller jars is worth it.
Does re-canning affect the quality of the food
If re-canning is safe
Resources
Where to listen to the podcast
Listen to this episode on iTunes, Spotify, Amazon Podcast, or your favorite podcast player. Or scroll down to read a full transcript.
If you love this podcast, I'd love to hear about it! Leave a comment below and hop over and leave a comment on Instagram @preservingthepantry!
Transcript
Hi everyone. Welcome back to Preserving the Pantry. I am so glad that you are here with me again. Today we are gonna be talking about canning foods, and I am always learning new processes and techniques and information about canning. And when I find that information out, I like to be able to share it with you.
I have joined several different Facebook canning groups where the topic is all about canning and they are really varied. Some only follow information and practices from the National Center for Home Food Preservation, and some are whatever works, works, and the techniques are a little. What I would consider risky.
They don't follow necessarily current practices that I would deem as safe, but everybody has their own way of doing things. I try to only share information that comes from the National Center for Home Food Preservation, and so that's what I'm going to be doing. You can decide whatever methods work best for you.
If you don't agree with these practices, that's okay, but I'm going to share this with you. So the information I'm going to share with you today comes from the University of California Master Food Preserver Program, and what I really like is they send out regular newsletters and post information just with little snippets of information about what has been deemed safe or best practices based on the National Center for Home Food Preservation.
And I have seen this particular topic regularly in other Facebook groups that pose some interesting questions and it really is about re-canning already canned food that you would buy at the grocery store. And it really centers around like, you know, those giant size, restaurant size cans of food. They're called number 10 size cans.
They're very large and you'd find them typically used in major food productions like restaurants or cafeterias or things like that, and oftentimes the cost of those cans will be cheaper than if you were to buy the same amount in individual size cans. And so the question has come up where the processes come up often of I bought all of these number 10 size cans, and I want to open them, redistribute them into smaller portions, and can them.
Many people do this, but according to the National Center for Home Food Preservation. This is not a recommended practice for several reasons. First, From a cost perspective, there are a lot of different costs that are actually going to be involved when you are recanting something. So you've got the jars, and many people already have the jars in their shelves or their pantry, but if not, you'll have to be purchasing the jars.
You have to purchase the lids, and then also the energy to reprocess that food, not to mention your own time. So it might not be a very cost effective method.
From a quality perspective. We're really looking at when something is processed and then reprocessed and reprocessed, you start to diminish that quality.
So buying a giant can of tomato sauce and you have repackaged it into smaller pint sized jars and then reprocessed it, you might start to lose some of the quality, the flavoring, the freshness that you originally find in that can. And then there's also some safety concerns as. So when you are re-canning something, the quality of the food often is very, depending what it is, might be softer.
And so it might pack more densely into the jars than when you first create the product. And the jars that are packed too densely might not heat safely throughout the jar, thus impacting whether you can process it safely or not. Now, this doesn't apply to, oftentimes when I will make chili, I will use either canned tomatoes from the store or my canned tomatoes.
We're using those in a small amount and we're using them as part of the recipe. And this method, and for that particular recipe has been approved from the National Center for Home Food Preservation. But that is a little bit different for using those into a specific recipe rather than just recanting the item in its entirety.
So for those reasons, it is deemed that re-canning commercially canned food, is not recommended. So instead, if you need to purchase smaller quantities, or if you really find a great bargain on those number 10 size cans, then figure out a way that you can use it without re-canning it.
Maybe for a special holiday where you're having a lot of people over, make a big batch of chili or whatever it is that you're making spaghetti sauce or use what you need, reportion it into smaller containers, and then freeze it.
Use it rather quickly so it doesn't have freezer burn on it. That's going to be a safer method than actually re-canning with the water method or the pressure canning method. So just keep these things in mind. I will include links to this direct newsletter that is provided by the University of California Master Food Preservers so that you can look at it yourself.
I find it fascinating to just learn from others and see what is out there. I hope you do as well. Have a great day every. We'll see you again next week.
Thanks for listening, and be sure to tune in again next week for more episodes of Preserving the Pantry.