In this podcast episode, Kathy share a recipe for an easy to make raspberry sauce using frozen raspberries.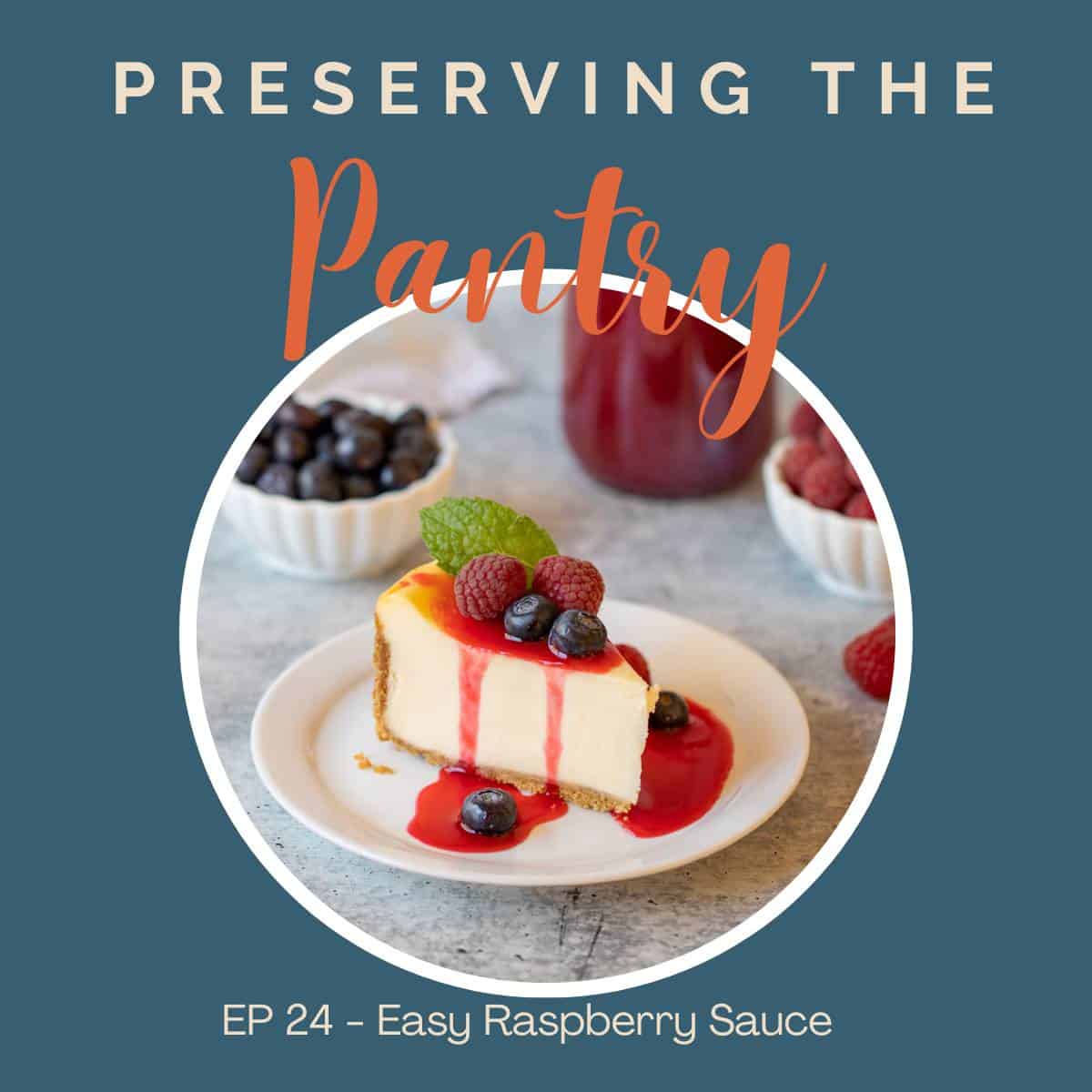 Play the episode
Recipes
Find the complete recipe for Raspberry Sauce
Recipes mentioned in this podcast:
In this episode you'll learn:
An easy to make recipe using frozen raspberries and sugar
Ideas on how to use raspberry sauce
Where to listen to the podcast
Listen to this episode on iTunes, Spotify, Amazon Podcast, or your favorite podcast player. Or scroll down to read a full transcript.
If you love this podcast, I'd love to hear about it! Leave a comment below and hop over and leave a comment on Instagram @preservingthepantry!
Transcript
Hello everyone and welcome back to the Pantry. I was recently rummaging through one of our deep freezers and came across several bags of frozen raspberries.
We grow a lot of raspberries, and in the summertime I freeze a lot of those raspberries. Sometimes I actually forget they're in there, and when I start rummaging through the freezers, I find things that are just a treasure trove of goodies down there and decide to put them to good use.
So I am making a raspberry sauce with these frozen raspberries. This is so easy, you're not even going to believe it.
It only has two ingredients, raspberries and sugar, and it's perfect for pouring over ice cream, adding a little bit to a cheesecake, or using on pancakes in the morning.
So it's a great versatile recipe that's so easy and has so much flavor. All this uses is raspberries, and you can use fresh or frozen, but since it's in the middle of winter and I have an abundance of frozen raspberries, I am using the frozen. You'll use one pound of raspberries and half a cup of sugar.
It's really not very much sugar, and sometimes raspberries can be on the tart side, so you might decide you want to add just a little bit more sugar if you need it.
This recipe is very simple to make. You simply place your raspberries. If they're frozen, just place them frozen, right into a pan. If you need to break them up a little bit to get them into your saucepan and you're going to put it over medium to medium low heat along with your sugar.
You want those raspberries to start to break down. They're going to release their juice and you'll be stirring in the sugar at the same time. You're going to heat them just until the raspberries have broken down and they're very juicy. The amount of time it takes will depend on your stove and the temperature that you're cooking them at.
You place your raspberries in a fine mesh strainer and you strain it. So I just use, use the bottom of a ladle, like a soup ladle and use a circular motion and it pushes all of that juice and pulp through the sieve. And then you discard any of the seeds.
You place this sauce in a container and refrigerate until it's cool. And that is it. It is so super simple, so delicious, and it's a great way to use up some of those raspberries.
I think going into the holiday season, this is a great recipe to make right now because it just adds so much to everything that you're making.
That's it for today. Check out the recipe and I'll see you again next week in the pantry.
Thanks for listening, and be sure to tune in again next week for more episodes of Preserving the Pantry.