In episode 16, Kathy discusses how to use green tomatoes in a homemade recipe for Green Tomato Relish.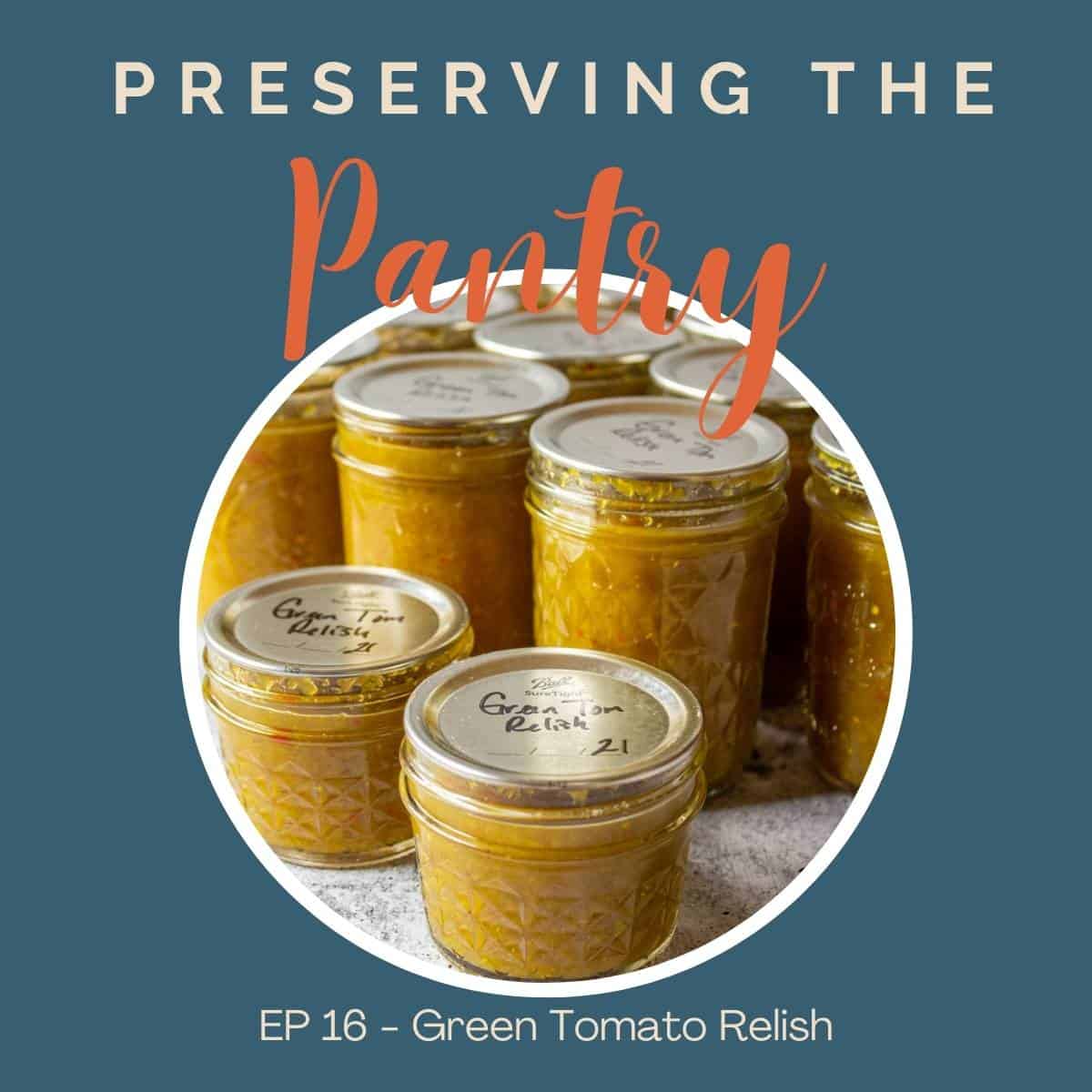 Play the episode
Recipes
Find the complete recipe for Green Tomato Relish
Recipes mentioned in this podcast:
In this episode you'll learn:
What to do with extra green tomatoes at the end of the season
Ingredients needed
Step by step process for making green tomato relish
Equipment needed:
Where to listen to the podcast
Listen to this episode on iTunes, Spotify, Amazon Podcast, or your favorite podcast player. Or scroll down to read a full transcript.
If you love this podcast, I'd love to hear about it! Leave a comment below and hop over and leave a comment on Instagram @preservingthepantry!
Transcript
Hello and welcome back to the Pantry. Today we are going to be talking about how to make green tomato relish. Now this is a very savory relish. It's different than a pickle relish.
We use this green tomato relish served alongside as a condiment with meats like pork chops or pork roast or meatloaf, and we just put a little bit on each bite and it just adds so much delicious flavor.
I'm sure there's lots of different ways to use this green tomato relish. That's how we use it most.
Now our garden is just about coming to a close and unless you live in a place where your garden can be maintained the entire year, you're always going to have some green tomatoes. We pick as many as we can before we get that first frost and we bring them in the house.
Several of those tomatoes will continue to ripen into beautiful red ripe tomatoes. But we always still have a ton of green tomatoes. So rather than letting those go to a waste, we turn that into our green tomato relish. It's really delicious. This makes a large recipe. You can cut this recipe in half if you'd like to.
So the recipe calls for seven pounds of green tomatoes, three pounds of tart apples, like a Granny Smith apple. Four medium onions, four green bell peppers, one red bell pepper, four cups of sugar, four cups of white vinegar that the vinegar needs to be at least 5% acidic level, a half a cup of pickling salt, a tablespoon of ground cinnamon, ground allspice, ground nutmeg, ground mace, ground cloves, ground tu, and a quarter couple pickling.
The first thing you'll do is take that pickling spice and it's going to be wrapped in several layers of cheesecloth, and then tie the pickling spice is going to flavor the green tomato relish, but you want to remove it before we actually can it. All those seeds are going to be removed. You're going to core your tomatoes and quarter them and place them in a food processor and you puree until they're nice and smooth.
Place that in a large stockpot, you'll do the same with your apples, your onions, your peppers, you puree all of those, and then add to your stock pot. In the stockpot, you'll add your sugar, your vinegar, your salt, and all of your seasonings, and that spice packet with the pickling spice, and you're going to heat it.
Over medium heat until the mixture begins to simmer. You'll simmer for about 30 minutes. Then take out that spice packet and discard it. While the relish is still hot, you'll ladle it into your clean canning jars leaving a half inch head space from the top. Wipe down the rims with the clean cloth. Add your lid and your ring and place in a water bath canner with hot.
Make certain that there is at least one to two inches over the top of each jar. Place the lid on the canner and bring the water to a boil. You'll boil pint size jars for 15 minutes, adding additional time for your elevation. And I have a chart for that along with my recipe. Once your time is finished, turn off your heat and remove the lid to the canner.
Keep your jars of the hot water for an additional five minutes to help avoid siphoning of the liquid from the jars. Remove the jars and place on a cooling rack and let them cool for at least 12 hours before touching. Then you'll remove the rings, check the seals, wash the outside of the jars, and then label your jars with green tomato relish and the date and store in a cool dark.
I usually make this in pint or half pint size jars, and sometimes even the really small jars that are smaller than that, just because it makes a great little gift to give away, and it's the amount that we will use. Make certain, when you're making this recipe that use pickling salt, not table salt. Table salt often has additional additives.
This is a great way to use up those green tomatoes, and it's a real delicious recipe, so give it a try. I'll see you next week in the pantry.
Thanks for listening, and be sure to tune in again next week for more episodes of Preserving the Pantry.