A very light and elegant meringue cookie that melts in your mouth and will satisfy your sweet tooth. These chocolate meringue cookies are gluten free and have less than 15 calories per cookie!
Add these cookies to your holiday cookie tray or make whenever you want something light and delicious!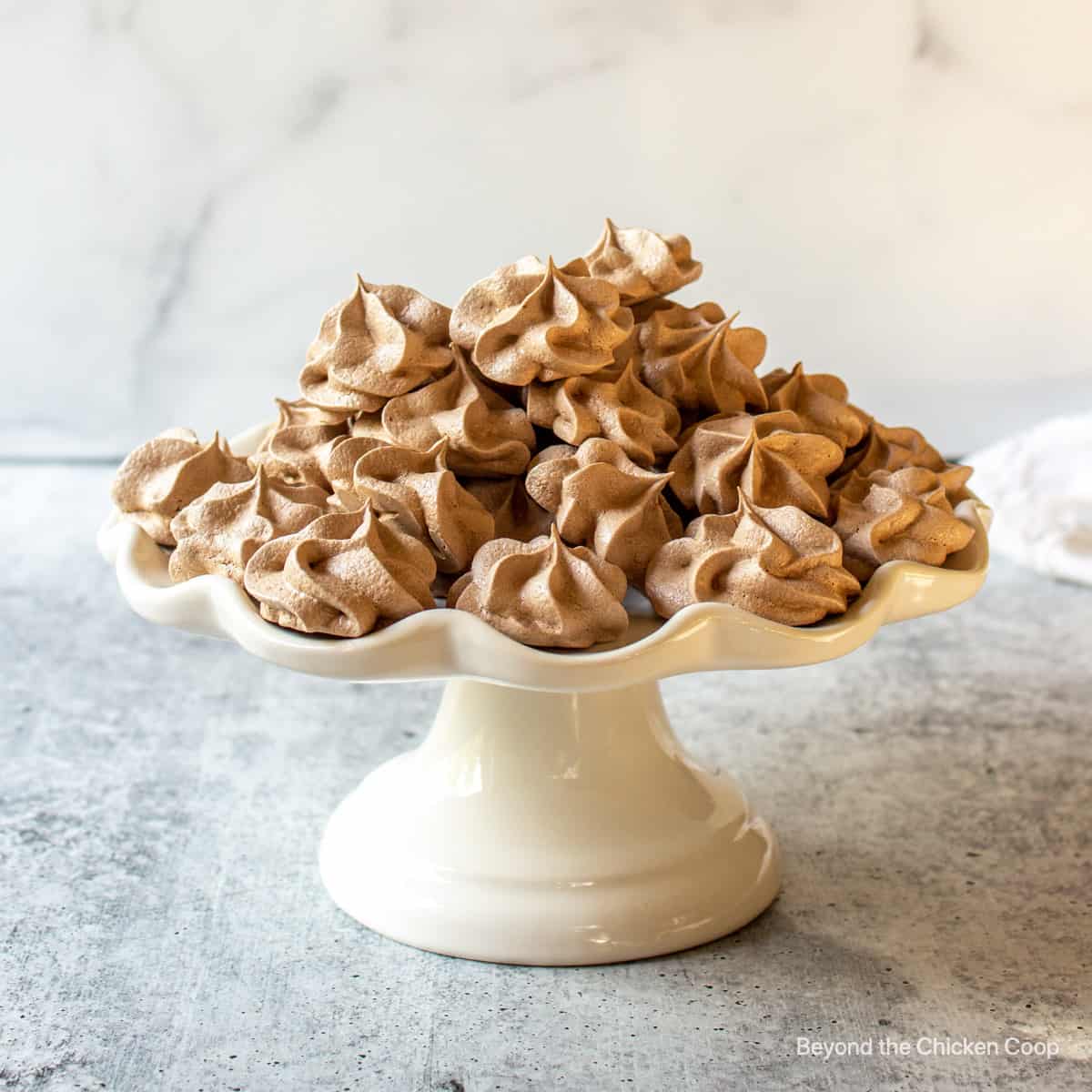 There's just no such thing as too many cookies! At least that's true in my book! I like having a variety of cookies and during the holidays I love creating several different types of cookies for everyone to try.
These cookies are not only delicious, but they are gluten free and only have a handful of calories - just 13 per cookie. The cookies are small but they leave you feeling satisfied. And since each cookie only has a few calories, go ahead and have two!
You can make these chocolate meringue cookies ahead of time and as long as they are stored in an airtight container, they'll still be light and airy.
Key ingredients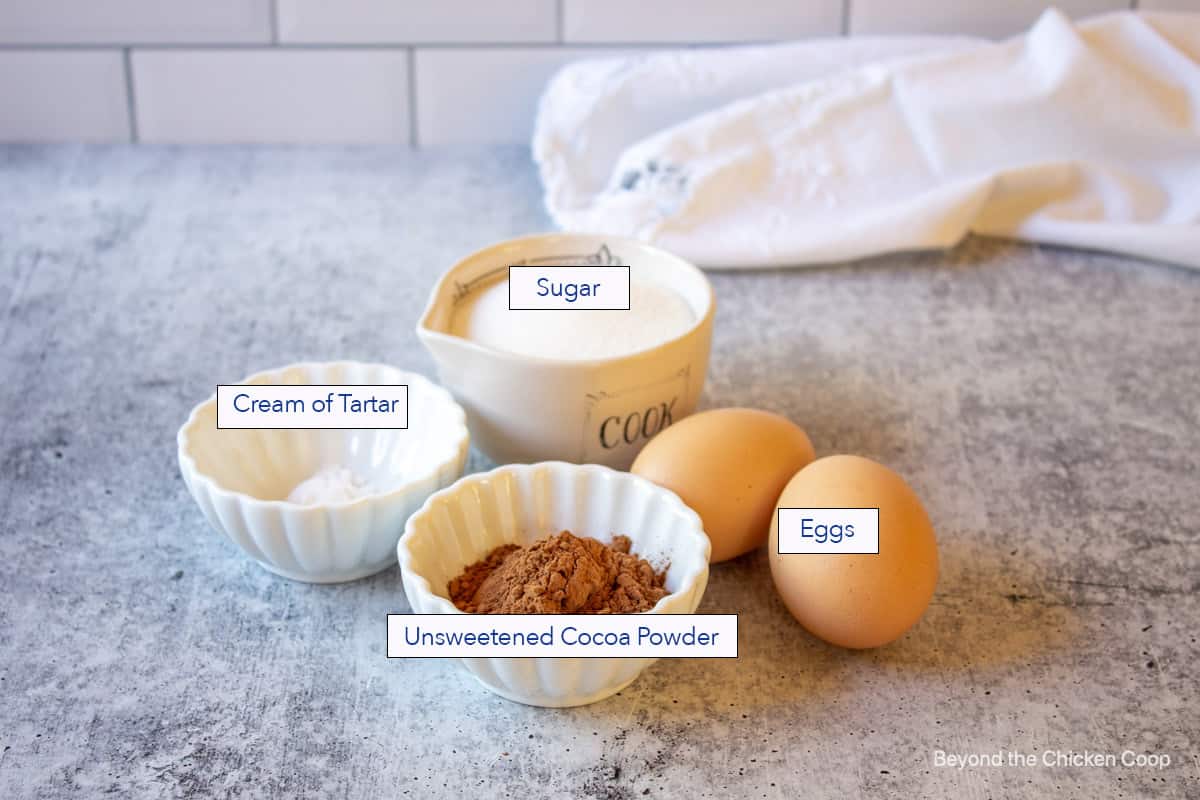 Egg whites - best if at room temperature
Sugar - granulated sugar
Unsweetened cocoa powder, not dutch processed cocoa powder
Cream of tartar
Step by step directions
Place egg whites in a mixing bowl of a stand mixer and beat with the whisk attachment
When egg whites become foamy, add cream of tartar
Whisk until soft peaks are formed
With mixer running at high speed, slowly add sugar
Continue whipping until stiff peaks are formed
Sift cocoa powder into meringue and gently fold in until all cocoa powder is mixed
Once cocoa powder is fully mixed add to a piping bag
Pipe 1 - 1 ½ inch stars onto a baking sheet lined with parchment paper
Bake in a preheated 300° oven for 45-60 minutes
Recipe tips
When separating eggs, make certain there isn't any yolk that accidentally gets in with the whites
Use a stand mixer with a whisk when possible. A hand mixer can also be used, but the mixing time will take longer. You could also use a hand whisk, but you might need muscles like Popeye!
Use a clean, dry mixing bowl
Be certain to pipe the cookies right away. Waiting may cause the batter to deflate
Instead of piping you could also spoon a dollop of meringue onto the baking sheet
Use parchment paper or a silicone mat to bake meringues
The cooking time will vary depending on the size of your meringues and the humidity
Meringues are done when they easily lift off the parchment paper and are light. The cooking is actually drying out the meringues. They should be light and airy throughout.
Store cooled meringues in an airtight container for up to 2 weeks
Recipe Faqs
Why are my meringues chewy?
When meringues are chewy it's because they weren't cooked all the way through or they have become damp.

Place the meringues back into a 300° oven for 10 minutes and see if they are crispier.
How long will meringues last?
The meringues will last for up to two weeks when stored in an airtight container.
Can I freeze meringue cookies?
These cookies do not freeze well.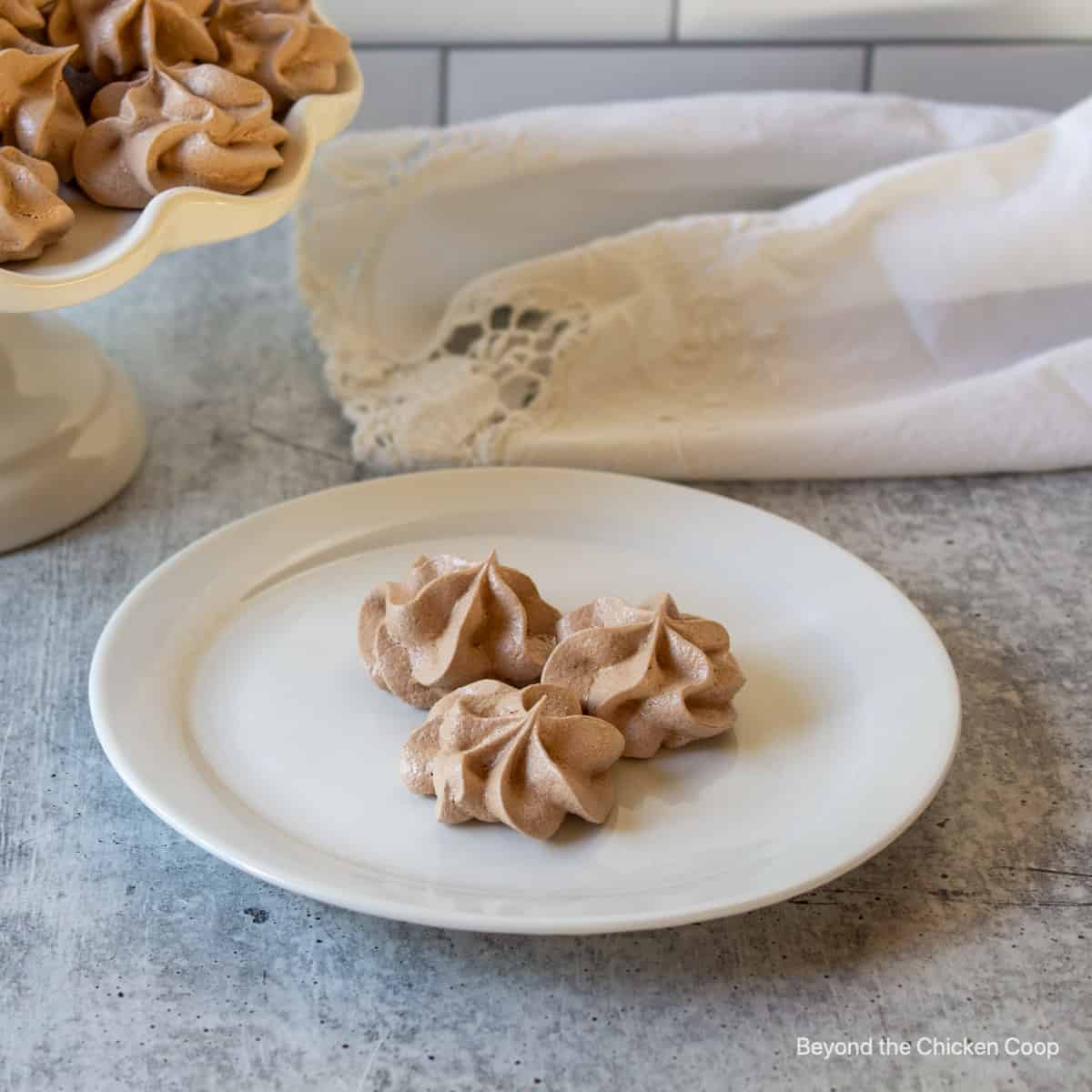 If you make this recipe, I'd love to hear about it! Leave a comment below and snap a picture and tag me on Instagram @beyondthechickencoop
Be certain to check out all my delicious cookie recipes.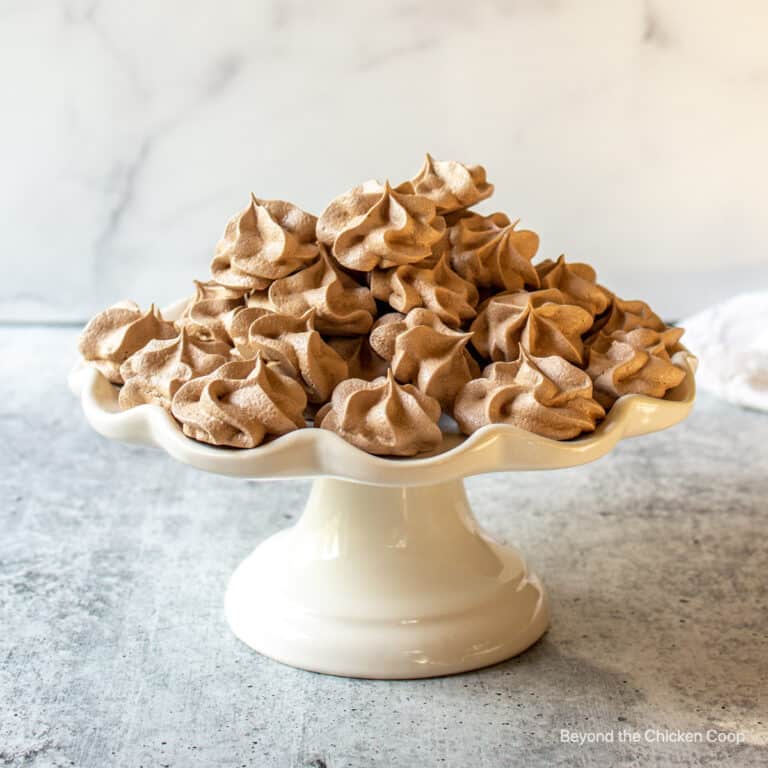 Chocolate Meringue Cookies
A light and airy meringue cookie that will melt in your mouth
Ingredients
2

egg whites

¼

teaspoon

cream of tartar

½

cup

sugar

2

tablespoons

unsweetened cocoa powder
Instructions
Place egg whites in a mixing bowl of a stand mixer and beat with the whisk attachment

When egg whites become foamy, add cream of tartar

¼ teaspoon cream of tartar

Whisk on high speed until soft peaks are formed and then slowly add sugar while whisking

Continue whipping until stiff peaks are formed

Sift cocoa powder into meringue and gently fold in until all cocoa powder is mixed

2 tablespoons unsweetened cocoa powder

Pipe 1 - 1 ½ inch stars onto a baking sheet lined with parchment paper

Bake in a preheated 300° oven for 45-60 minutes

Cookies are done when they pull off easily from the parchment paper and they are light and airy and dried all the way through
Notes
When separating eggs, make certain there isn't any yolk that accidentally gets in with the whites
Use a stand mixer with a whisk when possible. A hand mixer can also be used, but the mixing time will take longer. You could also use a hand whisk, but you might need muscles like Popeye!
Use a clean, dry mixing bowl
Be certain to pipe the cookies right away. Waiting may cause the meringues to deflate
Instead of piping you could also spoon a dollop of meringue onto the baking sheet
Use parchment paper or a silicone mat to bake meringues
The cooking time will vary depending on the size of your meringues and the humidity
Meringues are done when they easily lift off the parchment paper and are light. The cooking is actually drying out the meringues. They should be light and airy throughout.
Store cooled meringues in an airtight container for up to 2 weeks
Nutrition
Serving:
1
cookie
Calories:
13
kcal
Carbohydrates:
3
g
Protein:
1
g
Fat:
1
g
Saturated Fat:
1
g
Polyunsaturated Fat:
1
g
Monounsaturated Fat:
1
g
Sodium:
3
mg
Potassium:
11
mg
Fiber:
1
g
Sugar:
3
g
Calcium:
1
mg
Iron:
1
mg