These mini raspberry tarts are made with a homemade crust, a pastry cream filling and topped with fresh raspberries.
A perfect and impressive way to fully enjoy fresh raspberries!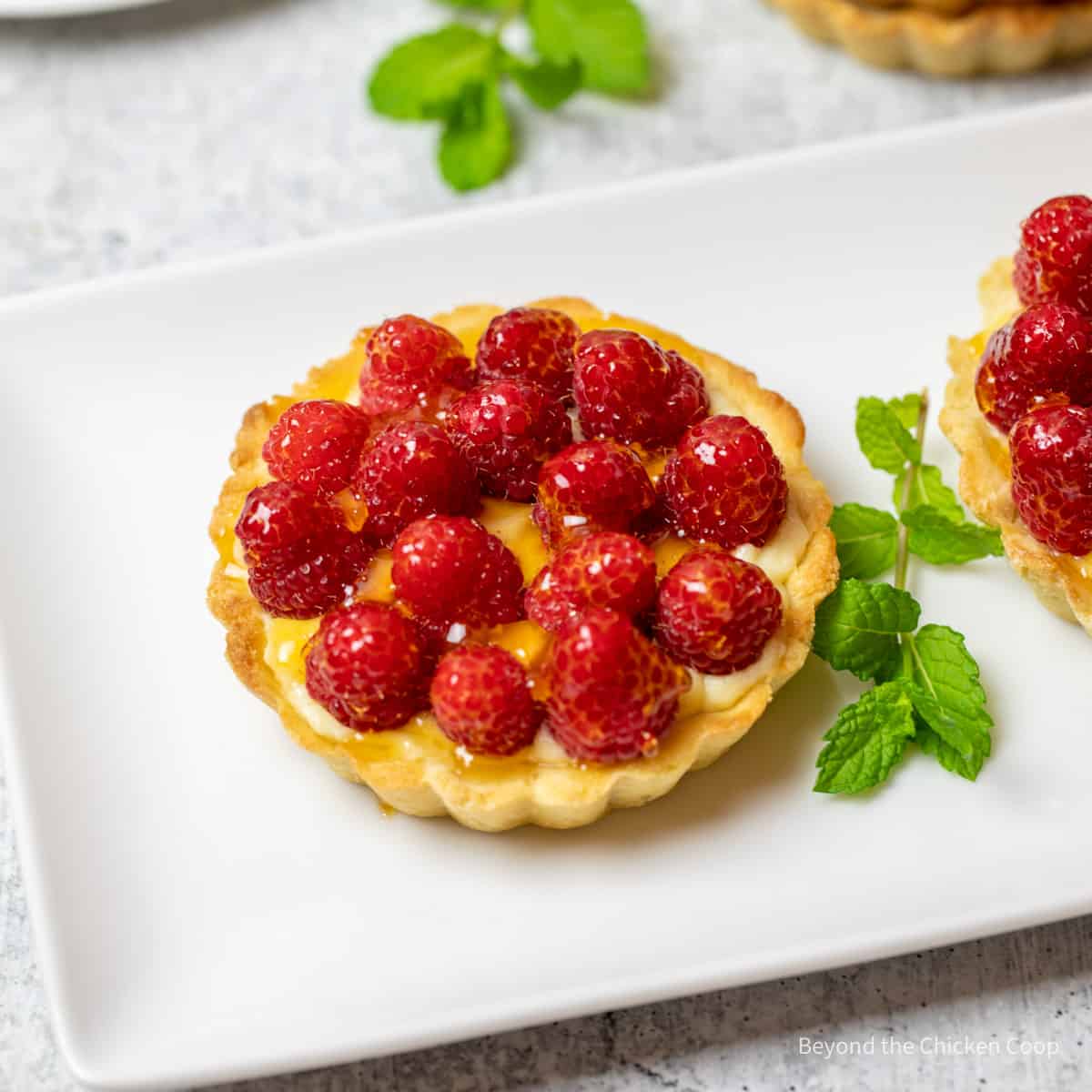 Raspberry tart
These raspberry tarts are in mini form because sometimes it's nice to have your very own dessert!
I have to be honest. These tarts take a few steps to make, but it's totally worth it. I've made a homemade crust (a Pâte Sucrée), a homemade pastry cream (Crème Pâtissière)and topped the tarts with homegrown raspberries.
Don't worry if you don't have homegrown raspberries! Store bought work perfectly too!
One good thing about making these mini raspberry tarts, is everything can be made ahead of time and then assembled at dessert time.
In fact, you need to make it ahead of time, because the pastry cream needs to chill and the crust needs to cool.
As I said, this recipe does have a lot of steps, but don't let that scare you off. You can do this!!!
Key ingredients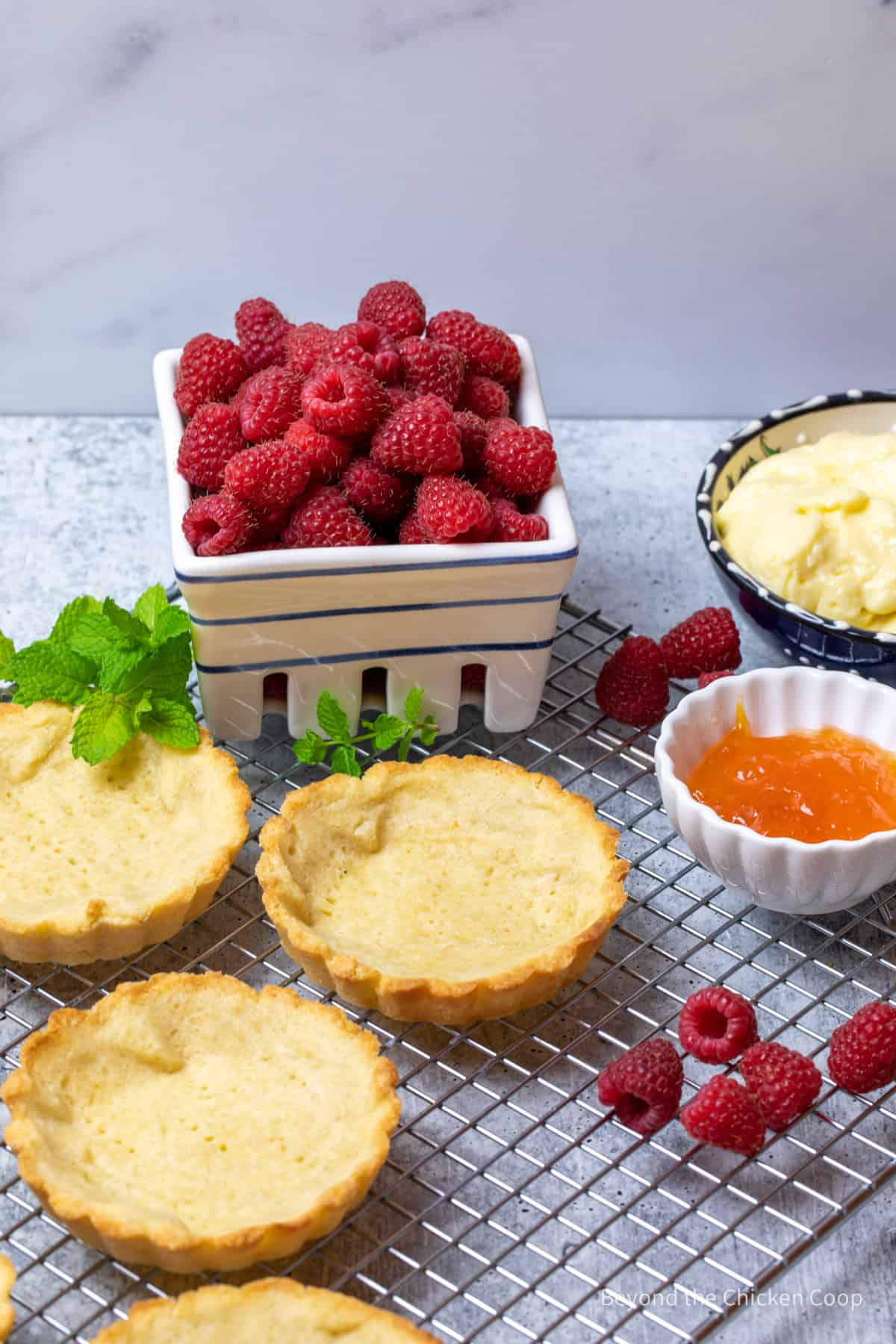 Tart Shells

Flour
Butter
Egg Yolk
Sugar
Vanilla
Milk

Pastry Cream

Milk
Egg Yolks
Sugar
Butter
Vanilla

Tarts

Fresh Raspberries
Apricot Jam - for the glaze. Can also use red currant jelly
Step by step directions
Tart shells or crust (Pâte Sucrée)
Combine flour, sugar, salt together with cubed butter
Mix with your fingers or a pastry blender until mixture resembles coarse crumbs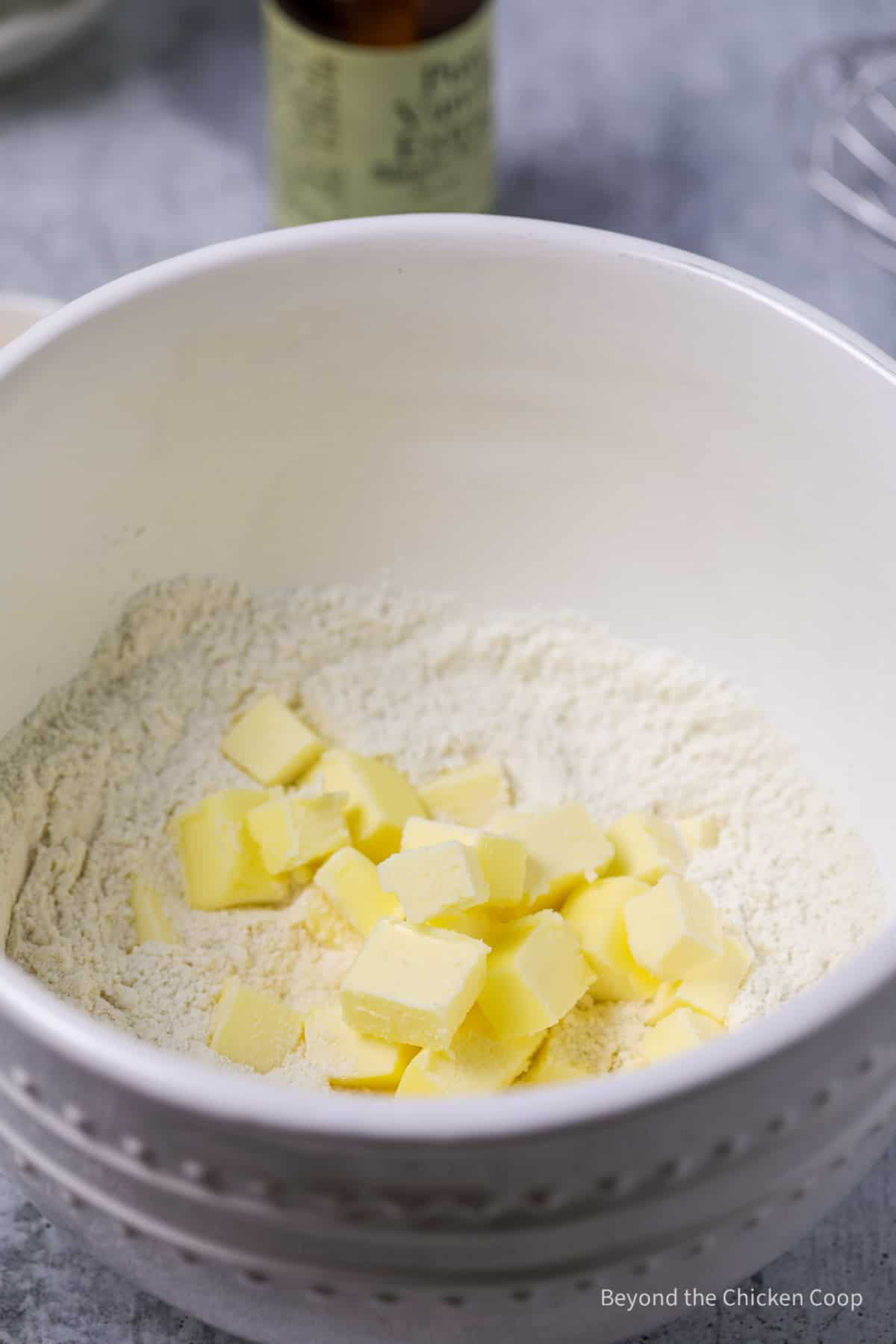 In a separate bowl, combine egg yolk, milk and vanilla
Add to flour mixture
Stir just until combined. Mixture will appear dry but will hold together when squeezed in your hand.
Use your hands to fold dough over 2-3 times and form dough into a ball
Wrap dough in plastic wrap and refrigerate for 15-20 minutes
Divide dough into 6 pieces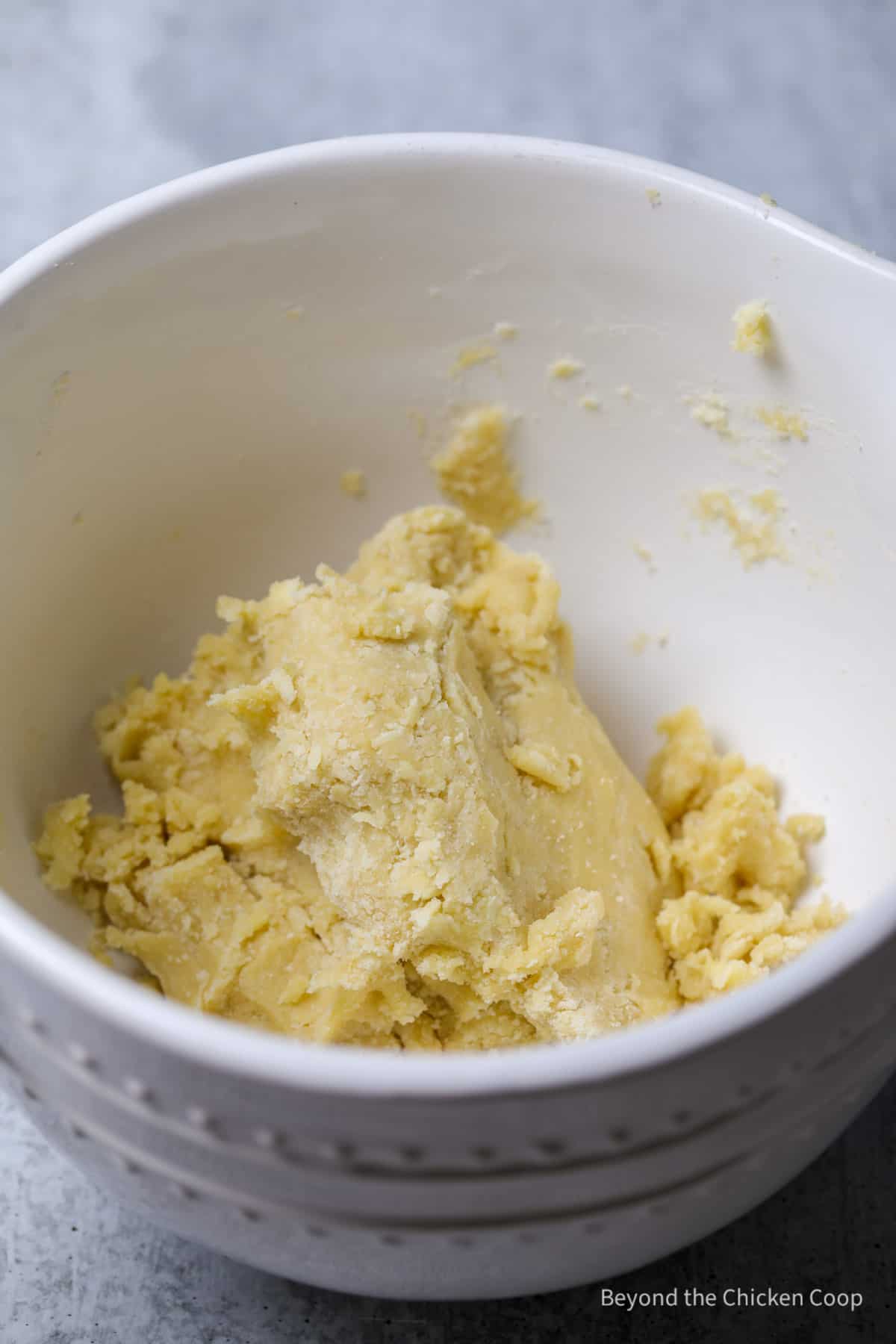 Form each piece into a small round and then place in mini tart pans. Use your fingers to form dough into pan. Push dough down so it's flat on the bottom and fills the sides.
Prick dough, or dock dough with a fork
Refrigerated dough for an additional 30 minutes
Preheat oven to 375°F
Line each tart with parchment paper or foil and fill with pie weights. You can also use dried beans or rice.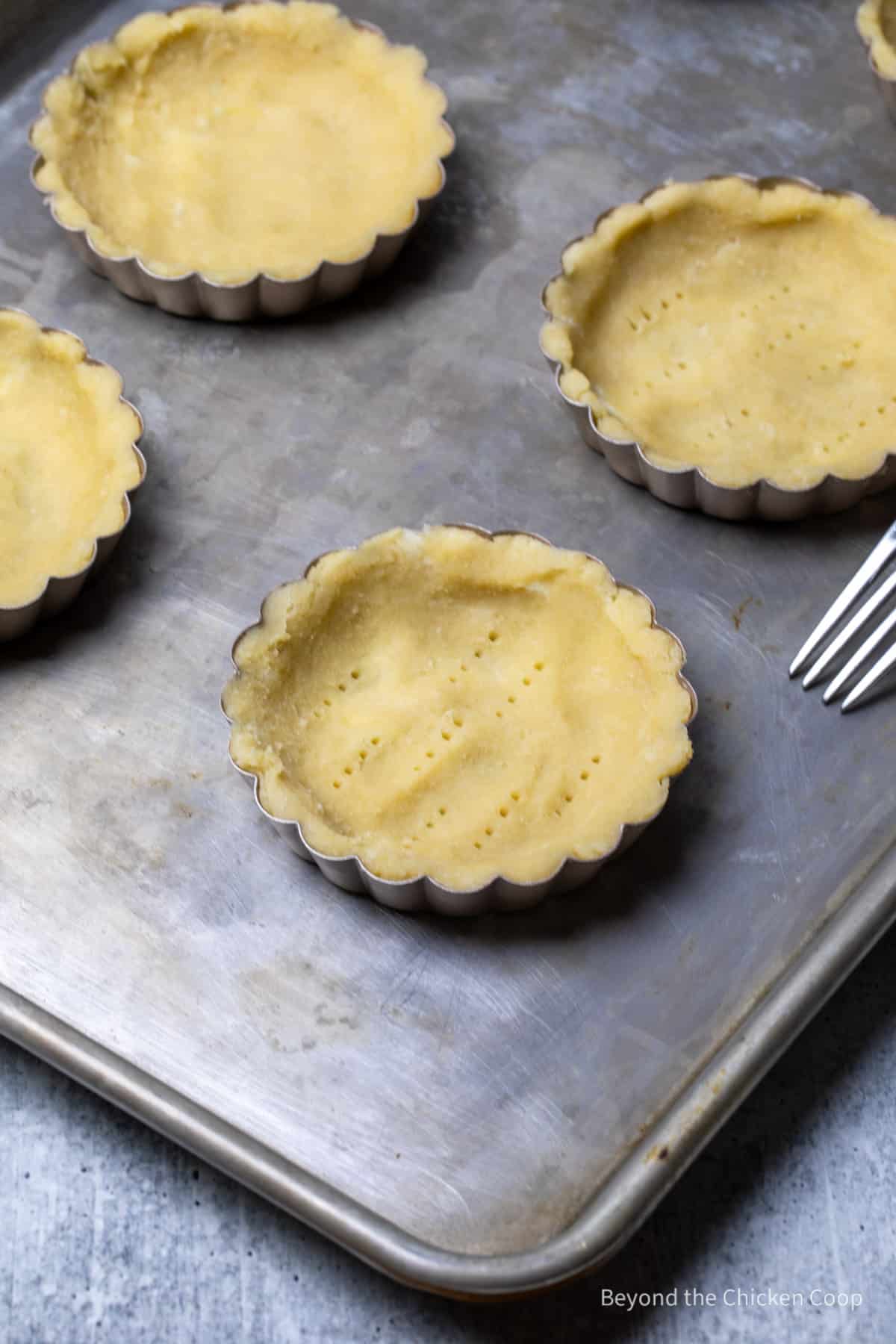 Bake for 10-12 minutes until the bottom of the dough has set and is no longer tacky
Remove parchment and pie weights
Return shells to the oven and bake for another 4-6 minutes until shells are lightly browned and cooked through
Cool on a baking rack and then remove from pans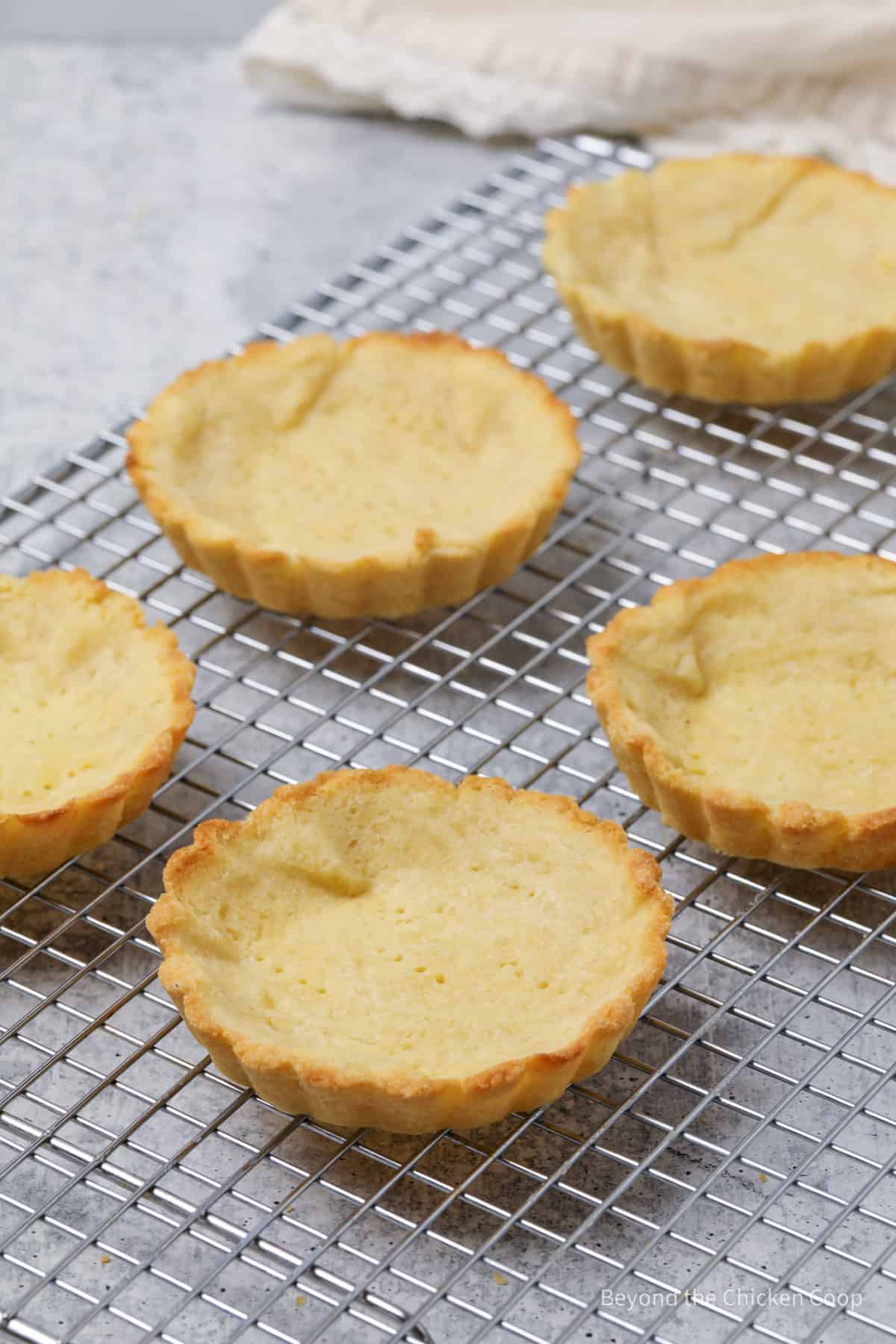 Pastry Cream (Crème Pâtissière)
Place milk in a heavy saucepan over medium heat.
In a large bowl whisk sugar, egg yolks and cornstarch together until smooth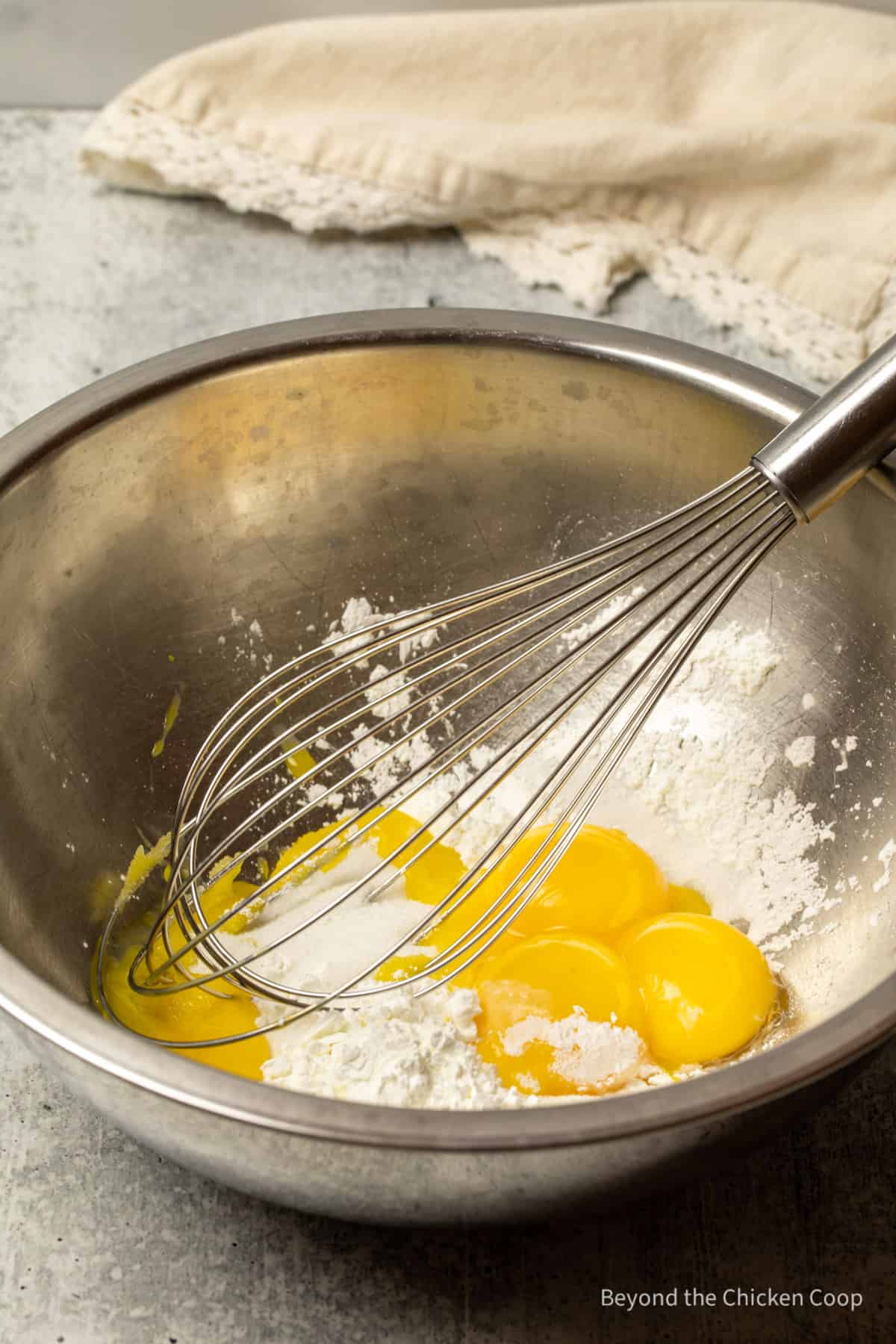 Once the milk starts to bubble at the edges of the pan, remove from heat
Very slowly pour the hot milk into the egg mixture while whisking
Pour mixture back into saucepan and return to medium low heat
Whisk constantly until the mixture thickens and is bubbling. Cook for one minute then turn off heat.
Whisk in vanilla and butter, one tablespoon at a time
Pour pastry cream through a fine mesh sieve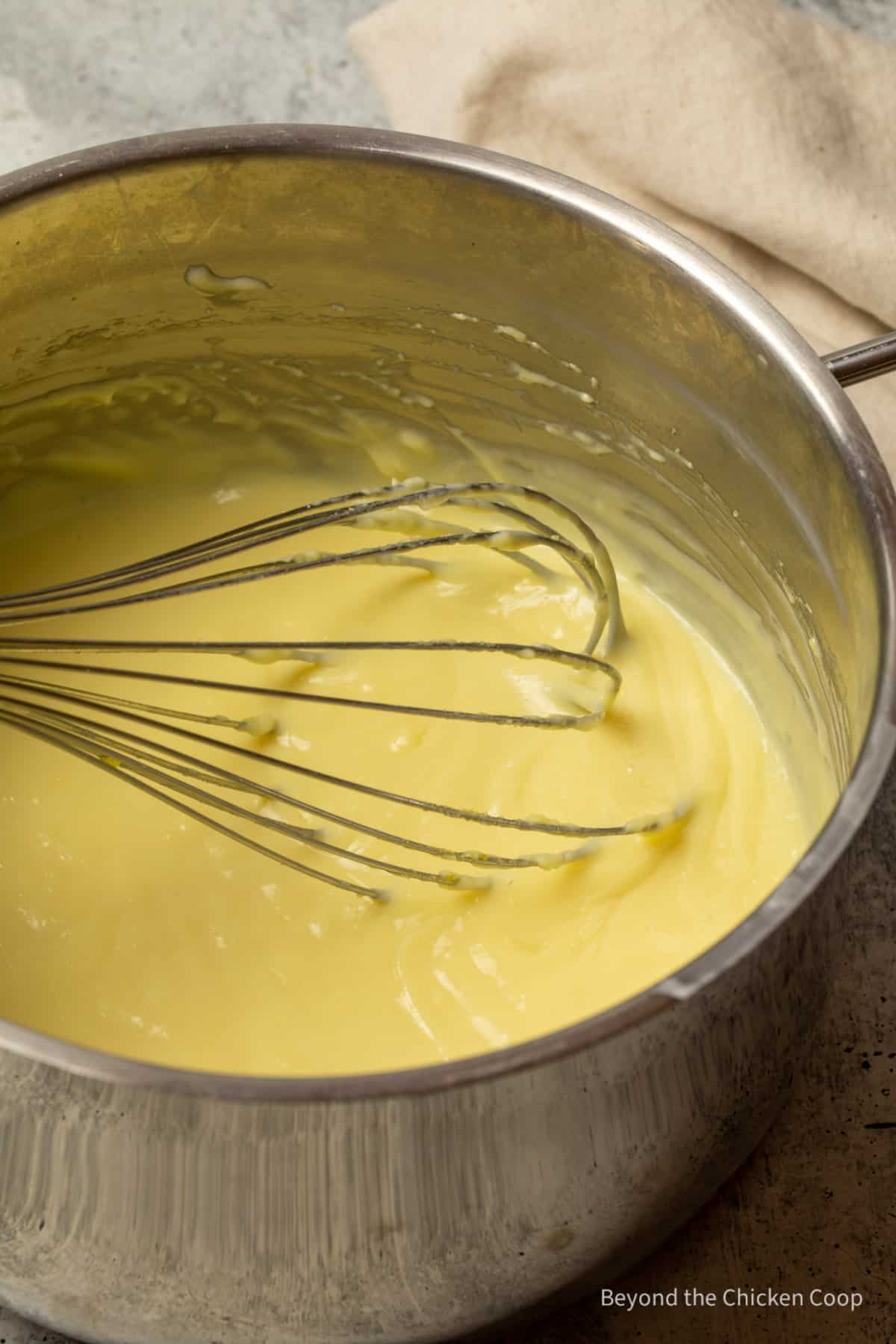 Place plastic wrap directly on pastry cream and refrigerate until completely chilled, at least 3 hours or up to two days
Assemble the tarts
Fill tarts with pastry cream
Top with raspberries
Heat jam with one tablespoon water in the microwave for 30-60 seconds until hot and bubbly. Stir well.
Brush hot jam over the top of the berries
Recipe tips
Use cold butter when making the dough for the tart crusts
Refrigerate the dough before forming into tins
If not using the crust shells right away, store fully cool crusts in an airtight container
When adding the butter to the pastry cream, make certain it is after you've removed the pastry cream from the heat. Whisk in completely one tablespoon at a time.
Make certain you place the plastic wrap directly on the pastry cream. This will prevent a skin from forming on the surface.
Once the tarts are assembled, they are best eaten right away. If you need to make them ahead of time, cover and refrigerate.
Store any leftovers in the refrigerator
Frequently asked questions
Can I make raspberry tarts ahead of time?
These tarts are best served the same day they are assembled. If you need to make ahead of time, store everything separately and then assemble before serving.
Can I make in a full sized tart shell?
Yes, these mini tarts can be made into one full sized raspberry tart. The crust will take 5-8 minutes longer to bake.
How do I store any leftovers?
Cover any leftover tarts and store in the refrigerator.
More amazing desserts with raspberries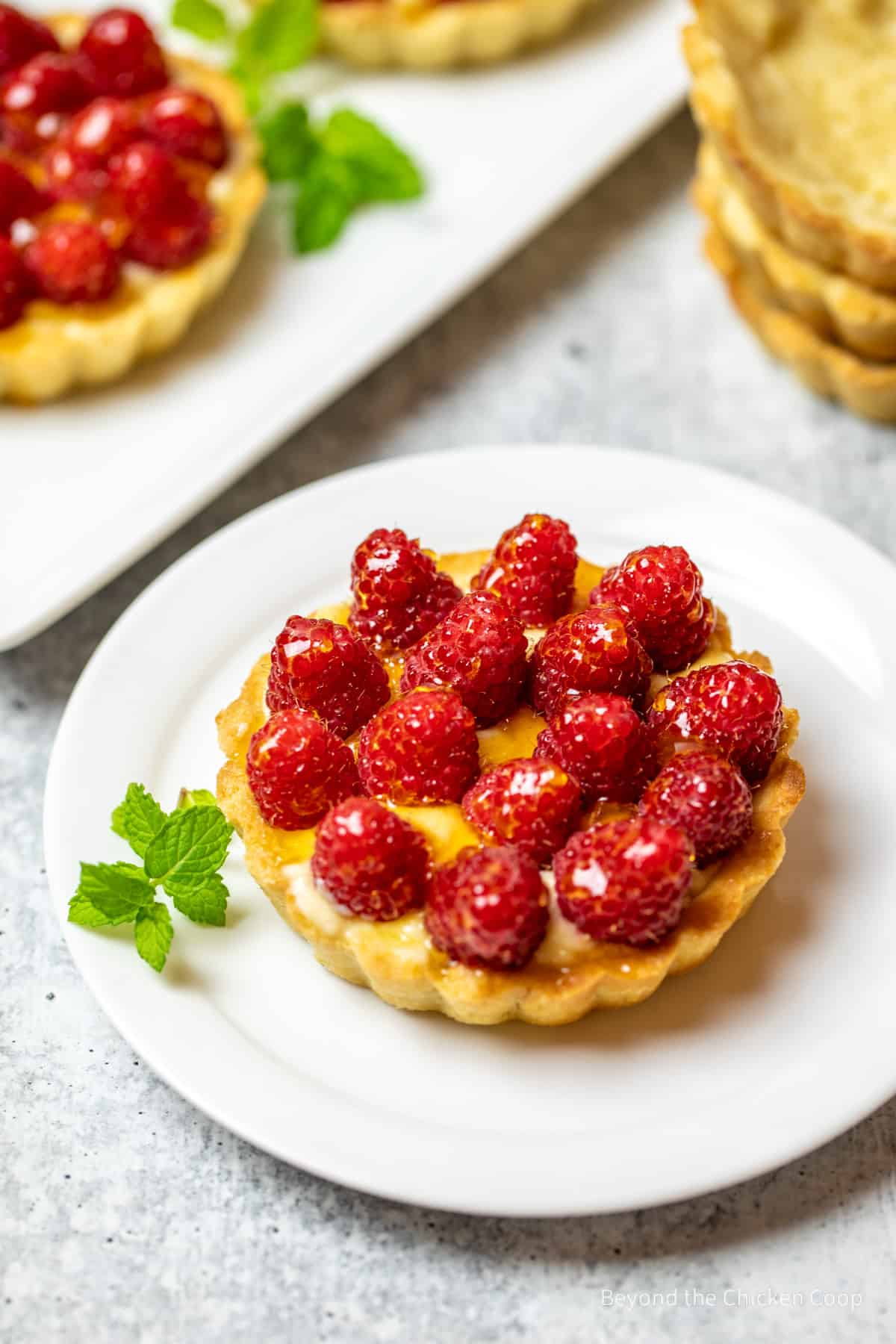 If you make this recipe, I'd love to hear about it! Leave a comment below and snap a picture and tag me on Instagram @beyondthechickencoop
Be certain to check out all my delicious dessert recipes!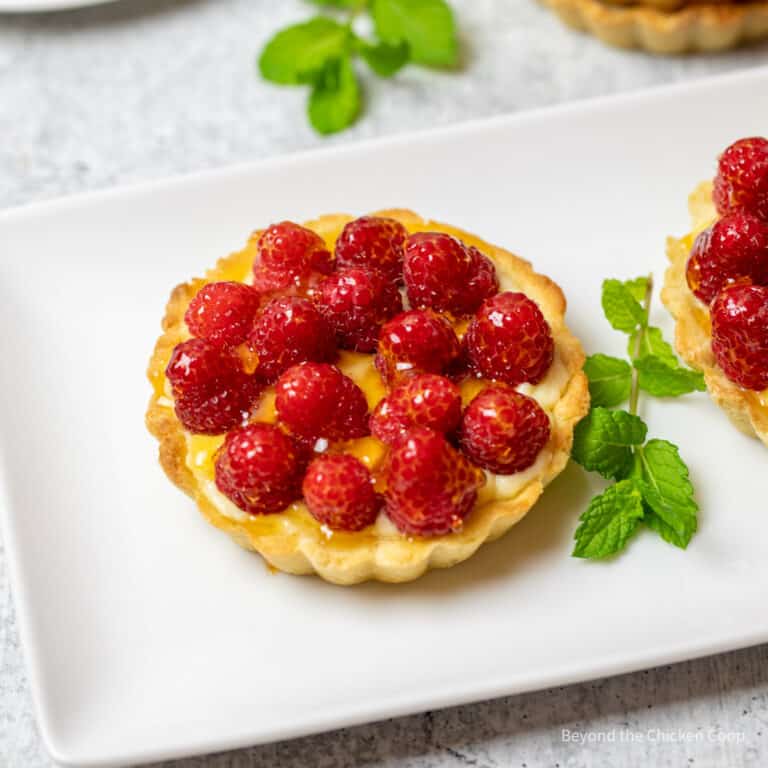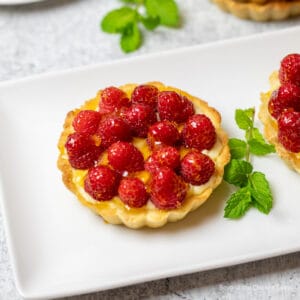 Mini Raspberry Tarts
Individual tarts filled with pastry cream and topped with fresh raspberries.
Ingredients
Tart Shells (Pâte Sucrée)
Pastry Cream (Crème Pâtissière)
1 ½

cups

whole milk

2

tablespoons

cornstarch

⅓

cup

granulated sugar

4

egg yolks

2

tablespoons

butter

2

teaspoons

vanilla
Assembly of the Tarts
2

cups

raspberries

2

tablespoons

apricot jam

(or current jelly)

1

tablespoon

water
Instructions
Tart Shells (Pâte Sucrée)
Combine flour, sugar, salt together with cubed butter

1 ¼ cups flour,

¼ cup granulated sugar,

⅛ teaspoon salt,

8 tablespoons salted butter

Mix with your fingers or a pastry blender until mixture resembles coarse crumbs

In a separate bowl, combine egg yolk, milk and vanilla

1 egg yolk,

2 tablespoons milk,

1 teaspoon vanilla

Add to flour mixture

Stir just until combined. Mixture will appear dry.

Use your hands to fold dough over 2-3 times and form dough into a ball

Wrap dough in plastic wrap and refrigerate for 15-20 minutes

Divide dough into 6 pieces

Form each piece into a small round and then place in mini tart pans. Use your fingers to form dough into pan. Push dough down so it's flat on the bottom and fills the sides.

Prick dough, or dock dough with a fork

Refrigerated dough for an additional 30 minutes

Preheat oven to 375°F

Line each tart with parchment paper or foil and fill with pie weights. You can also use dried beans or rice.

Bake for 10-12 minutes until the bottom of the dough has set and is no longer tacky

Remove parchment and pie weights

Return shells to the oven and bake for another 4-6 minutes until shells are lightly browned and cooked through

Cool on a baking rack and then remove from pans
Pastry Cream (Crème Pâtissière)
Place milk in a heavy saucepan over medium heat.

In a large bowl whisk sugar, egg yolks and cornstarch together until smooth

2 tablespoons cornstarch,

⅓ cup granulated sugar,

4 egg yolks

Once the milk starts to bubble at the edges of the pan, remove from heat

Very slowly pour the hot milk into the egg mixture while whisking

Pour mixture back into saucepan and return to medium low heat

Whisk constantly until the mixture thickens and is bubbling. Cook for one minute then turn off heat.

Whisk in vanilla and butter, one tablespoon at a time

2 teaspoons vanilla,

2 tablespoons butter

Pour pastry cream through a fine mesh sieve. You will need to use a spatula to push through the sieve.

Place plastic wrap directly on pastry cream and refrigerate until completely chilled, at least 3 hours or up to two days
Assemble the tarts
Fill tarts with pastry cream

Heat jam with one tablespoon water in the microwave for 30-60 seconds until hot and bubbly. Stir well.

2 tablespoons apricot jam,

1 tablespoon water

Brush hot jam over the top of the berries
Notes
There are a lot of steps for making these mini tarts. Read through the entire recipe before beginning. 
The tart shells and the pastry cream can be made up to two days prior to assembling and serving the tarts. 
Use cold butter when making the dough for the tart crusts
Refrigerate the dough before forming into tins
If not using the crust shells right away, store fully cool crusts in an airtight container
When adding the butter to the pastry cream, make certain it is after you've removed the pastry cream from the heat. Whisk in completely one tablespoon at a time.
Make certain you place the plastic wrap directly on the pastry cream. This will prevent a skin from forming on the surface.
Once the tarts are assembled, they are best eaten right away. If you need to make them ahead of time, cover and refrigerate.
Store any leftovers in the refrigerator
Nutrition
Serving:
1
tart
Calories:
478
kcal
Carbohydrates:
55
g
Protein:
8
g
Fat:
26
g
Saturated Fat:
15
g
Polyunsaturated Fat:
2
g
Monounsaturated Fat:
7
g
Trans Fat:
1
g
Cholesterol:
220
mg
Sodium:
235
mg
Potassium:
218
mg
Fiber:
3
g
Sugar:
28
g
Vitamin A:
933
IU
Vitamin C:
11
mg
Calcium:
122
mg
Iron:
2
mg