In this episode, Kathy interviews Anne Aslanides from The Default Cook. Anne shares her recipe for making pulled pork and shares how to freeze leftover pulled pork.
Anne also shares a recipe for making pulled pork tacos!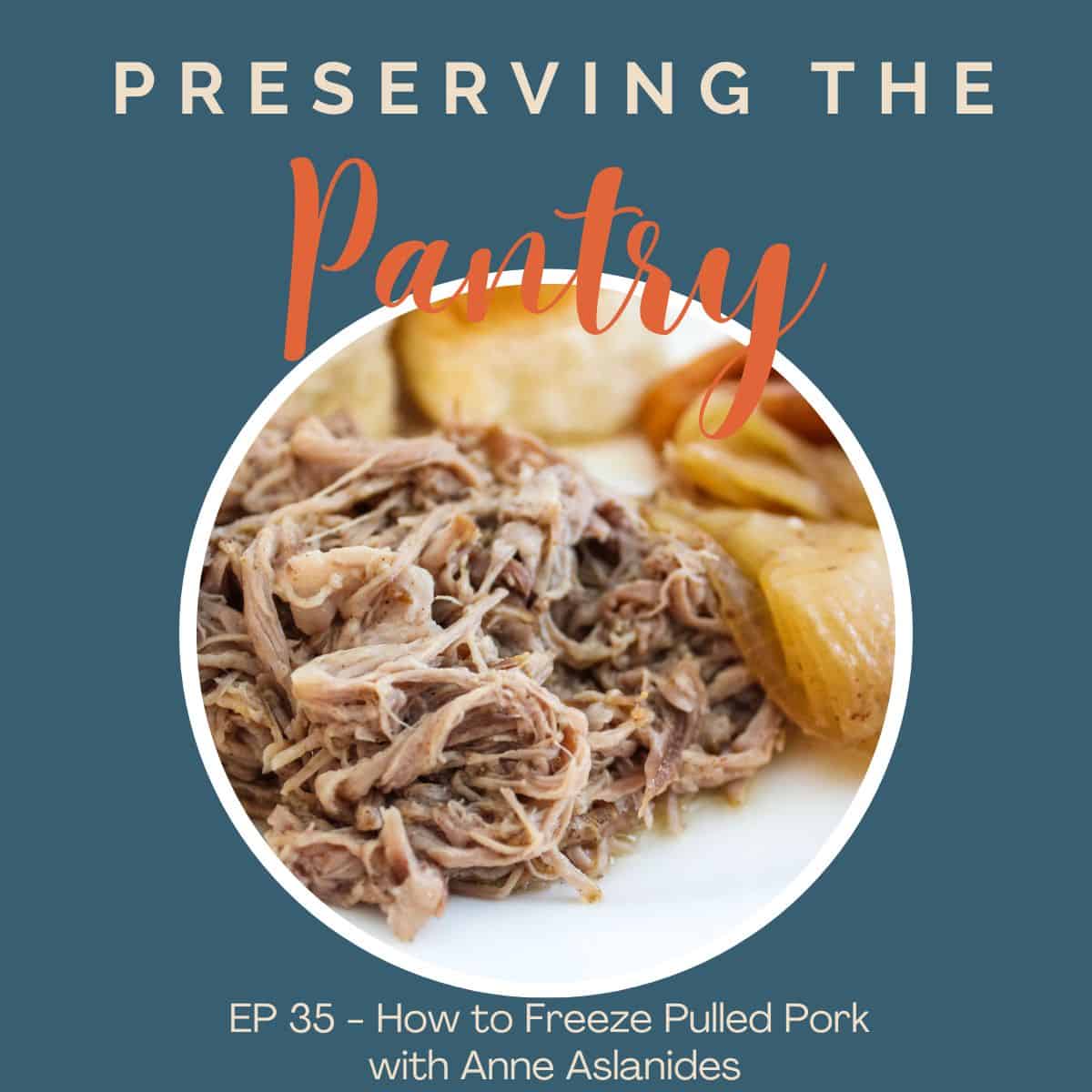 Play the episode
Recipes
Find the complete recipe for The Default Cook's How to Freeze Pulled Pork
Recipes mentioned in this podcast:
In this episode you'll learn:
How to make pulled pork in the crockpot
Ways to use pulled pork
How to freeze leftover pulled pork
A delicious recipe for pulled pork tacos
Podcast Guest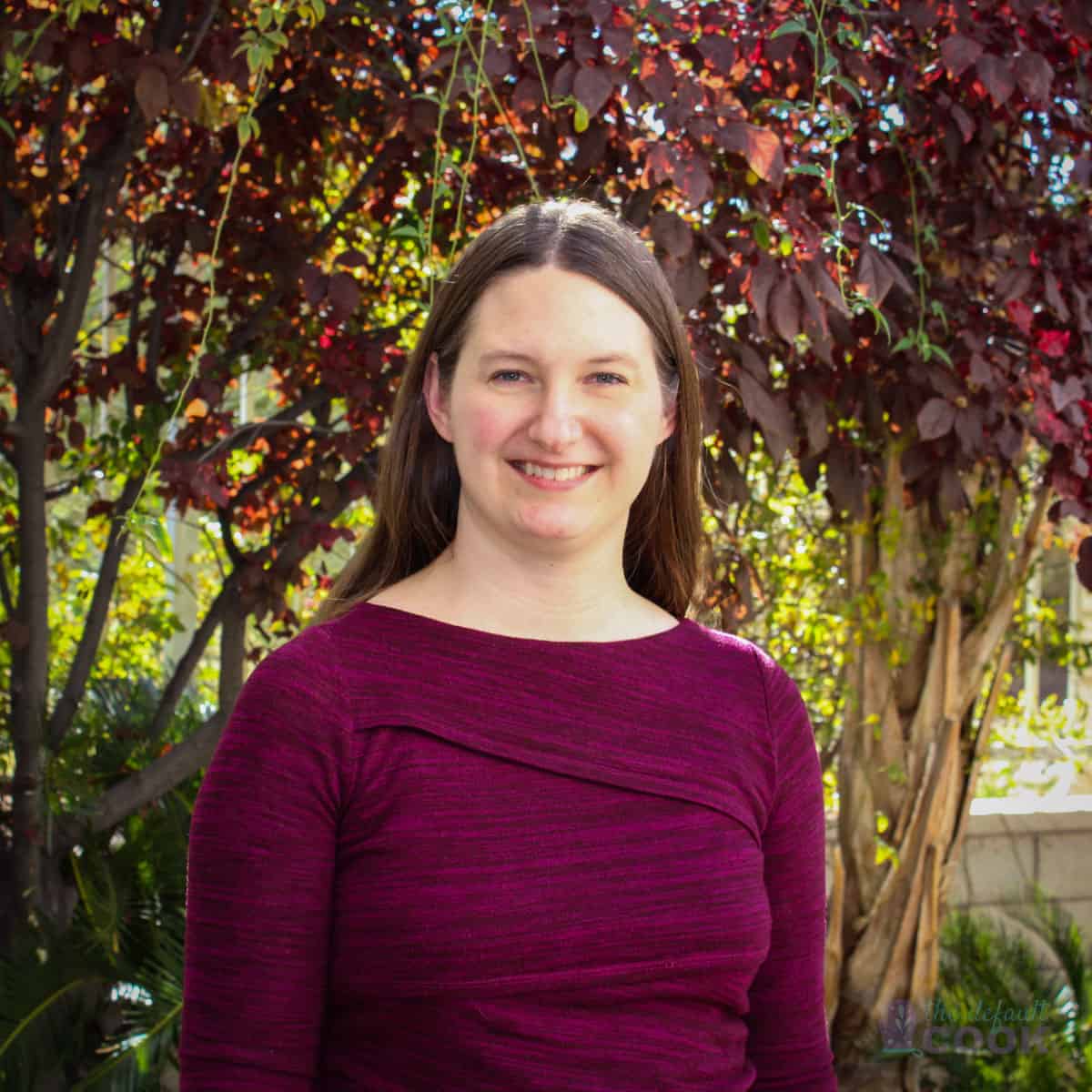 Anne is a wife and mom of 2 small kids that need fed almost constantly. She started The Default Cook site and Easier Meals podcast to share easy family friendly meals with those of us answering the question "What's for dinner?".
Where to listen to the podcast
Listen to this episode on iTunes, Spotify, Amazon Podcast, or your favorite podcast player. Or scroll down to read a full transcript.
If you love this podcast, I'd love to hear about it! Leave a comment below and hop over and leave a comment on Instagram @preservingthepantry!
Transcript
Kathy: Hi everyone, and welcome back to The Pantry. I am so glad that you're here with us today. And today we have a guest, Anne, Asalendis from the Default Cook. She has a blog and a podcast where she answers the age old question, What's for Dinner? Hi Anne, and welcome to the podcast. 
Anne: Hi, Kathy. So glad to be here.
Thanks for having me.
Kathy: Oh, I'm so glad to have you. Anne is going to be sharing her method for making pulled pork, ways to preserve that and store it, and then ways to repurpose it. But before we get started with that, Anne, why don't you share a little bit about yourself and about your blog and podcast.
Anne: I'm Anne from the Default Cook, and I used to be an engineer and I, I guess I still am. Once you have the degree, you always are right. And I initially saw food as the best kind of lab experiment because at the end you get to eat it, which. I love food. But then, you know, as adult life kind of settled in, I started cooking not just for me, but for my husband and then my kids.
And it kind of got to a point where it was just like another chore. And I think there's a lot of people like that where it's like, okay, we're, you know, we may like cooking sometimes, but a lot of times it's just something you have to do because you have to eat. We all have to eat those three times a day or so.
So initially when I started my blog, it was a, it was actually a mommy blog, but I transitioned to food specifically because I feel like that's where I enjoyed the most. and also where people need the most help. So when I renamed to the Default Cook, I decided that it would be kind of a blend of real life that 80, 90% quick, easy dinners and lunches and things.
And then the balance is like that fun stuff when we have a little extra time to, make cookies from scratch and do fun things that we enjoy.  
Kathy: So let's talk a little bit about your pulled pork. Give me an overview about this pulled pork recipe that you make.
Anne: So this pulled pork is one that I've been making since, oh gosh, maybe college.
Like it's one of my oldest recipes and it's because it's so easy. I have a close friend, she was actually my matron of honor who saw me make it one day and she's like, oh, I can't cook. And she saw me do it, and she's like, wait, I can do that. It's that's easy. You just take onions and carrots and those are optional, but I like to have a bed of vegetables to make it truly a one pot.
Because making sides is not on my agenda if it doesn't need to be. Well, and you get 
Kathy: Everything in there at one time and you are good to go.
Anne: Exactly. Exactly. Now for a party or something, I might have a roast that's too big and I can't fit the vegetables in, but generally I like to have that bed of vegetables in there and then you just put in your roast and season with brown sugar, cinnamon, garlic, powder, paprika, salt, pepper, and a little cayenne on both sides. And that's from top to bottom. So brown sugar is the most, cayenne is the least, and it's kind of just measure with your heart. Although I have specific measurements on the site, the hardest part of actually writing that post was figuring out what those are like, cause I'd always measured it with my heart.
Kathy: Just a little of this and a little of that and call it good. Okay. Well, it's good to, for those people who don't know how to do that, that you have those specific directions as well. It's a good starting point. And then the next time you make it, maybe you had a little, you want a little bit more spice, so you add a little more cayenne or something.
Anne: Exactly. Yeah. You really want to make it your own.
Kathy: So the pulled pork goes in or the pork goes in the crockpot and then you're adding your spices and you get things cooking and once it's all done, then you pull that out and shred it up. 
Anne: Yep. I usually shred it just right in the crockpot with two forks, but you absolutely can take it out.
I know a lot of people like to use the mixer method with like a hand mixer to shred things or um, you know, there are plenty of companies that sell those like fancy shredding like claws that are really effective. But I just use forks.
Kathy: I do too. You've got them already and they're just easy to grab and, and use.
Alright, so the pulled pork is a meal in itself, and you've got that. But one of the things about pork is usually they're fairly large sizes and you end up with a ton of extra unless you're really feeding a big crowd. So what do you do with those leftovers? 
Anne: So you may have leftovers out of the fridge for a day or two.
But odds are pretty good that you're going to have more than that unless you have like you said, feeding a crowd. Maybe if you have teenage boys, they're going go through it real quick, but my kids are, are almost three and five, so they don't eat very much. 
Kathy: So once you have those leftovers, one of the things that you have on your blog is how to freeze that leftover pulled pork.
How do you do that? Take us through that process.
Anne: Of course. So the way I like to do that is I take out a measuring cup and some ziplocs you can use any kind of freezer bag that you like. I know silicone ones are really popular. I have a few of those and have used them occasionally, but I find that it's easier to get the air out.
Honestly, with the plastic zip tops. You can also use a foodsaver if you have, you know, a vacuum seal system. That would be even. And I like to, to portion them out into meal sizes that I know my family is going to use at one time. Sometimes I may freeze in like one cup portion. Sometimes I may freeze in two.
I may do a variety so that I know, okay, if I'm making this meal requires two cups because it's really heavy on the pulled pork, or we're making sandwiches again, that uses quite a bit of pulled pork. . If I'm making fried rice, maybe I only need a cup. It really just depends on, on what we're going to pull out.
So I like to freeze a variety of sizes that are conducive to like what my family is going to eat. and that's gonna vary for different families of different sizes.
Kathy: I've found even for ourselves, my kids have grown up and started to leave the house that I'm having to downsize the portions now because we don't need as much.
And sometimes they're here and I just pull out two packages of something rather than just one. So keeping that in mind, what works best for you and your family and how you're going to be using it as a great tip.
Anne: Thank you. So the other thing is really making sure that we get the air out. So we are gonna take that one cup or two cups, or one whatever portion you have, and put it in your bag and really get the air out.
If you have a food saver and you're using that, obviously that, that does a really good job on its own. I tend to use two different methods that I'll use. One is just squishing it down and kind of sealing it. About three quarters of the way and really pushing out the air from one corner to that top corner that's remained open.
And then while one hand is still pressing it, take, you know, close that last corner and that does a pretty darn good job of getting the air out. The other way that you can use is called the water displacement method. It's typically used with sous vide, but what you do is fill it all most of the way up, get kind of squished like the first method.
But then once you get it, three quarters closed, go ahead and put it in water. Up to, up towards the top. You obviously don't want water to get in that quarter that's still open, but that'll allow you to press out more air. And the wa the water will help keep it out where it is. So sometimes if you're pressing, if you're pressing just on a counter, you know, some of that air kind of sneaks back in.
With the water displacement method, you can squeeze it in the water and the water kind of holds what you already squeezed out.
Kathy: I have not tried that method before. I'm gonna have to try that next time. I'll probably end up getting water in my bag though, so , I'll have to give it a try and see.
Anne: Yes, you have to be careful of that.
And I still end up with like a little bit of air at the top, but it really cuts down the amount of air that's in there. So if you're gonna be freezing it for a longer period of time. And worry about freezer burn a little more that that method is worth doing. A lot of times I just do the counter, but it, it's, it depends on how long it's gonna be in the freezer.
Kathy: So getting the air out helps prevent the, the freezer burn, and that's the reason you get the air out. And then you label and date your. Contents and probably the amount that you put in there too. So one cup of pulled pork or two cups of pulled pork. Put that in there.
My husband is famous for not labeling, thinking he's gonna remember what's in there, and we never do. We look at it and it becomes mystery content.  
Anne: That's one of those like, oh, my toxic trade is thinking I'm going to remember something . Or I think, oh, I'm gonna use this next week.
I don't need to label it. And then a month later, What is this?
Anne: Once it's in your bag and, and it zipped closed. I just put it in the freezer and I like to lay them flat.
So the way the methods we're talking about, you end up with a, a relatively flat zip. Ziploc. And that's really nice for storage. So, they stack right on top of each other and lay flat there. Once they're frozen solid, you can rearrange them however you want and kind of stick them in whatever place they fit.
But I do like to freeze them laying flat.  
Kathy: So what about when we're ready to use this Now we've labeled it, we know what we've got, we're, we've planned out our next meal. What are your tips and what is the best method to pull out that meat and thaw it? 
Anne: There's two ways that are most common.
The first is to put it in the fridge and just let it thaw slowly in the refrigerator, and that is the best method. But let's be honest, we all don't remember to pull it out in time to do that all the time. I certainly don't.
Kathy: I, I am famous for pulling stuff out at the last minute, partially because it's lack of planning, and partially because, oops, I was supposed to pull that out last night and I forgot.
So, yeah, so best method is pull it out the night before, put it in the fridge, but realistic method is... 
Anne: ...put it in water. So you can take your Ziploc and put it in a, like a bowl full of water. And a lot of times you'll see people do that like in the sink or just in a bowl on the counter.
And food recommendations are to change out that water every half hour to avoid it getting too warm. One way to kind of get around that is to take that bowl if you have the fridge space and put the bowl of water in the. and then it won't get too warm because the water is in the fridge, but you're still having the pork in that water, which is a much better heat transfer agent than air.
Definitely use cold water, and you can either switch it out every half hour, honestly, with the bags being laid thin and flat. Mm-hmm. half an hour is usually enough. Kind of gets malleable at that point, and we can get it out into a pan or whatever we're gonna do with it. Okay.
Kathy: All right. Well that's good.
That's good to think about then too, that I can kind of do that quick thaw or quick defrost and then get it ready to go, even if it's still just maybe a little bit partially frozen, but I can get it into my pan. So share with us one of your favorite ways to use that or to reuse that pork now that we've taken out of the freezer and partially thawed
Anne: Oh, my favorite way has to be pulled pork tacos. They're so good. And it's actually a recipe that my husband helped develop and when he, when he told me what he put in it the first time, he was like, I was like, that's a lot of sugar. But I tried doing less and it's better with more sugar . 
Kathy: Okay. Well, will you share that recipe with us right now?
Anne: Of course. Oh, it's probably my favorite thing for Taco Tuesday because I literally can pull out a bag of pork from the freezer and half an hour later I'll be putting it in my pan with some seasonings and it heats up really quick once it's on the stove top, of course. So we're going to take about two cups of leftover pulled pork, a tablespoon or so of chili powder, teaspoon of cumin.
Half a teaspoon of salt, three tablespoons of brown sugar, which sounds like a lot because it kind of is, but it's delicious and a quarter of a lime, and add that all to the same saucepan and you just literally like heat it up. I've heated up with a fork so that I can kind of keep fork shredding it, but I, I do use a stainless pan.
Obviously, if you're using a non-stick, you're, you're not gonna wanna use a fork on that because it can damage your lining. And my biggest tip on making that recipe is I always put the lime juice in first. That way if any seeds pop out, they're really easy to see and I can just get 'em out right away.
If I do the lime juice last and I lose a seed, I've gotta like dig for it.
Kathy: How do you serve those Just in like warmed corn tortillas or flour tortillas and what kind of toppings? 
Anne: My family prefers the flour tortillas. But yeah, you can serve those in any kind of tortillas you want. Whatever toppings you like on your tacos is definitely what I would use.
I'm, I'm a big fan of like avocado slices or maybe a little extra lime juice hit ,shredded cheese. You can use sour cream, uh, diced tomato. Coleslaw, you know, kind of queso fresco. 
Kathy: That sounds really good though. I am going to definitely have to do that because we do make pulled pork quite often, but I usually add the barbecue sauce, so I'm going to need to restrain and not put the barbecue sauce on so that I can freeze it and then make these tacos because it's a great way to pull out for a last minute dinner and help answer that question of, What is for Dinner.
We've talked a lot today about different things with pulled pork, and I can't wait to put these pieces into practice and especially make your pulled pork tacos. Those just sound delicious. Anne, thanks so much for being on the show today. It's really been great having you.
Anne: Oh, thank you so much Kathy. I really appreciate being here and it's so good to see you.
Kathy: We'll include all of the links to the recipes that Anne has mentioned directly in the blog post, as well as in the show notes, so you can head right over there and check out those recipes and be certain to listen to her podcast as well. She's got some really great tips and recipes to help you answer what's for dinner, because we know that question is coming to us again.
All right everyone. Thanks for listening. We'll see you next time. Bye.
Thanks for listening, and be sure to tune in again next week for more episodes of Preserving the Pantry.