Play the episode
In episode 19, Kathy shares two different recipes using home canned black beans.
This is a great way to utilize the home canned dried beans discussed in episode 18.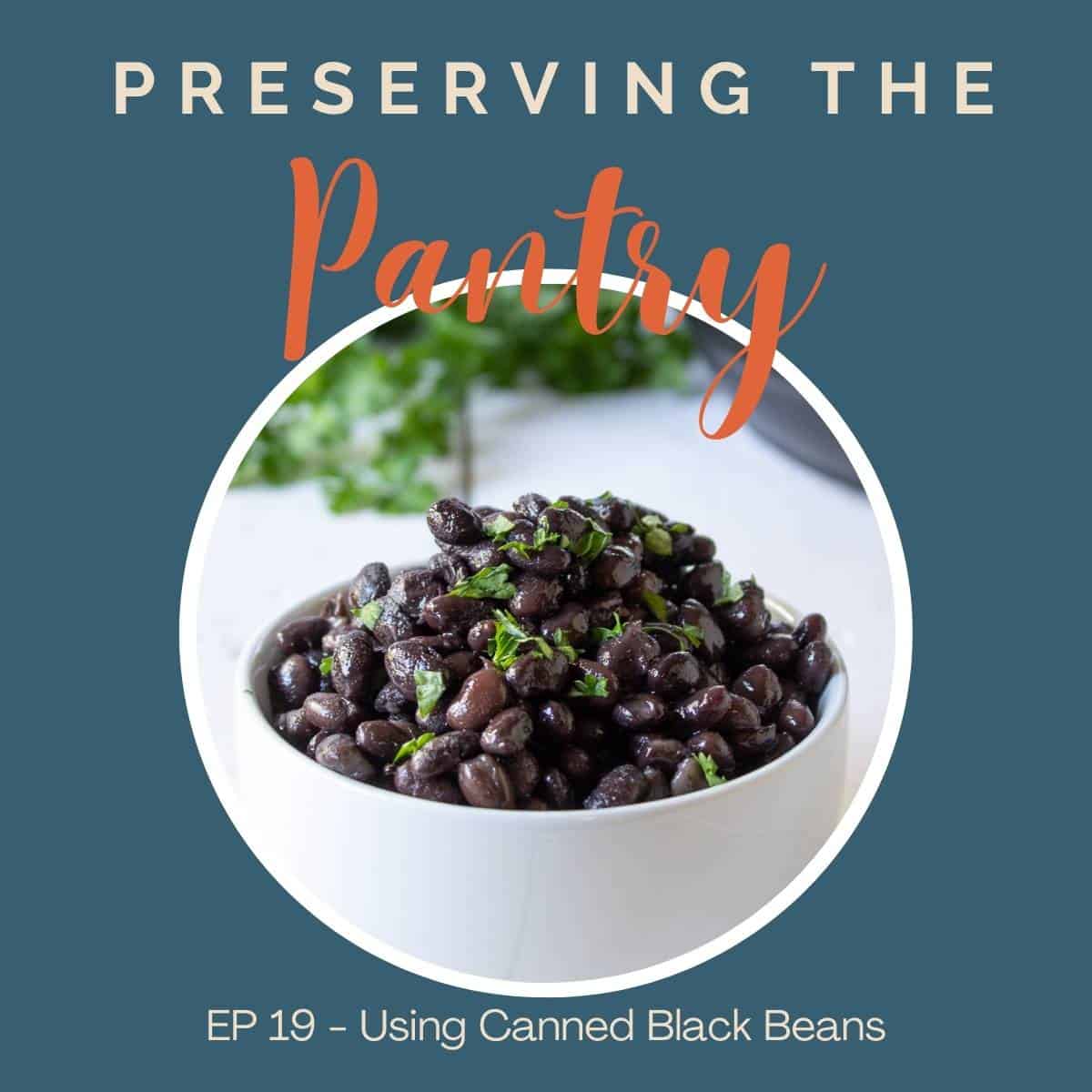 Listen to the episode
Recipes
Recipes mentioned in this podcast:
In this episode you'll learn:
Two recipes for using canned black beans
Where to listen to the podcast
Listen to this episode on iTunes, Spotify, Amazon Podcast, or your favorite podcast player. Or scroll down to read a full transcript.
If you love this podcast, I'd love to hear about it! Leave a comment below and hop over and leave a comment on Instagram @preservingthepantry!
Transcript
Hello everyone and welcome back to the Pantry. Last week in episode 18, I talked about how to can dried beans, and we canned a variety of different dried beans including black beans, pinto beans, kidney beans, garbanzo beans.
Today I want to share two recipes with you on how to use some of those beans. We're going to be talking about using black beans, the canned black beans.
Now these recipes can be used with store bought canned beans as well, but it's a perfect way to use those canned beans that you made yourself. The first recipe that I'm going to share is for black bean flautas or black bean rolled tacos. They're a baked taco, rolled in a flour tortilla, and they're filled with a black bean filling.
This is a vegetarian recipe, but you won't miss the meat at all. They're very filling and very tasty. So for this recipe, you are going to need two jars of black beans or two cans of black beans, a tablespoon of taco seasoning or fajita seasoning, a clove of garlic, and then you'll need eight flour tortillas about the eight inch sized ones, a cup of green onions, sliced a cup of tomatoes, diced up a cup of shredded cheddar cheese and some fresh cilantro leave.
So what you'll do is you'll open your cans of beans. You're not going to drain them or rinse them. The sauce from the beans is gonna be part of the filling place. The cans of black beans in a saucepan along with the seasonings and the garlic. You'll heat that over medium heat until it's heated through and everything smells really good.
Then you're going to mash half of the beans. Just use a potato masher or a spoon and mash up some of those beans so that it's a thicker filling and some you still have some whole beans and some mashed beans. Then you're going to place a small amount of the bean mixture on a flour tortilla, just right down the center of it. Just make a strip of it.
Add a dollop of sour cream, a sprinkling of cheese, a few tomatoes, some green onions, and a couple of cilantro leaves. Then you roll these up and you place some seam site down in a lightly greased casserole dish. And then you repeat with remaining tortillas.
You'll bake that whole dish in a preheated 400 degree Fahrenheit oven for about 15 minutes until they're golden, brown and heated all the way through When you serve, serve with additional cheese, salsa, tomatoes, sour cream, onions, avocado, more cilantro.
Whatever you like on your tacos is perfect, along with these black bean flautas.
The next recipe I want to share with you is black beans and rice. This is a very simple dish that is made with the black beans, and it can be used as a main vegetarian entree or as a side dish.
It's really got a lot of flavor. I often have this for lunch or for. For this recipe, you're going to use just one cup of the cooked black beans that's less than your pint size jar, but you'll just measure those out.
You are going to strain and rinse your black beans. You're going to have two cups of brown rice that's cooked, two tablespoons of green onions, chopped a quy spoon of ground. A quarter teaspoon of salt, a quarter teaspoon of black pepper, two tablespoons of fresh squeezed lime juice, and two tablespoons of fresh cilantro chopped.
All you do for this recipe, it's so easy, is you add everything into a bowl. You mix gently so that all the ingredients are combined, and then you taste it and adjust your seasoning.
Cover and refrigerate until serving, but it's best served at room temperature. So pull it out about 15 minutes before dinner's ready and set it on the table and you've got a delicious side dish.
Both of these recipes are located on the blog and I will include links to those to the show notes as well as the process that we used when we canned our drag beans. We'll see you again next week in the pantry. Bye.
Thanks for listening, and be sure to tune in again next week for more episodes of Preserving the Pantry.