This post may contain affiliate links, see my Privacy Policy.
Mac and cheese is comfort food. It's filling, It's warm and most of all…it's cheesy! On the weekends, mac and cheese is often on our lunch menu. This stove top mac and cheese is quick and easy and tastes delicious.
If my kids had their choice, they'd probably buy and make those boxes of mac and cheese with the powdered cheese! I don't know what it is about that stuff that they love. Maybe it's the orange color….or perhaps the little noodles. The good thing is, they also love my mac and cheese.
Maybe it's really that they want what they can't have. I'm going to keep making them this version. And I'm fairly certain they will keep eating it!
You can use almost any type of cheese in this sauce. I typically use cheddar, but sometimes mix in Monteray Jack, mozzarella, or even throw in a bit of Parmesan. As long as you keep the portions the same, any hard cheese will work. The cheese sauce cooks in the amount of time it takes to cook the pasta. When your pasta is done cooking, simply drain, return to the pan and add the sauce. It takes a few minutes longer than the box…but the end result is soooo worth it! And no powdered cheese!
Stove Top Mac and Cheese
Creamy macaroni and cheese
Ingredients
1

pound

pasta

1/4

cup

butter

1/4

cup

flour

2

cups

milk

1/4

teaspoon

salt

1/4

teaspoon

white ground pepper

1/4

teaspoon

garlic powder

2

cups

shredded cheddar cheese
Instructions
Boil pasta according to package directions.

While pasta is boiling, melt butter in another sauce pan.

Add flour and stir over heat for about 2 minutes.

Add milk to flour mixture. Whisk while adding milk to help avoid lumps.

Add salt, pepper, and garlic powder

Heat over medium heat, stirring occasionally to avoid scorching. The mixture will begin to thicken as it heats up.

Do not bring to a boil.

Once your mixture has thickened, slowly add cheese while stirring.

Remove from heat.

Drain pasta and return to pan.

Pour cheese mixture over top, stir and serve.
Notes
I usually use cheddar cheese, but sometimes use a mixture of cheddar and Monteray jack. Almost any kind of cheese will work. Use your favorite variety or blend.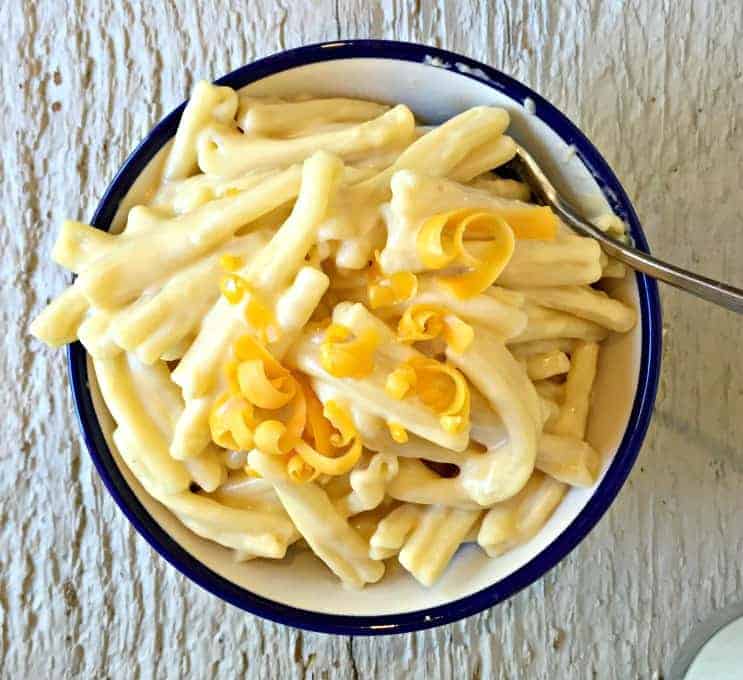 You might also like