A Tribute by a Local Vet Honoring Fallen Soldiers.
I hope your Memorial Day weekend has been grand. We attended a retirement party for a friend that served 33 years in the Navy and spent time with my brother-in-law who ran 300 miles for Project America Run. Mike is an Army Veteran and started Project American Run several years ago honoring fallen soldiers. In 2010 he ran 4,424 miles from Astoria, OR to Rockland, ME placing a flag every mile for a fallen soldier. Each flag had a name, rank, age and home town of a soldier. Mike would stop every mile, say the name, place the flag and salute the soldier.
In 2012 he ran another run totaling 2,146 miles...again planting a flag each mile. Every day he would run approximately 26 miles. At the end of his day a host family would pick him up, feed him and provide a bed for the night. The next morning they would deliver him back to his route and he would run another 26 miles. Here is a wonderful video from his second run from 2012. It is six minutes depicting his run. It brings tears to my eyes every single time I watch it.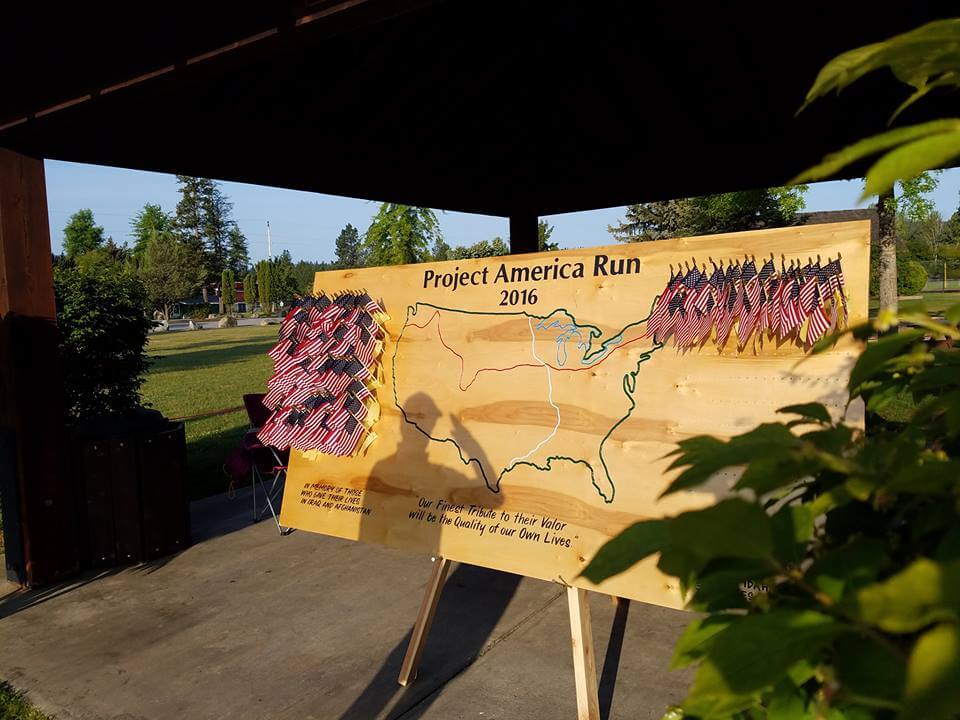 This week, Mike stayed local and planned to run 300 miles over the Memorial weekend. He started on Tuesday, May 24, 2016 and was to run 50 miles each day. This time Mike was to run a loop around a city park with a distance of one mile...that's 300 laps! Several local people and students joined him on his run. Each mile Mike stopped and planted a flag. This time the flags were placed on a sign.
Mike is an ultra marathoner. He has done several 100 milers (running 100 miles in less than 24 hours), but this run of 50 miles/day for several days has done it's toll. Mike has suffered many sore muscles and swollen joints. At the end of each day, my sister drove him home stopping at the lake for an "ice bath". The water is chilly enough to qualify as an ice bath. And after a long run, Mike craves salty chips, chocolate milk and a hearty meal with lots of meat!
Mike is finishing the 300 miles today, Monday, May 30, 2016. All 300 flags will be placed by 10:00 in the morning. On the past two Project America Runs, Mike ran every single mile. He had many miles that he ran solo and in some areas he had runners accompany him. Mike was unable to run all 300 miles this time. His ankle became so swollen that he has only been able to walk the last two days. Luckily, many community members showed and ran the miles for Mike! This run hasn't been about doing the miles for Mike, but about honoring soldiers that have died in Iraq and Afghanistan.
I hope you spend part of today thanking and remembering those who have served our country. Thanks, Mike!