In this episode, Kathy discusses her method for blanching green beans. She also shares a recipe for using those blanched green beans as well as her tips for freezing green beans.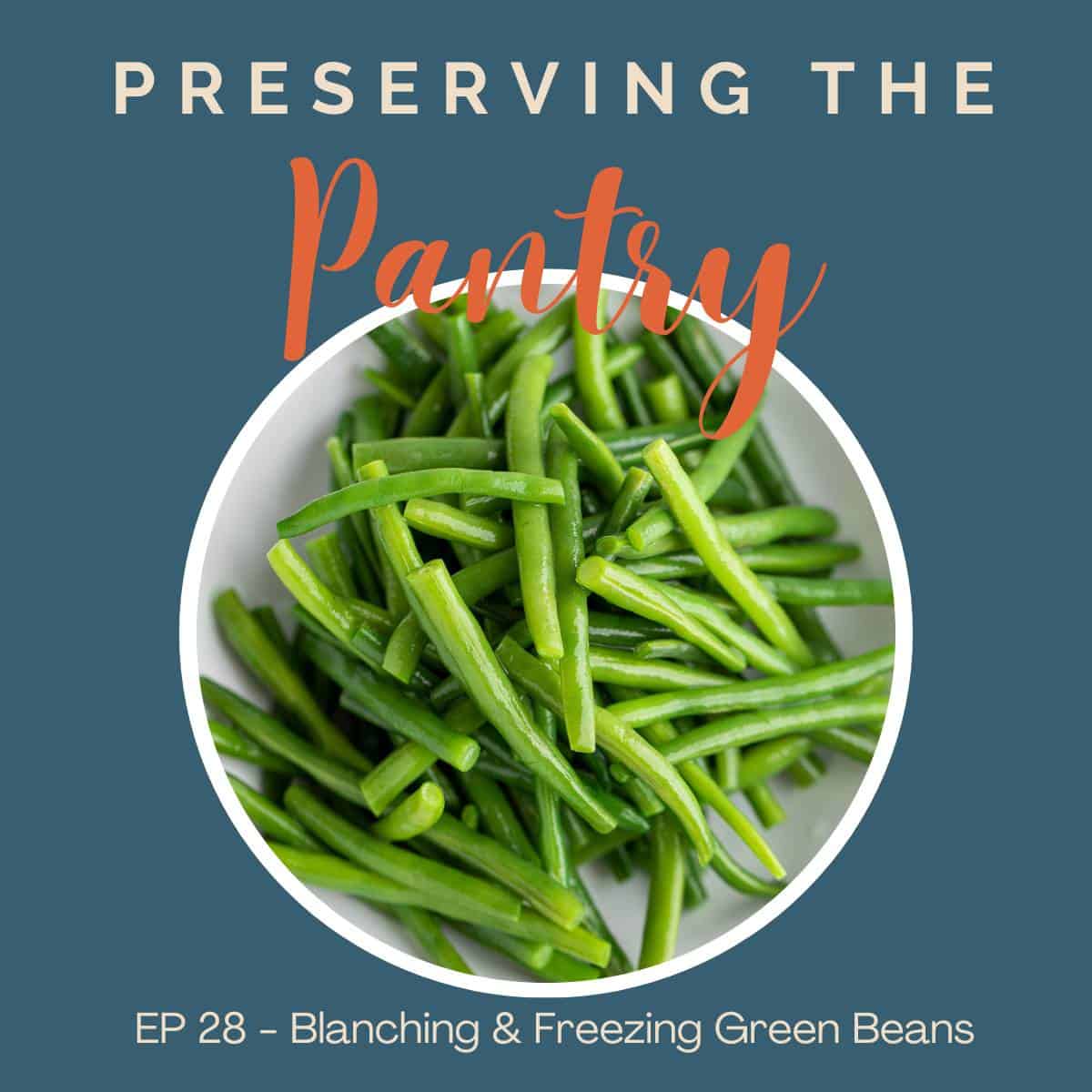 Play the episode
Recipes
Find the complete recipe for Blanching Green Beans
Recipes mentioned in this podcast:
In this episode you'll learn:
How to blanch green beans
How to select green beans
How to freeze green beans
Make ahead tips for using green beans
Two recipes for using blanched green beans
Where to listen to the podcast
Listen to this episode on iTunes, Spotify, Amazon Podcast, or your favorite podcast player. Or scroll down to read a full transcript.
If you love this podcast, I'd love to hear about it! Leave a comment below and hop over and leave a comment on Instagram @preservingthepantry!
Transcript
Hi everyone, and welcome back to the Pantry, and Happy New Year to everyone! I hope that this new year is off to a great start.
During the holidays, I cooked up a couple different recipes using fresh green beans, and both of the recipes that I make use blanched green beans, and I thought I'd share my process with you for the blanched green beans, one of my recipes for fresh green beans, and then also the method that I used during the summertime to freeze my green beans.
I blanch those green beans first and then put them in the freezer. So I'll share my tips with you for.
First, let's talk about selecting green beans. If it's in the summertime and you have access to great green beans, fresh green beans, use those. Pick them when they're perfectly ripe, bring them into the house and try to use them up right away.
If you are selecting your green beans from the grocery store, be selective. Pick nice green beans that are firm, not limp, and make certain that they're free from any blemishes. Once you bring those green beans home or in from the garden, rinse them off really well with nice, cool water.
For the blanching process, what you'll need to do is for about every pound of green beans, you'll fill a pot of water with a gallon of water into that pot and bring that to a boil. Now, if I am using these green beans in a recipe, I salt that water about a tablespoon of salt per gallon of water. If I'm freezing the green beans, I do not add any salt to the boiling water. So while your water is getting started, you're going to prep those green beans.
You've already rinsed them off. Next, you're going to trim off those ends. I take a small handful, line up, one end, chop off the ends, and then do the same with the other end, and just make those all into a pile.
Once the water is fully boiling at a rolling boil, you'll add all of those green beans. Use a big wooden spoon or something to make certain that all of the green beans are submerged.
They do like to float. Just make sure you push 'em down every once in a while so that they're all getting cooked nice and evenly. , this boiling process is only about three to four minutes. Now, this will vary a little bit depending on your green beans. So at about three minutes I pull out a green bean and I just taste it.
If it tastes like it's got a good bite to it, good fresh flavor, good green bean flavor. Those beans are done. If you think it needs another minute, give it another minute, but don't overcook those green beans.
As soon as you feel like they are done, turn off the temperature on your stove and take those green beans out of the water immediately and plunge it into a bowl full of ice cold water.
I fill up the biggest bowl I have, add a ton of ice and cold water, and just get those green beans. Then I take my spoon or my tongues and I just really stir those green beans so that every bit of those green beans are getting contact with that ice cold water. You want to stop that cooking process.
You will notice a couple things have happened during this whole boiling and then ice water bath process. The green beans will turn vibrant green of beautiful green color. Have a nice smell of a freshness of the smell, and if you taste them, they're gonna have that beautiful taste and crunch that you are looking for in a green be.
The ice water bath process takes about the same amount of time that you boiled those green beans in that water. I sometimes give them a few extra minutes. You want to make certain that they are fully chilled all the way through. Once you're done with that, you're going to remove those beans from that ice water, discard the ice water and drain off any excess water from the green beans.
Now if you're going to freeze them at this point, just lightly pat off any excess water or lay them out to dry that water. It just kind of dries off of there a little bit. You don't want to pack them with excess water on them because that will form ice crystals. Then I take the amount of green beans that I think I'm going to need for a serving.
That varies. Sometimes I pack just one or two cups or small handfuls into a bag, and sometimes I do a bit more. I put them in freezer safe bags or in vacuum seal bags, and then I label them, put the date on them and put 'em in my deep freeze. Now when I'm using these blanched green beans in a recipe, There are two things you can do.
One is just after you're done blanching, you can go right into your recipe and make that recipe or this is a great make ahead tip. Cover and refrigerate those green beans and store them for one to two days. During the holidays, like on Thanksgiving, this is a great way to have things ready without having all of that process under your big day.
So I will blanch my green beans, get them all ready, and then put them in the refrigerator and then like on Thanksgiving day, I will pull them out just before we're ready to eat and finish off those green beans. It saves a ton of time, dishes, stove, top space, all of that.
I make two great recipes. In my opinion, great recipes with fresh green beans that involve the blanching stage.
First is a green bean almondine, which is fresh green beans with brown almonds, sliced almonds, lemon juice, butter, and garlic. So delicious.
And then my newest recipe is green beans with bacon. I mean, come on, it's got bacon in it. You can't go wrong there. So this recipe is, you'll blanche those green beans and then you'll cut up some bacon and just cut them up into small pieces and you're going to brown that so it's real nice and crisp.
And then you're going to take the bacon out of that saute pan, drain off the bacon grease, but you're going to reserve about a tablespoon of it or so in your pan. These green beans are going right back in that same pan, so you're going to be using the bacon grease that is in there. And you know how sometimes when you cook bacon, it leaves all of those little pieces of bacon on the bottom of your pan?
That's all gonna be flavoring these green beans. So you bring that temperature back up so that it's a nice medium, high temperature of your pan, and you add those green beans and you're gonna hear us a little bit of a sizzle in there right away because the green beans are gonna be just slightly damp, not wet from the blanching process.
And so that water, when it hits that hot skillet, you hear that sizzle. I like to leave those green beans cooked for just. Full minute to two minutes before I even touch them because it's going to create, oh, that beautiful browning across the bottom of the green beans. It gives it a beautiful color, a little bit of a searing, and so you just leave them there and don't stir them.
Then after that one to two minutes, you are going to give 'em a good stir. Rotate those green beans around. I like to use tongs oftentimes cause it's easy to grab them and turn 'em around. And you then you make a center in the your, the middle of your skillet and you're gonna add your garlic only about 30 seconds, you're gonna let that garlic cook.
And then, and you're gonna be stirring everything together. And then you add the bacon back in there just to heat it back up as, give it a good stir again. Taste a bean to make certain that's fully heated through. And then you remove everything from the pan into your serving dish, and you take some coarse salt, sprinkle it right over the top of your green beans and you're ready to go.
These are great, delicious green beans that are perfect for holiday dinners, everyday dinners, weekend dinners, guests, anytime you just crave a little fresh vegetable. These are delicious and easy to make. All right. Make sure you check out the recipe for the green beans with bacon, the green bean almondine, and then my newest post on how to blanch green beans.
I'll see you next week in the pantry. Bye.
Thanks for listening, and be sure to tune in again next week for more episodes of Preserving the Pantry.