Coloring Easter Eggs is a tradition we always practice in our house. This year, I decided instead of those little fizzy tablets, we would try creating natural dyes and dye our eggs. We raise our own chickens and get more than a dozen eggs each day. I don't buy store bought eggs.
There is no need... however, for dyed eggs, I do buy those pure white eggs from the store. Have you ever dyed Easter Eggs using natural ingredients? This was a first for us!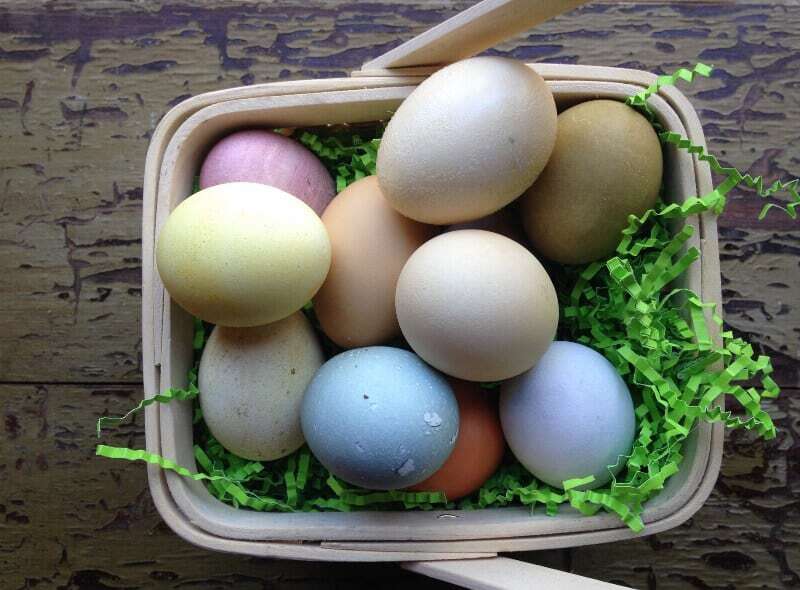 Really, I could display our chicken eggs we collect daily without any dye and call it good. They are so colorful. Depending on the hens we are raising, the colors range from tan to reddish to blue with every color in between. But there is something fun about actually plunging an egg into a cup and pulling it out with a different color.
Since I have kids still wanting to color eggs, I feel like I need to oblige their urge and let them dye their eggs. We've tried dying our own farm fresh eggs, but when you start with a reddish colored egg and try to color it yellow, there just isn't much of a change. During Easter, I buy white eggs from the store!
This year, I bought white eggs again, but none of those little tablets! The kids protested at first, but then they were fully into coming up with what to use to dye our eggs. The whole process really was a science experiment. What we thought would be a great dye wasn't, and the colors we thought we'd would get from a certain product didn't always ring true!
Our list of items that we thought would create a color splash: Beets, Blueberries, Huckleberries, Red Plum Juice, Red Onion, Yellow Onion, Carrots, Coffee, Parsley, and Turmeric.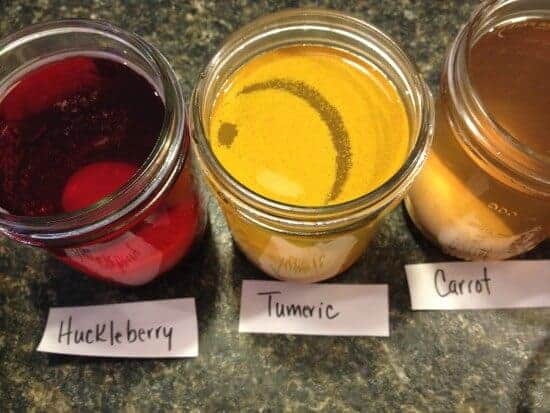 With most of the items, I boiled them in water for 20 minutes, strained and poured into a glass jar. I added 3 Tablespoons of white vinegar to each jar. Vinegar is used to help colors set. I added the hard boiled eggs to each jar and let sit for 20-30 minutes.
I checked on the eggs during that time to see how they were developing. In between the checking a rim of bubbles would form on the top of each jar. The bubbles appeared in the shape of the egg. (Please excuse the spelling of turmeric above.... I guess I wouldn't win any spelling bees!)
We selected items that we knew created a lot of messy stain. However, this didn't necessarily translate into making a good egg dye.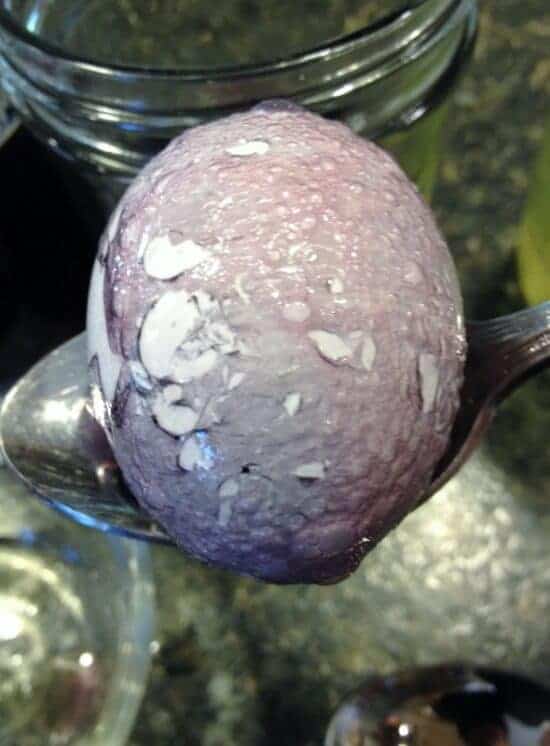 The blueberry created a sort of blue film on the egg. When I rinsed it, it came right off and just left a hint of color behind.
Parsley creates a really green rinse when you chop it and rinse it. The green colored water didn't make any color change of the egg.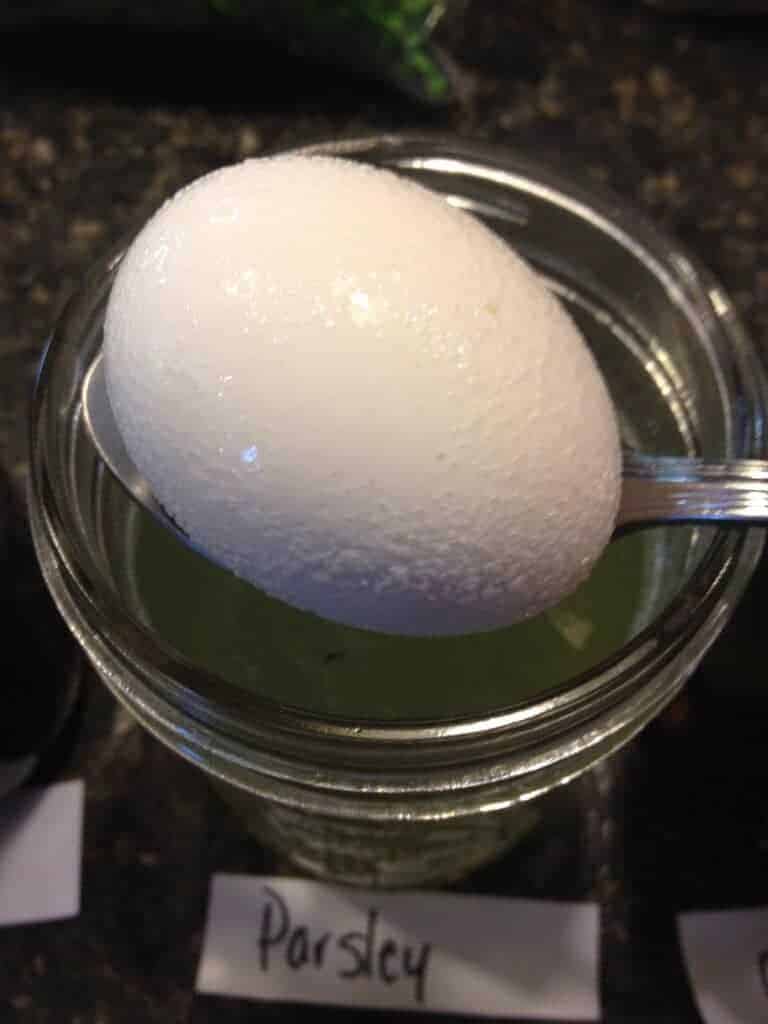 Several colors surprised us. The red onion make an amber colored liquid, but when the egg came out of the liquid, the egg was dyed green! Yes...GREEN!!! It was a dark colored green! The yellow onion made a beautiful reddish orange color.
The coffee I did on a whim, because I was drinking coffee at the time. The color came out as a soft brownish color. Overall, we had a lot of fun. I'm not certain the kids are ready to totally abandon the totally fake colors from all the fizzy tablets, but maybe we will slowly get there!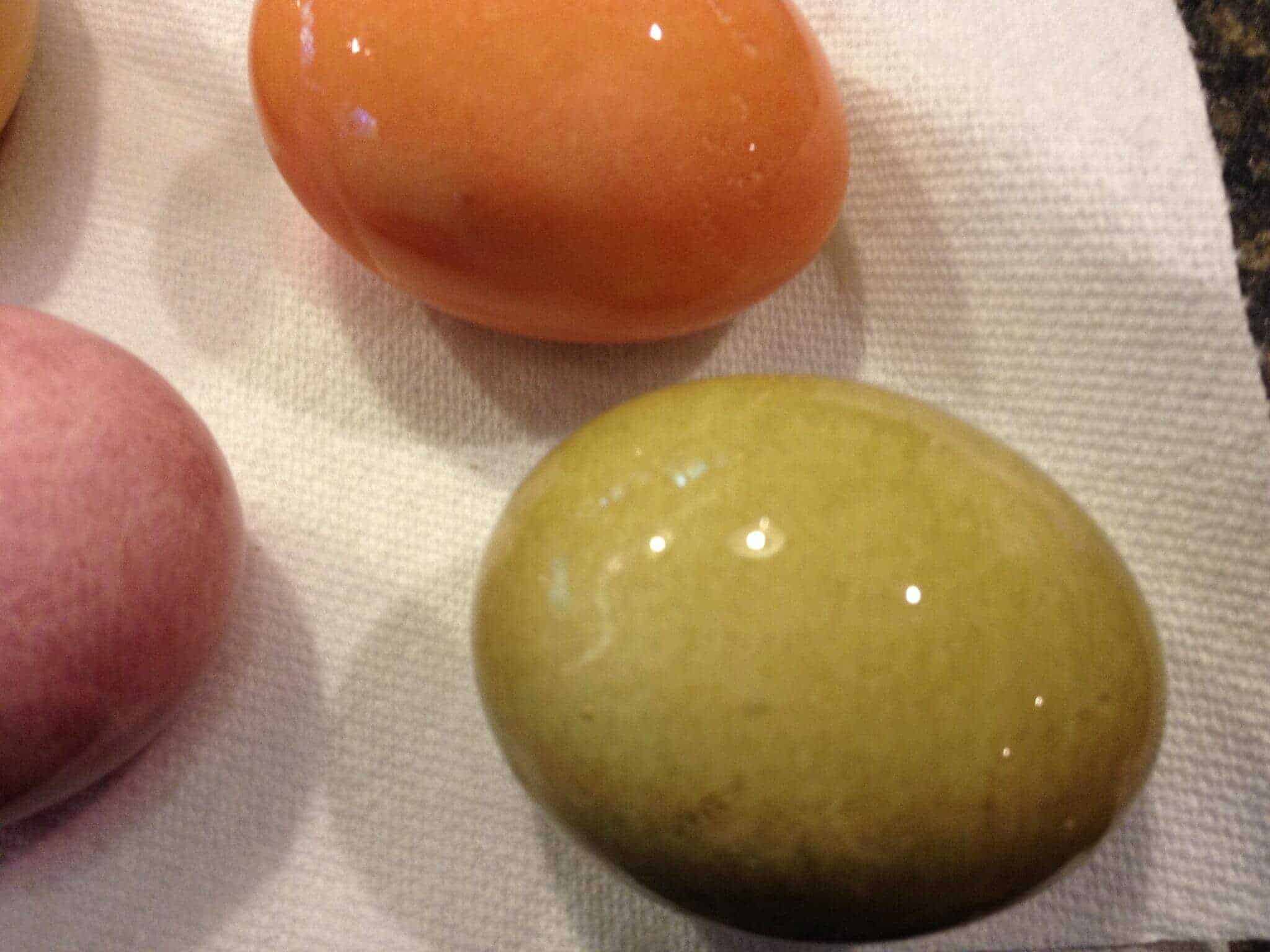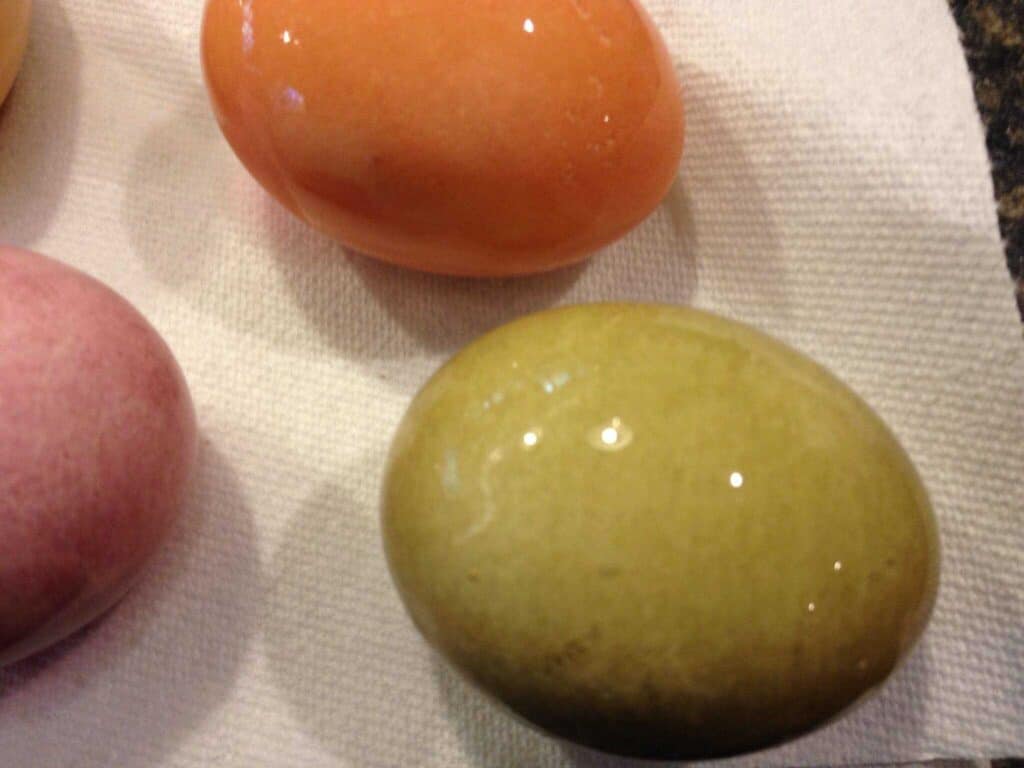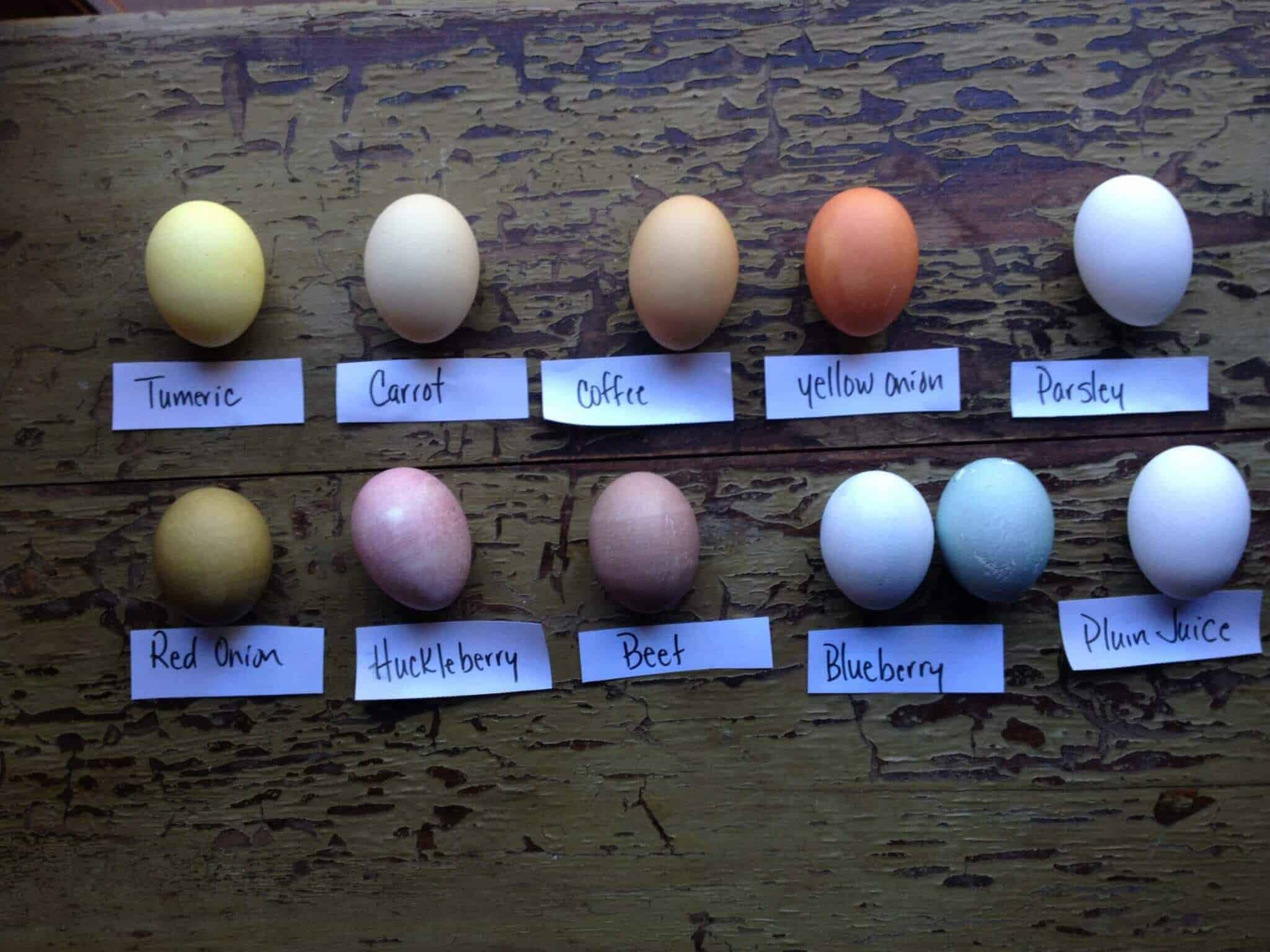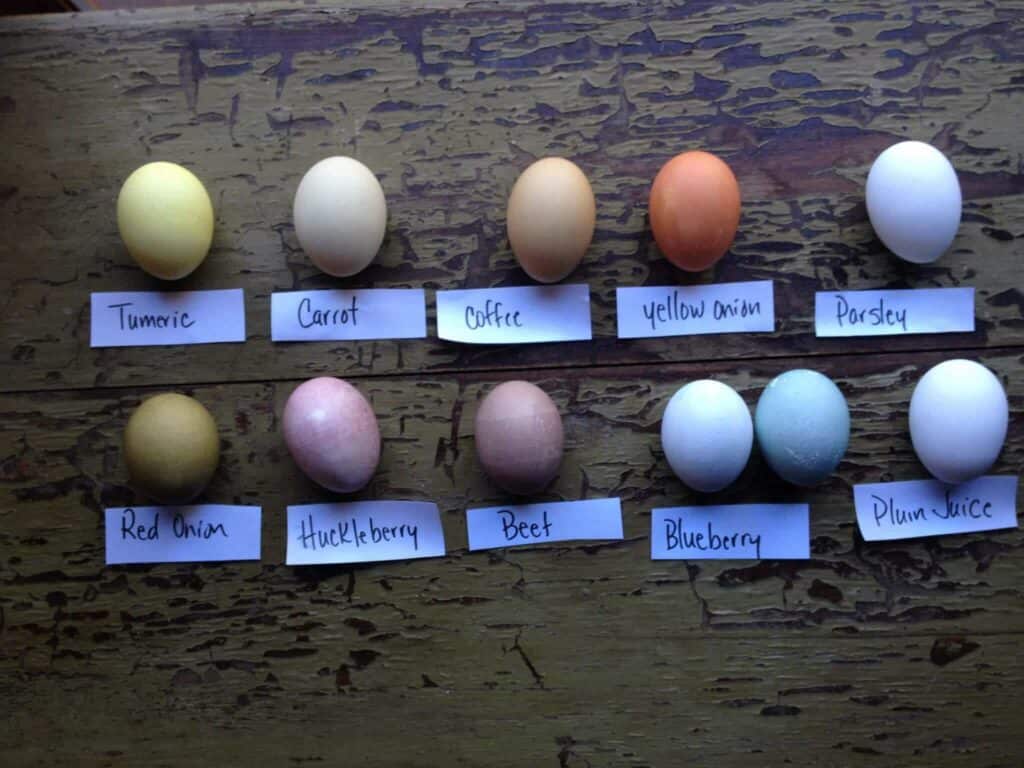 Have you ever dyed eggs using natural dyes? What surprises did you get?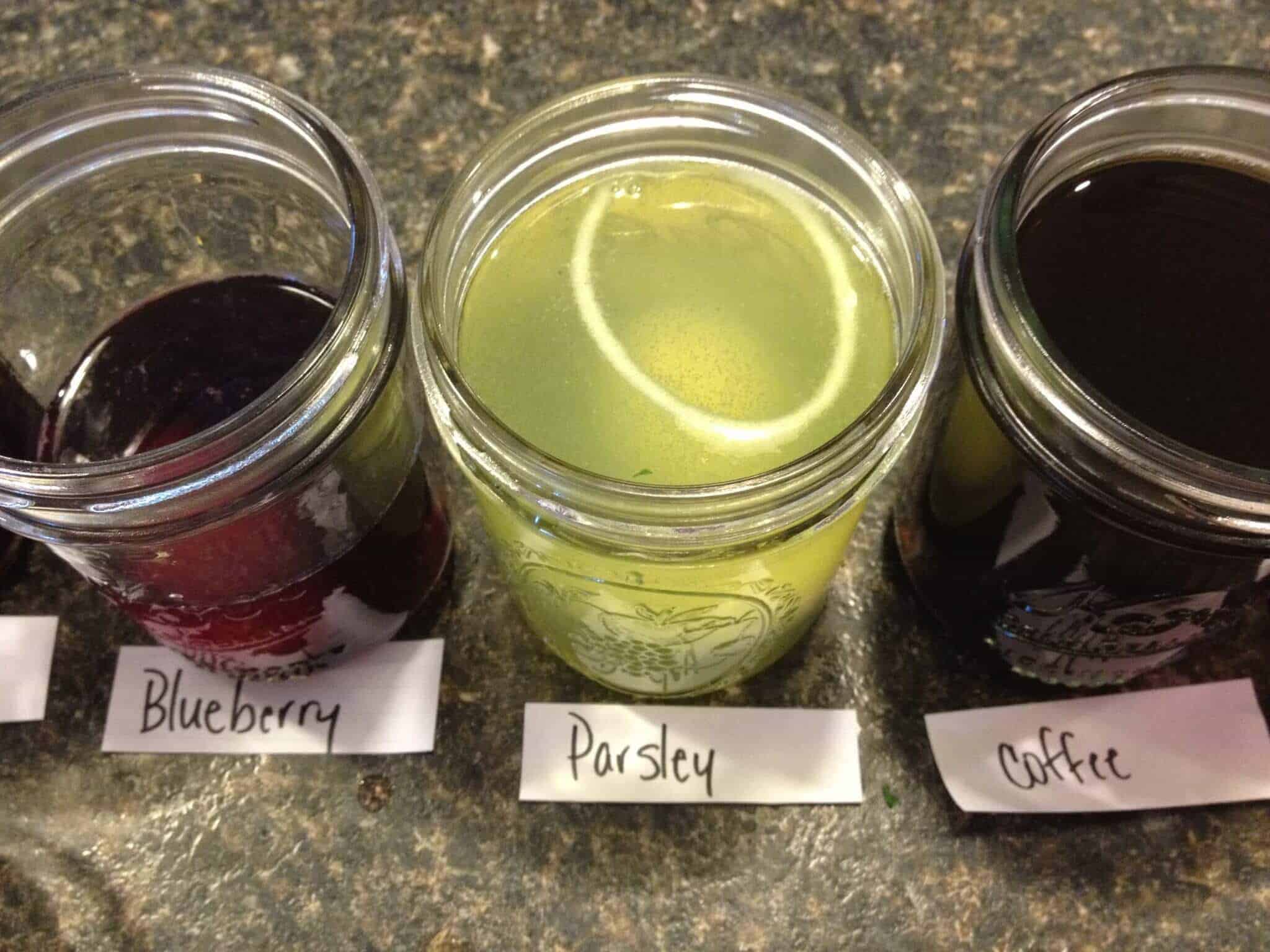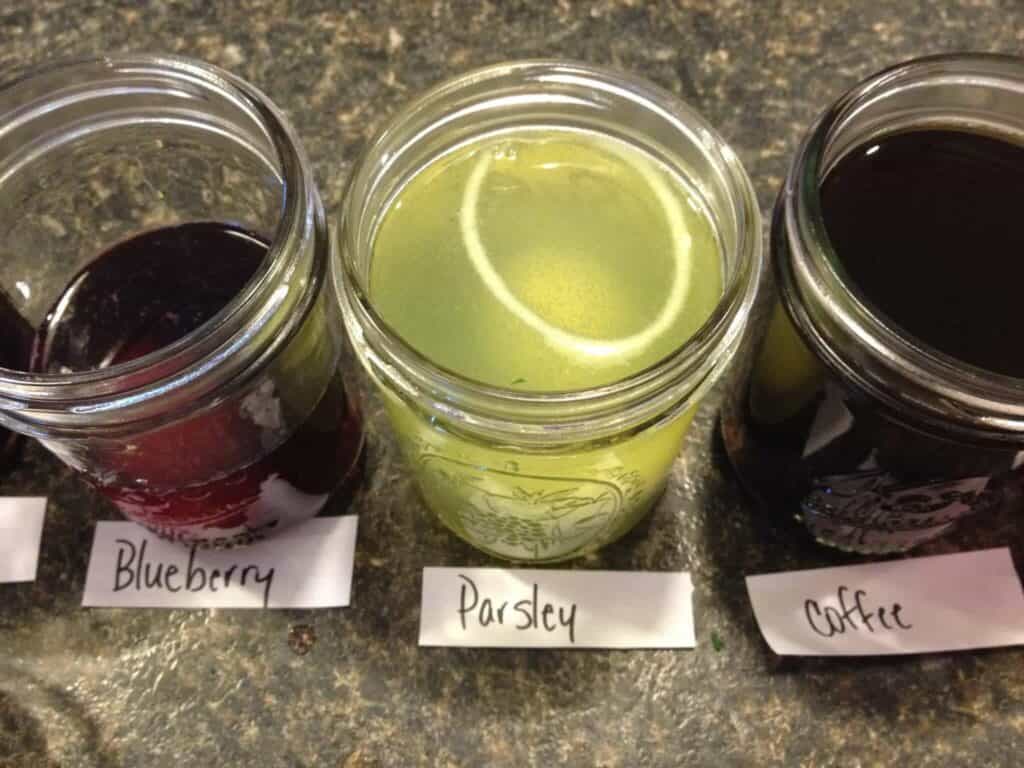 If you are making Easter Eggs, you will want to check out How to Boil Eggs. And you'll also want to check out this Deviled Egg recipe and Egg Salad recipe so you can use up all these hard boiled eggs!