In episode 002, Kathy discusses how to preserve wild morel mushrooms by dehydrating them and freezing them.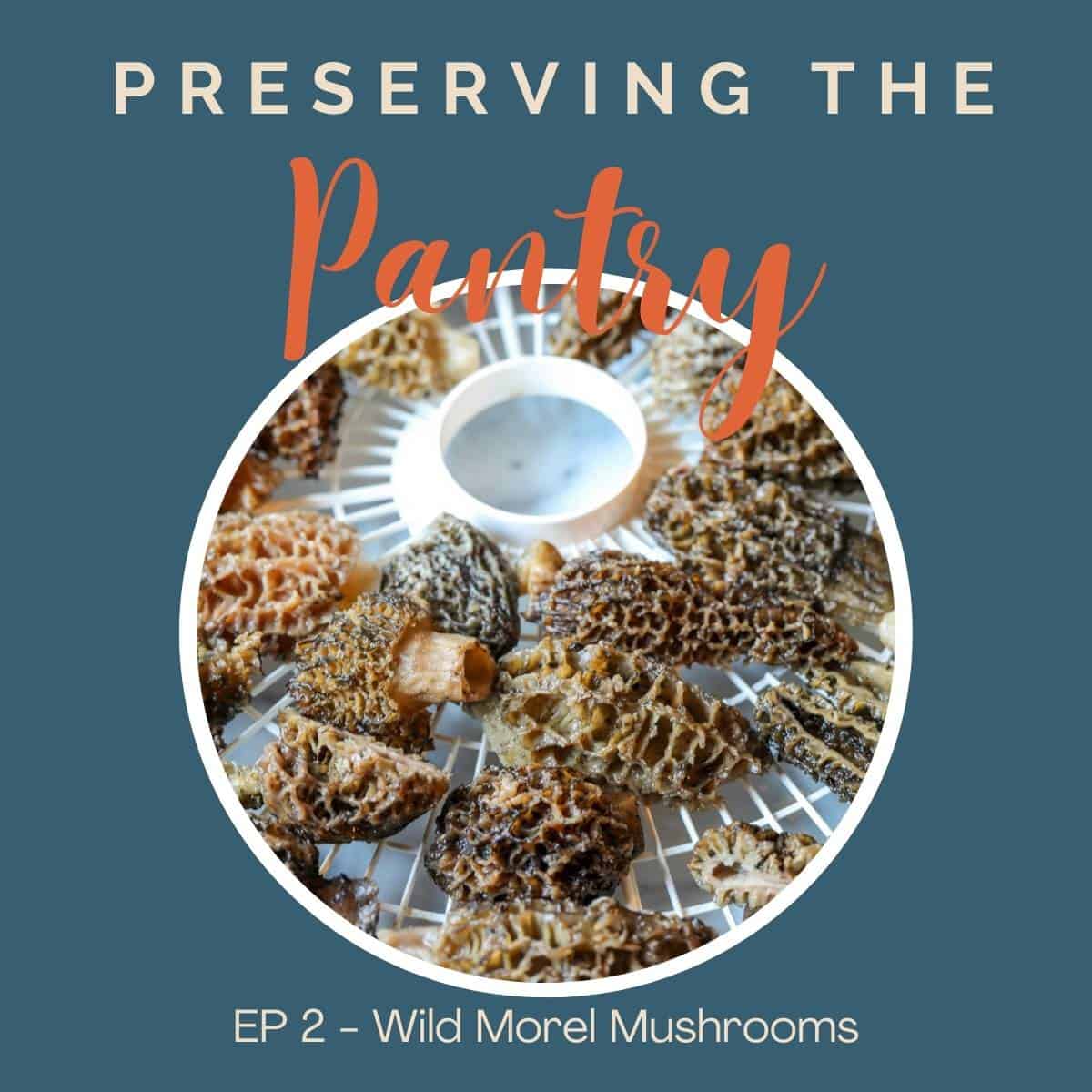 Play the episode
The complete recipe for Drying Morels can be found here.
Recipes using morel mushrooms include:
In this episode, you'll learn:
Why morels flourish some years
How to clean morels
How to dehydrate morel mushrooms
Steps to rehydrate dried mushrooms
How to freeze morels
How to store mushrooms
Resources
Where to listen to the podcast
Listen to this episode on iTunes, Spotify, Amazon Podcast, or your favorite podcast player. Or scroll down to read a full transcript.
Transcript
Welcome to preserving the pantry where I talk about everything related to food preserving. I am your host, Kathy Berget.
Hi, welcome back. This is episode two of Preserving the Pantry. I am Kathy, your host. And today we are going to be talking about wild Morel mushroom.
This has been an incredible year for us to forage Morel mushrooms. We've never seen a year quite like this, and that's due to a couple different things. One is our spring has been very cool and very wet, but also last year was the exact opposite.
It was very hot and very dry. And we had lots of forest fires. Those mushrooms this year are growing in those areas that burned last year and all the rain and cool weather has just created an amazing crop. We went out last weekend and in just a few short hours, we picked over 16 gallons of morel mushrooms.
It was incredible. I've never seen so so many mushrooms and it was just amazing picking them. It was just everywhere you look, there were more mushroom. However, once we got home, we had to figure out what do we do with all these mushrooms?
So we ended up doing two main things. We dried the mushrooms and we froze the mushrooms.
We plan on using them all year. And actually they will last us for several years. The first thing we did when we got home was we needed to wash the mushrooms. So I filled a sink full of water. I added about a quarter cup of salt and added the mushrooms. I have to do these in several batches. And once the mushrooms have soaked anywhere from 10 to 30 minutes, I drain the sink.
I fill up the sink again with cool water so that the mushrooms are fully rinsed off. Then I allow the water to drain off of the mushrooms for dehydrating. I take the larger mushrooms and slice them in half from the top to the bottom, and then place them on dehydrated trays. The smaller ones you can decide if you want to cut them are just leave them whole.
The dehydrator is set 120 degrees and it runs for anywhere from eight to 10 hours. The time will vary depending on how many mushrooms you have on your trays, how wet they actually were and what your humidity and temperature is of where, where you are dehydrating the mushrooms, keep an eye on them and make sure you pull them off when they're dry.
Once they're fully dried. I store them in glass jars with lids or in zip, top plastic bags, or even in vacuum seal bags. To use the mushrooms, take out the amount you're going to need. Pour boiling water over them and let them sit until they're rehydrated. Then you use them in any recipe that calls for mushroom.
To freeze the mushrooms, make certain you get most of the excess water off of the mushrooms. Then place them on cookie sheets, lined with parchment paper and place in the deep freeze until they're frozen. Once they're frozen. remove the cookie sheets and take the mushrooms off the tray. Place them in freezer, safe bags, or vacuum sealed bags and place back into the deep freeze to use frozen mushrooms.
You don't want them to fully thaw, use them partially frozen or frozen and use them in any recipe.
One caution about Morel mushrooms. It is advised that you do not consume raw Morel mushrooms. So make certain they're fully cooked before you consume them.
That's it for this episode, I hope you've enjoyed my tips for preserving Morel mushrooms.
If you enjoy listening to preserving the pantry, please subscribe to this podcast. I'd really appreciate it until next. We'll see you in the pantry.
Thanks for listening and be sure to tune in again next week for more episodes of preserving the pantry.
If you love this podcast, I'd love to hear about it! Leave a comment below and hop over and leave a comment on Instagram @preservingthepantry!