This Baked Cheesy Egg Casserole is perfect for a crowd or a breakfast celebration.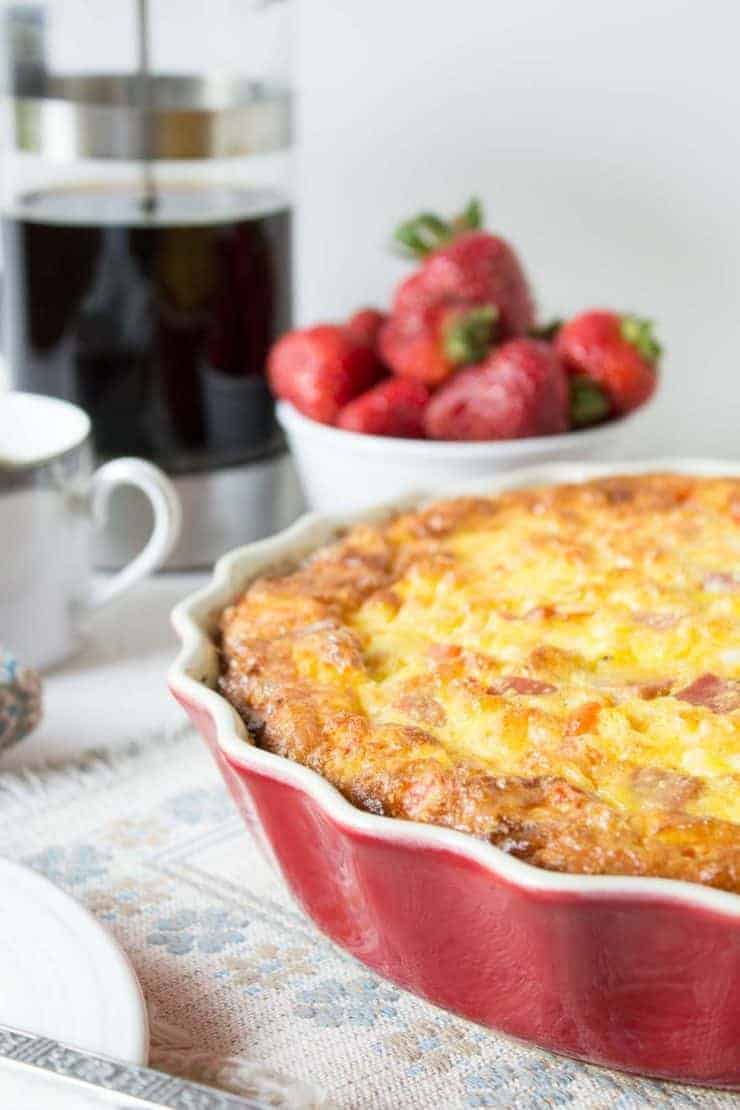 This cheesy baked egg casserole is perfect for Christmas morning.  I love a big breakfast Christmas morning, but I don't want to spend all morning cooking in the kitchen.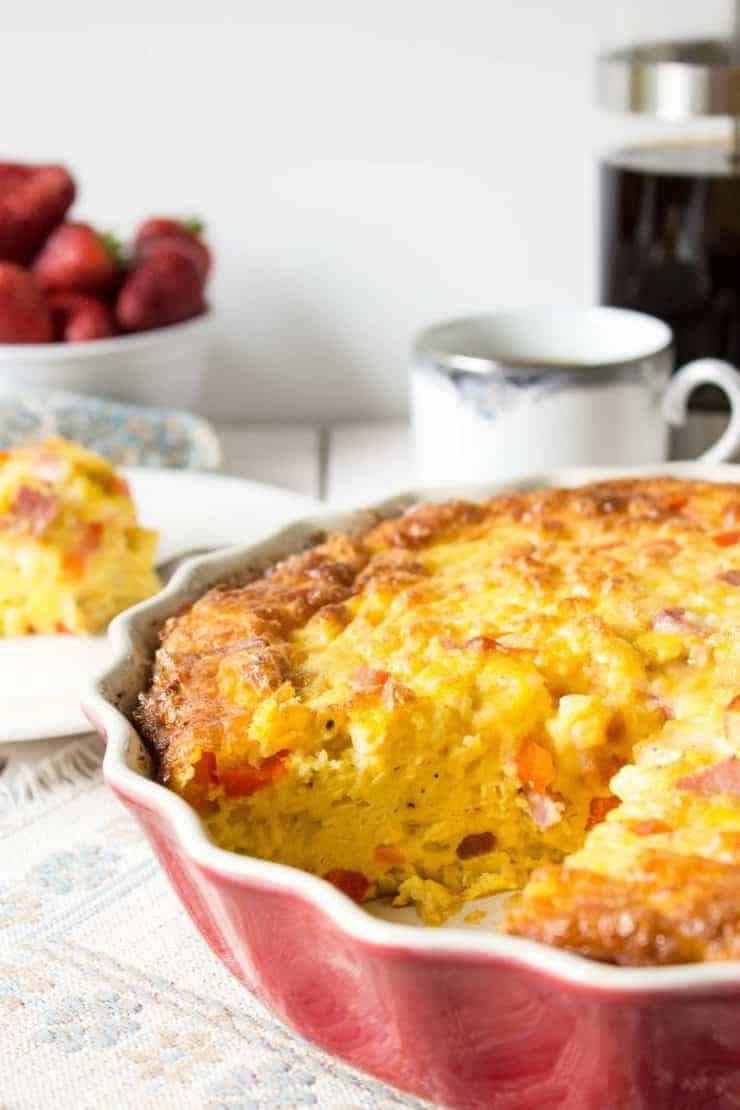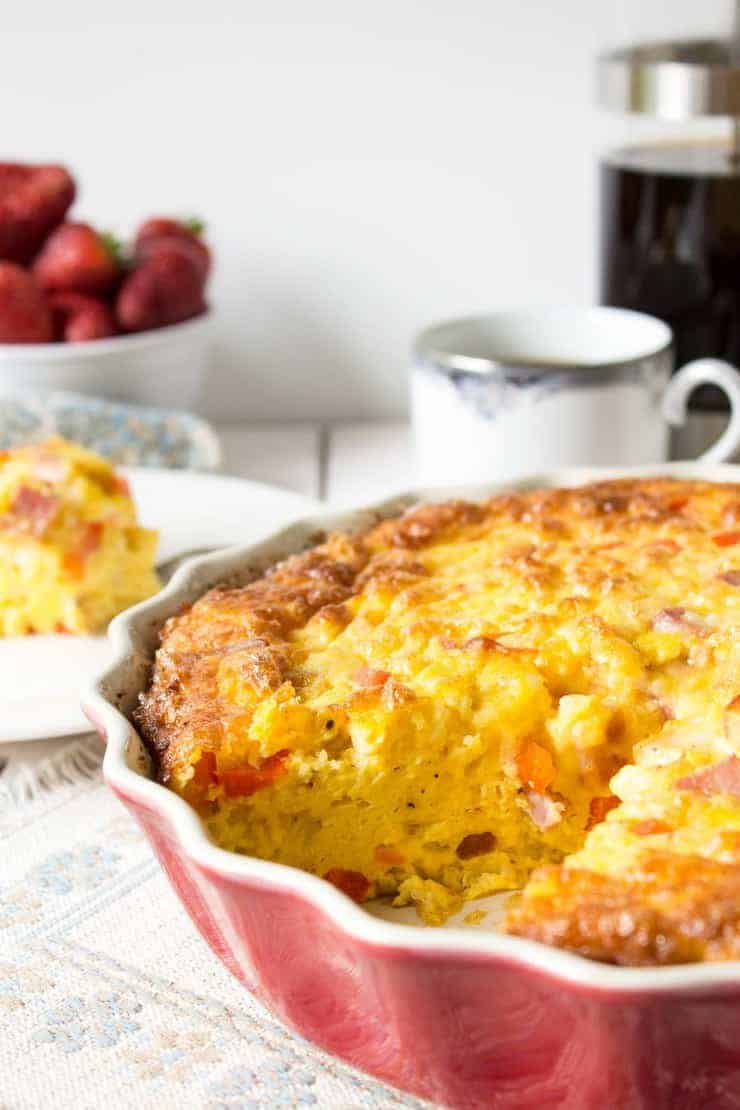 You already know I make my cinnamon rolls the day before and reheat them Christmas morning.  These cheesy baked eggs can also be prepared the day before and then just popped in the oven in the morning to bake.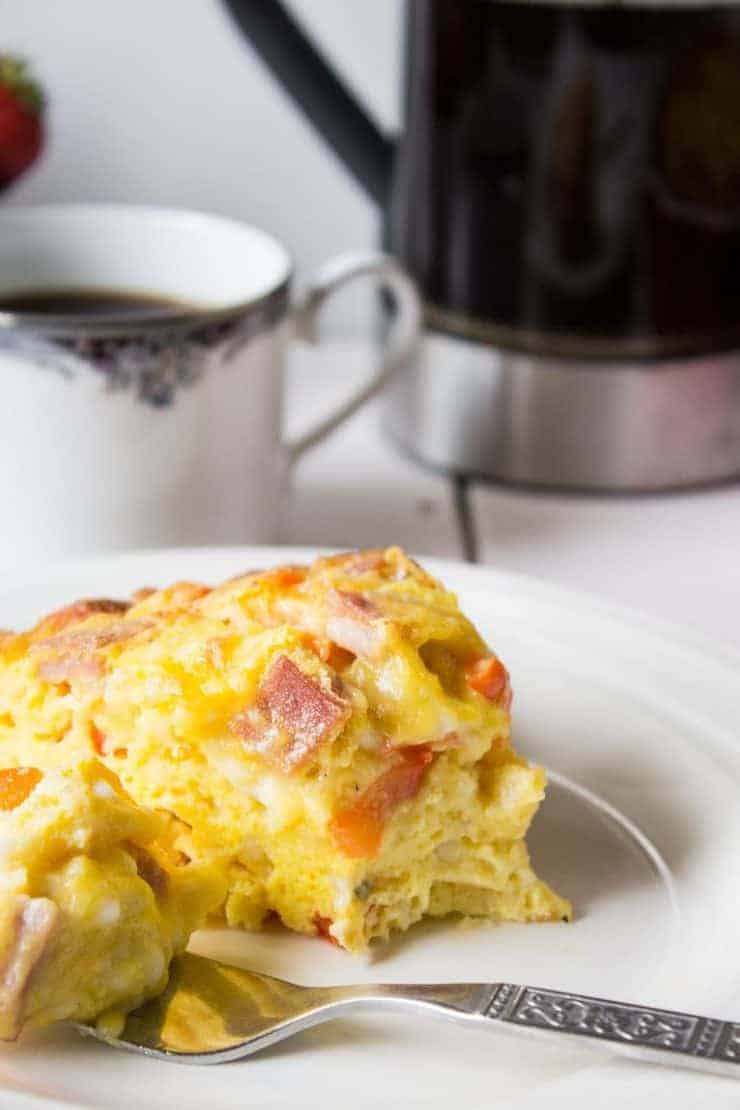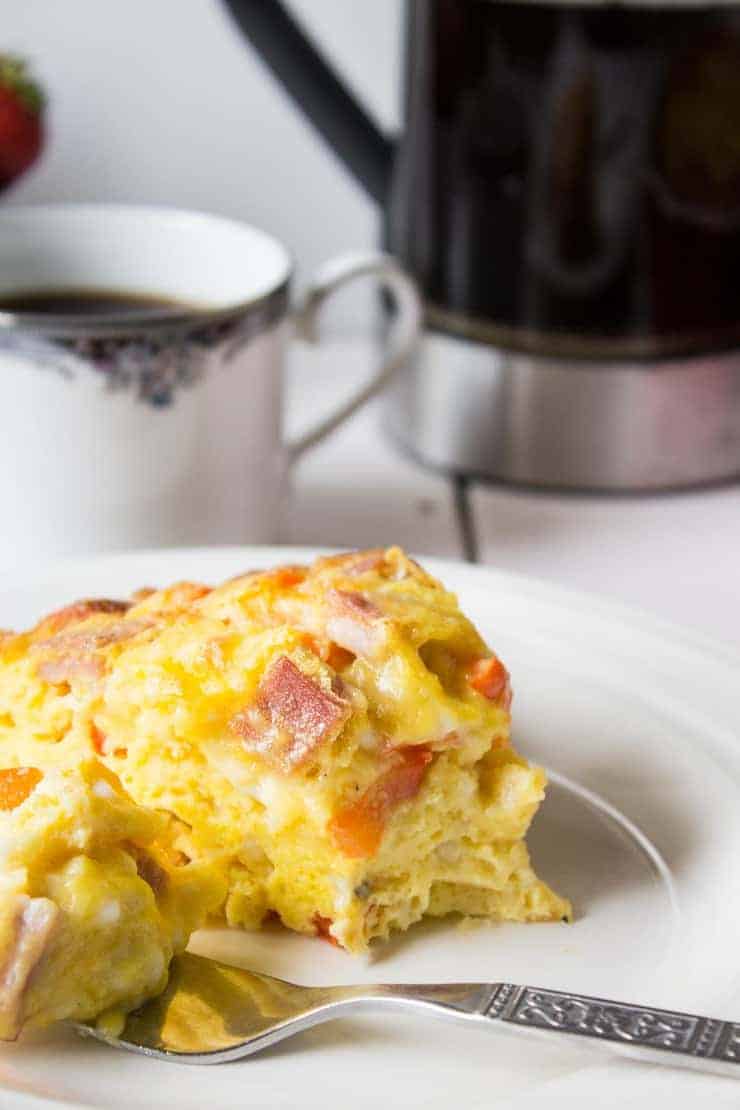 This recipe came from a friend many years ago.  The original name of this dish was Cottage Baked Eggs.  She did get the recipe from a bed and breakfast, but the dish wasn't named for some cute little cottage....nope, they are named for the secret ingredient in this dish!
I don't usually tell people about the secret ingredient because they prejudge the dish if they know what's in it.  Nope, I usually don't reveal it at all!  It's up to you if you keep it a secret, but if you have finicky eaters at all, I recommend not telling!
This dish got its original name from the cottage cheese that is added!  See what I mean?  You are already going...ewww!    I told you!  But trust me. This dish is delicious.  The cottage cheese disappears when baked and just leaves an extra creaminess.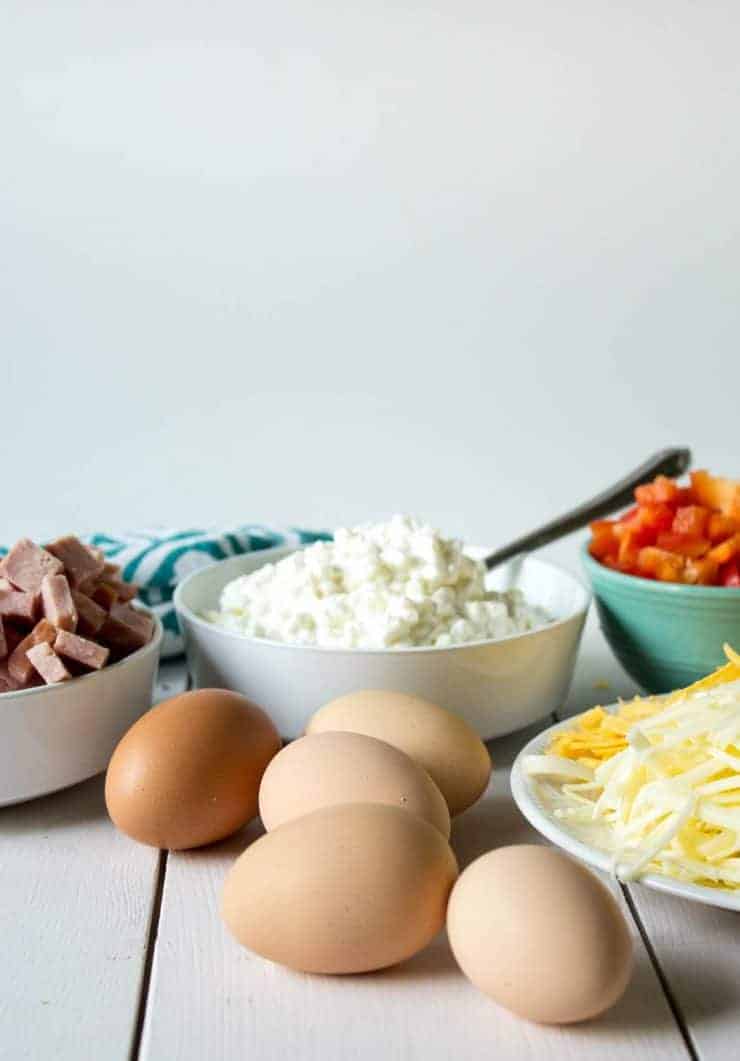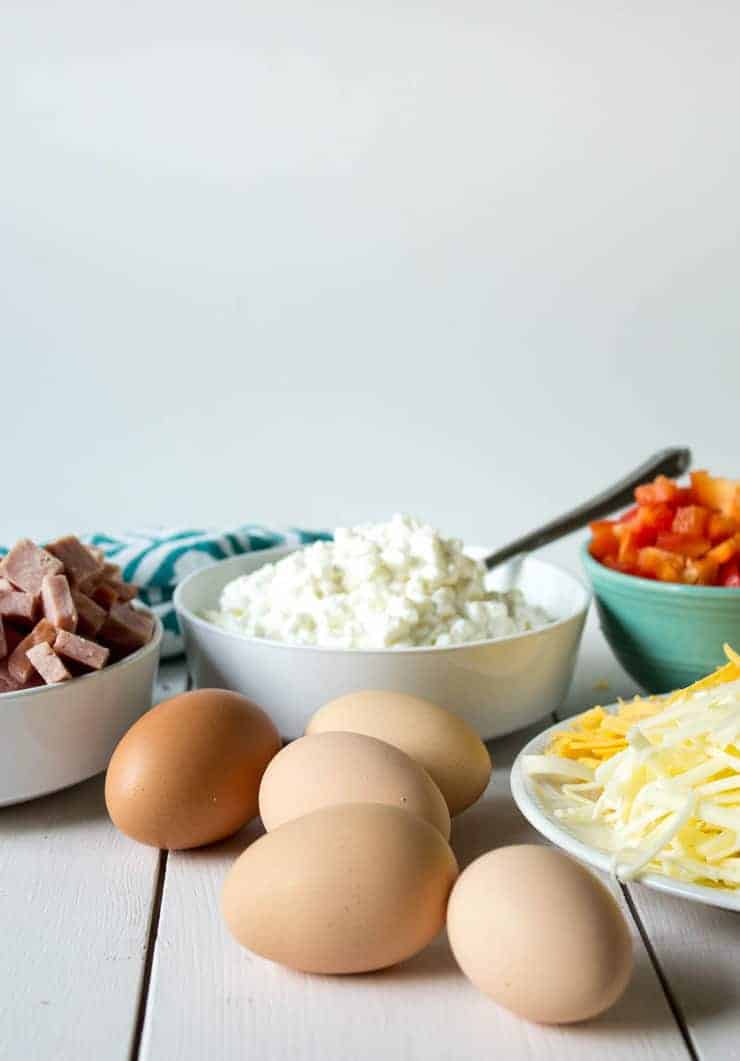 These cheesy baked eggs are super versatile.  I used ham, but you could also use cooked breakfast sausage or bacon or leave the meat out altogether.  I often toast up some English muffins to serve alongside this casserole.
What vegetables can I add?
The veggies are totally up to you.  I used a bell pepper, but you could also add onions, mushrooms or thinly sliced spinach.
What type of cheese can I use?
You can use your favorite type of cheese. Some options that would work, Swiss, Gouda, Colby, Pepper Jack and Fontina.
Of course you need to add the cottage cheese, but you also add 2 cups of grated cheese.  I used one cup of cheddar and one cup of Monterey Jack.
How do I make this ahead of time?
If you are preparing this dish the night before, simply mix everything together except the butter.  Cover and refrigerate.
In the morning, melt the butter and pour into the baking dish.  Because the mixture will be cold, the baking time will increase.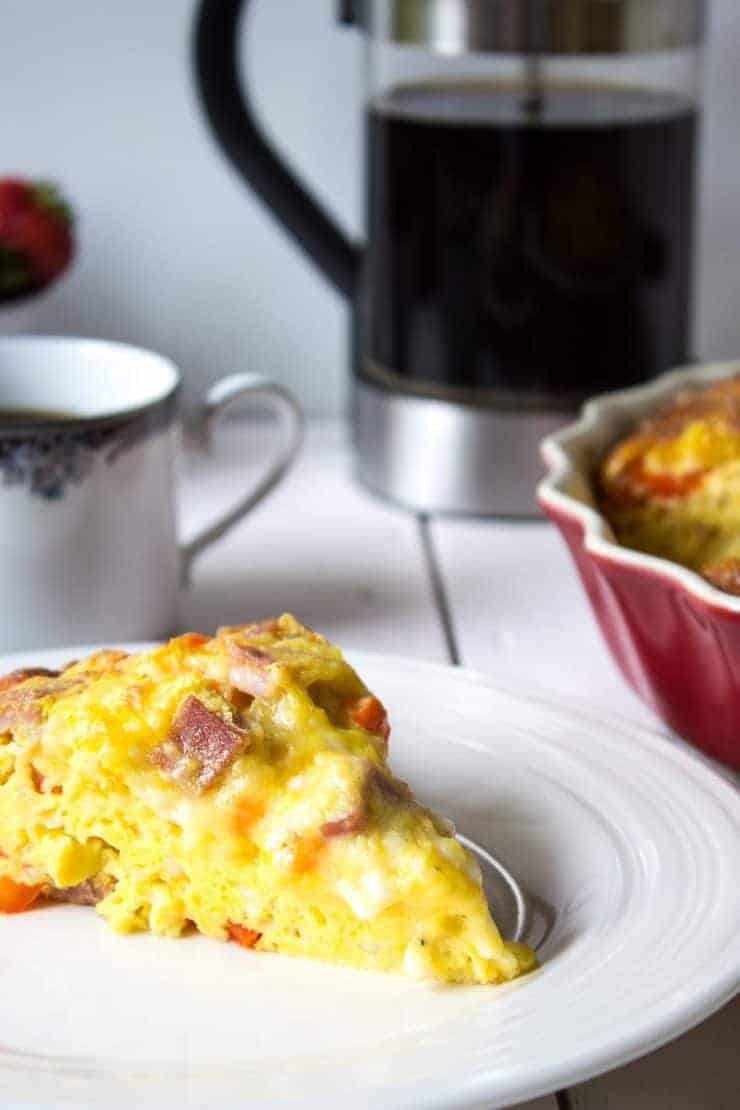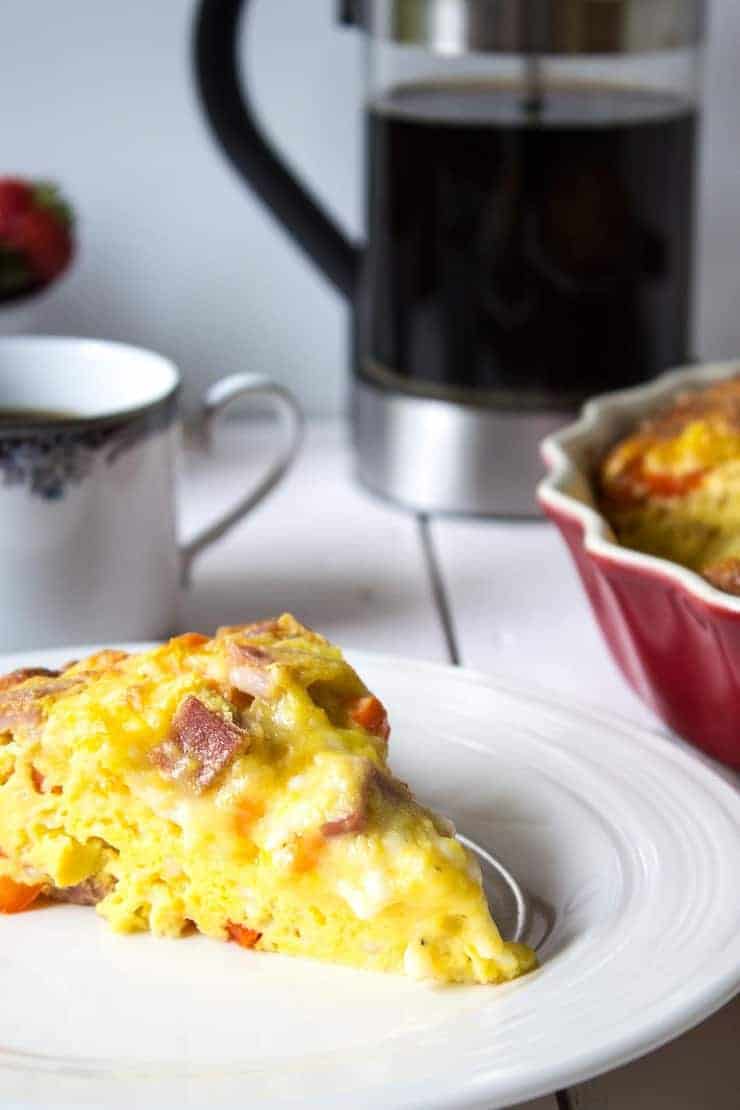 Keep an eye on your casserole...you don't want it  overcooked.  I used a deep pie dish and mine took 50 minutes.  If your dish isn't as deep, decrease your time.
How do I know if my egg casserole is done?
I always check this dish as it gets close to being done. Give the dish a little jiggle.
If the middle jiggles, it needs more time.  You can also test with  a butter knife.  If it comes out gooey, it needs more time.
Other great breakfast recipes
If you make this recipe, I'd love to hear about it! Leave a comment below and snap a picture and tag me on Instagram @beyondthechickencoop
Check out all my breakfast recipes!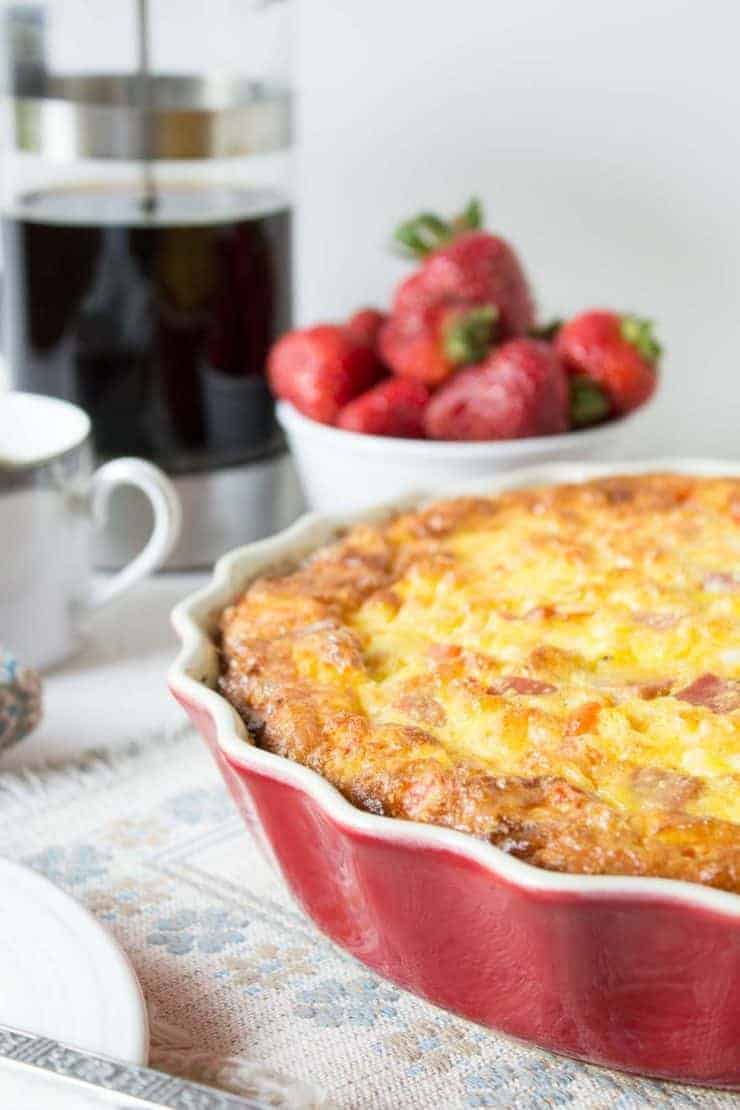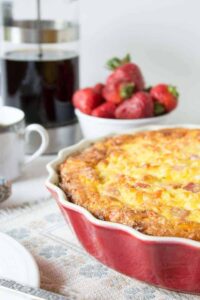 Cheesy Baked Egg Casserole
Baked egg dish with three types of cheese. You pick the meat and veggies.
Ingredients
10

whole

eggs

½

cup

flour

1

teaspoon

baking powder

½

teaspoon

salt

½

teaspoon

pepper

2

cups

diced ham

2

cups

shredded cheese

(Cheddar and Monterey Jack)

1 ¾

cup

cottage cheese

1

whole

diced red bell pepper.

¼

cup

butter
Instructions
Whisk eggs in a large bowl.

Add flour, baking powder, salt and pepper. Mix

½ cup flour,

1 teaspoon baking powder,

½ teaspoon salt,

½ teaspoon pepper

Stir in cottage cheese, shredded cheese, ham and bell pepper.

1 ¾ cup cottage cheese,

2 cups shredded cheese,

2 cups diced ham,

1 whole diced red bell pepper.

Place butter in a 2 quart baking dish. Place dish in preheated 350 degree oven until butter is melted.

Remove from oven. Swirl butter around bottom and sides of dish.

Pour in egg mixture.

Let cool for 10 minutes before serving.
Notes
Baking time may vary depending on size of baking dish and the amount of added veggies. Check for doneness by giving baking dish a gentle giggle or by inserting a butter knife into the center. Knife should not have any raw egg mixture when done.
This dish can be made ahead of time up to mixing all ingredients together. Cover mixing bowl and store in refrigerator. When ready to bake proceed with melting butter in baking dish. This may increase baking time by 10 minutes.
Nutrition
Calories:
241
kcal
Carbohydrates:
8
g
Protein:
17
g
Fat:
15
g
Saturated Fat:
8
g
Cholesterol:
65
mg
Sodium:
912
mg
Potassium:
127
mg
Sugar:
2
g
Vitamin A:
440
IU
Vitamin C:
0.2
mg
Calcium:
203
mg
Iron:
0.7
mg