This post may contain affiliate links, see my Privacy Policy.
Summer Wedding:  Cake and Cupcakes 
This is part 2 in a series:  The Cake and Cupcakes 

My sister got married last summer.  It was beyond beautiful!  The wedding was outside on an old family farm and there was even an old barn that really set the theme.  The weather cooperated and was just perfect.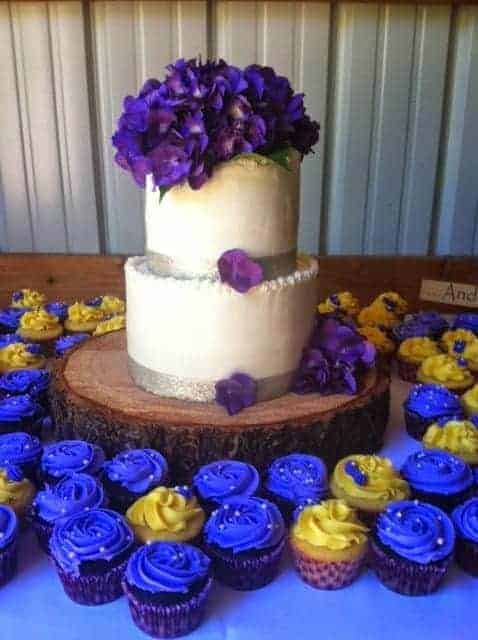 Wedding Cake! These cupcakes really are
purple…not blue.

I volunteered to do the wedding cake and cupcakes.  When I was in high school, my mom signed me up for a cake decorating class through our local parks and recreation.  I loved it.  I was the only kid in the class, but that never phased me one bit.  I learned a lot at that class.  I have made all my kids cakes, but nothing quite as important as a wedding cake.

We decided on a two tier cake for my sister and her husband and cupcakes for everyone else.  My sister loved the idea of cupcakes, and I thought it was much more manageable than a massive sized cake.  For me, anything larger than two tiers becomes more difficult.  Any little flaw is magnified with a bigger cake…plus how in the world to move it from my house to the wedding venue.  Not something I was willing to contemplate.


Next came the cupcake trials.  My kids loved this part!  We had cupcakes to eat at all hours of the day.  We finally narrowed it down to chocolate and lemon cupcakes, from scratch.  My sister also wanted a lemon cake.  I used a different recipe for the cake.  I needed it to be just a bit lighter than the cupcakes.  Between each layer on the cake, I applied lemon syrup, homemade lemon curd, and then placed fresh raspberries.  While I didn't get any of the actual wedding cake, the taste tests were quite yummy.  

There was a lot of planning for the execution of everything beyond finding the perfect recipe.  I also had to find a frosting that would hold up to the heat, what colors to use, decorations, figure out when to begin baking, and then how to transport everything.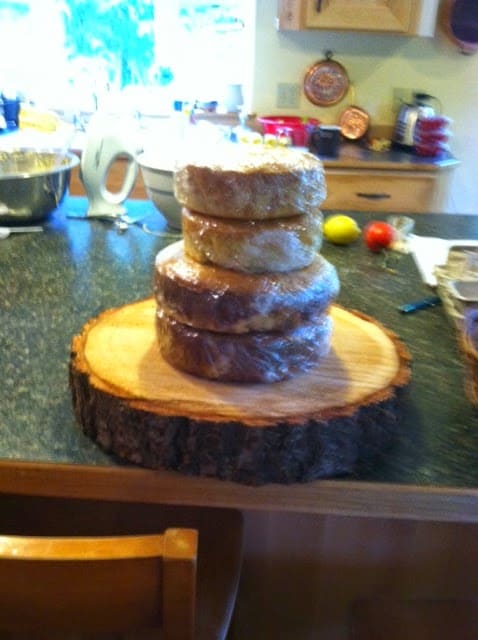 Ready for Decorating

One of my biggest concerns in the planning phase was, where am I going to put all these cupcakes once they are baked?  I finally found the perfect item… boxes….while at Costco grabbing butter, I noticed several large empty boxes.  They were the perfect size for almost 50 cupcakes.  I could put the cupcakes in the boxes and then cover the boxes with plastic wrap.  It was a perfect, free solution!  I love free!!!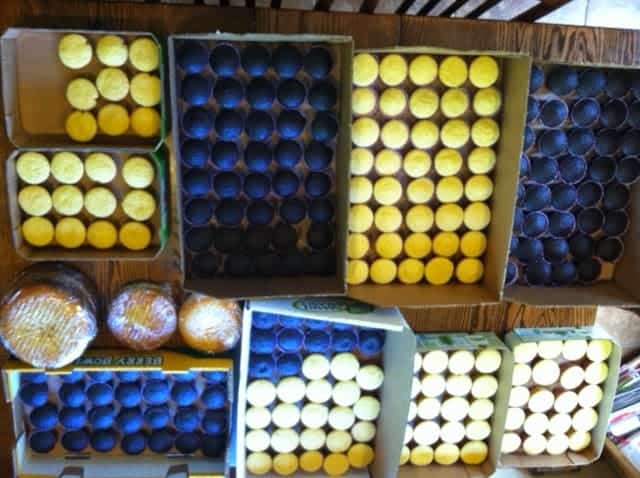 200+ Cupcakes plus Wedding Cake Layers

I began baking everything the day before the wedding.  It was an all day affair. I could only cook 24 cupcakes at a time due to oven space.  I just kept an assembly line going. I also pre-made all the frosting and put it into sealable plastic bowls. 

The morning of the wedding I was up and ready to begin decorating at 4:00 am.  Most was done in stages.  The first thing I did was put a crumb coating on the layers.  I quickly put each into the freezer for 15 minutes between crumb coatings.  This helped the frosting set-up.  I then built up layers of frosting until it was just how I wanted.  The cake was left alone and I started on the cupcakes.

My daughter was able to help with the cupcakes.  She has been taking cake decorating through 4H for the past three years.  She has some good skills and she was a huge help.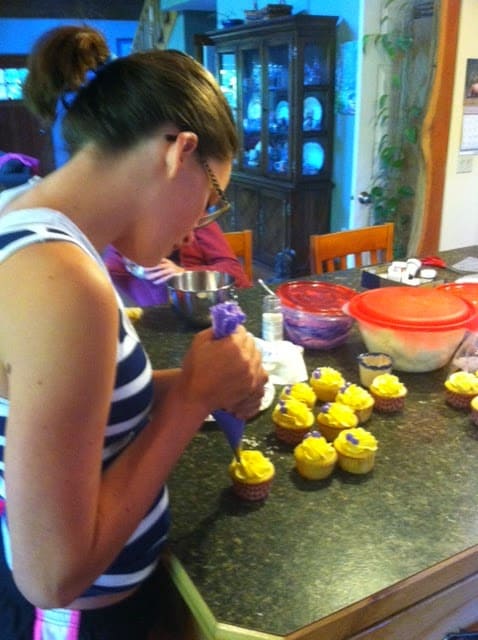 Wedding Cupcakes

Finishing the cake made me a little nervous.  It's hard to correct any sort of mistake you make. I added a sparkly ribbon between the tiers and then  I did a small scalloped border around the edges of the tiers. 

The flowers were from a neighbor.  I kept them in water till the last minute.  When it was time to put them on the cake, I wrapped each stem in plastic wrap so the flowers weren't in direct contact with the cake.  One drawback on the hydrangea flowers, they wilted quicker than I wanted. 

The absolute toughest part was transporting the cake.  Rod drove and I held the cake.  We have a mile dirt road and every bump was pure agony.  Luckily we made it safely!  Then it was time for unloading the cupcakes….I felt a little like I was on Cupcake Wars then!  

Rod made the cake stand. and cupcake stands.   He simply took a round from an already cut tree.  He had to find the perfect diameter and then make a nice straight cut.  It added just the right rustic touch to the cake table.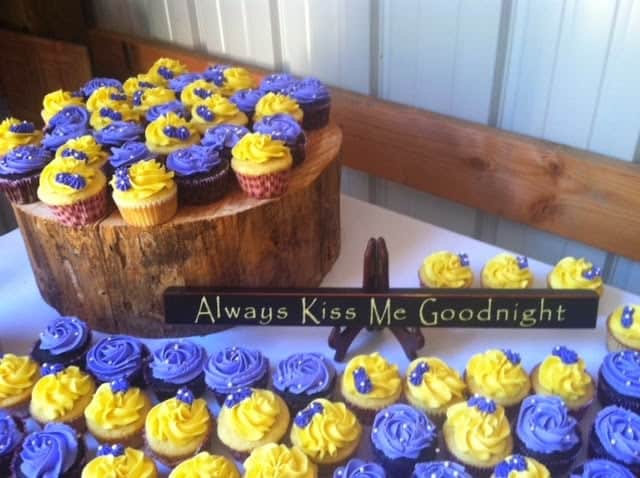 Cupcakes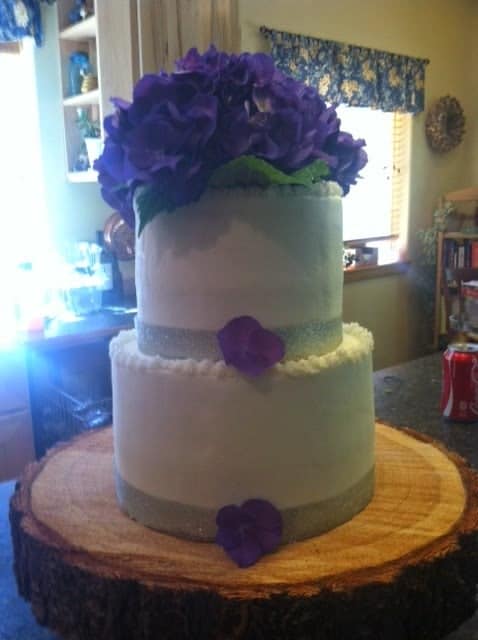 Ready for Transport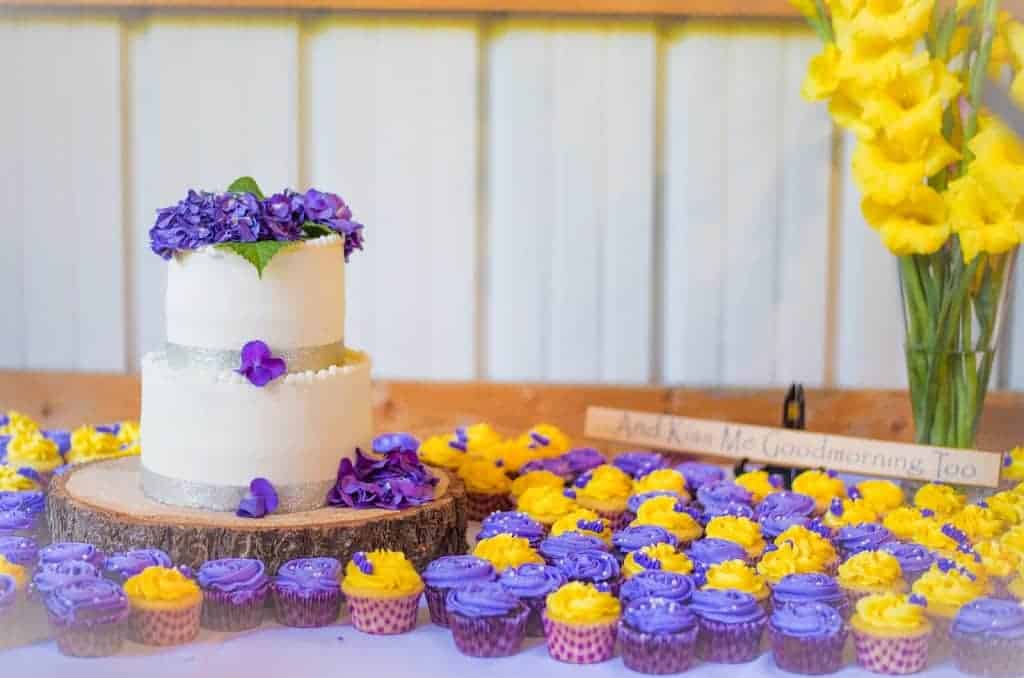 Photo by:  Alisha A. Clark Photography